European education style has gained popularity among international students. According to the statistics published by the European Commission on the number of Schengen visas, France is at the top of the list of popular study destinations among Indians. French consulates reported receiving a total of 3,684,404 Schengen visa applications and recorded a rejection rate double that of Germany. Whether or not you need a student visa for France depends on whether you are an EU citizen or not. And if you need it then this guide on France student visas is for you!
Do you know?

All international students with valid student visas are allowed to work while studying, regardless of their degree or country of origin. The law in France allows international students to work up to 964 hours a year, equivalent to 60 percent of the working week. Algerian students have slightly different rules, including being allowed to work 50 percent of the standard work week. The minimum wage in France is €10.57 (£9.21) an hour which is equal to all employees and is guaranteed by law.
If you want to study in France, make this post your first stepping stone to glory. Do you wish to live and breathe in L'Hexagone? Although there are challenges the rewards are overwhelmingly outstanding when you choose to study in France.
What all is covered in this post?
To make it easier for you, we have created a quick guide to everything you need to know about the France student visa procedure.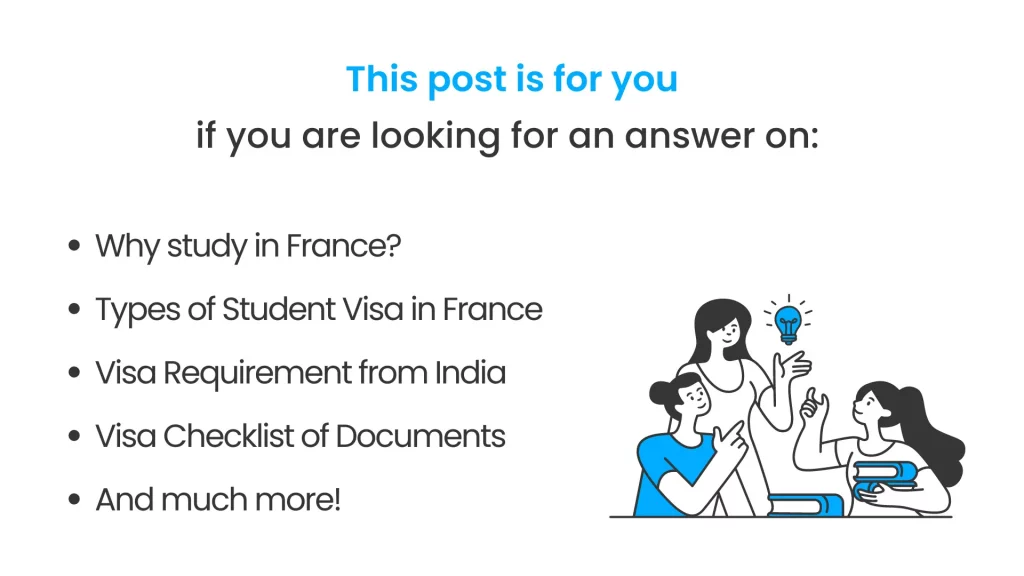 Why study in France?
No matter which part of the country you go to, you would be surprised to learn that almost every university in France offers world-class education to students far and wide.
You can apply to up to 20 universities in one application! France has more than 3,500 institutions of higher learning.
These comprise 77 public-funded universities for several undergraduate courses. Grandes Ecole's offers a 5-year Diploma which is equivalent to master's in science.
Business & Arts schools have more than 3,000 specialization courses including Culinary Arts, Hotel Management, Social Work, and Tourism.
Following are some of the benefits of studying in France for Indian students. This shall help you decide why you should study in France: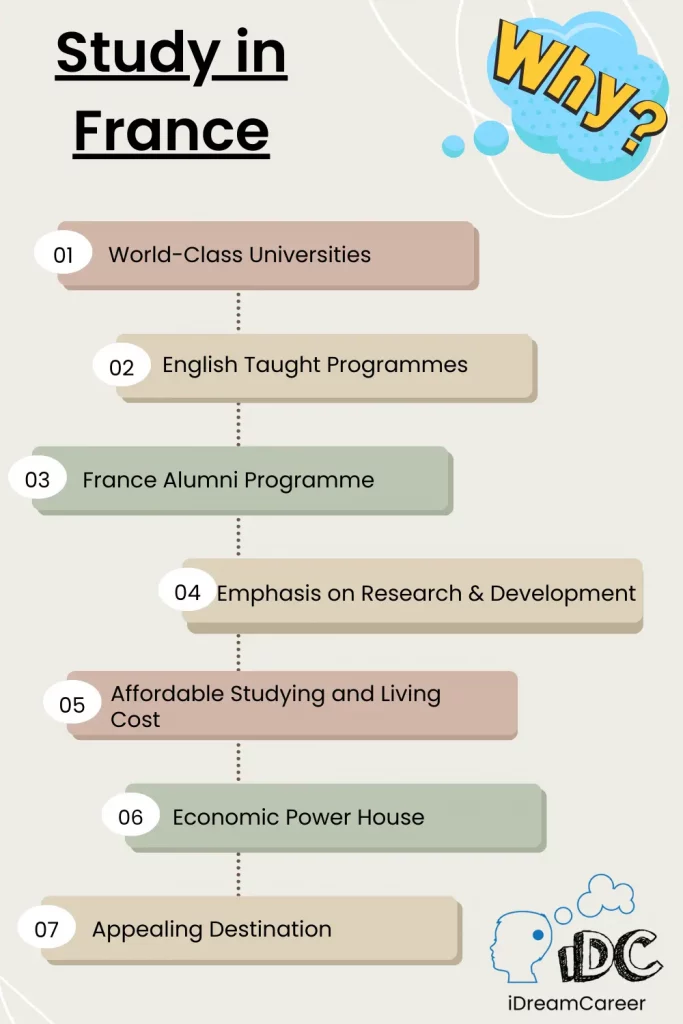 Types of France Student Visa
There are three types of student visas in France:
Visa de court séjour pour etudes (Schengen short-term student visa): This visa allows you to come to France and study for up to three months without the need for a separate residence visa. This is suitable for those enrolled in language courses or short-term programs.
Visa de long séjour temporaire pour etudes (temporary long-term visa): This visa allows you to study in France for three to six months without the need for a residence permit. It does not recover.
Visa de long séjour etudes (long-term visa): If you want to study for more than six months, you need to apply for this visa. This type of study visa lasts for the entire course of study in France, i.e., three years for a bachelor's degree, two years for a master's degree, and four years for a Ph.D. Long-term visas act as residence permits and are called VLT-TS.
The visa application and passport application can only be submitted by the applicant himself or through a travel agency authorized by the French Embassy in New Delhi. The France student visa has two different application stages. One at Campus France and the other at the embassy. The set of documents for both may differ. You will need to submit the originals to Campus France and photocopies to the embassy/consulate/visa centers.
How to apply for a student visa in France?
To obtain a France student visa, as an Indian citizen you need to fulfill the following requirements:
1st Step – Online registration
Create an online account on Campus France
Upload visa documents online
Campus France will review your file and give you an appointment date.
Pay the application fees
2nd Step – Academic Interview
Attend an interview at Campus France in India – explain your plan to study in France.
You will need to bring official documents to the interview.
3rd Step – Online visa application and appointment at VFS-France
After the academic interview, you need to complete an online application
Create a France-Visas account
Schedule an appointment with VFS-France and send your documents (copies) and original passport.
Register for Biometrics at VFS Centres.
4th Step– Confirm your long-stay visa
Within the first three months of arrival, register and validate your visa
This ensures that you are registered as a legal resident
5th Step – Apply for a residence permit
Apply for a residence permit in the prefecture of your residence at least 2 months before your France student visa expires.
Note: For universities that are not part of Campus France, you will need to contact the university directly to help you with the visa process. France student visa applications submitted in India are processed by the French consulates in Kolkata, Chennai, Bangalore, Mumbai, and the visa section of the French Embassy in Delhi. Only these embassies and consulates are authorized to make visa decisions.
Documents required for French Visa
Applicants will need to bring the following documents with them to the visa center for a study visa in France. These include: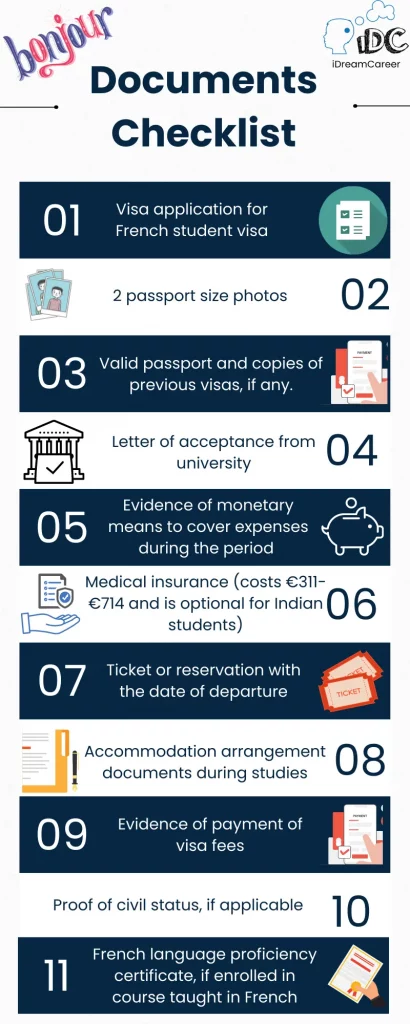 Conditions to get a student visa for France
There are certain France student visa requirements for Indian citizens. Those who wish to study in France must meet these conditions in order to obtain a student visa. These are:
Age >18
They probably chose a course
Must be accepted by higher education institutions
EEF or Etudes En France allows an online registration scheme for Indian students as well as students from various other countries and territories. The platform allows you to facilitate all enrollment procedures for a French higher education program. It is dematerialized and helps you follow the procedures up to the visa request.
Cost of student visa for France from India
The France student visa fee for a long-term national study visa is €99 for students applying for Bachelor's/Master's courses. The fee is the same for dual-course applicants as well as exchange students. This amount must be paid at the nearest BNP Paribas branch. You can find a branch from this web tool. Once you reach the branch, you will need to bring your IN number with you. Payment can be made either in cash or in favor of INSTITUT FRANCAIS EN INDE. We recommend that you speak to your nearest branch before going there to make the payment.
Apart from this fee, you will also have to pay a France student visa processing fee of €50, which is now INR 4,338, and a VFS service fee and processing fee of INR 1,467 (including taxes). Please note that the visa fee for applicants applying to the France Visa Center in New Delhi and Kolkata is payable by bank draft. The visa fee for applicants applying to France Visa Centers in Mumbai, Pune, Ahmedabad, Goa, Chennai, and Puducherry is payable in cash only. Also, the additional courier is available at Rs.300/- (inclusive of service tax) per application.
Note: It is always advisable to check with the embassy/consulate before applying regarding the visa fee as exchange rates may vary.
Conclusion
Now that you are armed with this information, we hope you're ready to make your next big career decision! Still confused? Do dial us up.
iDreamCareer is on a mission to reach every state and every child to ensure that talent is appropriately delivered into the industry. Talk to our study abroad experts to know yourself in and out! We have helped several brilliant but confused minds to select their most-suited career choices. We have helped many students like Anjana Prasanna who was not very confident about her capabilities. Later with the help of career guidance and moral support from our study abroad experts she got an offer from King's College London! We have also helped several brilliant but confused minds like Aayush, Tapan with an aim to select their most-suited career choices.
Also, read
FAQs
Is IELTS required for a French student visa?
Regarding the visa requirements for studying in France, you do not need to pass the IELTS exam to get a student visa, especially if the university does not ask you to submit the test results.
It should be noted that some universities may request another internationally accepted exam instead of IELTS. In addition, you need to apply for a study visa after receiving your university acceptance letter and permission letter.
What is the success rate of French student visas for Indians?
France is a popular destination among Indian students. Although there is no accurate data on the success rate of obtaining an Indian student visa to France, every year more than thousands of students fly to France for higher education. However, according to the latest statistics, there are currently 370,000 foreign students registered in higher education institutions in France. French consulates receive more than 3,684,404 Schengen visa applications, so the success rate of getting a student visa to France for Indians depends on their qualifications and the confidence they show while applying.
What could be the possible reasons for French student visa rejection?
French student visas can be rejected if you do not qualify for the eligibility requirements as per visa officers. There can be many reasons for rejection, such as lack of funds, inappropriate or forged documents, insufficient academic performance, inaccurate information, lack of communication skills, etc.

Anushree has 4+ years of experience in the career counseling industry as a Senior Content Writer. She has also worked as a Social Media Marketing Expert for a startup and Content Quality Analyst for Publishing and E-learning Industry. She has done her Master's in Commerce and PGDM in Finance & Trade and Marketing & HR, but she is currently following her passion for writing.