Don't like Maths and don't want to study this subject further? Don't worry; we have got you sorted. Many courses do not need Maths as a compulsory subject in your higher secondary classes. In this article, we will be covering all the major fields be it commerce or science courses without Maths.
Maths is one of the core subjects students are taught right from classes 1st to 10th. For students who feel a bit unsure of studying mathematics after 10th have a pool of courses without Math's to choose from. So before delaying it further, let us get going! Read along and gather all the information you need.
Top #479 Bachelor's Degree & Diploma Courses Without Maths After Class 12th
What are the top courses without Maths which you can do after you have completed your class 12th in any stream? Are there courses you could do that do not require Maths at all? In fact, there's a wide range of courses without Maths that you can pursue after 12th.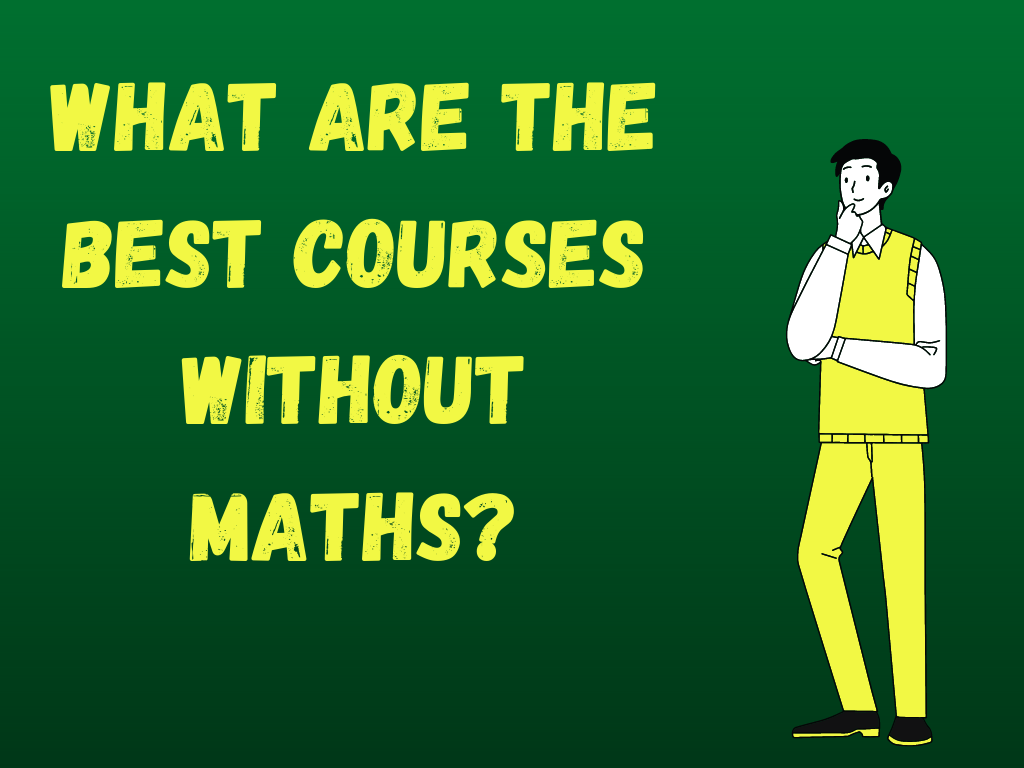 Top #10 Computer Courses Without Maths After 12th
Well, some of the Bachelor's degree courses in Computer requires you to have studied Mathematics in Class 12th. But there are many courses which do not require you to study Mathematics in Class 12th. However, it's will be good for you to do these courses if you have studied Mathematics up to your Class 10th. Courses in Computers are definitely some of the best courses without Maths after Class 12th.
Computer Applications (B.C.A.)
Computer Applications (Cloud Computing)
Computer Applications (Computer Graphics, Augmented & Virtual Reality)
Computer Applications (Computer Networking)
Computer Applications (Cyber Security)
Computer Applications (Data Analytics)
Computer Applications (Game Design & Development)
Computer Applications (Mobile Computing)
Computer Applications (Web Technologies)
Information and Computer Technology
Apart from the above, there are many other courses with different specializations in the field of Computer or Information Technology.
Top #105 Art & Design Courses without Maths After 12th
For the following Bachelor's Degree courses, the eligibility is Class 12th with any subjects. So, it doesn't matter whether you have done your 12th with Commerce with Mathematics or Commerce without Mathematics or Arts without Mathematics. Among these are some of the best courses without Maths.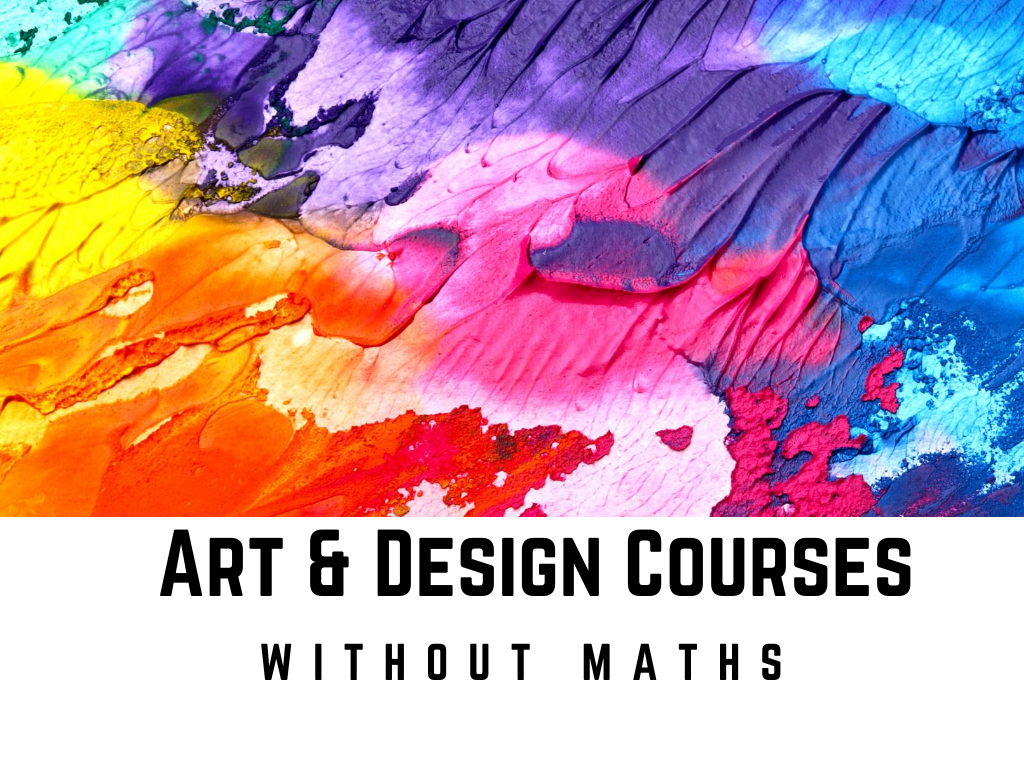 Animation Design
Animation Film Design
Apparel and Textile Design
Apparel Design
Applied Art
Ceramic and Glass Design
Classical Dance (Chau)
Classical Dance (Kathakali)
Classical Dance (Kuchipudi)
Classical Dance (Manipuri)
Classical Dance (Mohiniyattam)
Classical Dance (Odissi)
Classical Dance (Sattriya)
Classical Dance
Classical Dance (Bharatanatyam)
Classical Dance (Kathak)
Computational Art and Media
Computational Design
Conservation and Restoration of Art
Contemporary Dance
Costume Design
Craft Design
Dance Studies
Digital Art
Digital Design
Digital User Interface and User Experience Design
Dramatic Arts
Earthenware Design
Environmental Design
Exhibition Design
Fashion and Apparel Design
Fashion and Apparel Merchandising and Communication
Fashion and Lifestyle Design
Fashion Business Management
Film and Television Direction
Film and Television Production
Film and Television Studies
Film and Video Design and Communication
Film and Video Editing
Film Production Design
Fine Arts
Folk and Tribal Dance
Footwear Design
Furniture and Interior Design
Games Design
Gemology
Graphic Art
Graphic Design
History of Art (Fine Art)
Information Design & Interaction Design
Instrumental Music
Jazz Studies
Jewellery Design
Knitwear Design
Leather Design
Lifestyle Accessories Design
Media Design
Metal Work and Design
Multimedia Design
Music Composition
Music Conduction
Music Education
Music Performance
Music Studies
Natural Fibers Craft and Design
Painting Performing
Arts Studies
Photography Design
Printmaking
Product Design
Retail Design
Sculpture
Special Effects & Visual Effects Design
Stone Work and Design
Studio Art
Surface Design
Textile Design
Theatre Art & Studies
Theatre Design, Production & Technology
Theatre Direction & Dramaturgy
Theatre Performance
Toy Design
Tribal Dance
Vehicle and Transportation Design
Visual Arts
Visual Communication Design
Vocal Music
Vocal Music (Baul)
Vocal Music (Bhajan)
Vocal Music (Bihu)
Vocal Music (Dadra)
Vocal Music (Hindustani Classical)
Vocal Music (Indian Pop, Contemporary & Bollywood)
Vocal Music (Carnatic Classical)
Vocal Music (Lavani)
Vocal Music (Rabindra Sangeet)
Vocal Music (Rajasthani)
Vocal Music (Sufi)
Vocal Music (Thumri)
Vocal Music (Western Classical)
Vocal Music (Western Contemporary)
Vocal Music (Western Pop)
Vocal Music (Western Rock)
Web Design
Wood Craft and Design
Top #53 Commerce & Business Management Courses Without Maths After 12th
Remember that, for pursuing a Bachelor's degree course in Commerce and Business Management, the basic eligibility is Class 12th with any subjects. So, it doesn't matter whether you have done your 12th with Commerce with Mathematics or Commerce without Mathematics or Arts without Mathematics or Science with Mathematics or Science without Mathematics. Courses in Commerce and Business Management offer some of the best courses without Maths.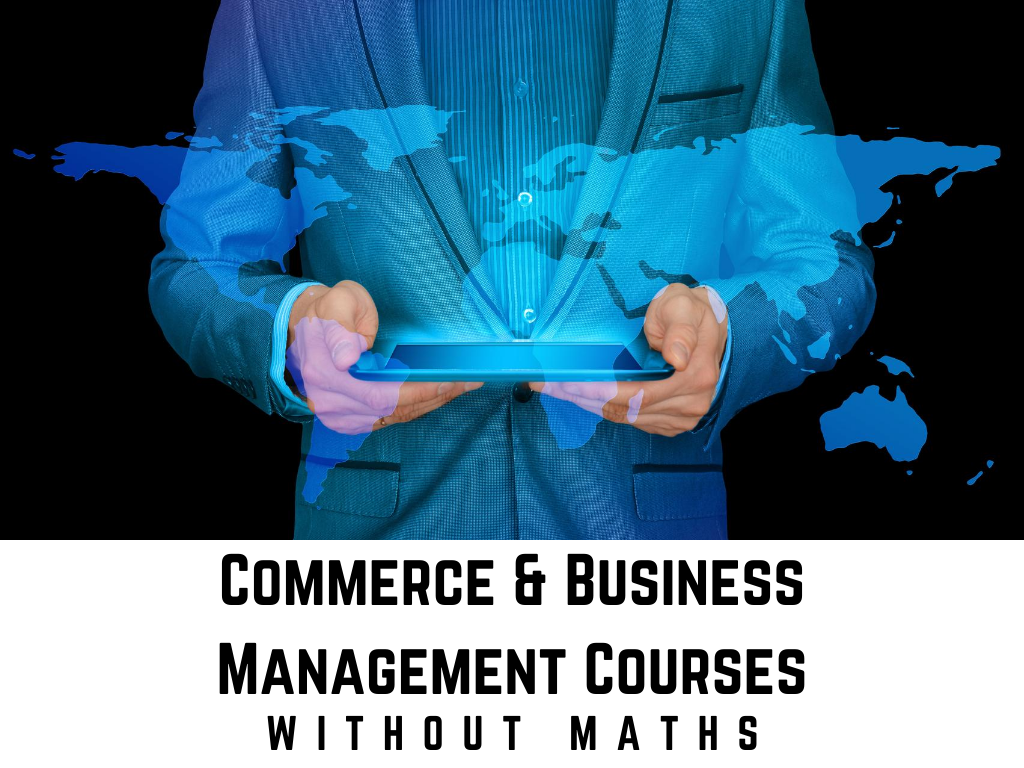 Accountancy
Accountancy and Auditing
Accountancy and Business Management
Accountancy and Law
Accounting and Finance
Accounting Technologies and Information Systems
Advertising Management
Agribusiness Management
Aviation Management (Business)
Banking
Banking and Financial Services
Business Administration (B.B.A.)
Business Economics (Business Management)
Business Support Operations Management
Cargo Management
Chartered Accountancy (You have to start with the Foundation Courses of ICAI)
Commerce
Commerce & Computer Applications
Company Secretary (You have to start with the Foundation Courses of ICSI or you can do the Integrated Course)
Co-operative Management
Cost & Management Accounting (You have start with the Foundation Courses of ICAI)
Digital Marketing
E-Commerce
Entrepreneurship
Event Management (Business)
Financial Accounting
Financial Management
Financial Services
Freight Forwarding
Healthcare Management
Hospital Administration & Management
Hospitality Management (Business)
Human Resources Management
Information Technology Management
Innovation & Entrepreneurship
Insurance
International Business and Foreign Trade
International Transportation & Logistics Management
Inventory Management
Leisure and Recreation Management (Business)
Logistics
Logistics and Supply Chain Management
Marketing Management
Office Management
Real Estate Management
Retail Management
Rural Development
Secretarial Practice
Social Entrepreneurship
Sports & Leisure Management
Sports Administration and Management
Supply Chain Management
Travel and Tourism Management (Business)
Also read about 90 courses after 12th class
Top #121 Arts & Humanities Courses Without Maths After 12th
Bachelor's degree courses in Arts and Humanities as well as in Liberal Arts also do not need you to have studied any particular set of subjects in Class 12th. So, you can complete your Class 12th with any subject combination and then pursue any one of these as per your preference. These are some of the best courses without Maths after Class 12th.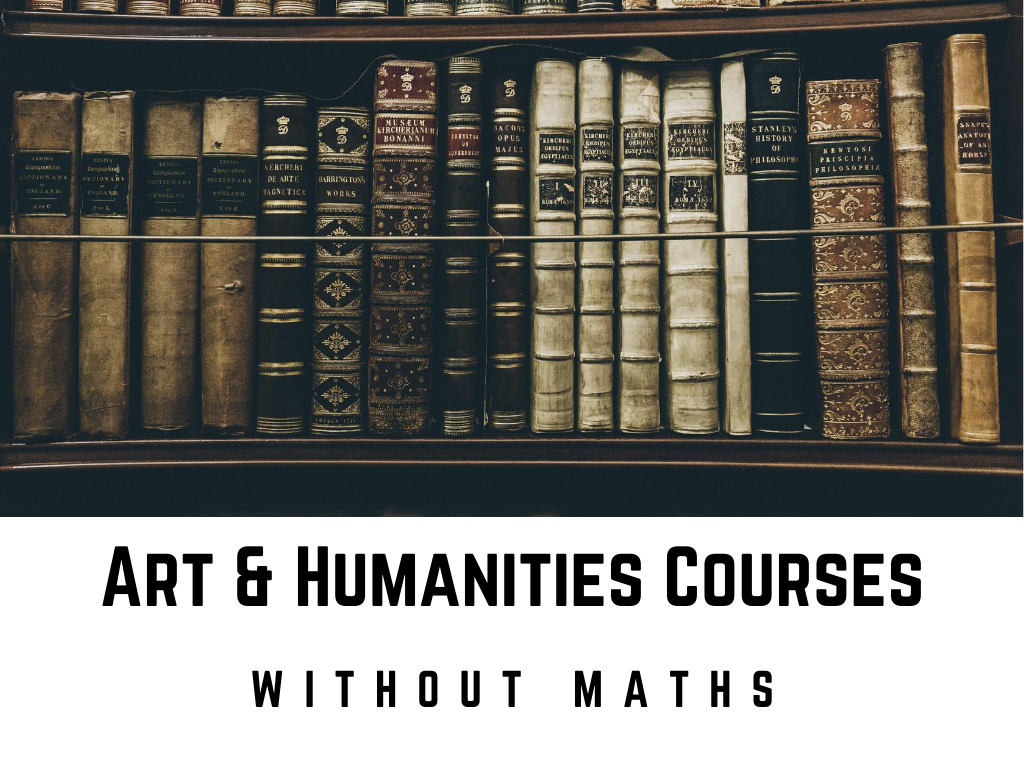 African History
Afrikaans
American History
Ancient & Medieval History
Ancient Indian History & Archaeology
Ancient Indian History
Applied Economics
Applied Linguistics
Applied Psychology
Arabic
Assamese
Astrology
Bengali
Bhojpuri
Biblical Studies
Bodo
Buddhist Studies
Bundeli
Business Economics
Chhattisgarhi
Chinese
Classical Studies
Communication Management
Communication Studies
Community Science and Studies
Comparative Literature
Comparative Religion
Defence Studies
Digital Communication
Divinity
Dogri
English
European History
Food and Nutrition
French
Garhwali
Garo
Geography
Geography & Environmental Studies
German
Gujarati
Haryanvi
Hindi
History
Indian Religious Studies
International Relations
Islamic Studies
Italian
Japanese
Jewish Studies
Journalism & Mass Communication
Kannada
Karbi
Kashmiri
Khasi
Khotta
Kokborok
Konkani
Kumauni
Kurukh
Latin American History
Linguistics Studies
Magadhi
Maithili
Malayalam
Malvi
Manipuri
Marathi
Marwadi
Mass Communication
Mass Media Studies
Media Studies
Medieval History
Mewari
Military Studies
Mizo
Modern History
Naga
Nepali
Odiya
Pali
Pashto
Persian
Politics
Portuguese
Prakit
Public Affairs and Public Policy
Public Health (Social Science)
Public Relations Management
Punjabi
Rajasthani
Religion Studies
Russian
Sanskrit
Santali
Sindhi
Social and Cultural History
Spanish
Tamil
Telugu
Tripuri
Tulu
Urdu
Women's Studies
Also read career options after 12th humanities
Top #22 Law, Education, Hotel Management & Other Courses Without Maths After 12th
Apart from the courses in Art & Design, Commerce, Business Management, Art & Humanities, there are many other courses without Maths after Class 12th that you can do. These courses do not require you to have studied any particular combination of courses in Class 12th – so be it Commerce without Maths, Commerce with Maths, Arts with Maths, Arts without Maths, or Science without Maths, you are eligible for these. These are some of the best courses without Maths.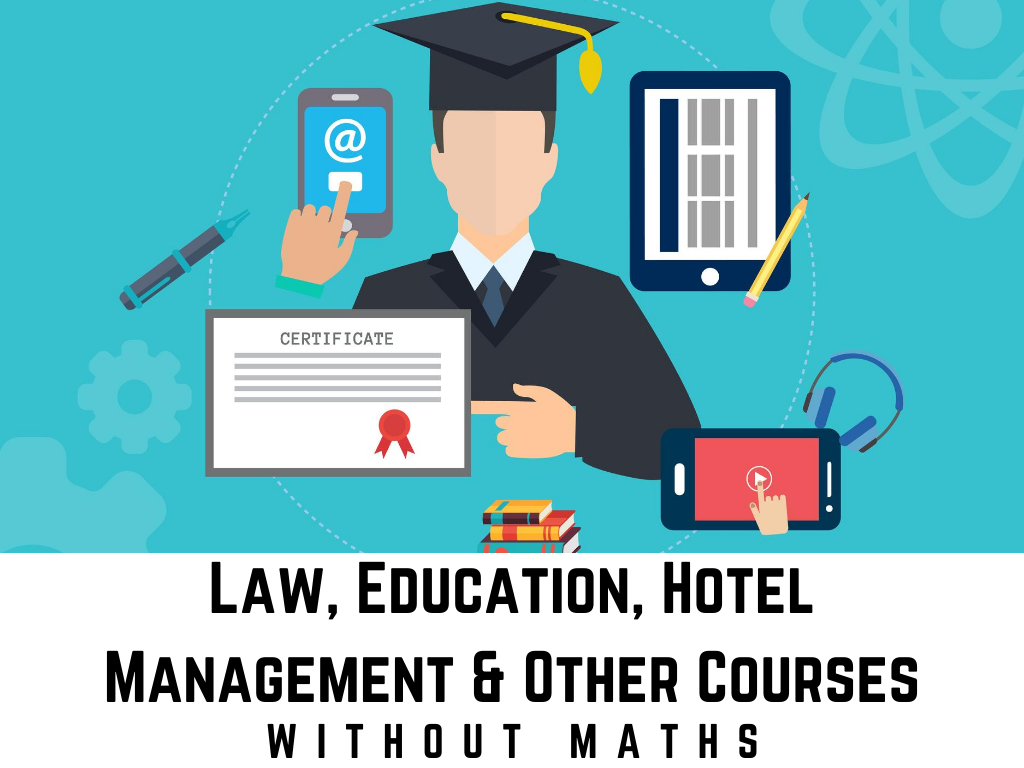 Law (5-year Integrated B.A. LL.B./B.Com. LL.B./B.B.A. LL.B. etc.
Physical Education Teachers' Training Program (4-year Integrated B.P.E. program)
Pre-Primary and Elementary Education (B.El.Ed. or similar program)
Primary School Teacher's Training Program
Special Education Teacher's Training Program (4-year Integrated B.Spl.Ed. program)
Teachers' Training Program (4-year Integrated B.A. B.Ed./ B.Sc. B.Ed./ B.Com. B.Ed. etc.)
Airline Management
Airlines and Airport Services Management
Aviation Management
Culinary Art & Management
Culinary Techniques & Technologies
Culinology
Hospitality and Hotel Management
Hospitality Management & Services
Hotel & Restaurant Management
Hotel & Tourism Management
Hotel Administration and Management
Hotel and Catering Administration & Management
Hotel Operations Management & Services
Tourism Administration & Management
Travel and Tourism Administration and Management
Top #85 Biological and Medical Science Courses Without Maths After 12th
If you have studied Class 12th with PCB (Physics, Chemistry, and Biology), then you will be eligible to apply for a long range of Bachelor's Degree courses which do not require Maths. These are some of the best courses without Maths after 12th Science without Maths.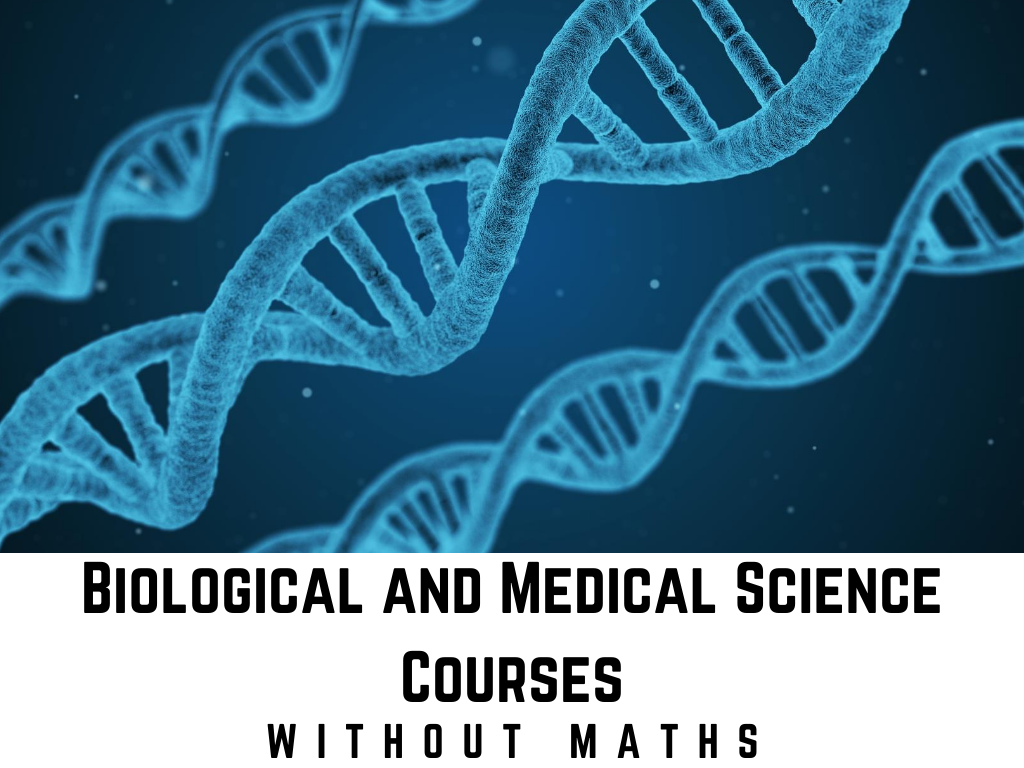 General Medicine & Surgery Practice (MBBS)
Naturopathy & Yogic Science (BNYS)
Agricultural and Environmental Sciences
Agriculture
Anatomy
Applied Microbiology
Applied Nutrition
Audiology Speech Language Therapy
Avian Science & Medicine
Biology
Biosciences
Blood Banking Technology
Blood Transfusion Technology
Communication Disorders and Sciences
Dialysis Technologies
Ecology & Biodiversity
Ecology & Evolution
Emergency and Critical Care Technologies
Endoscopy & Gastrointestinal Imaging Technologies
Environmental Biology
Equine Husbandry, Medicine and Surgery
Equine Science & Medicine
Evolutionary Biology
Food Science & Nutrition
General Dental Medicine and Surgery
Hospital and Healthcare Management
Human Genetics
Industrial Microbiology
Laboratory Animal Science
Life Science
Marine Biology
Marine Life Sciences
Medical Laboratory Technologies
Medical Record & Health Information Management
Microbial Biotechnology
Nano Biology
Natural Resources Management (Forest Resources)
Nuclear Medicine and Radiotherapy Technologies
Nutrition Sciences
Operation Theatre and Anaesthesia Technologies
Pharmacy Practice (Clinical Pharmacy)
Physician Assistantship Training
Public Health
Sports and Exercise Sciences
Toxicology
Toxicology (Biological Sciences)
Wildlife Biology
Also read about How to become a doctor in India
Top #40 Diploma/ Certificate courses without Maths after 12th Science with PCB or 12th Science With Biology
After completing class 12th in science PCB, students who are looking for the best courses without Math's may find the following list of courses. Some of these courses could be done if you have studied Biology in Class 12th but without Physics or even Chemistry.
Aquaculture
Auxiliary Nursing
Ayurveda (Alternative Medicine)
Ayurvedic Nursing
Ayurvedic Pharmacy Practice
Biological Laboratory Techniques
Chinese Medicine
Chiropractic
Dental Mechanics and Hygiene
First Aid
Floriculture & Landscape
Architecture General Nursing and Midwifery
Holistic Medicine & Wellness
Homoeopathy Pharmacy Practice
Inland Fisheries
Landscaping (Horticulture)
Livestock Farm Complex Management
Livestock Production Management
Livestock Products Technology
Meat and Meat Products Technology
Midwifery
Modern Ayurveda
Panchakarma
Paramedical Training Programs
Phytotherapy Poultry
Science
Reiki
Sericulture
Silviculture
Tibetan Medicine
Traditional Chinese Medicine
Unani Pharmacy Practice
Veterinary Pharmacy
Yoga
Yoga & Naturopathy Pharmacy Practice
Top #43 Diploma & Certificate Courses Without Maths After 12th
If you are looking to complete a Diploma or a Certificate course after 12th, then you have many options. Some of the best Diploma and Certificate courses without Maths are:
Aircraft Cabin Operations & In-Flight Services Training
Airport Ground Service Operations Training
Art Appreciation
Art Therapy
Calligraphy
Cargo Management
Commercial Art
Contemporary Art
Creative Production
Creative Writing
Creative Writing for Art
Customer Services Training Program for Surface Transport
Drawing
Ecotourism
Elementary School Teaching (D.El.Ed.)
Financial and Capital Markets
Floral Design
Food & Beverage Services Management
Food & Beverage Services Operations
Food Production
Freight Forwarding
Front Office Management
Heritage Tourism
Housekeeping
Installation Art
Landscape Design
Library and Information Science (D.L.I.Sc.)
Music Therapy
Photography
Screenplay Writing
Sommelier Training
Special Education Teacher's Training (D.Spl.Ed.)
Tablescape Design
Tea Tasting
Teacher's Training Diploma (D.Ed.)
Ticketing & Reservation Services
Wine Tasting
Yoga
In Conclusion
As the lists of courses without Math's can go on and on, we have tried to give you an exhaustive list of all the courses you can think of pursuing without having to deal with Math's. We hope we have served the information that you were looking for. If not, then head on to the comments sections below and provide your valuable feedback or queries!
If any of the above information did not offer you much clarity on what courses without Maths should you go ahead with, then please feel free to contact our expert career counsellors or avail any of our professional services.
For detailed guidance, you can take help of our professional services which include:
Useful links:
Some of the articles you may wish to read:
Shruti Verma is currently leading the Product Marketing team; building & executing marketing strategies, channelling product launches & setting up brand positioning.