What after 12th? What are your career options after 12th? What should you choose and how? Are you in a chaotic frenzy facing these tumultuous questions?..
Well, here we are with all possible career options after class 12th streams and combinations, bank jobs, government exams and more. This should help you in dispelling some of the above doubts.
Following lists contain all UG degrees. There are multiple colleges in India offering these. however, some of these options are offered by only select top colleges in the country.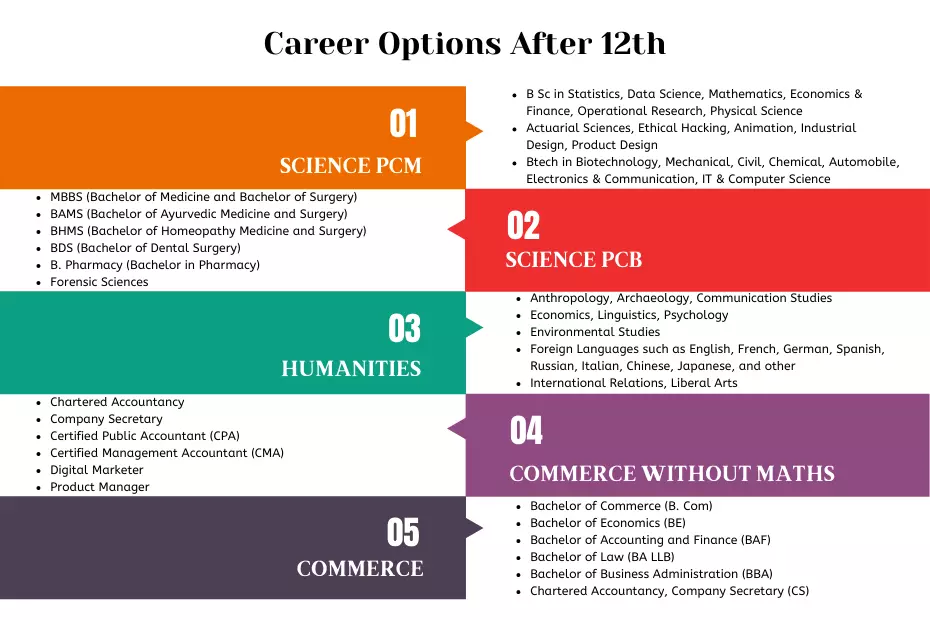 Top 20 Choices After 12th Science PCM (not engineering):
The last one's the most interesting and the best!.
B Sc Statistics/ Bachelor of Statistics (B Stat.)
B Sc in Data Science
Actuarial Sciences
Ethical Hacking
Bachelor of Architecture (B Arch)
Bachelor of Planning (B Plan)
B Sc Mathematics/ Bachelor of Mathematics (B Math)
B Sc Computer Science/ IT
B.Sc. (Hons) Economics & Finance (3 year degree course in select colleges)
B Sc Operational Research
B Sc Physical Science (3 year degree course in select colleges)
B Sc Electronics/ Instrumentation Science
Bachelor of Design (Animation/ Industrial Design/ Product Design)
B Sc Aviation / Commercial Aviation/ Aviation Technology with Pilot Studies/ (Hons) Aviation Management / Aviation Science
B Tech / BE / B Sc Nautical Science/ Applied Nautical Science/ Ship Building & Repair/ Naval Architecture & Offshore Engineering/ Harbour & Ocean Engineering/ Shipping
B Sc Forensic Science
B Des in Fashion Design/ Fashion Technology/ Accessory Design
B Sc Nuclear Medicine / Nuclear Science/ Nuclear Medicine Technology/ B Tech Nuclear Science & Engineering
B. Tech in Aeronautical Engineering
Exclusive option: 4 year B Sc (Research) at IISc, Bangalore (only through KVPY, 60% in JEE Main/ JEE Advanced/ NEET).
Top 50 Choices After 12th Commerce:
Accountancy and Auditing
Accountancy and Business Management
Accounting Technologies and Information Systems
Accountancy & Business Statistics
Accounting and Finance
Advertising Management
Agribusiness Management
Automobile Business & Marketing Management
Aviation Management (Business)
Business Administration (B.B.A.)
Banking and Financial Services
Business Economics (Business Management)
Business Support Operations Management
Brand Management
Chartered Accountancy
Computer Applications
Community and Public Systems Management
Company Secretary (You have to start with the Foundation Courses of ICSI or you can do the Integrated Course)
Cost & Management Accounting (You have to start with the Foundation Courses of ICAI)
Digital Marketing
Entrepreneurship
Event Management (Business)
Financial Accounting
Financial Management
Healthcare Management
Hospital Administration & Management
Human Resources Management
Hospitality Management & Services
Hotel Operations Management & Services
Information Technology Management
International Business and Foreign Trade
Innovation & Entrepreneurship
International Transportation & Logistics Management
Inventory Management
Logistics
Leisure and Recreation Management (Business)
Logistics and Supply Chain Management
Marketing Management
Marketing Technologies & Automation
Operations Management
Real Estate Management
Social Entrepreneurship
Sports Administration and Management
Sports & Leisure Management
Sports Analytics
Supply Chain Management
Technology Management
Telecommunication Management
Transportation Management (Business)
Wealth Management
Top 20 Choices After 12th Commerce without Math:
Computer Applications (Computer Graphics)
Computer Applications (B.C.A.)
Computer Applications (Augmented & Virtual Reality)
Computer Applications (Cloud Computing)
Computer Applications (Computer Networking)
Computer Applications (Database Management)
Computer Applications (Animation)
Computer Applications (Accounting Application)
Computer Applications (Music and Video Processing)
Computer Applications (System Analysis)
Computer Applications (Mobile Computing)
Computer Applications (Word Processing)
Computer Applications (Personal Information Management)
Computer Applications (Cyber Security)
Computer Applications (Programming Languages)
Computer Applications (Data Analytics)
Computer Applications (Game Design & Development)
Computer Applications (Web Technologies)
Information and Computer Technology
Information Technology.
Discover More by accessing the Free Career Dashboard
This will help us share relevant information with you.
Top 15 Choices After Class 12 Humanities
Anthropology
Archeology
Communication Studies
Economics
Environmental Studies
Foreign Languages such as English, French, German, Spanish, Russian, Italian, Chinese, Japanese, and other
International Relations
Liberal Arts
Linguistics
Media Studies
Political Science
Psychology
Social Sciences
Social Work
Women's Studies.
Compilation of All Possible Engineering Career Options After 12th
Ready to dive? Here you will find all possible engineering degrees in every discipline that is offered by colleges in India. This also mentions the top colleges and the top recruiters.
Ready for a Bank Job after 12?
You have it at your fingertips! This page gives you all the bank job details you need if you wish to pursue a bank job in any of the esteemed private banks or promising government banks.
20 Most Prospective Government Career Options after 12th
You got it all at one place! This page gives you all govt. job details you need if you wish to pursue a career with the central or state governments. This has the details about the exams you need to clear for the purpose.
Career Options after 12th: Final Thoughts
Choosing among so many career options after 12th is a daunting task and is no small challenge. You also need truckloads of knowledge about various disciplines and what these courses are about. This is almost impossible to achieve at such a young age. Career planning and development is a tricky affair and needs expert solutions. iDreamCareer is on a mission to reach every state and every child in order to ensure that talent is appropriately delivered into the industry. We have helped millions of young minds to unleash their true colors and make a decision about their future career. We are ready to help you too!
ALSO READ:
Discover More by accessing the Free Career Dashboard
This will help us share relevant information with you
Trending Posts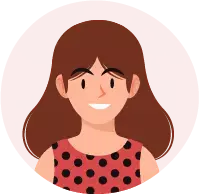 With a Master's in Biophysics-Biostatistics, Sreenanda acquired professional experience in computational proteomics of human molecules. She is currently working with the Research and Data Team at iDreamCareer.