Engineering courses after 12th are typical of 4-year durations in India. We also have a few 5-year integrated engineering courses offered by IITs and some other universities (a list of which you will find in the following sections).
You can pursue engineering courses after you've completed 12th with Physics, Chemistry, and Mathematics. There are several disciplines of engineering courses that one can pursue after the 12th.
In this post, we will talk about all those disciplines across all possible core engineering courses. The futuristic engineering courses and others that keep you job-ready. Also, we will talk about top colleges (India & world) offering the best courses after 12th science. And the top recruiters, while focusing later on careers following engineering courses.
Engineering courses still stand to be among the most sought-after career choices in India. Even today, programs offering a degree in engineering or technology like a Bachelor of Engineering (BE) or a Bachelor of Technology (B Tech) witness the second highest number (19%) of student enrollments at the undergraduate level.
👉 Explore the Best Courses After 12th for a Stable Future
"It is a great profession. There is the fascination of watching a figment of the imagination emerge through the aid of science to a plan on paper. Then it brings jobs and homes…it elevates the standards of living and adds to the comforts of life. That is the engineer's high privilege."

Herbert Hoover, Engineer, Humanitarian, and 31st U.S. President
Engineering courses after 12th: An Introduction
Undergraduate engineering courses award an academic degree (as in the list below) to you after typically a period of 4 years. They are in any one of the many engineering disciplines as described later in this detailed post.
The academic degrees can be:
B.E. / B.E. (Hons)
B.Tech./ B.Tech. (Hons)
B.Eng.
B.S.orB.Sc. (Bachelor of Science) in Engineering/Technology
B.E.Sc.: Bachelor of Engineering Science
B.A.Sc.: Bachelor of Applied Science (popular overseas)
This is a list of 6 popular Engineering degrees that you may commonly come across. In most countries, the duration is 4 years. However, in the UK and a few European countries, there are options to do a 3-year B.Eng. or similar degree. In India, the 1st two are the most common.
Integrated 5-year Engineering Courses:
In India, these are the options of integrated engineering courses that one can pursue after 12th:
Bachelors in Civil Engineering + Masters
Bachelors in Electrical And Electronics Engineering + Masters
Bachelors in Mechanical Engineering + Masters
Bachelors in Electronics And Communications Engineering + Masters
Bachelors in Computer Science And Engineering + Masters
Dual B. Tech. (Hons) And M. Tech
How do you enroll in these courses?
There are 4 ways to enroll in engineering courses: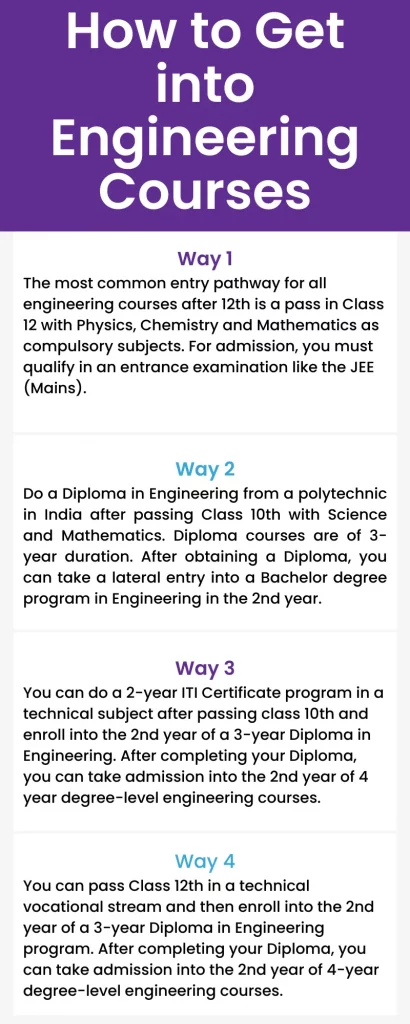 Engineering Courses: list of 135 Disciplines
Computer science courses after 12th
Here is the list of some of the top computer science courses after 12th, you may consider pursuing: 
Animation And Game Design (Engineering)
Artificial Intelligence And Machine Learning
Cloud Computing
Cloud Computing And Information Security
Computer Networks
Computer Networks And Information Security
Computer Science And Engineering
Cryptocurrency And Blockchain Technologies
Data & Information Security
Data Science And Engineering
Information Science And Engineering
Information Technology
Internet of Things
Machine Learning
Mobile Computing And Application Development
Programming And Software Engineering
Discover More by accessing the Free Career Dashboard
This will help us share relevant information with you.
Electrical and Electronics Engineering
Automotive Electronics
Biomedical Instrumentation And Devices
Communication Engineering
Control Engineering
Digital Electronics
Electrical And Electronics Engineering
Electrical Engineering
Electronics & Communication Engineering
Electronics & Instrumentation
Electronics Engineering
Industrial Electronics
Instrumentation Engineering And Technologies
Power Electronics
Sound Engineering
Telecommunication Engineering
VLSI/Embedded Design Engineering
Manufacturing Engineering and Technologies
Foundry And Forge Technology
Manufacturing Engineering
Mechanical Engineering
Mechatronics Engineering
Welding Engineering
Civil and Construction Engineering
Civil Engineering
Coastal Engineering
Construction Engineering And Technologies
Geotechnical Engineering
Hydraulics Engineering
Infrastructure Engineering
Municipal And Urban Engineering
Structural Engineering (Civil)
Surveying (Civil)
Transportation Engineering
Water Resources Engineering
Chemical Engineering & Technologies
Cement Technology
Ceramic Engineering And Technologies
Chemical Engineering
Chemical Technologies
Cosmetic Science And Technologies
Dyestuff Technologies
Fibre And Textile Processing Technologies
Leather Technology
Oils, Oleochemicals And Surfactant Technologies
Paints Technologies
Paper And Pulp Technologies
Perfumery And Flavour Technologies
Petrochemical Engineering
Petroleum And Petrochemical Engineering
Petroleum Engineering
Plastic Engineering And Technologies
Polymer Engineering
Rubber Technologies
Surface Coating Technologies
Textile Engineering And Technologies
Automotive Engineering
Automobile Design (Engineering)
Automobile Engineering
Automotive Technologies
Bioengineering
Biochemical Engineering
Biochemical Engineering And Biotechnology
Bioelectrical Engineering
Bioelectronics Engineering
Bioengineering
Biomechanical Engineering
Biomedical Engineering
Bioprocess Technologies
Biotechnology (Engineering)
Clinical Engineering
Food Biotechnology (Engineering)
Food Processing Technologies
Food Technology
Rehabilitation Technologies
Sugar Processing Technology
Agricultural Engineering
Agricultural Biotechnology (Engineering)
Agricultural Engineering
Aquaculture Engineering
Food Engineering
Irrigation Engineering
Aviation and Space Engineering
Aerospace Engineering
Aircraft Maintenance Engineering
Astronautical Engineering
Aviation Technologies
Avionics
Dairy Engineering and Technologies
Dairy Engineering
Dairy Technology
Design Engineering
Industrial Design (Engineering)
Product Design (Engineering)
Energy & Power Engineering
Energy Engineering
Nuclear Engineering
Power Engineering
Geological and Geospatial Engineering
Geological Engineering
Industrial Engineering
Industrial And Production Engineering
Production Engineering
Marine & Offshore Engineering
Marine Engineering
Naval Architecture
Naval Architecture And Ocean Engineering
Naval Architecture And Offshore Engineering
Ocean Engineering
Shipbuilding Technologies
Materials and Resources Engineering
Materials Science And Engineering
Metallurgical Engineering
Mineral Engineering
Mining Engineering
Pharmaceutical Technologies and Engineering
Pharmaceutical Technology
Pharmaceuticals And Fine Chemicals
Pharmaceutics And Pharmaceutical Engineering
Intra-disciplinary Engineering and Technologies
Chemical And Electrochemical Engineering
Communication And Computer Engineering
Electrical And Computer Engineering
Electrical And Energy Engineering
Electromechanical Engineering
Electronics And Biomedical Engineering
Electronics And Computer Engineering
Nano Engineering And Nanotechnologies
Robotics
Best Engineering Courses: A few other fields of Engineering and Technologies after 12th
Fire Engineering And Technologies
Fishery Engineering And Technology
Footwear Engineering And Technology
Packaging Technologies
Printing Engineering
Get the Detailed Information about other professional courses after 12th
Top 21 Most Prospective engineering courses
There are several sources of information and ranking available. Each one is based upon different criteria. However, according to most expert career counsellors, the following is the list of the 21 most prospective Bachelor of Engineering disciplines (in Alphabetical order):
Aerospace Engineering/Astronautics Engineering
Artificial Intelligence And Machine Learning
Bioengineering
Biomedical/Bioelectronics/Biomechanical/Clinical Engineering
Biotechnology/Biochemical Engineering
Chemical Engineering/Chemical Technologies
Civil/Structural/Geotechnical Engineering
Computer Networks And Information Security
Computer Science And Engineering
Green Technology
Data Science And Engineering
Electrical Engineering/Power Engineering/Energy/Renewable Energy Engineering
Electronics/Communication Engineering
Environmental Engineering
Food Engineering/Food Technologies
Industrial Design/Product Design Engineering
Manufacturing Engineering/Mechanical Engineering
Materials Science And Engineering
Mechatronics Engineering
Robotics
Transportation Engineering
25 top Indian Institutes offering the best engineering courses in India
As per the NIRF 2020 ranking, the following is the list of top 25 institutes. They are offering the best engineering courses in India:
Indian Institute of Technology Madras
Indian Institute of Technology Delhi
Indian Institute of Technology Bombay
Indian Institute of Technology Kanpur
Indian Institute of Technology Kharagpur
Indian Institute of Technology Roorkee
Indian Institute of Technology Guwahati
Indian Institute of Technology Hyderabad
National Institute of Technology Tiruchirappalli
Indian Institute of Technology Indore
Indian Institute of Technology (BHU) Varanasi
Indian Institute of Technology (Indian School of Mines)
National Institute of Technology Karnataka
Anna University
Vellore Institute of Technology
National Institute of Technology Rourkela
Jadavpur University
Institute of Chemical Technology Mumbai
National Institute of Technology Warangal
Amrita Vishwa Vidyapeetham
Indian Institute of Engineering Science And Technology
Indian Institute of Technology Bhubaneswar
National Institute of Technology Calicut
Indian Institute of Technology Gandhinagar
Indian Institute of Technology Ropar
25 top global Institutes offering the best engineering courses in the world
As per QS World University Rankings, the following is the list of top 25 global institutes (based upon research output & overall performance). They are offering the best engineering courses in the world:
Massachusetts Institute of Technology – US
Stanford University – US
University of Cambridge – UK
ETH Zurich – Swiss Federal Institute of Technology (Switzerland)
University of California – Berkeley (US)
University of Oxford – UK
Imperial College London – UK
Nanyang Technological University – Singapore
Tsinghua University – China
National University of Singapore
EPFL – Switzerland
Harvard University (US)
Georgia Institute of Technology – US
California Institute of Technology (Caltech)
Delft University of Technology – Netherlands
Korea Advanced Institute of Science and Technology
Carnegie Mellon University – US
The Hong Kong University of Science and Technology
University of California, Los Angeles – US
Politecnico di Milano – Italy
University of Tokyo – Japan
Peking University (China)
Seoul National University (Korea)
University of Toronto – Canada
Technical University of Munich – Germany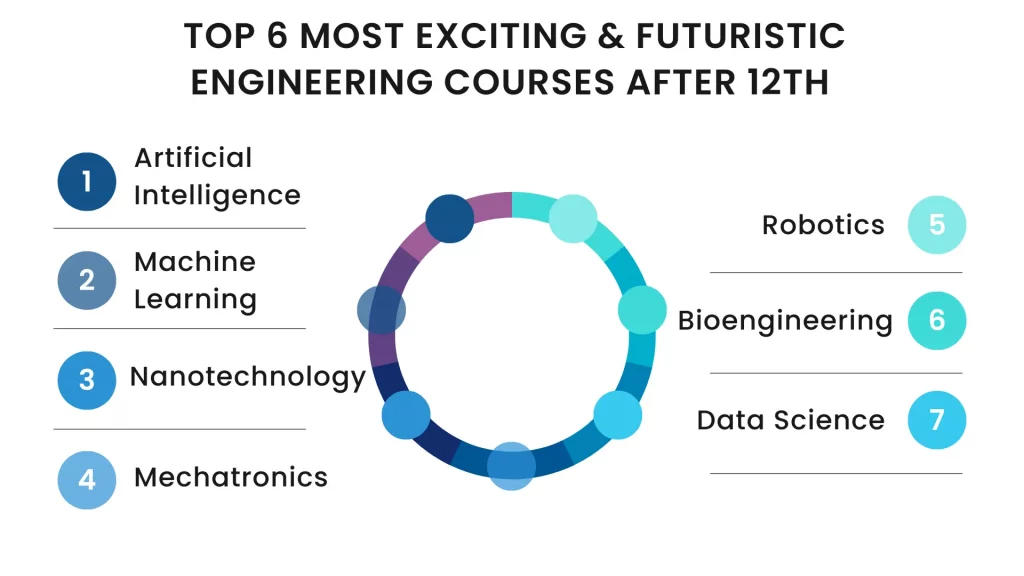 23 Best Engineering courses: Exciting and futuristic engineering/ science disciplines
These futuristic engineering courses will make you ready for 'the tomorrow' we are yet to see.
Data Science and Engineering
Artificial Intelligence And Machine Learning
Mechatronics Engineering
Robotics
Computational Sciences
Computer Graphics, Augmented And Virtual Reality
Database Management And Analytics
Actuarial Science
Applied Mathematics
Computational Mathematics
Financial Mathematics
Operations Research
Applied Statistics
Industrial Statistics
Quantitative Economics
Cryptocurrency And Blockchain Technologies
Computer Networking
Computer Vision
Cyber Security
Digital Forensics
Bioengineering (you can do even without Biology in class 12th)
Biomedical Engineering (you can do even without Biology in class 12th)
Biochemical Engineering/Biotechnology (you can do even without Biology in class 12th)
12 best Engineering courses which will always keep you job-ready
These engineering courses are sure to be leading to the best career options.
Computer Science & Engineering
Electronics And Communication Engineering
Electrical Engineering
Programming And Software Engineering
Energy Engineering
Embedded Systems And VLSI Design
Fibre optics And Optical Communication Engineering
Nuclear Engineering
Renewable Energy Technology
Green Technology
Geomatics Engineering
List of 14 Most Common: Public Sector Recruiting Organizations
Indian Railway Service of Electrical Engineers
Indian Railway Stores Service
Central Electrical And Mechanical Engineering Service (Central Public Works Department)
Indian Naval Armament Service
Indian Telecommunication Service
Geological Survey of India
Border Roads Engineering Service
Central Engineering Service for Roads
Central Power Engineering Service (Central Electricity Authority)
Indian Defense Service of Engineers & Indian Navy
Indian Supply Service (Directorate General of Supply and Disposals)
Corps. of Electrical and Mechanical Engineers (EME) And a branch in the Indian Army
Central Water Engineering
Indian Ordnance Factories Service (IOFS)
Engineering courses: 17 Common Private Sector Recruiters from Diff Industry Verticals
Internet and IT giants such as Google, Microsoft, Facebook, Amazon Services Inc.,Tencent, etc.
Companies that design or develop various microprocessors/ devices for industrial clients or for bulk consumption such as Apple Inc, Samsung Electronics, Oracle, SAP, etc.
Automotive and transportation systems manufacturers including aerial flight systems such as Toyota, Tesla, Nuance Automotive, Hyundai etc.
Space research and administration organizations such as NASA, ISRO, etc.
Fin Tech – Companies which are into the BFSI industry such as financial institutions, investment banking companies or others like YotaScale Inc, Scienaptic Systems, etc.
Health Tech –

Providers of medical images and technologies for acquiring, processing, managing and storing diagnostic images and related data such as Fujifilm etc.
Companies such as MetaMind involved in deep learning networks, image recognition, text analysis and machines to cater to the healthcare sector
Healthcare analytic solutions and services companies such as Geneia LLC that focus on improving systems to support personalized, patient-centered care
Innovative software solutions companies which design products to protect patient safety, and reduce cost and time of drug development like Covance Inc. etc.

Mechanical/ manufacturing sector based enterprises like TATA Group,The Godrej Group, Ashok Leyland, Mahindra & Mahindra etc.
Technology / research divisions of Deloitte, Goldman-Sachs, JPMC Cybersecurity & Technology Controls Group.
Electrical engineering graduates in similar fields are being absorbed by General Electric Company, Tata Motors, HBL Power Systems etc.
Numerous companies which are IT-facing or cloud computing and are innovating in emerging technologies such as blockchain, Artificial Intelligence, Machine Learning, healthcare management systems.
Several popular enterprises such as Hitachi Analytics, HP, Microsoft, Binance, Sony, Lenovo, Uber, Ola etc.
Consumer electronics & communications companies, TV businesses, mobile phone businesses such as TCL Corporation, Haier, Panasonic, Sharp, LG Electronics, etc.
Other IT companies focused on software engineering in the field of AI such as CloudMinds, Deepmind, H20, Iris AI, Active.ai, etc.
Software engineering courses: Careers
You will find a variety of environments including industry, research, academics, government, and private and business organizations. Which you would want to work in software engineering courses with a specialization in computer science or software.
Software engineering courses after 12th currently have the fastest and most massive applicability across almost all the verticals of any sector.
You will primarily be formulating and testing compliable codes and analyzing problems for solutions. Also, you can also be using advanced communications or multi-media equipment and work in teams for product development.
Software engineering courses: Industry-Oriented Skill Sets Sought after by Recruiters Today
| | |
| --- | --- |
| JOB CATEGORY | REQUIRED SKILL SET |
| Web Designer | HTML, HTML5 , JavaScript, Flash |
| Web Developer | J2EE, ASP.Net, PHP |
| Application Developer | C, C++, Core Java, .Net, Java Swing |
| Database Administrator | Pl SQL, Database Tuning |
| Network Engineer | CCNA, CCNP Certification |
| Embedded Systems | Embedded C |
| VLSI programmer | Verilog, VHDL |
| Big Data Analytics | Hadoop |
The demand for software engineering courses isn't going to slow down anytime soon. This is a lucrative and empowering field. It has multiple available industrial roles across various sectors. Nevertheless, it goes without saying that, it is also a highly competitive field with the maximum of the best opportunities. They are reserved for engineers graduating from premier engineering colleges with B Tech or BE degrees and in computer science engineering or software engineering courses especially.
Software Engineering courses: You can find employment opportunities in
Engineering consultancies
Tech Consultancies
Research and development agencies
Software development agencies
Gaming and Media companies
IT department in MNCs
Software Engineering courses: Many Jobs in Following Roles
Software Engineer
Software Developer
Computing Solutions Engineer
Openstack Engineer
AR/VR Engineer
Gaming Engineer
Computer Vision Engineer
Search Engineer
NLP Engineer
Machine Learning Engineer
Security Engineer
Embedded Engineer
Data Engineer
Frontend Engineer
Backend Engineer
Blockchain Engineer
Mobile Engineer
Full-stack Engineer
Application Developer
Systems Engineer
System Integrator
Computing Architect
System Analyst
Quality Assurance Specialist
Tester
Intelligence Engineer
Dev-Ops Engineer
Database Administrator
Subject Matter Architect
Migration & Modernization Specialists
Enterprise Architect
Software Engineering courses: Tools & technology
Integrated Development Environment
Microsoft Visual Studio .NET
Oracle NetBeans
Eclipse
DreamWeaver
Object-Oriented Programming Languages
Program Testing Software
LoadRunner
Testcloud
Jira
Critiware
Web Development Software
Apache Tomcat
WebMatrix
Xamarin
Coda
Software Engineering courses: 16 Top Coding Languages
Go
Scala
Ruby
TypeScript
Kotlin
Objective-C
JavaScript
Swift
PHP
Java
HTML
Python
C++
C#
C
R
Civil engineering courses: Careers
In 2025, civil engineers will serve as master builders, innovators & integrators, environmental stewards, managers of uncertainty and risk, and leaders in shaping public policy.
– Source: Vision 2025 Summit, American Society of Civil Engineers.
Civil Engineering Technology is necessary for the planning and construction of highways, buildings, bridges, railroads, dams, reservoirs, irrigation works, water systems, airports, as well as other structures.
In planning for a construction project. It is civil engineers who participate in estimating costs, preparing specifications for materials, as well as in surveying, drafting and design work.
During the construction phase, civil engineers schedule field layouts, and construction activities, and perform inspections of the work for conformity to specifications.
In recent years, a major work area for civil and environmental engineering technology has involved environmental problems.
Environmental engineering technology includes the design and construction of water supply facilities, the design of wastewater collection and treatment facilities.
25 Possible job titles for civil engineering courses BE or B Tech graduates:
Construction Engineer
Decontamination Engineer
Field Service Engineer
Highway Engineer
Mining Engineer
Research Engineer
Structural Engineer
Test Engineer
Civil Engineer
Consulting Engineer
Fire Protection Engineer
Industrial Engineer
Operations Engineer
Safety Engineer
Surveyor or Survey Engineer
Transportation Engineer
Development Engineer
Environmental Engineer
Geotechnical Engineer
Instrument Engineer
Project Engineer
Quality Control Engineer
Sales Engineer
Systems Design Engineer
Urban Design Engineer
List of 19 Central Government/ PSU Recruiters for civil engineering courses
List of 19 Central Government/ PSU recruiters for civil engineering courses:
IOCL (Indian Oil Corp. Ltd.) – www.iocl.com
BPCL (Bharat Petroleum Corp. Ltd.) – www.bharatpetroleum.com
HPCL (Hindustan Petroleum Corp. Ltd.) – www.hindustanpetroleum.com
NTPC (National Thermal Power Corp.) – www.ntpc.co.in
NHAI (National Highways Authority of India) – www.nhai.org
NBCC (National Buildings Const. Corp. Ltd.) – www.nbccindia.com
NPCC (National Projects Const. Corp. Ltd.) – www.npcc.gov.in
NLC (Neyveli Lignite Corporation) – www.nlcindia.com
OPGC (Odisha Power Generation Corp. Ltd.) – www.opgc.co.in
PSPCL (Punjab State Power Corp. Ltd.) – www.pspcl.in
THDC (Tehri Hydro Development Corp. Ltd.) – www.pspcl.in
PGCIL (Power Grid Corporation of India Ltd.) – www.powergridindia.com
CEL (Central Electronics Ltd.) – www.celindia.co.in
ISRO ( Indian Space Research Organization ) – www.isro.gov.in
SAIL (Steel Authority of India Ltd.) – www.sailcareers.com
RRB (Railway Recruitment Board) – www.rrcb.gov.in
ONGC (Oil and Natural Gas Corporation) – www.ongcindia.com
AAI (Airport Authority of India) – www.aai.areo
IRCON ( Indian Railway Construction Company Ltd.) – www.ircon.org
Mechanical Engineering: Careers
You will typically design, operate and maintain machines, components, machine tools, manufacturing systems and processes, components of thermal power stations, solar energy, air conditioning and refrigeration and industrial engineering. They are involved in both the fundamental and applied aspects of these areas.
Major areas of employment:
Most mechanical engineering jobs are in design. When a need comes about for a new or improved product, companies call upon mechanical engineers to do the job.
You will have to push beyond the limits of your previous work and use innovative technology to meet project requirements successfully.
Manufacturing – Manufacturing jobs cover nearly all steps involved in developing a product. From a selection of appropriate materials to choose of the correct machinery to even manufacture the required product.
Mechanical engineers, working in this vertical, may find work with equipment manufacturers, transportation companies, materials processing plants, aerospace companies, and petroleum companies. In addition, you may also work with small firms, consulting practices, universities, and government research labs.
Some Mechanical Engineering Titles and Their Functions
Automotive Engineer: You will mainly design car parts. Moreover, you could be involved in solving transportation and safety problems by creating better and more efficient engines or by developing improved safety features
Biomedical Engineer: design mobility aids, prosthetics, artificial organs etc.
Consulting: work for yourself as a consultant or independent contractor. This is possible after gaining significant on-the-job experience and developing a high level of expertise.
Heating Ventilation Air-conditioning: you will design refrigeration systems for making frozen foods, or air-conditioning. You will also design heating systems for businesses and industrial buildings, residential homes, autos, hospitals, and schools.
Nuclear Engineer: You will be involved in the design of nuclear power plants. You must have a thorough knowledge of the fundamentals of nuclear design. You will also learn how to operate the plant efficiently, and evaluate the environmental factors associated.
Robotics Engineer: you may be involved in designing machines that build other machines. For instance, as a robotics engineer, you may be involved in designing device tubes used in assembling automobiles.
Electronics Engineering: Careers
You will mainly be concerned with electronic components, integrated circuits and microprocessors. Therefore, you will design, fabricate, test, maintain and supervise the manufacture of electronic equipment.
Here is a list of 14 most common industry-based specializations that you can consider pursuing along with Electronics engineering (possible through short-term diploma/certificate courses too):
SCADA Communication
Fibre Optic Technology
PCB Designing / Circuit Designing
VLSI Testing& Design (Physical Design or Logic Design)
Telecom & Wireless Technology (in high demand as very few engineers in India possess flawless skills) – Telecom Training, Networking, Wireless Training, LTE Training, VoLTE, VoIP Training, IMS, SIP, MPLS Training, GMPLS, RF Engineering Training, RF training, Antenna Engineering Training, Radar, DAS, SATCOM Training, VSAT, GSM, CDMA, CDMA2000 UMTS, 3G, 4G, Wi-Fi, Bluetooth Training, Zigbee Training
Embedded Systems and Microcontrollers
Networking courses such as CCNA, MCSE
Industrial Automation, Automotive Electronics,
Digital Signal Processing
Real-time Distributed Systems
Robotics
Electrical Engineering: Careers
You will work with equipment that produces and distributes electricity such as generators, transmission lines, transformers, lighting and wiring in buildings. Likewise, you will design electric motors, machinery and ignition systems. As they are required by automobiles, aircraft and all kinds of motorized vehicles and equipment.
List of 8 Tools you must learn: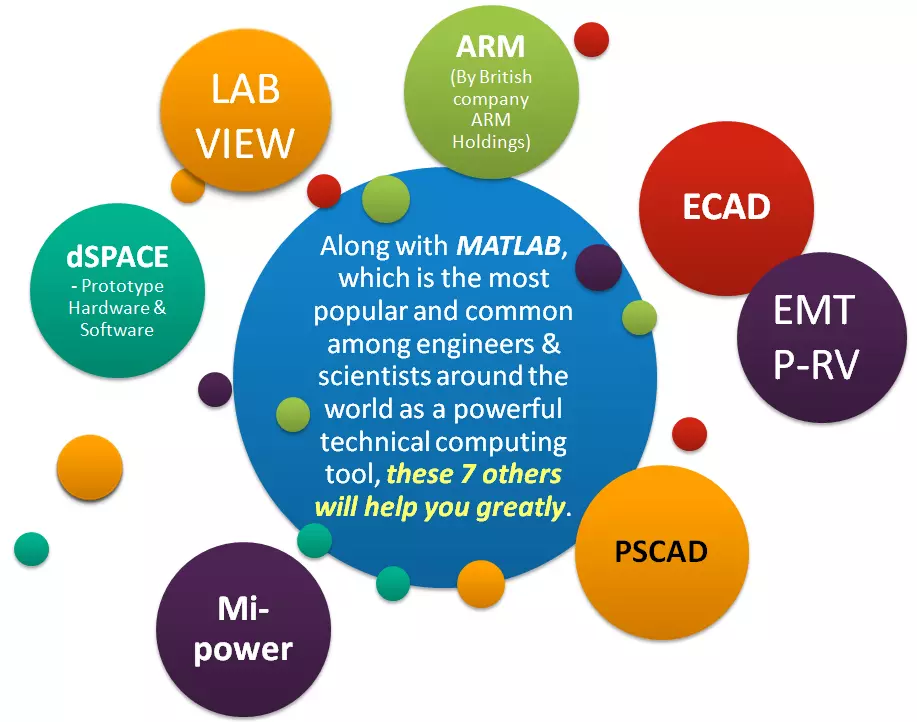 Electrical Engineering: Popular Recruiters
NTPC: National Thermal Power Corporation
NHPC: National Hydroelectric Power Corporation
HPCL: Hindustan Petroleum Corporation Limited
PGCIL: Power Grid, the central transmission utility
GAIL: Gas Authority of India Limited
MECL– Mineral Exploration Corporation Limited
IOCL: Indian Oil Corporation Limited
HECL: Heavy Engineering Corporation Ltd.
DDA: Delhi Development Authority
CONCOR: Container Corporation of India Limited.
NALCO: National Aluminum Company Limited
MDL: Mazagon Dock Limited
NFL: National Fertilizers Limited
NLC: Neyveli Lignite Corporation Limited
To clarify a written test and interview will be conducted for organizations such as AP Transco, AP Genco, AP Discom, Indian Railways, Bharath Dynamics Ltd, Coal India Ltd, Hindustan Aeronautics Ltd, DRDO, ISRO, NMDC, EIL etc.
Conclusions
Hey! So, we've just presented to you several lists containing multiple disciplines of engineering courses that one can pursue after 12th such as software engineering courses, civil engineering courses, electrical engineering courses, etc. As well as thorough information regarding the best engineering courses and information about careers after engineering courses. It might all be quite confusing to you unless and until you are clear about your existing strengths & weaknesses. Which field of Engineering is best for you? You must find out with the help of an expert career counsellor. In conclusion, a little help now may save a lot of heartburn later.
Must Read:
Discover More by accessing the Free Career Dashboard
This will help us share relevant information with you
Trending Posts


Anushree has 4+ years of experience in the career counseling industry as a Senior Content Writer. She has also worked as a Social Media Marketing Expert for a startup and Content Quality Analyst for Publishing and E-learning Industry. She has done her Master's in Commerce and PGDM in Finance & Trade and Marketing & HR, but she is currently following her passion for writing.