As humans, we always have the inherent desire to be a traveller. We want to travel around the world and experience nature, architecture, food, culture, and all that. One of the first things that we do when planning a trip is that we book a stay – mostly at hotels and resorts. So, professionals involved in hotel management manage the operations of these hotels and resorts.
Do we book hotels only when we travel for leisure and recreation? Of course not. We book hotels for business travel, weddings, parties, meetings, conferences, exhibitions, seminars, and even for organising an event for sales promotion.
As per a report on Bloomberg, the MICE (Meetings, incentives, conferencing, exhibitions) industry alone is going to grow at a compounded annual growth rate of about 7.6% to reach a size of 1439 Billion USD. The growth could be slower in 2020 and 2021 for the Covid-19 outbreak but it will start growing again post 2021. Moreover, the big fat destination wedding industry is growing at a dizzy pace. Therefore, happy days are ahead for those who are thinking about a career in hotel management. 
Career Counselors Can Help You Manage a Career Crisis
Click the link below!
However, managing a hotel is not easy. In fact it comes with a lot of responsibilities and requires skilled and talented professionals who can take up these responsibilities. So, are you someone who wants to be a part of this industry? If yes, you are at the right place then. Likewise, we shall dive into the details of building a career in hotel management. So, what are you waiting for? Let's start.
What is Hotel Management?
Hotel Management involves coordinating and managing all the operations that are required to run a hotel, a resort, a guest house, a service apartment, or in short, any other similar facilities where accommodation is provided to guests.
Hotel Management includes:
Front Office Management – answering queries of hotel guests, helping guests to book and check in the hotel, answering various service calls from the guest, and helping guests to pay bills and check out.
Guest Services Management – helping guests to avail of various services offered by a hotel such as travel bookings, car rentals, business desk services, spa services, etc. This also involves answering queries of guess and resolving grievances.
Food & Beverage Services Management – this involves – i) serving food and beverages to hotel guests at their rooms and ii) serving food and beverages at the various restaurants, bars, coffee shops, and lounges of a hotel.
Kitchen Management & Food Preparation – cooks and chefs at hotels, along with their assistants, plan menu, order and receive food ingredients as well as beverages, and prepare various food dishes as well as various soft and hard beverages to serve the guests at a hotel.
Housekeeping Services Management – Housekeeping involves upkeep of all the facilities in a hotel, including the rooms, passages, lobby, restaurants, and so on. Housekeeping involves cleaning rooms and various facilities, arrangement of linens and various other materials at rooms and at other facilities. Laundry services are also part of housekeeping services.
Marketing and Sales – hotel management tasks involve marketing of hotel services to potential guests as well as selling of the various services to them.
Banquet & Event Management – depending upon the star rating, a hotel may have a number of banquet halls and other venues for organising events. Managing events at these halls and venues are a crucial part of hotel management.
Facilities Management & Engineering – depending upon star rating, a hotel may have large-scale infrastructure including buildings and various systems for smooth operations – such as civil engineering, HVAC (Heating, Ventilation, and Air Conditioning) engineering and so on.
Discover More by accessing the Free Career Dashboard
This will help us share relevant information with you.
Why Choose a Career in Hotel Management?
Some facts first:
As the world gets smaller, connected and globalized, the number of tourists and business travelers has witnessed a high growth in the last decade. This has pushed the tourism and hotel industry to attain higher benchmarks of quality and service to cater to all kinds of demands made by travelers.
Do you know that an influx of international hotel chains and large hotel brands are increasing their presence in India? Indian Brand Equity Foundation (IBEF) report says that the Hotel & Tourism sector received a total of Foreign Direct Investment (FDI) inflows of US$ 13.210 billion by the end of September 2019.
Moreover, this accounts for around 47% share in the Indian Tourism & Hospitality industry by 2020 and by almost 50% by the year 2022. Do you know what this means? The hospitality and tourism sectors in India will invest more leading to more jobs and greater opportunities for those looking for a career in hotel management.
Skills Required to Succeed in Hotel Management
Hotel management requires a set of skills that you need in your day-to-day business operations. Although, some skills are acquired via pursuing courses in hotel management. However, there are a few skills which you'll master over time while working.
Moreover, hotel management allows people to work in an industry that requires a very diverse set of skills in an individual. Therefore, to cater to a number of responsibilities you are held accountable for, there are certain attributes that you should have. Some of the skills needed are:
Communication Skills
Interpersonal Skills
Leadership Skills
Organizational Skills
Problem Solving Skills
Creative Skills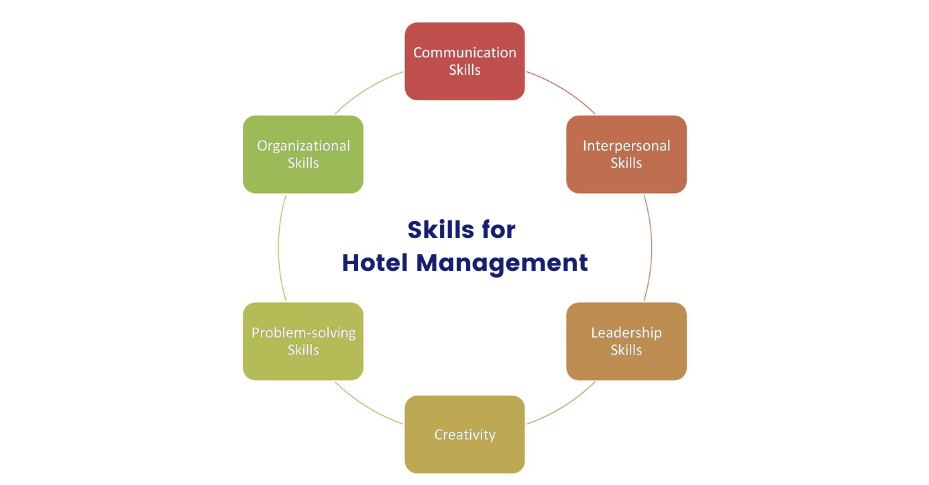 Courses in Hotel Management
When we talk about courses for Hotel Management, there are numerous diploma and full-fledged degree courses you can pursue to begin a successful career in hotel management after Class 12th. Let's get started with the best courses in Hotel Management after 12th class:
Top 15 Hotel Management Courses after 12th (Diploma and Other)
The Hotel Management courses after 12th prepare and train you in the key departments in a hotel. For the most part these are the front office, guest services, kitchen, food and beverages, housekeeping, facilities management, sales & marketing, etc. However, it's your dedication which matters the most.
Although a number of diploma and certification courses are available to choose from. Also, each of these diploma/ certificate courses helps you inculcate the knowledge and skills required to succeed in the hotel industry.
Systematic Training and Education Programme– STEP*, offered at the Oberoi Centre of Learning and Development (OCLD)
Diploma in Hotel Management
Diploma in Hotel Management & Catering Technology
Certificate in Catering and Hospitality Administration
Diploma in Housekeeping and maintenance (DHK)
Certificate Program in Food Production
Diploma in Front Office Operations (DFO)
Diploma in Food & Beverage Operations (DFB)
Craftsmanship Course in Food & Beverage Service
Diploma in Food & Beverage(Production/Service) (DF&B)
Diploma in Hotel Management Catering Technology & Tourism (DHMCTT)
Certificate course in Restaurant Planning and Operations
Diploma in Aviation Hospitality and Travel Management
Diploma in Bakery and Confectionery
Top 9 Bachelor Degree Courses in Hotel Management
Bachelor in Hotel Management (BHM)
Bachelor in Hotel Management and Catering Technology (BHMCT)
B.Sc. in Hospitality and Hotel Administration
BA (Hons) in Culinary Arts
B.Sc. in Hotel Management
B.Sc. in Hospitality & Hotel Administration
BBA in International Hotel Management
Bachelors in International Hotel Management
B.Sc. (Hons) in International Hospitality Management
Top 15 Master's Degree Courses in Hotel Management
Master of Hotel Management (MHM)
Masters in Tourism and Hotel Management (MTHM)
Master of Management in Hospitality
MBA in Hotel Management
MBA in Hospitality Management
M.Sc. Tourism and Hospitality Management
MBA in Global Hospitality Management
M.Sc.in International Hotel and Tourism Management
M.Sc.in Dietetics & Food Service Management
Post Graduate Diploma in Accommodation Operations & Management
Guest Service Management Programme by OCLD
Housekeeping Management Programme by OCLD
Kitchen Management Programme by OCLD
Sales Management Programme by OCLD
M.Sc. in Hotel Operations Management
Fees Structure
Indian institutes such as IHM offering Hotel Management courses charge somewhere between Rs. 4,00,000 to Rs.15,00,000 for 3-year undergraduate programs. Moreover, for master's degree courses in Hotel Management, Indian institutions charge around Rs. 2,00,000 to Rs. 5,00,000 for 2-year programs.
However, the fee for studying in international institutes is higher and costs Rs. 30,00,000 – 48,00,000 or more, excluding travel and other expenses.
So, below is a list of Top Indian and International Institutes for Hotel Management offering graduate and post-graduate courses in Hotel Management.
Top 10 Indian Institutes for Hotel Management
Institute of Hotel Management- IHM, Mumbai
Oberoi Centre of Learning and Development
Institute of Hotel Management, Catering and Nutrition- IHM, Delhi
Institute of Hotel Management-IHM, Bangalore
Indian Institute of Hotel Management – IHM Kolkata
Institute of Hotel Management- IHM, Chennai
Institute of Hotel Management- IHM, Ahmedabad
Welcome Group Graduate School of Hotel Administration (WGSHA), Manipal
Institute of Hotel Management, Catering Technology & Applied Nutrition- IHM, Dehradun
Christ University
Top 10 International Institutes for Hotel Management
EcoleHoteliere de Lausanne (EHL)
Les Roches International School of Hotel Management
Glion Institute of Higher Education
Cornell University
Hotel School The Hague
Hotel School Vatel
Oxford School of Hospitality Management, Oxford Brookes University
William F. Harrah College of Hotel Administration, University of Nevada
Blue Mountains International Hotel Management School, Torrens University
EcoleHoteliere de Geneve
Job Opportunities in Hotel Management
Altogether there are several departments in a hotel where you can find work as per your area of specialization and qualification in Hotel Management. Depending upon the diploma or degree course and also upon the reputation of the institute where you are passing out from, you may get any of the following jobs:
Management Trainee: In this case, you do rotating duties in all the departments of a star hotel and then start working as an Assistant Manager/ in other junior level roles.
Hotel Operations Trainee: In this case, you are mostly assigned for training in a particular department of a star hotel and on completion of the training, you start working in a junior level role in the same department.
Commis Chef: If you get a job in the kitchen, your first role could be as a Commis Chef; in this role you will be involved in the basic aspects of food preparation such as cutting, chopping, marinating, mixing, etc.
Senior Level Job Roles
Well, the initial job opportunities should not be bothering you as there's a lot that you must learn while on the job. Besides, you don't learn everything in a classroom. But, not to worry. However, you can rise fast in a hotel, depending upon your attitude, skills, and work performance. Some of the senior level jobs roles are: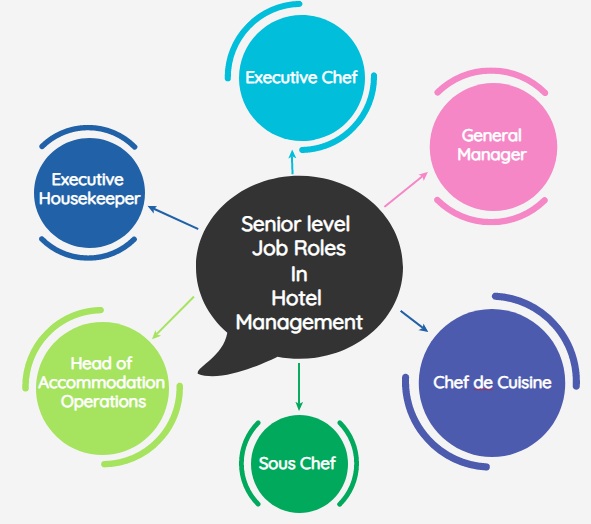 Executive Chef: In brief, in this role you are the head of the kitchen and you are responsible for providing tasty, healthy, and hygienic food dishes and beverages to the hotel guests.
General Manager: In this role you are the head of all the operating departments in a hotel, although the Executive Chef may not be reporting directly to you in some cases.
Chef de Cuisine: In this kitchen role you are the head of a particular cuisine in a hotel, for example – Indian cuisine, Chinese cuisine, Mughlai cuisine, Italian cuisine, etc.
Sous Chef: In short, in this kitchen role you are the deputy head of a particular cuisine in a hotel or you are the head of a particular type of food preparation.
Executive Housekeeper: In this role you are the head of the housekeeping operations of a hotel.
Head of Accommodation Operations/ Front Office Operations and Guest Services: In this role you are the head of the front office operations as well as the guest services management operations.
Top Trending Industries Where You Can Work
You can work in hotels, resorts, spas, guest houses, serviced apartments, and similar other facilities which offer boarding and lodging services
Also, in hospitality or catering services for various Airlines/ Hospitals/ MNCs/ Indian Armed Forces/ Railways/ Banks/ Running canteens for schools, colleges, hostels etc.
Moreover, you can work on board of luxury cruise ships
Furthermore, you can work on board merchant navy ships – such as cargo carriers, passenger carriers, oil tankers, etc.
And, you can work on board luxury personal cruise vessels – such as luxury yachts
Plus, you can set up your own hotel after having acquired 15-20 years of industry experience
After completing your higher studies in Hotel Management, you can also become a lecturer at Hotel Management Institutes
Top 20 Hotel Chains/ Brands as Recruiters
Hilton Hotels & Resorts
Hyatt Hotels
ITC Group of Hotels
Marriott International, Inc.
The LaLiT Hotels, Palaces and Resorts
The Oberoi Group
The Taj Group of Hotels
The Claridges
Ambassador Group of Hotels
Sarovar Hotels & Resorts
K Raheja Group of Hotels
Dusit Hotels & Resorts
Fortune Park Boulevard
Jaypee Group of Hotels
InterContinental Hotels Group
The Park Hotels
Radisson Hotel Group
Accor Hotels
The Leela Ambience Hotel & Residences
Lemon Tree Hotels
Salary in Hotel Management
At an entry-level, graduates from premier hotel management institutes are usually placed by the star hotels and resorts. However, the initial salary of a management trainee for the first one or two years of his training ranges from Rs. 20,000 to 30,000 per month in India depending on the trainee's skills.
Although only after one has gained experience of around 5 to 7 years, one can expect a rise in remuneration and responsibilities. However, on average, a Hotel Manager can expect a salary of Rs. 10 to 36 lakh or even more per annum which is highly dependent on the company running the hotel and the star rating, size & clientele of the hotel.
In Conclusion
The hospitality industry is already a booming industry in India and therefore if you are looking for a career in hospitality management, then now is the right time. Although, if you are having doubts and want expert guidance to plan and decide if Hotel Management is the right career choice, then you must get in touch with India's best career counsellors and make informed career decisions.
So, that's it for today. We hope to bring another interesting article for you. Thank You.
Also read;
Discover More by accessing the Free Career Dashboard
This will help us share relevant information with you.
Trending Posts

Shruti Verma has an experience of around 2+ years in research and analysis of careers, jobs, and industries. She has a knowledge of diverse fields spanning from career counselling, management consulting, engineering, and technology to science, finance, and humanities.