Studying in the United States is the dream of many Indian students. Most often, this dream is destroyed due to financial constraints. Fortunately, there are a number of scholarships for Indian students in the USA available these days, and if you're alert enough, you can reap the benefits of getting one or more for yourself.
Do you Know?

The cost of living for international students in the US has increased by 14% compared to previous years. Despite this growth, the number of Indian students studying in the US increased by 5.4%. The approximate annual cost of tuition, fees, living and other expenses for an international student in the US is around USD 35,000 (~INR 26 lakhs).
But a wide range of financing options is available to Indian students enrolling in USA institutions of higher education for a cost-effective education. The USA is undoubtedly one of the most expensive countries in the world, but this factor should not prevent you from getting a higher education in the country. With the wide range of scholarship options available to Indian students, you can find a way to support your studies throughout the program. However, you should not rely on one scholarship and apply for different scholarships to increase your chances of getting one.
Read on as we have listed some of the scholarships available at your disposal to choose from…
What all is covered in this post?
To make it easier for you, we have created a quick guide to everything you need to know about the top scholarships for Indian Students in the USA.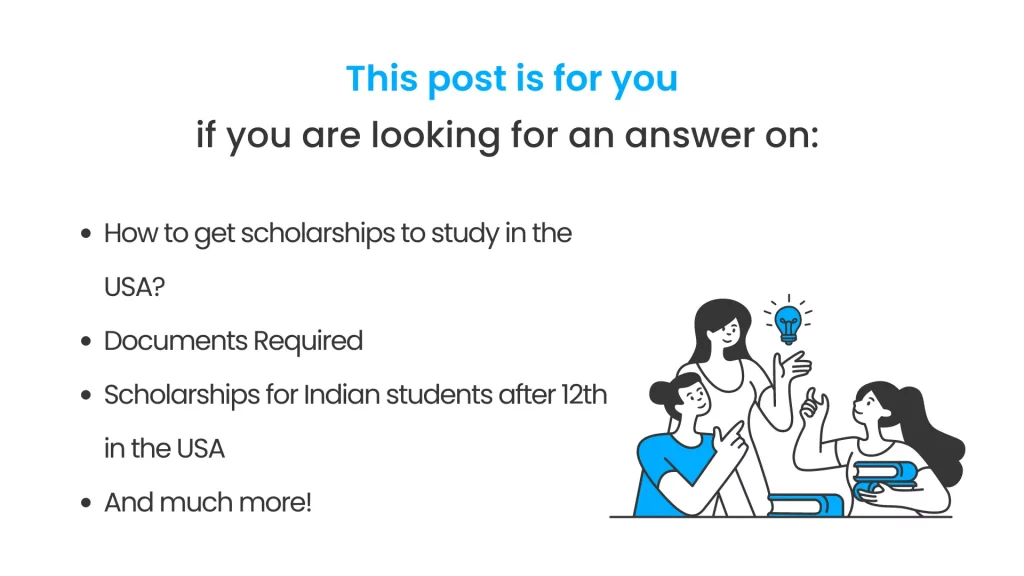 How to get scholarships to study in the USA?
First and foremost is to check the eligibility criteria of the scholarship you are going to apply for. This could be your academic score, profile, subjects chosen to study, or place of study. Different scholarships are based on your home country i.e., given to students from a specific region or country. While some scholarships require candidates to have proven skills other than academics, it could be sports or extracurriculars. If it is a research-based scholarship, you need to demonstrate your previous work or assignments. In addition, if the grant is provided by the university, please contact the university with any questions regarding the scholarship.
Types of scholarships available
There are mainly two types of scholarships:
Merit-based scholarships
Need-based scholarships
Merit-based scholarships are awarded to candidates with outstanding academic or extracurricular profiles. While need-based scholarships are provided to candidates from weaker sections of the population.
Documents required for scholarships in the USA
Applying for a scholarship requires a lot of paperwork. There may be different types of documents for different types of grants. However, there are specific documents required to apply for each type of scholarship. Below we have mentioned a list of some of these documents.
Copy of GPA
Standardized test scores (SAT, ACT, GRE, GMAT)
Photo ID/Passport (Aadhar card in some cases)
Proof of language proficiency (IELTS or TOEFL exam score)
Cover Letter/Statement of Purpose
Recommendation letter
Note: To know everything about studying in the USA, refer to our Study in USA post!
Top 5 scholarships for Indian students after 12th in the USA
Scholarships available for Indian students planning to pursue undergraduate studies after completing 12th grade are listed below:
Inlaks Shivdasani Foundation Scholarships
This scholarship is offered to students who wish to study in North America and Europe and have some expertise in their chosen fields. The scholarship is not open to students majoring in engineering, business studies, computer science, medicine, public health, hospitality and tourism, fashion design, and film and music animation.
Eligibility: All Indian citizens who have resided in India for the past six months at the time of filling out the scholarship application.
Amount: USD 1,00,000. It covers tuition fees, one-way travel, and living expenses.
Fulbright-Nehru Research Fellowship
International students applying for master's or doctoral programs are eligible for this scholarship. Graduate students and young professionals can stay in the US for a year or two through this scholarship.
Eligibility: Students with at least 3 years of work experience and pursuing a master's degree are eligible. Only J1 visa support is offered in this scholarship.
Amount: This scholarship covers tuition fees, living expenses, and medical expenses of the students.
The Hubert H. Humphrey Fellowship Program
This program is part of the Fulbright program, which aims to attract talented people from around the world to the United States. This scholarship is for those people who wish to pursue a Master's or Ph.D.
Eligibility: A TOEFL score is required for this scholarship
Amount: Variable
Stanford Reliance Dhirubhai Fellowships for Indian Students
Through the Stanford Reliance Dhirubhai Scholarship Program, Dhirubhai Industries supports Indian students pursuing an MBA at Stanford University. This scholarship is awarded to 5 qualified students.
Eligibility: It provides financial assistance for tuition fees for the MBA program
Amount: USD 1,50,000
Rotary Foundation Ambassadorial Scholarship
It offers grants to fund sustainable and high-performing scholarships in 6 areas of focus.
Eligibility: Only sustainable and measurable activities will be considered
Amount: USD 30,000
Top scholarships for Masters in the USA
Getting an MS scholarship in the USA is not that difficult, provided you do some careful planning and research. Several institutions offer Indian students the opportunity to pursue a Masters in the USA.
Since postgraduate tuition fees are high, below are scholarships for students who wish to pursue a Master's, or Ph.D. in the USA.
| | | |
| --- | --- | --- |
| Name of Scholarship | Eligibility | Amount in USD |
| AAUW International Fellowship | Students should have a good score in their Bachelor's and a proven English proficiency | USD 18,000 |
| Aga Foundation Scholarship | Students should be from a country where the Aga Foundation operates | Variable amount |
| Dean's Scholarship | It is awarded to students pursuing all streams of MS | 100% off on tuition fees |
| Generation Google Scholarship | Students with an excellent academic record in Computer Science & related fields are eligible | USD 10,000 |
| Global Study Awards | Those who are pursuing their MS and have a good score in IELTS are eligible | USD 14,000 |
| Illinois State University Scholarship | Those who have an excellent academic record are eligible | USD 10,000 |
| King Abdullah Foreign Fellowship Program | It is open only to all Saudi nationals | Variable amount |
| Sushil Jajodia Indian Student Scholarship | 3 Indian students with good academic records are eligible | USD 3000 |
Popular universities in USA offering scholarships
In this section, we have tabulated a list of top universities which offer scholarships in the USA to International students.
| | | |
| --- | --- | --- |
| Name of University | Name of Scholarship | Amount in USD |
| Boise State University | Treasure Scholarships | USD 8460 |
| Boston University | Boston University Presidential Scholarship | USD 25,000 off on tuition fees |
| Clark University | Clark Global Scholarship Program | USD 15,000 – USD 25,000 |
| Cornell University | Cornell University Financial Aid | Variable amount |
| Harvard University | The HAAA Scholarship | Variable amount |
| Stanford University | Stanford University Scholarships | Variable amount |
| University of Memphis | University of Memphis Scholarships | Variable amount |
| University of Minnesota | University of Minnesota Fellowship | Variable amount |
| University of New Haven | University of New Haven Scholarship | Variable amount |
| Yale University | Yale University Scholarships USA | USD 70,000 |
Note: If you want to know more about top universities, refer to our Top Universities in the USA post!
Conclusion
If you want to apply for a scholarship in the USA, you will receive several scholarships. You can get financial aid in the form of personal or family funds, private scholarships, government funding, and college scholarships and aid. AECC Global provides you with a detailed list of what you need to know to apply for a scholarship. You will also receive assistance at every stage of your study abroad. To get a scholarship in the USA, you need to have an application or registration form.
Not settled yet! Do dial us! iDreamCareer is on a mission to reach every state and every child in order to ensure that talent is appropriately delivered to the industry.
Talk to our study abroad experts to know yourself in and out! We have helped several brilliant but confused minds with the aim to select their most-suited career choices. We have helped many students like Anjana Prasanna who was not very confident about her capabilities. Later with the help of career guidance and moral support from our study abroad experts she got an offer from King's College London! We have helped several young confused minds like Aayush and Tapan with an aim to select their most-suited career choices.
Also, read;
FAQs
How much GRE score is required for a scholarship in the USA?
You must have a minimum score of 165+ in the GRE exam. There are so many famous universities in the USA that offer various scholarship programs.
How to get a scholarship for MBA in the USA?
To be eligible for a US MBA scholarship, students must have exceptional academic performance or professional achievement.
Can I get a scholarship for a master's degree in the USA?
International students who wish to pursue a master's or Ph.D. degree can apply for the Fulbright program in the United States. Non-degree postgraduate scholarships are also available. The scholarship covers tuition, textbooks, travel, accommodation, and health insurance.
Is it easy to get a scholarship in the USA?
If you did poorly on the GRE or GMAT and have a high GPA, you still have a decent chance of getting a scholarship. Most universities place a lot of emphasis on undergraduate GPA. They look at both your GPA for each semester/year and your overall cumulative GPA (or percentage) across all four years.
How much scholarships can I get for MS in the USA?
The US scholarship amount is $10,000 for the 2022-2023 academic year. Eligibility Criteria for MS Scholarship in the USA: The eligibility requirements for this MS scholarship for Indian students in the USA are as follows. The student must have a secondary education or an equivalent qualification.

Anushree has 5 years of experience in the career counseling industry as a Senior Content Writer. She has also worked as a Social Media Marketing Expert for a startup and Content Quality Analyst for the Publishing and E-learning Industry. She has done her Master's in Commerce and PGDM in Finance & Trade and Marketing & HR, but she is currently following her passion for writing.