Studying abroad at a top university is every student's dream. If given an opportunity, students will pursue their higher education at the university of their dreams abroad and will pass with distinction. But having funds for studying abroad can cost an arm and a leg for a student. Almost everybody looks for an education loan for abroad studies.
Students may need to do penny-pinching or take scholarships/fellowships to support their studies. But what if you won't be able to save money? Who will pay for your education abroad? If you worry about this, don't anymore.
Here is the solution.
In this article, we will talk about eligibility criteria for applying for education loans, a procedure for getting student loans for studying abroad, a procedure for getting education loans for abroad studies without collateral, and much more!
Why consider education loans for abroad studies?
The expense of pursuing higher education from abroad could be huge which is why taking education loans is a viable option for students who are planning to pursue higher education abroad. In addition to providing financial assistance, it helps close the gap between available funds and the required amount.
Following are some of the benefits of taking an education loan for abroad studies: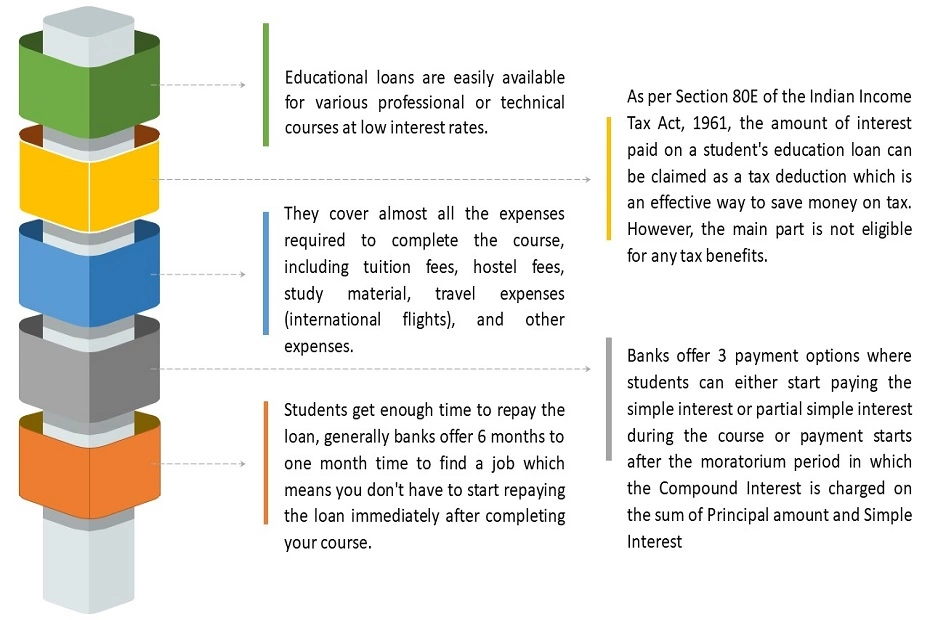 ---
---
Types of student loans for studying abroad
Secured loans for abroad studies: It is a type of loan where the borrower promises some of his or her assets as collateral. If a person borrows a secure loan, he or she will have to mortgage property to a bank or financial institution.
NOTE: Agricultural land cannot be mortgaged by the loan borrower.
Unsecured loans for abroad studies: Unsecured loans are loans that are not secured against the assets of the borrower. These loans can be easily availed from financial institutions (Private banks/NBFCS or international lenders) under many different methods or marketing packages. There are several conditions that must be met to obtain an unsecured loan.
.
Eligibility criteria for education loan for abroad studies
First and foremost, it is important to assess whether you are eligible to apply for an education loan or not. Listed below are some of the general terms and conditions that are usually followed by any bank while providing an education loan. Please note that individual banks may have their eligibility guidelines to be followed when applying to that bank.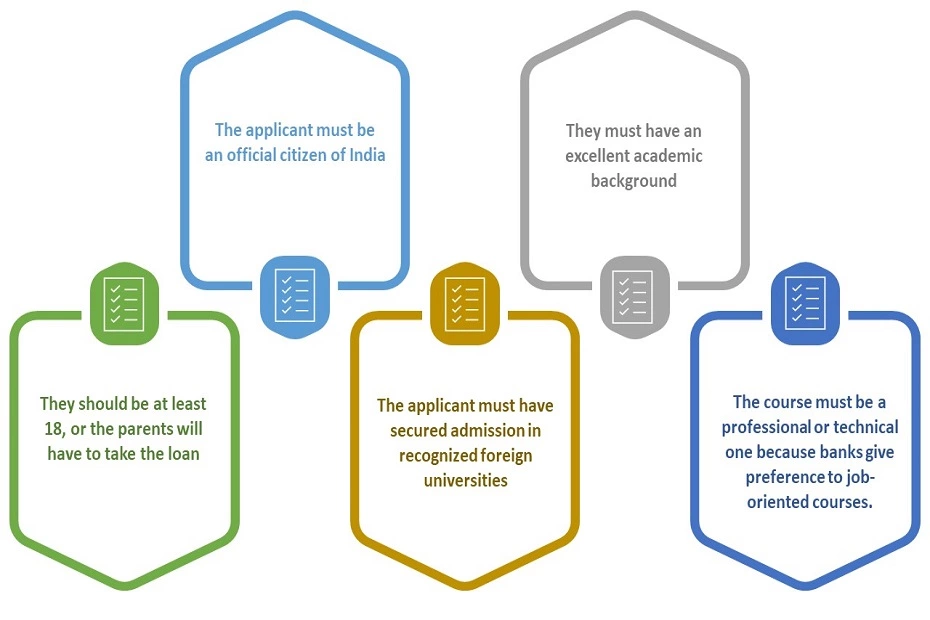 ---
---
Documents required for applying for education loan for abroad studies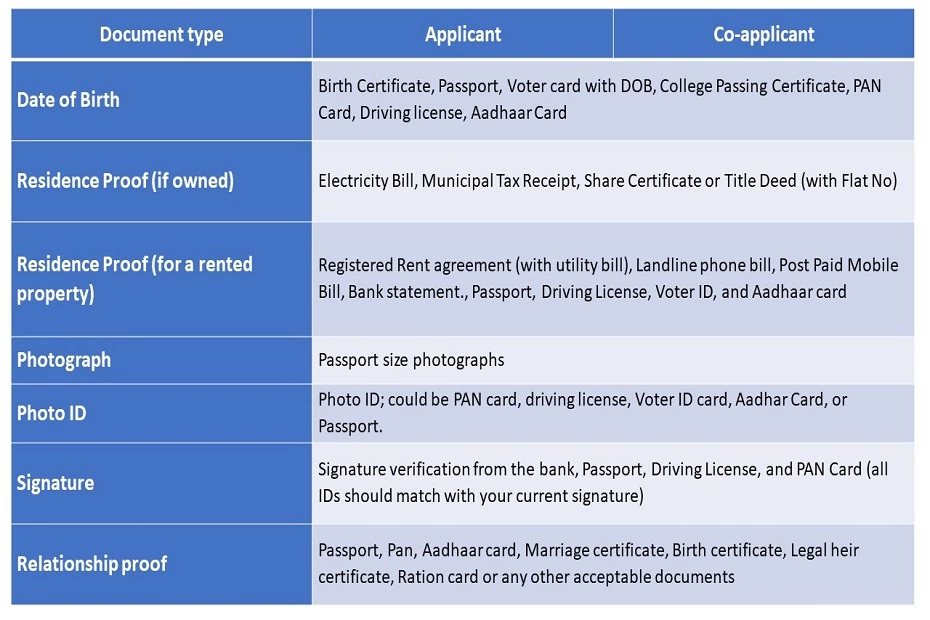 ---
---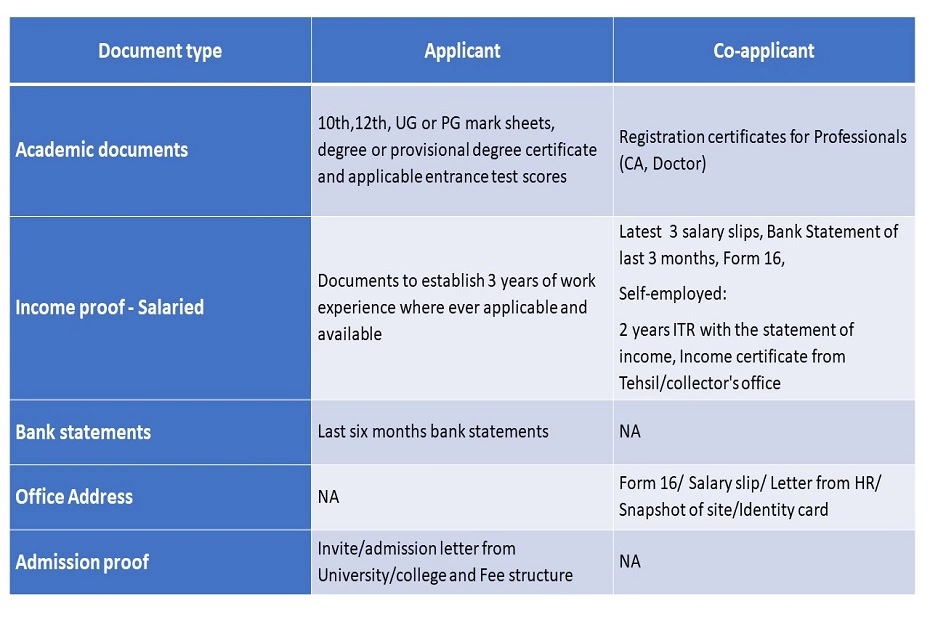 In addition to the above-mentioned documents, you must have the following other technical & legal documents to obtain an education loan for abroad studies: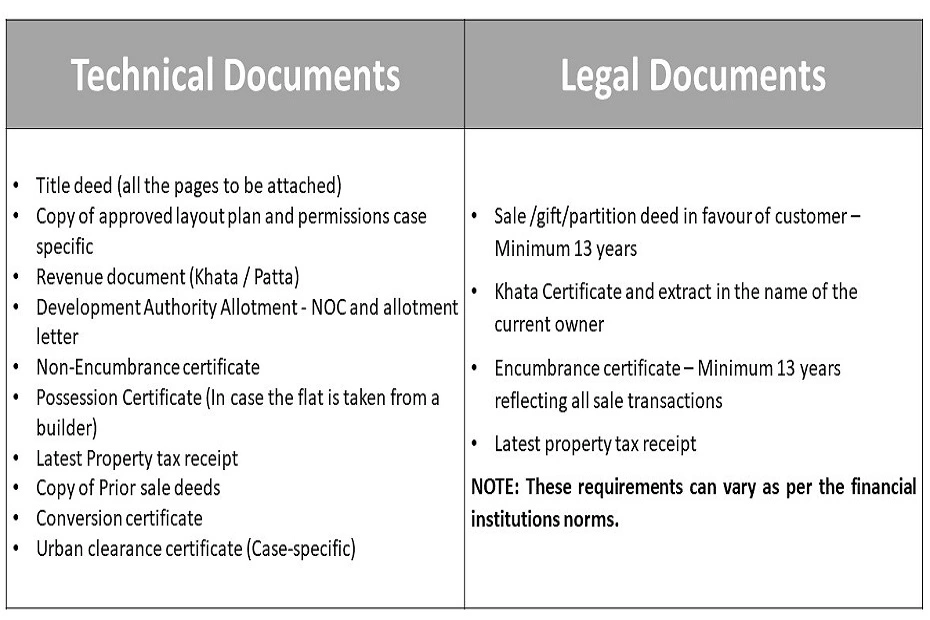 ---
---
Procedure for getting a student loan for studying abroad
Firstly, you need to check the course you want to apply for – is recognized by the financial institution/bank or not.
Check the amount of loan you will be needing to study abroad and how much you can arrange on your own.
Compare the education loans offered by different banks to study abroad and find one that best suits your needs.
After finalizing the bank and loan amount, complete the loan application form and go to your bank.
Once your loan gets approved, the bank will issue a loan document covering various aspects of the loan.
After signing the loan document, the bank will issue the loan in instalments or as per the request of the university.
/
How to get a student loan for abroad studies without collateral?
Education loans have been a great help to those who want to pursue higher education and who are facing major challenges in budgeting. Students can now borrow up to INR 4 lacs without collateral. For getting education loans, up to Rs 7.5 lacs, parents or guardians are made joint borrowers and a third-party guarantee is obtained. For loans above INR 7.5 lacs, a collateral loan is provided.
---
---
Top Indian banks offering student loans for studying abroad
.
Top Non-financial Companies (NBFC) offering education loans
International Student Loan Program (ISLP)
.
Epilogue
Studying abroad can be a big decision. Those who want to study abroad, but finding it difficult to budget, have the option of obtaining a loan to study abroad or in India. This post gives all the information, including the eligibility criteria, the required documents, and the loan procedure for Indian students who plan to study abroad.
If you still have some, why not ask professional experts? Talk to our industry experts and know yourself in and out! iDreamCareer is on a mission to reach every state and every child to ensure that talent is appropriately delivered into the industry. We try to help young confused minds from 9th class, 10th class, class 11, class 12 with an aim to select their most-suited career choices.
Also, read
.
Recent Releases
.
.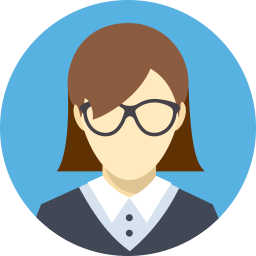 Anushree has 5+ years of experience and currently she is associated with idreamcareer.com as a Content Writer. She has also worked as a Social Media Marketing Expert for a startup and Content Quality Analyst for Publishing and E-learning Industry. She has done her Masters in Commerce and PGDM in Finance & Trade and Marketing & HR, but she is currently following her passion towards writing.