The desire to live a healthy lifestyle has fuelled a passion for fitness in all of us. Today everyone wants to engage in various physical activities, such as doing home workouts or heading to the gym. But without any proper guidance one wrong move can lead to severe injuries? That's when a gym trainer gets into the picture.
Want to build your career as a gym trainer but afraid that it won't be financially rewarding? Wish to make the world a healthy place? If you answered yes, then continue reading this article. Know how to establish a career as a gym trainer.
But before moving let's first know who is a gym trainer?
Who is a gym trainer?
A gym trainer is an individual who is responsible for training & motivating individuals or groups of people or clients to exercise. They will be involved in demonstrating techniques and forms of different exercise formats, observing the participants, and explaining to them corrective measures necessary to improve their skills.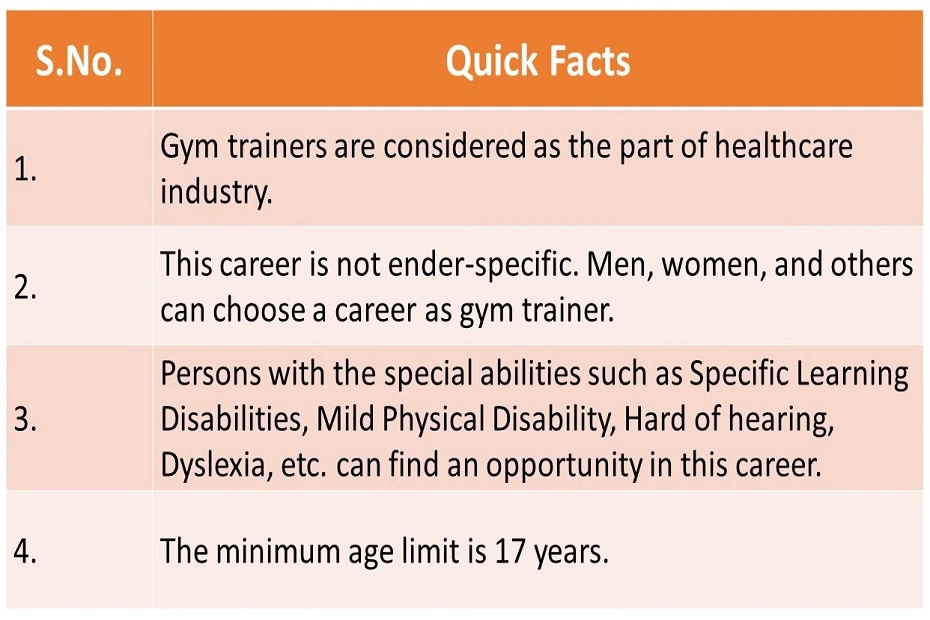 ---
---
Discover More by accessing the Free Career Dashboard
This will help us share relevant information with you.
Types of a gym trainer
Following are the types of gym trainers
Aerobics Instructor
Nutritionist
Fitness & Wellness Coordinator
Group fitness instructors
Personal Trainer
Exercise Physiologist
.
What does a gym trainer do?
Gym trainers are required to work with people/clients of all ages. You need to be friendly and encouraging to retain your clients. You also need to listen to what the client is saying in order to determine their fitness level and the desired goals they are looking for.
Their work may include the following activities: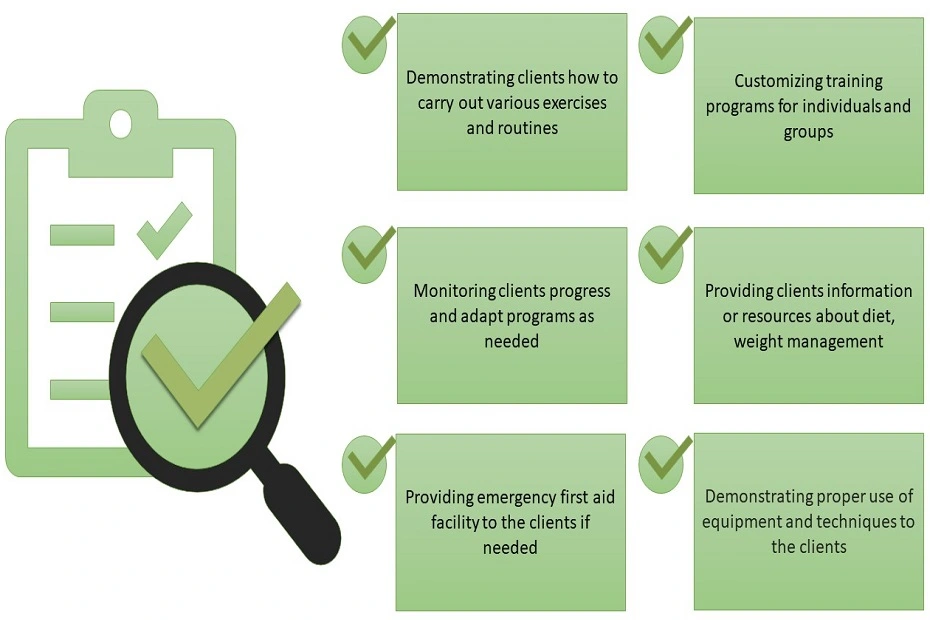 ---
---
How to become a gym trainer?
Acquire necessary skills: A gym trainer should have the following skills to deal with different kinds of people/clients: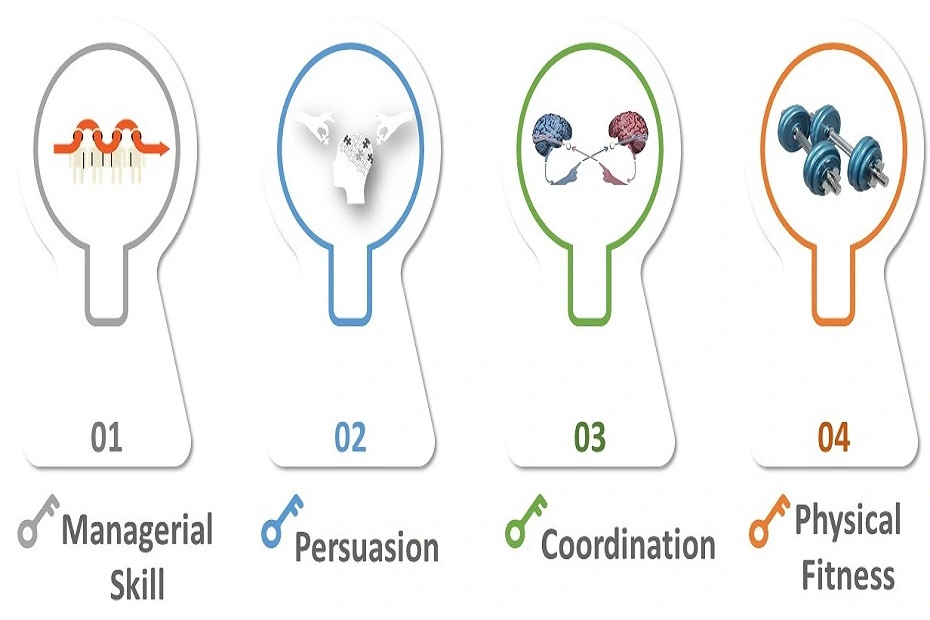 ---
---
Complete class 12th with any subject from a recognized board.
Register for a course: Having a certification/degree/diploma course from a recognized institute is a requirement to enter into this career. Many organizations offer a variety of courses for fitness training with written and practical tests.
The duration of these courses ranges from 3 months to 3 years (depending on the course) and can cost anywhere between Rs.10,000-30,000. Most certificates expire in 2-3 years and need to be renewed.
Expand your skills: You can expand your gym training skills with specialized courses to become an expert in the field you desire. For example, if you want to explore your career in weight training or practical training, register for a specialized course related to that field.
Get on-the-job training: Work experience is required if you wish to become a certified gym trainer. In the fitness industry, most employers hire individuals based on their experience. Beginners can work as an assistant with qualified fitness trainers to acquire specialized knowledge.
---
---
Gym trainer courses – Overview
The gym trainer course includes a variety of topics such as basics of certain topics like physical education, nutrition, kinesiology, different types of exercises for different body parts, muscle building, physiotherapy, how to use workout equipment, information about dietary supplements, information about possible injuries, injury prevention while doing a workout, massage & stretching therapies, training skills, etc.
The 3 types of courses offered are
Certification Courses

Popular certifications courses are:

Certified Personal Trainer Certification
IFPA-PFT: International Fitness Professionals Association Personal Fitness Training Certification
Sports Nutrition (CSN) Certification
Certificate in YOGA
Practical Training in Gym

Course Duration: 6 months to 1 year

Diploma Courses

Popular diploma courses are:

Yoga Education
Physical Education
Yoga and Naturopathy
Sports Science

Course Duration: 1 year to 2 years

Degree Courses

Popular degree courses are:

B.P.Ed. (Bachelor of Physical Education)
B.A. Yoga
B.Sc. Sports and Exercise Science
B.A. Physical Education

Course Duration: 3 years
Note: You may also apply for certification courses offered by some private centres such as Gold's Gym (now acquired by Cult.Fit), K11 Academy of Fitness Science, BFY Sports & Fitness.
---
---
Salary of a gym trainer
In the entry-level jobs: You may get about Rs. 10,000.00 – Rs.17,000.00 or more per month.
After having 1-6 years of experience, you may expect about Rs. 15,000 – Rs. 30, 000 per month or more.
After 6-12 years of experience, you may get about Rs. 20,000.00 – Rs. 45,000 per month or more.
.
If you start working independently after a few years of experience in a fitness centre/ gymnasium, you may start earning more. If you work hard and develop good contacts, you may get a lot of clients to help them at their own homes or gymnasiums. There are opportunities to work for sports clubs and teams also. You will earn much more in these work opportunities. If you can become a personal gym trainer for a celebrity, then you can earn in lacs every month.
Epilogue
Does that give you some clarity now? If you are still not sure about choosing gym training as a career, then you can talk to expert career counsellors, get unbiased guidance and take the right step towards this career. iDreamCareer experts are always ready to help young minds like you from 9th class, 10th class, class 11, class 12 with an aim to select your most-suited career choices.
Also, read
.
Recent Releases
Discover More by accessing the Free Career Dashboard
This will help us share relevant information with you
Trending Posts

.

Anushree has 4+ years of experience in the career counseling industry as a Content Writer. She has also worked as a Social Media Marketing Expert for a startup and Content Quality Analyst for Publishing and E-learning Industry. She has done her Master's in Commerce and PGDM in Finance & Trade and Marketing & HR, but she is currently following her passion for writing.