Have you recently graduated from high school and aren't sure if you want to pursue a BBA or a B.Com degree? You are not alone in this. Many commerce majors struggle to decide whether to pursue a BBA or a B.Com. It is always a burning question between BBA vs BCom: which is better! We are here to solve all your queries and enlighten you on the right path. This blog contains all the vital differences between BBA and BCOM courses that one must consider.
Do you know?

According to a recent survey conducted by Statista, 40 lakh students enroll in BCom every year worldwide.
Compared to BBA, B.Com gives greater employment options. The B.Com concentrates on Accounts, Administration, Finance, and Economics, whereas the B.BA concentrates on a general curriculum that covers Management Information Systems, Finance, Marketing, and Human Resource Management. Finance, marketing, and human resource management are all areas that the BBA places a strong emphasis on. BCom, on the other hand, places a strong focus on having a thorough understanding of topics like accounting, administration, finance, and economics.
What all is covered in this post?
To solve all your queries, we have prepared a detailed guide for you on what to choose between BBA and BCom.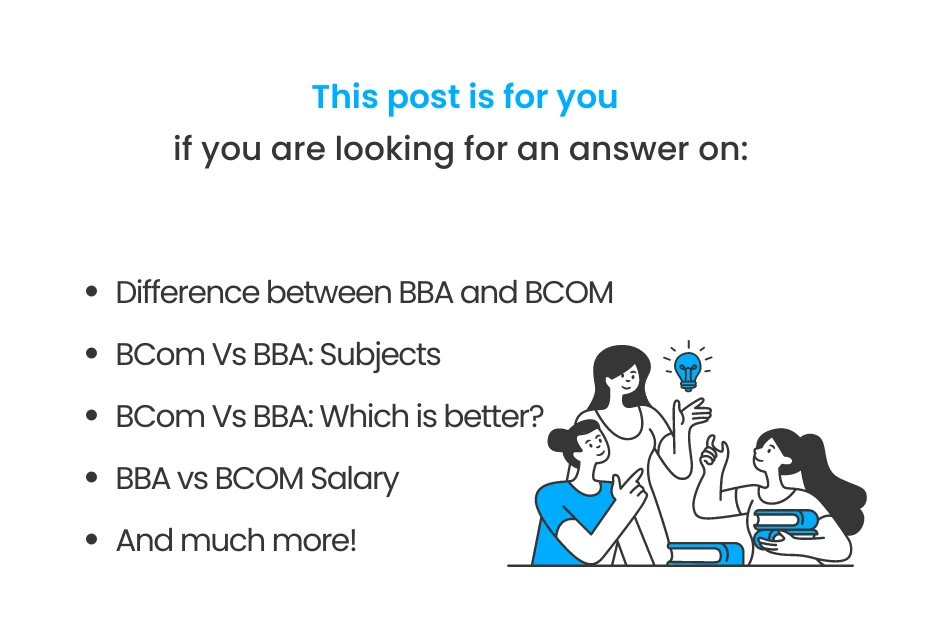 Lets now have a look at the basic differences between BBA vs BCom.
BBA vs BCOM: Difference between BBA and BCOM
BCom
Students who desire to work in accounting, taxation, or finance should pursue this degree. A bachelor's degree in commerce covers all facets of business as well as allied fields including accounting, economics, taxation, and insurance. It is intended to enhance the communication, analytical, and problem-solving skills of commerce students. Examples of specialized BCom programs are BCom Accounting and Finance, BCom Marketing Management, and BCom Finance. Following graduation, students have the option of pursuing M. Com or Masters of Commerce degrees or other specializations like MBA, Chartered Accountancy, or Cost Accounting.
Why BCom?
Here is the list of reasons why one should opt for BCom as their graduating course.
Students who want to learn about finance should opt for it.
Provides a strong basis for professional courses in commerce-related subjects, including M. Com, MBA, CS, CA, CMA, CFA, and others.
It is more diverse, and offers more options for business specialization and career progression.
BBA
The BBA program is a three-year undergraduate curriculum that places a strong emphasis on developing business abilities. Case studies, presentations, industry visits, summer internships, and other forms of practical experience are meant to supplement theoretical instruction. To encourage future leadership and entrepreneurial skills, the BBA course syllabus incorporates the concepts of Management Information Systems, finance, marketing, and human resources.
Why BBA?
Here is the list of reasons why one should opt for BBA as their graduating course.
Because it enables students to refine their concepts and transform them into more detailed plans, BBA is referred to as the entrepreneurship center.
Fantastic employment chances at prestigious companies are available to students.
For students, the prerequisites for a master's degree in business administration are marked.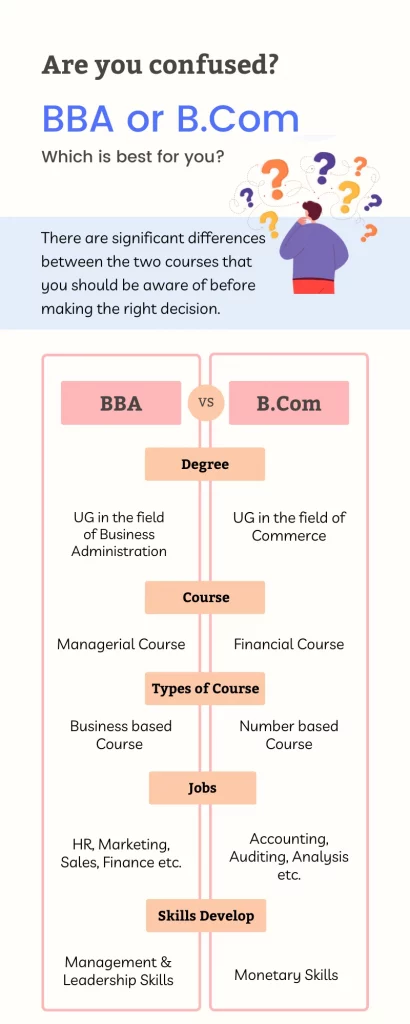 Discover More by accessing the Free Career Dashboard
This will help us share relevant information with you.
BCom Vs BBA: Subjects
It is essential to quickly review the list of topics covered in order to understand the course as a whole. We may make sure we are knowledgeable about the course we will be attending by taking a quick look at the syllabus.
Here is a table that shows the subjects covered in BCom and BBA respectively.
| | |
| --- | --- |
| BCom | BBA |
| Financial Accounting | Statistics for Business Decisions |
| Income Tax Law and Practice | Management Accounting |
| Cost Accounting | Healthcare Management |
| Corporate Accounting | Business Research |
| E-commerce | Fundamentals of Management and Organizational Behaviour |
| Corporate Law | Legal Aspects of Business |
| Business Mathematics | Quantitative Techniques for Management |
| Auditing and Corporate Governance | Business Policy and Strategy |
| Human Resource Management | Financial Institutions and Markets |
| Financial Management | Human Resource Management |
| | Business Communications |
| | Financial Management |
BCom Vs BBA: Which is better?
The decision between BBA and BCom might be very difficult. Here are the fundamental distinctions between these two courses' components so you can see why you should choose one over the other.
BCom has a greater emphasis on business-related subjects and specialisations than does BBA, which offers a wide range of specialisations in areas including management, travel and tourism, media, marketing, and much more. Therefore, BCom is the best choice if you want to study business and management in the context of the commercial world and global company.
BBA is ideal for students looking to pursue a specific management specialisation, such as media and communications, banking and finance, digital marketing, tourism management, or human resource management.
BCom can be a suitable option for you if you're a student who wants to pursue a career in business, is curious about the subject's many facets, and enjoys working with statistics.
The BBA may be the more straightforward option if you are interested in a career in management and want to acquire the necessary abilities to just enter the management sector.
When eligibility is taken into account, BBA may be easier to get into because it accepts applicants from practically all streams.
Admission to a BCom (Hons) programme might be challenging because colleges may have more stringent requirements.
BBA vs BCom: Which is better for MBA?
Either course can be used to achieve similar career goals. However, the BBA gives more career options than the BCom. BCom mostly emphasises academic knowledge, whereas BBA provides both theoretical and practical expertise. The candidate's interests and long-term goals should direct their course choices because both courses can lead to lucrative work prospects.
BBA vs BCom: Which is better for Banking?
Candidates may find employment in the banking industry after completing any of the BCom or BBA programmes. A BCom graduate frequently possesses a greater level of the specialised knowledge required to work in the banking sector.
BBA vs BCom: Job Opportunities
Graduates of BCom and BBA programmes can find entry-level employment in the banking, insurance, and finance industries. Professional sectors including hotel management, event planning, human resource management, etc. are open to BBA graduates as well. While BBA gives professional career alternatives that are exclusive to an industry, BCom will deliver work options that are not defined by schooling.
For entry-level roles, top businesses like KPMG, Deloitte, PwC, Accenture, Morgan Stanley, and BCG, among others, hire both BBA and BCom graduates.
BBA vs BCOM Salary
The income offered to BCom graduates and the typical work alternatives are shown in the table below:
| | |
| --- | --- |
| BCom Jobs | BCom Salary (In INR) |
| Account Executive | 2.5 LPA |
| Business Executive | 3 LPA |
| Financial Analyst | 3.7 LPA |
| Tax Consultant | 4.5 LPA |
| Financial Consultant | 5 LPA |
| Accounts Manager | 5.8 LPA |
| Business Consultant | 9 LPA |
The income offered to BBA graduates and the typical work alternatives are listed in the table below:
| | |
| --- | --- |
| BBA Jobs | BBA Salary (in INR) |
| HR Executive | 3.75 LPA |
| Marketing Executive | 2.91 LPA |
| Marketing Manager | 6.84 LPA |
| Sales Executive | 2.44 LPA |
| Entrepreneur | 7.44 LPA |
| FInancial Advisor | 3.83 LPA |
| PR Manager | 5.21 LPA |
Our Verdict
Though we have tried our best to make you familiar with the course insights of BBA and BCom, it is quite subjective to choose one between them. It completely varies on different parameters and individual's domain of interest. Still in a dilemma about which course to opt for? Why not talk to our highly experienced industry experts at iDreamCareer! We have helped millions of young people to identify the ideal career path that would help them achieve their dreams in the future. You too can be that person! Our career advisers can answer your questions in only 60 seconds. What are you still holding out for? Get the app right away!
Must Check These
Resources as suggested by UGC:
Further help for your doubts:
Frequently Asked Questions (FAQs)
Which is easier between BBA vs BCom?
Each program's level of difficulty is dependent on the individual. Though, BBA is considered to be easier than B.Com.Which is better, BCom or BBA?
Though it completely depends on one's domain of interest. In order to choose the job path that will lead to success, you should pick a BBA degree because it gives you a strong foundation and a sense of direction.
Which has more salary BCom or BBA?
Both the B.Com and the BBA offer competitive salaries. However, you will undoubtedly have a competitive compensation package if you enroll in an MBA program alongside one of them.
Are admission criteria for BBA and BCom similar?
Yes. Admission to BCom and BBA programs is based on both merit and admission exams. The requirements for admission can differ amongst institutions.
Which course between BBA and BCom is better for business?
BBA gives entrepreneurship skills, in contrast to BCom. As a result, BBA degree programmes are required for students who wish to work in the business world.
Discover More by accessing the Free Career Dashboard
This will help us share relevant information with you
Trending Posts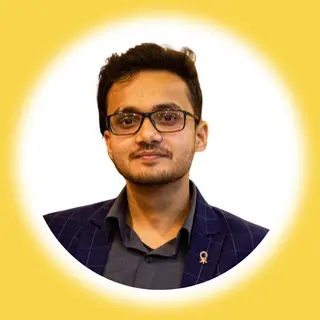 Sushant has been writing since his early days of childhood and currently, he's serving as a Content Writer with iDreamCareer. Sushant has two start-ups of his own and he has been writing content for them since their inception. Apart from that he is passionate about writing which is why he is following his passion for writing with iDreamCareer.