Do you have a career in Management in mind? An MBA from a good institution is still one of the most desired degrees in the world. Or even a 2-year full-time PGDM, which is similar to an MBA. Are you looking for MBA colleges in Delhi? Or the best colleges for MBA in Delhi? Or are you looking for the best PGDM colleges in Delhi?

If you want to study for an MBA or PGDM or a similar degree in Business Administration, Financial Management, Human Resources Management, Marketing Management, Business Analytics, Operations Management, Logistics Management, or in any other similar field, then this article will give you a comprehensive list of the MBA institutes in Delhi.
Top 15 MBA Government Universities and Institutes
List of the various MBA colleges in Delhi as well as PGDM Colleges in Delhi :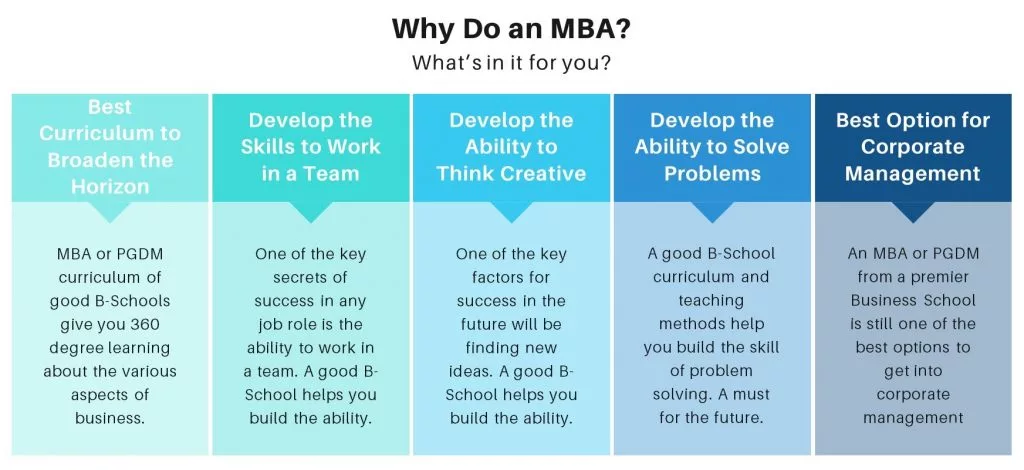 Top AICTE Approved PGDM Colleges & MBA Colleges
AICTE is the apex approval authority in India for approving various technical courses including courses in Management. AICTE approves PGDM (Post Graduate Diploma in Management) programs as well as MBA programs.The top AICTE approved MBA and PGDM colleges in Delhi and NCR (National Capital Territory) are:
Discover More by accessing the Free Career Dashboard
This will help us share relevant information with you.
How to Select the Best MBA Colleges in Delhi?
Your selection should aim to find the MBA or PGDM college which fits with your skills, aptitudes, knowledge, and your career plan. What do you want to do after an MBA? Are you really aware of the opportunities as per your own capabilities? In general, for selecting the best MBA/PGDM college, you can use the steps shown in the figure below: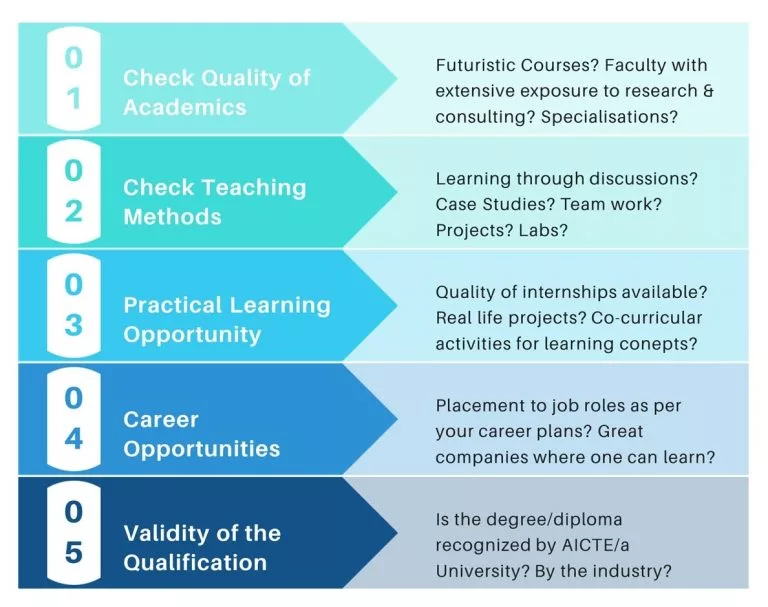 Top Private MBA Universities & Colleges in Delhi
Other AICTE Approved MBA Colleges & PGDM Colleges
Apart from the above list of the AICTE approved MBA colleges in Delhi as well as PGDM colleges in Delhi, there are a few other institutes or B-Schools which are good.
Top MBA Colleges Affiliated with Guru Gobind Singh Indraprastha University
There are some good MBA colleges in Delhi which are affiliated with the IPU University. The most well-known among them are:
Conclusion
In a nutshell, MBA colleges in Delhi offer a wide spectrum of course choices. But before you choose a college where you want to study, it makes good sense to take an expert's advice. You may think that you know all about your options. But if you approach professional and unbiased career counseling, you may realize that there are many career opportunities about which you may not be aware of. Making an informed choice matters a lot for your future career.
You may choose from any of these professional services offered by iDreamCareer to give wings to your career:
Other Resources You Will Love to Read:
Discover More by accessing the Free Career Dashboard
This will help us share relevant information with you
Trending Posts

After acquiring a bachelor's degree in Pharmaceutical Technology from Jadavpur University, Kolkata and a post graduate diploma in management, Dipankar has been working as an entrepreneurial leader in several roles across career guidance and higher education sector for over two decades with noteworthy achievements. After a brief stint in Management Consulting and HR Consulting, he set up a not-for-profit enterprise for offering career counselling services in Kolkata in 1995 and received a Fellowship from the Ashoka Foundation, USA for doing pioneering work in youth development. In his next stint, he played a key leadership role in establishing India's first corporate enterprise in career counselling in Mumbai. Thereafter he worked in higher education administration and marketing roles and worked with remarkable success in establishing new institutions, launching new academic programs, and in education marketing. In his last stint with an Australia and India based career education organisation, he led a global team which built a multi-dimensional knowledgebase for career education and was part of the leadership team which launched several products and services for career education in India. In his leisure, Dipankar loves to read books on different subjects including fiction.