Doesn't the idea of studying MBA in France fascinate you? Students can experience a variety of stunning locations in France, from bucolic vineyards to stretches of lavender. White horses roam freely in the Camargue, a marshy delta along the Mediterranean. It has red salt flats. Corsica, an island off the coast of the southeast, is beautiful and has several protected natural areas. Apart from being filled with scenic beauties all around the land, France also offers you a competitive and holistic ambiance for pursuing your further studies from there.
Do you know?

France announced short and long-term student visa services for international students.
Business professionals can study at some of the best universities in the world in France. These institutions have a distinguished academic tradition and count among their faculty some of the best business minds in Europe. Business schools can be found in many of France's main cities. For those seeking to advance their own business careers or position themselves for senior leadership roles in significant businesses, an MBA degree is an outstanding degree program. The MBA is often seen as the prerequisite for top management jobs, and doing it in France will expose the student to a global perspective on business education.
What all is covered in this post?
To verify the last-minute checklist for you, we have created a quick guide to everything you need to know about pursuing MBA from France.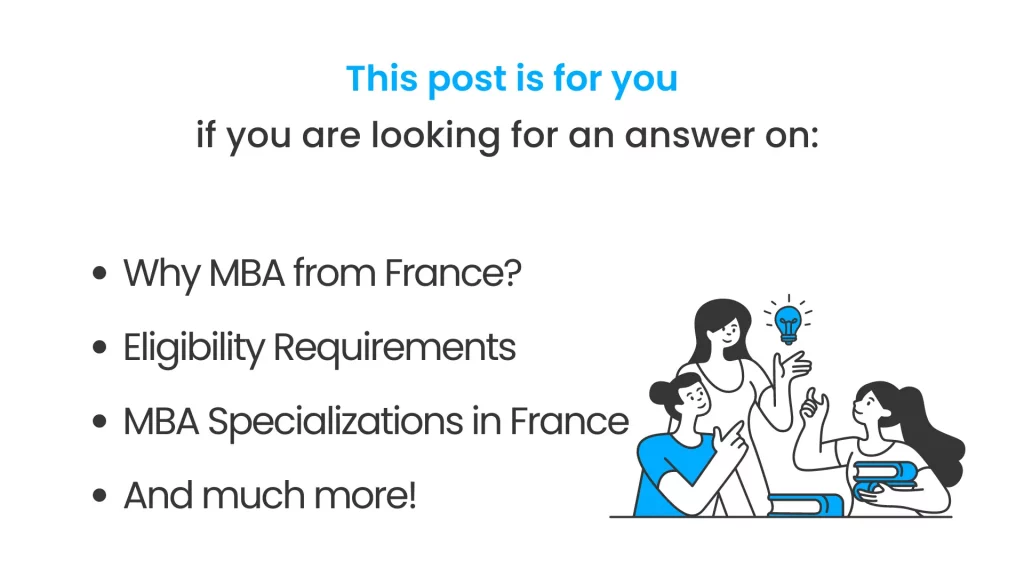 Let's now study in detail about MBA in France, the best MBA colleges in France, MBA specializations in France, the eligibility criteria, and much more.
Why MBA from France?
An MBA from a renowned French university is respected across the world. France has more than 100 institutes of higher learning that have received official accreditation from other countries for their outstanding standards. Be aware that just 18 business schools in France hold the designation of "triple crown," which is held by less than 1% of all business schools worldwide.
The benefits of pursuing an MBA in France are listed below.
World-class higher education system
Opportunities Galore
Global experience par excellence
Innovative way of learning things
Explore dynamic and rich economy
Eligibility Requirements
Students must meet the fundamental eligibility standards listed below in order to pursue MBA in France.
Undergraduate degree – Students must hold a relevant bachelor's degree in that field or its equivalent. Universities may have different minimum percentage requirements for the bachelor's degree. Most colleges in France need a minimum score of 50% in order to enroll in an MBA program.
English language proficiency requirements – International students must submit proof of their English language test results in order to enroll in an MBA program in France. Therefore, have your IELTS or TOEFL exam results ready before applying for an MBA program in France.
GRE/GMAT Score – Students must have a GMAT or GRE score in order to be admitted to an MBA program in France.
Is work experience required?
To pursue an MBA degree in France, applicants must have a minimum of three years of work experience.
MBA Specializations in France
Look at the division of MBA programs according to curriculum:
MBA in HR Management
A two-year degree program known as an MBA in Human Resources, or HRM, offers instruction and direction on how to find and manage the best candidates.
MBA in Business Analytics
The goal of the Business Analytics MBA major is to develop deep competency in the abilities required to oversee and implement data-driven business decisions, including gathering, managing, and describing datasets, drawing conclusions and predictions from data, and coming to the best and most reliable conclusions.
MBA in Finance Management
Analytical techniques, planning, organization, and financial monitoring are all covered in MBA in Finance Management course. It calls for abilities like careful data analysis, logical reasoning, and proactive decision-making.
MBA in Marketing Management
Marketing management describes the tactics, resources, and studies used to market a business. In India, an MBA in marketing management is a two-year postgraduate programme. In the realm of marketing, it is one of the most popular course specialties.
MBA in Travel and Tourism Management
A two-year PG programme called MBA Travel & Tourism introduces students to the travel and tourism sector. It emphasizes topics like tourism marketing, communication abilities, tourism law and policy, and tourism fundamentals.
MBA in Aviation Management
A two-year full-time MBA programme in management that focuses on the operations, resource, and expense management of the aviation industry as well as other associated airline management issues.
MBA in Digital Marketing
A two-year management programme called the MBA in Digital Marketing teaches students how to use marketing tools on digital platforms to advertise a good or service and grow their consumer base.
MBA in Healthcare Management
The two-year post-graduate BA in Healthcare Management programme prepares students to manage a variety of activities in hospitals, pharmaceutical businesses, and other healthcare systems.
MBA in IT
An MBA in IT gives business owners or executives a thorough understanding of human resource management, e-commerce, and security. A person with an MBA degree has an advantage in this cutthroat business environment because the post-graduation course advances a business to adjust to technological developments and provides a conceptual perspective.
MBA in Media Management
Anyone who wants to work in management and administrative positions in the media industry needs a postgraduate degree called an MBA in Media Management. Students will study media management topics in addition to the fundamental MBA courses, expanding their work options after graduation.
Cost of studying MBA in France
The overall cost of an MBA program at French universities varies between institutions. French universities are dependent on a number of things, such as
Affiliation of the institute
Location of the university
Rating and status of the university
An MBA program can cost a student roughly 35,000 euros for one year. Government-sponsored scholarships, however, are widely available. The colleges provide a variety of scholarships based on the applicant's GMAT score. Universities give scholarships for 40% of the entire cost.
Top MBA Colleges in France
From university to university, the MBA course will last a different amount of time. The average length of an MBA program in France is between 10 months to 2 years. The top 10 MBA schools in France according to the QS Global MBA rankings and their respective fees are shown below.
| | | |
| --- | --- | --- |
| Name of the Institute | QS Global Rankings 2022 | Tuition Fee (in EUR) |
| HEC Paris | 4 | 87,000 |
| INSEAD | 7 | 92,575 |
| ESSEC Business School | 27 | 49,500 |
| EDHEC | 43 | 46,000 |
| ESCP Business School | 49 | 50,500 |
| Emlyon Business School | 55 | 38,500 |
| SKEMA Business School | – | 38,000 |
| Grenoble Ecole de Management | 101-110 | 31,950 |
| Toulouse Business School | 121-130 | 30,600 |
| Audencia Business School | 141-150 | 31,500 |
Jobs and Average Salary after MBA in France
Graduates of an MBA program in France are eligible to apply for positions in numerous prestigious public and commercial enterprises. In France, the following businesses hire MBA graduates:
Microsoft
Google
Dior
Capgemini
TotalEnergies
L'oreal
The following list of popular occupations and their average salaries:
| | |
| --- | --- |
| Job Title | Average Annual Salary |
| Sales Executive | 62,200 EUR |
| Business Development Manager | 73,800 EUR |
| Revenue Manager | 56,300 EUR |
| Marketing Assistant | 29,300 EUR |
| Account Manager | 51,800 EUR |
Scholarships
Despite the low tuition fees at French State colleges, some overseas students could still find it difficult to budget for everything. They can apply for a number of institutional and local scholarships, including:
Ile-de-France Scholarships – A Master's scholarship offered to international students seeking admission to higher education institutions in the Île-de-France by the Regional Council of the region. Although open to all international students, applicants from Asia, Eastern Europe, the Middle East, Latin America, or the new European member nations are given preference.
The Eiffel Scholarship – A program created by the Ministry of Europe and Foreign Affairs is open to applications from reputable French universities. The Eiffel Scholarship intends to draw applicants from abroad for Master and Ph.D. diploma programs. It offers four primary fields of study: political science, law, economics, and management (Ph.D. and master's level).
Erasmus Mundus Scholarship – The Erasmus Mundus Scholarship is provided to both European and non-European students and is supported by the European Union. This award is available for Masters- or PhD-level joint programs.
Conclusion
Given your newfound clarity of the various MBA colleges in France, you may be considering seizing this opportunity as soon as possible. We hope we were able to address all of your questions after succinctly summarising everything for you.
Still in ambiguity? Why not talk to our highly experienced counselors at iDreamCareer?
In order to make sure that talent is properly given to the industry, iDreamCareer is on a mission to reach every state and every child. To fully understand yourself, speak with our study abroad consultants, who have over 20 years of expertise. Aayush, Tapan, and other intelligent but perplexed individuals were assisted by us in making the best professional decisions.
Also Read:
MBA in France: FAQs
Is France good to study MBA?
Some of the best business institutions in the nation offer globally renowned MBA programs. Future professionals and business owners can also take advantage of opportunities for pan-European networking.
What is the cost to study MBA in France?
The total cost of the first year of an MBA program in France is Rs. 23.66 lakhs. The average living expense is Rs. 3.43 lakhs, while the average tuition fee is Rs. 20.23 lakhs.
Is GMAT mandatory to study MBA in France?
Yes, the majority of French MBA programs demand GMAT scores. Few universities might require GRE results instead of GMAT scores.
What are the MBA requirements to study MBA in France?
You must hold a valid undergraduate degree in order to enroll in an MBA program in France. Additionally, you must have IELTS or TOEFL results proving your English language competency. In addition to these, candidates need to have a minimum of three years of work experience and GMAT or GRE scores.
What is the duration of MBA in France?
An MBA program in France will last one to two years.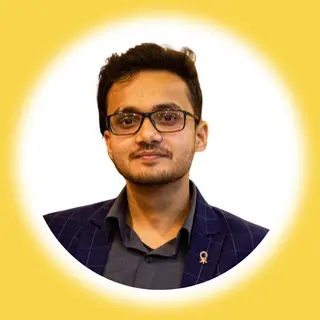 Sushant has been writing since his early days of childhood and currently, he's serving as a Content Writer with iDreamCareer. Sushant has two start-ups of his own and he has been writing content for them since their inception. Apart from that he is passionate about writing which is why he is following his passion for writing with iDreamCareer.