Okay we got it; you want to study in France and looking for a definite list of courses in France that you can pursue! Do you want to take advantage of the culture, such as numerous museums, and art galleries in every corner, and indulge yourself in a creative course? Or maybe you want to get in touch with that inner foodie and chef, get lost in the vineyards and croissants, and take a program in hospitality? Or maybe you see a dynamic political environment in France and want to immerse yourself in international relations courses?
France is one of the most sought-after destinations for Indians to pursue higher education in fashion, business or art. If you aspire to be the next Marie Curie, Jean-Luc Godard, or Vera Wang, then France is definitely the place for you!
Do you Know?

French Foreign Minister Catherine Colonna said during her recent visit to India that the French government aims to increase the number of Indian students studying in France to 20,000 by 2025.
Want to be the one? Come along…
What all is covered in this post?
To make it easier for you, we have created a quick guide to everything you need to know about the courses in France.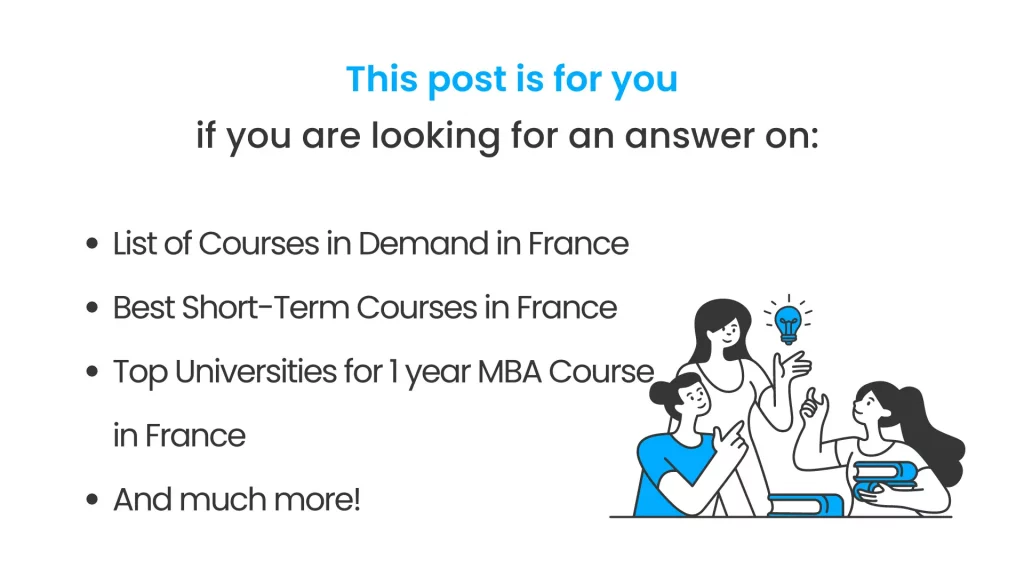 List of Courses in Demand in France
Thanks to its high-quality education system, France is a favorite study-abroad destination for international students. There are suitable undergraduate and postgraduate courses for students of all backgrounds and backgrounds.
Here is the list of professional courses in France for Indian students: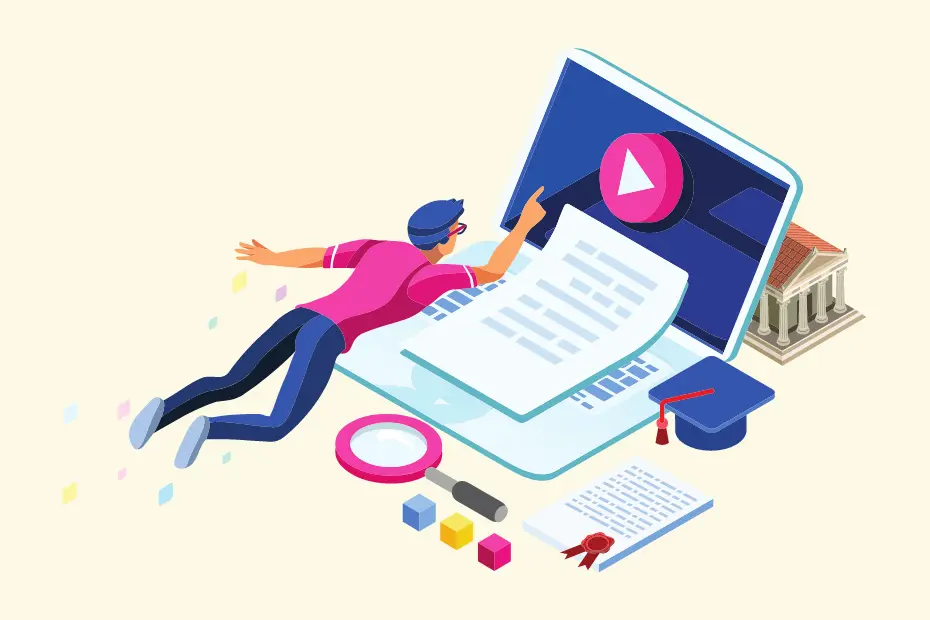 Fashion Designing
Known as the Kingdom of Fashion, many look forward to world-class events every year. Whether it's Vogue Fashion Week or Paris Fashion Week, anyone passionate about fashion knows that France is all about fashion. So, if you are interested in design, you should definitely consider studying fashion design course in France.
Top courses: Bachelor of Fashion Design & Technology; Bachelor of Fashion Marketing; MBA Fashion Management; MSc Fashion, Design & Luxury Management, etc.
Average Tuition Fees: EUR 8,900 – 20,000
Top Universities: International Fashion Academy (IFA); Paris College of Art; ESMOD; Grenoble Ecole de Management, Institut Français de la Mode, etc.
Engineering
French engineering universities are very competitive when it comes to the admission process. However, this can be easily justified when you think about the higher teaching standards and quality practical training in engineering universities in France. Yes, they give equal attention to both aspects of technical education, academic and practical training.
Top courses: Mechanical, Electrical, Marine, IT & Networking, Chemical, Civil, Computer Science, etc.
Average Tuition Fees: EUR 10000- 30000
Top Universities: Ecole Polytechnique; Sorbonne University; Université PSL; CentraleSupélec; Université Grenoble Alpes, etc.
Medicine
Wait, wait, hear us out. We know you probably didn't expect this, but France had 80 medical successes. Could there be anyone better qualified than the French to teach medicine? However, before proceeding, French medical professionals require you to be fluent in their language, so you need to have your DELF or DALF test results with you before you apply. The entire term of medical programs is divided into three cycles and it is a tough task to complete all three, but we believe in you.
Top courses: MS Cardiac EP – Electromechanical Heart Diseases, MSc Vaccinology from Basic; MBBS; Immunology to Social Sciences of Health; etc.
Average Tuition Fees: EUR 15000- 40000
Top Universities: University of Nantes, Sorbonne University, Strasbourg Medical School, Montpellier Nimes College of Medicine, etc.
Business
When you think of a Frenchman, you don't really picture someone in a tailored suit, carrying a suitcase and walking with an imperious gait only seen on Wall Street traders, do you? But I will tell you that the French are quite clever in business.
Top Courses: MSc in International Business – Luxury Marketing & Fashion Management; MSc in Luxury and Design Management; International Master in Luxury Management
Average Tuition fees: EUR 10000- 20000
Top Universities: ESSEC Business School, NEOMA Business School, ICN Business School; Emlyon Business school, Toulouse Business School, etc.
Film Studies
Film studies is a diverse academic field, ranging from highly practical professional studies to more academic, theoretical areas of research. Likewise, MA film graduates can find careers in film production – in positions such as screenwriters, directors, producers, lighting, designers, and editors – or in the analysis as teachers, writers, critics, and more.
Top courses: BFA Film & TV; BFA Filmmaking; Diploma in Filmmaking; MFC Cinematography; Master LLCR in Film Studies, etc.
Average tuition fee/year: 10,000 EUR – 20,000 EUR
Top Universities: ESRA; Paris College of Art, 3is; University of Paris, EICR, etc.
1-year MBA course in France
The 1-year MBA program prepares students for leadership positions in the corporate world. They can gain important knowledge in economics, finance, marketing, and human resources while learning teamwork and management skills.
A master's degree is a degree that demonstrates that students have completed advanced studies in their field of study. This program is available to students with a bachelor's degree and often takes one to two years to complete.
France is currently among the top 20 countries with the best economic performance thanks to its excellent result-oriented higher education. Most university courses are offered in French. There are 60 public and 100 private universities in France.
Top Universities for 1 year MBA course in France:
ESSEC Global MBA
MBA in International Management
MBA Logistics and Supply Chain Management
MBA Paris/Milan in Luxury Brand Management
Full-Time MBA Program from Vlerick Business School
For more details on these courses and top universities refer to our Study in France post.
Best Short-Term Courses in France
Certificates describe a wide range of academic qualifications. There are large differences between the length, scope, accreditation, and acceptance of certificates. Certificates can be obtained along with training or, for example, during summer school or training.
Explore our selection of affordable short-degree courses in France. But before starting the program, you must have a basic knowledge of English. Following is the list of short-term courses in France for International students:
| | | |
| --- | --- | --- |
| Courses | University | Duration |
| Pastry Diploma | Ecole Lenotre – Culinary Arts School | 25 weeks |
| Cuisine Certification Course (In Campus) | Ferrières, the School of French Excellence | 7 months |
| Project Management Professional – Exam Preparation Course | LEORON Professional Development Institute | 5 days |
| UX/UI Design Bootcamp | Ironhack School | 8 weeks |
| Web Development Bootcamp | Ironhack School | 9 weeks |
Final Words
Now that you are armed with this information, we hope you're ready to make your next big career decision! Still, confused to choose courses in France? Do dial us up.
iDreamCareer is on a mission to reach every state and every child to ensure that talent is appropriately delivered to the industry.
Talk to our study abroad experts with 20+ years of experience to know yourself in and out! We have helped several brilliant but confused minds to select their most-suited career choices. Hear the success story of Aayush who got an offer from the top 3 universities and is now studying at the University in Ottawa in Canada after getting career guidance from our industry experts!
Also Read:
FAQs
What study is famous in France?
Each secondary school is responsible for the appropriate preparation for admission to universities, Grandes écoles, or specialized schools. The most popular studies in France include majors such as economics and business, fashion, hospitality, technology, and tourism.
What work is famous in France?
Aerospace engineering is one of the most popular and market-leading job sectors in France. Along with aerospace engineering, the automotive industry and metallurgy are other lucrative industries in France. If you want to do research then MS in Chemistry or Physics would be a good option.
Is it affordable to study in France?
France is on the list of affordable countries to study. They offer affordable tuition fees for international students, for example, €170 for a bachelor's degree in France.
Can I settle in France after my studies?
To apply for PR in France, you need to study a master's program at a recognized university or business school. After that, you must apply for an APS visa, which allows you to stay in France for 2 years. During this period, it is necessary to find a preferred CDI contract job.

Anushree has 5 years of experience in the career counseling industry as a Senior Content Writer. She has also worked as a Social Media Marketing Expert for a startup and Content Quality Analyst for the Publishing and E-learning Industry. She has done her Master's in Commerce and PGDM in Finance & Trade and Marketing & HR, but she is currently following her passion for writing.