How to join the Indian navy? What is the necessary navy qualification required to join the Indian navy? Do you want to serve your country underwater? Are you all excited about the heroism of the Indian Navy officer depicted in the movie The Ghazi Attack?
Compared to other professions in the civilian world, the Indian Navy has a variety of jobs to offer to the young men and women of the country. It gives you an opportunity to show leadership skills and also gives you a huge number of responsibilities at a very young age.
Did you know?

The Indian Navy is among the top 7 navies in the world. Our premier naval arm of the Indian Armed Forces, originally known as the Royal Indian Navy, was established in 1612 by the East India Company and renamed the Indian Navy after independence on 26 January 1950.
Interested? Want to know more… Continue reading!
What all is covered in this post?
To make it easier for you, we have created a quick guide to everything you need to know about how to join Indian navy.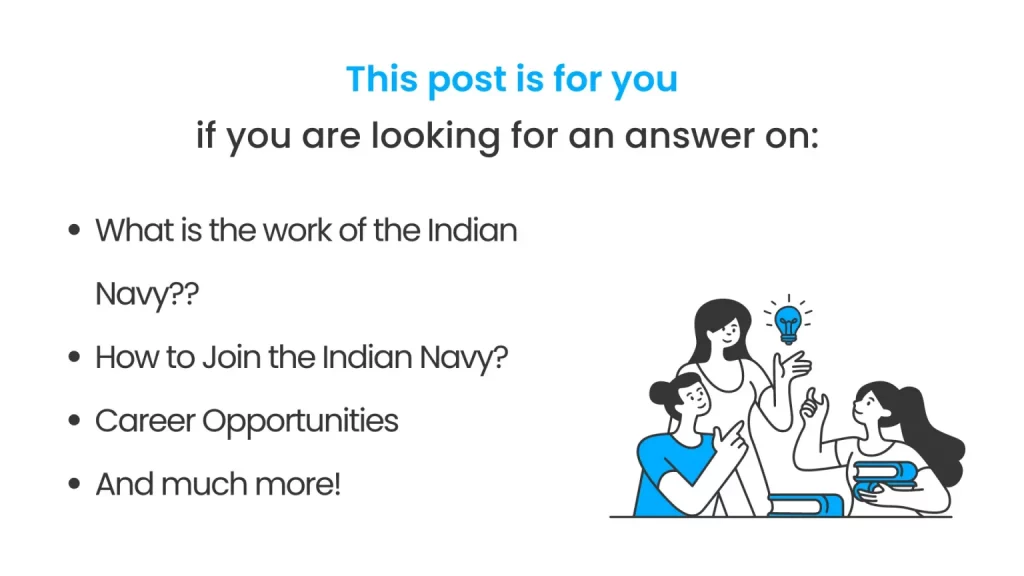 Without further ado! Come along!
What is the work of the Indian Navy?
The President of India is the Commander-in-Chief of the Indian Navy. The Navy is commanded by a four-star admiral, the Chief of the Naval Staff.
The Indian Navy is a technological powerhouse, with ships, submarines, and aircraft equipped with state-of-the-art equipment. As an Engineer Officer, you will have the opportunity to operate and maintain marine engineering equipment on board ships/submarines/aircraft.
A career in the Indian navy for women
There are some special profiles and entry routes available for all the female aspirants who are measuring how to join the Indian Navy. According to the Indian Navy, women can apply for the following mentioned profiles if they meet the prescribed eligibility criteria.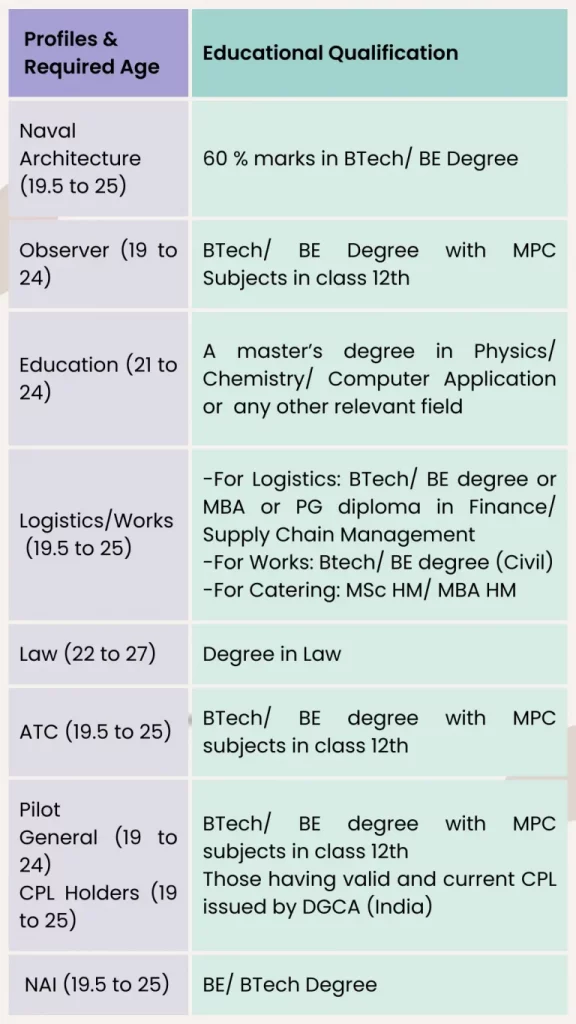 Discover More by accessing the Free Career Dashboard
This will help us share relevant information with you.
Qualification for the Indian navy
Candidates who want to apply for the posts should have completed class 10th from a recognized board/institute and certificates from recognized industrial training institutes in their respective specialty. The age of the candidate should be between 18 and 25 years.
Note: For complete details on qualifications required refer to this link.
How to join the Indian navy?
For having an understanding of how to join the Indian navy it is advised to follow the following points:
Indian navy recruitment 2022 is advertised in Employment News and all important national and regional newspapers/dailies. Students can also check the details of the advertisement by visiting www.joinindiannavy.gov.in – the official website.
Selection to the Permanent Commission through NDA/NA and CDSE (Graduate) cadets is through a Indian Navy Exam (written examination) conducted by UPSC followed by an interview at the Service Selection Board (SSB).
There is no written examination for all other permanent commission entries and short-term commission entries.
Applicants are shortlisted according to criteria established by Naval Headquarters (Directorate of Personnel Planning and Recruitment). Selection is based on merit only.
Induction into officers of various branches of the Indian Navy is done through one of the following modes/schemes: –
UNION PUBLIC SERVICE COMMISSION (UPSC) ENTRIES
Combined Defence Services Examination (CDSE)
National Defence Academy (Navy)
National Defence Academy (Naval Academy)
NCC
DIRECT ENTRY: PERMANENT COMMISSION FOR UNDERGRADUATE LEVEL ENTRY
DIRECT ENTRY: PERMANENT COMMISSION FOR GRADUATE LEVEL ENTRIES
INDIAN NAVY ENTRANCE TEST (INET): PERMANENT COMMISSION/ SHORT SERVICE COMMISSION FOR GRADUATE LEVEL ENTRIES
Pilot (MR) – for men and women
Pilot (NMR) – for men only
Observer- for men and women
Air Traffic Control (ATC) – for men and women
General Service – Executive (GS/X)/
Hydro– for men only
General Service (Technical – Electrical & Engineering)
Naval Architect- for men and women
Information Technology– for men and women
Logistics- for men and women
Education- for men and women
Naval Armament Inspectorate Cadre (NAIC) – for men and women
Note: For complete details on the selection procedure refer to this link.
Exam for Indian navy
The most sought-after way to join the esteemed Indian Navy is to qualify for the various competitive examinations conducted at the national level. These exams will give you the opportunity to join the armed forces directly.
We have formulated a list of written exams conducted by various authorities and this can be your absolute gateway if you are wondering how to join Indian Navy.
National Defence Academy (NDA)
With an educational qualification as simple as 12th, aspirants can join the Navy through the NDA exam. NDA is a tri-service academy that recruits candidates for the Indian Naval Academy, Indian Military Academy, and Indian Air Force Academy through a common examination split into two separate tests. The exam is held twice a year and only male candidates aged 16.5-19.5 are eligible to apply. Applicants must be unmarried.
Combined Defence Services (CDS)
Conducted twice a year by UPSC, CDS is one of the most popular ways to get into the Indian Navy. The CDS exam is followed by the SSB interview which determines the final status of the candidate. Candidates can target all three i.e., Army, Navy, and Air Force through this exam. Only male candidates who meet the minimum requirements, such as a higher education degree from a recognized institution, can register for the exam. That applying must be under 19-22 years of age. The CDS exam is divided into three parts.
Class 12th (BTech) Cadet Entry
For male candidates who are thinking about joining the Indian Navy after studying MPC (Maths, Physics, and Chemistry) class 12 subjects, joining cadets is a pathway to their career aspirations. Candidates must have at least 70% marks in the 12th standard to take this route. Those shortlisted in this technical application will be called through SSB. Also, if you want to choose this route, you must ensure that you are 16.5-19 years old when you start the course.
University Entry Scheme (UES)
If you are pursuing or have received a quality education through an engineering program, you can become a part of the prestigious Indian Navy through UES. Only pre- or final-year male candidates can apply. Candidates can apply in the Executive Entry Department, General Services, Architecture Department, etc. Both Male and Female can apply to Architecture Department. Candidates opting for this route must be between 21 and 24 years of age. MPC subjects in 12th class along with a minimum of 60% marks in each paper in graduation is mandatory for the candidates.
Jobs in the Indian Navy
Here is the list of Indian navy jobs:
Executive
Engineering
Education
Electrical
Medical
Indian navy training institute
Now you know all the key points related to how to join the Indian navy. The next step is to choose the right training institute. Here is the list of best institutes in India:
INS Agrani (Leadership Training), Coimbatore, Tamil Nadu
INS Chilka (Sailors Training), Bhuvneshwar, Orissa
INS Dronacharya (Gunnery School), Kochi, Kerala
INS Garuda (Aviation), Kochi, Kerala
INS Hamla (Logistics Training), Malad, Mumbai
INS Kunjali (Music Training School), Colaba, Mumbai
INS Mandovi (Provost and Physical Training School), Verem, Goa
INS Valsura (Electrical Training), Jamnagar, Gujarat
INS Vishwakarma (Shipwright School), Vishakhapatnam
Institute of Naval Medicine, Colaba, Mumbai
Agniveer agnipath scheme 2022
Agnipath scheme, a program for recruiting officers under the ranks of officers, with the aim of deploying strong, young troops at the forefront, many will have four-year contracts. It is a game-changing project that will give the Armed Forces, Navy, and Air Force a very small picture. Indian Navy Agniveer online form can be checked on the official website.
Conclusion
Now that you've arrived here, you must be aware of almost all of the programs and get an overview of the answer to your query about how to join Indian Navy. You will have to bear all the odds throughout your training, most of which will be mean!
Therefore, it is very important to understand whether you are fit for this career or not. Do you really have what it takes? Or do you just have a gut feel? To get a clear-cut answer to this question, it could be a good idea to pursue unbiased career counseling and take help from experts. We at iDreamCareer always believe in helping young minds discover their true mettle. We try to help young confused minds from 9th class, 10th class, class 11, class 12 with an aim to select their most-suited career choices.
Useful Links:
FAQs
Can a student apply for the Indian Navy jobs after 12th?
Yes, class 12th pass students can apply for the Indian navy. 
What is the required height for joining the Indian Navy?
All the candidates who want to join the Indian Navy must be physically and medically fit as per the prescribed standards. Proficiency in sports, swimming, and extracurricular activities is desirable. Growth. The preferred height for a candidate aged 18 years is 157 cm for males and 152 cm for females.
What is the period of Indian Navy training?
The initial training period is 22 weeks for NOC (regular) and 44 weeks for NOC (advanced). After completing your initial training, you are required to undergo specialized training in your respective branches at various training institutions of the Indian Navy.
Discover More by accessing the Free Career Dashboard
This will help us share relevant information with you
Trending Posts


Anushree has 4+ years of experience in the career counseling industry as a Content Writer. She has also worked as a Social Media Marketing Expert for a startup and Content Quality Analyst for Publishing and E-learning Industry. She has done her Master's in Commerce and PGDM in Finance & Trade and Marketing & HR, but she is currently following her passion for writing.