The government announced a strong and far-reaching scheme of 'Agnipath' on Tuesday, sending Defence Minister Rajnath Singh and three Church officials to avoid criticism that would undermine military expertise, morals, and the spirit of war, and possible leadership in the military.
The recruitment process for 46,000 soldiers, sailors and air forces this year will begin on the basis of "all-India, all-class" under this program, which was approved by a cabinet committee headed by the Prime Minister for Security.
Based on the scheme below, there are answers to some of the most commonly asked questions.
What is agnipath scheme?
Agnipath scheme, a program for recruiting officers under the ranks of officers, with the aim of deploying strong, young troops at the forefront, many will have four-year contracts. It is a game-changing project that will give the Armed Forces, Navy, and Air Force a very small picture.
Agnipath scheme eligibility
All three services will be registered through a centralized online program, as well as specific forums and campuses conducted by well-known technical colleges such as Industrial Training Centers and the National Qualifications Framework, among others.
Registration will be on the basis of 'All India All Class'. Agniveers will have to meet the medical requirements for getting shortlisted in the military. Agniveers' educational qualifications will remain same and the recruitment will be done twice a year.
Agnipath scheme army age limit
Registration will be on the basis of 'All India All Class', a qualifying age ranging from 17.5 to 21 years old. However, the upper age limit for candidates who want to apply this year is increased to 23 years from 21 as a one-time waiver.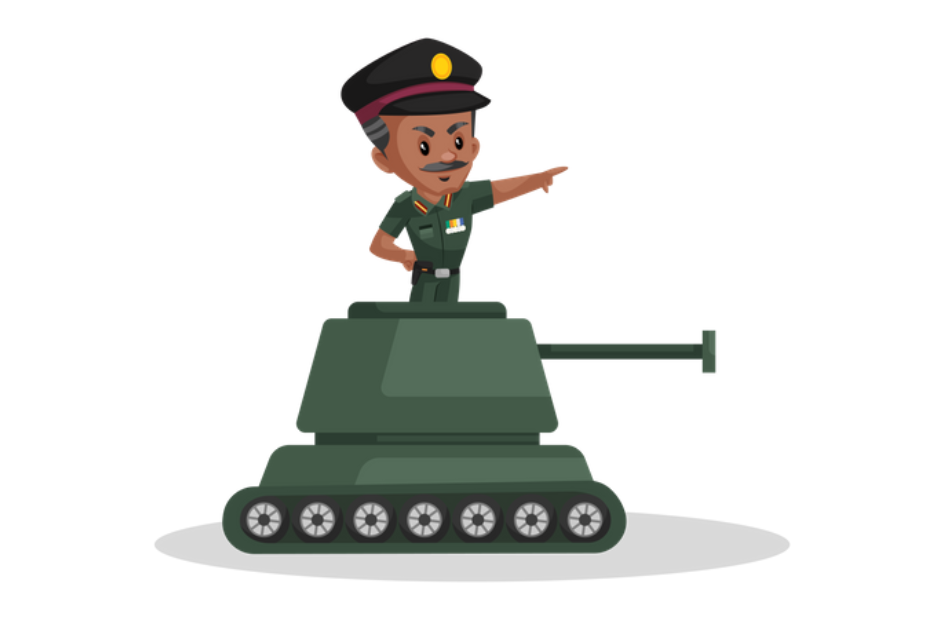 How to apply for agnipath scheme?
Applicants wishing to apply online for the Agnipath scheme 2022 can check all the informations here in this section.
| | |
| --- | --- |
| Scheme Name | Official Website |
| Agnipath Scheme Airforce 2022 Recruitment | https://indianairforce.nic.in/agniveer/ |
| Agnipath Scheme Army 2022 Recruitment | https://joinindianarmy.nic.in/ |
| Agnipath Scheme Navy 2022 Recruitment | https://www.joinindiannavy.gov.in/ |
Salary under agnipath scheme
New Agniveers will receive a monthly package that includes benefits such as insurance and hardship allowances. The Agniveers will also receive a non-contributory insurance cover of ₹48 lakh during the period.
| | | | | |
| --- | --- | --- | --- | --- |
| Year of Joining | Direct Bank Salary | Agniveers Corpus Fund | Agniveers Corpus Fund by Govt. | Total Monthly Salary |
| 1st Year | Rs. 21000 | Rs. 9000 | Rs. 9000 | Rs. 30000 |
| 2nd Year | Rs. 23100 | Rs. 9900 | Rs. 9900 | Rs. 30000 |
| 3rd Year | Rs. 25580 | Rs. 10950 | Rs. 10950 | Rs. 36500 |
| 4th Year | Rs. 28000 | Rs. 12000 | Rs. 12000 | Rs. 40000 |
| Total Corpus Fund | | Rs 5.02 Lakh | Rs 5.02 Lakh | |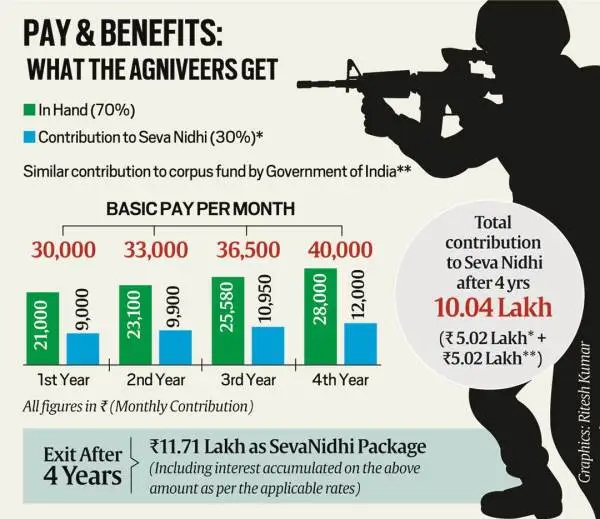 Discover More by accessing the Free Career Dashboard
This will help us share relevant information with you.
Agnipath scheme recruitment
In this section we will discuss how Indian Army, Air Force, and Navy will recruit the Agniveers.
Indian Army
According to Indian Army Chief General Manoj Pande, the shortlisting and selection will be done on a sound, transparent, fair, and robust assessment system that will ensure that the Indian Army retains the 'best of best' on an 'All India All Class' basis.
Indian Air Force
According to Air Chief Marshal V R Chaudhari, the program will give the Indian Air Force an opportunity to recruit a wide range of talent from the country and provide them with additional specialized aviation training and non-aviation skills.
Indian Navy
As per Indian Navy Chief Admiral R Hari Kumar, the Agnipath program will ensure that Agniveers acquires operational knowledge of its modern warships, aircraft carriers, submarines, military aircraft, IT systems, and the latest weapons and sensors, and network systems.
It's a wrap!
Well, surfing through so much data all this while must have been tiring. However, it is extremely important to know all the routes of joining agnipath scheme well before opting.
Now that you've arrived here, you must be aware of almost all of the programs and get an overview of the answer to your query about how to join this scheme. You will have to bear all the odds throughout your training, most of which will be mean!
Therefore, it is very important to understand whether you are fit for this career or not. Do you really have what it takes? Or you just have a gut feel? To get a clear-cut answer to this question, it could be a good idea to pursue unbiased career counseling and take help from experts. We at iDreamCareer always believe in helping young minds discover their true mettle. We try to help young confused minds from 9th class, 10th class, class 11, class 12 with an aim to select their most-suited career choices.
Also read;
Discover More by accessing the Free Career Dashboard
This will help us share relevant information with you
Trending Posts


Anushree has 5 years of experience in the career counseling industry as a Senior Content Writer. She has also worked as a Social Media Marketing Expert for a startup and Content Quality Analyst for the Publishing and E-learning Industry. She has done her Master's in Commerce and PGDM in Finance & Trade and Marketing & HR, but she is currently following her passion for writing.