Jadavpur University is a public state university in Kolkata, West Bengal which was recently ranked 12th by the National Institutional Ranking Framework in 2019.
Jadavpur University: Highlights
NIRF Ranking of 2019-
12th is the "overall" rank. In the "University" category, Jadavpur University was ranked 6th
Courses-
Jadavpur University offers Undergraduate, Postgraduate and Doctoral level programs in the fields of Arts, Science, Engineering, Technology, Architecture and Pharmacy
Admission to B Tech, B Pharm and B Arch is done on the basis of WBJEE scores followed by WBJEE counseling.
UG Engineering counseling-
Jadavpur University admission process for UG engineering courses involves online registration for WBJEE counseling, choice filling and choice locking followed by the seat allotment process for admission.
Qualified JEE Main candidates are also eligible for WBJEE counseling.
To participate, you as a candidate will have to register on the official website of the WBJEE Board (link given at bottom of this page) and pay a registration fee.
4. Facilities–
For all students, once you apply and take admission in Jadavpur University, you will have to pay a meager token amount of Rs 3000. This includes mess fee.
Additionally, a skimpy monthly rent of Rs 15 is to be paid and electricity is charged at only Rs 10 per month.
Everyone gets a single-occupancy room and super-fast internet facility.
Placement Spotlights of 2019 –
Highest for "Electronics & Telecommunication": 28.75 LPA
Highest for "Electrical": 19.60 LPA
Highest for "Printing": 7.00 LPA
Average: 9 LPA Big Tech recruiters: Amazon, Adobe, Microsoft, Wipro, Infosys, Siemens, Honeywell etc.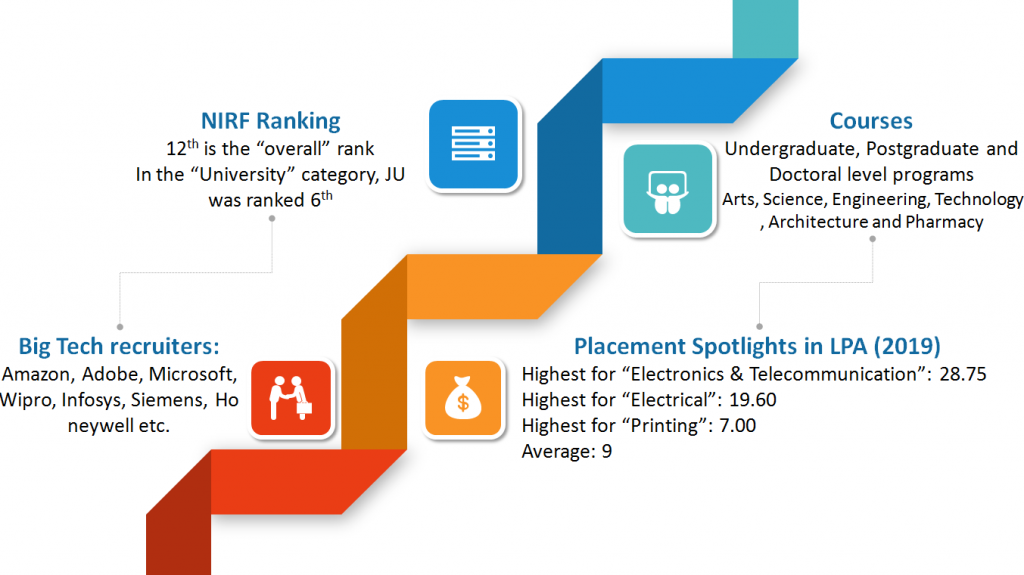 Jadavpur University Courses 2021
Undergraduate Courses
These are the lists of undergraduate courses under the 3 faculties in the university – Arts, Engineering & Technology and Science
Faculty of Arts
Bengali
Comparative Literature
Economics
Education
English
Film studies
History
International Relations
Library & Information Science
Philosophy
Physical Education
Sanskrit
sociology
Faculty of Engineering & Technology
Architecture
Chemical Engineering
Civil Engineering
Computer Science and Engineering
Construction Engineering
Electrical Engineering
Electronics & Telecommunication Engineering
Food Technology & Bio-chemical Engineering
Information Technology
Instrumentation & Electronics Engineering
Mechanical Engineering
Metallurgical & Materials Engineering
Pharmaceutical Technology
Power Engineering
Printing Engineering
Production Engineering
Faculty of Science
Chemistry
Geological Sciences
Instrumentation Science
Life Science & Biotechnology
Mathematics
Physics
Adult, Continuing Education and extension
B.Ed. in Special Education (Locomotor Impairment and Neuro-Muscular Disorder)
Jadavpur University Admission
Here is all the important information you will need regarding Jadavpur University admission process and related parameters.
Rules & Regulations
Admission to Jadavpur University is extremely competitive.
The process is reviewed annually and improvements implemented on a regular basis. There are many schemes and programs for students from backward and disadvantaged sections of society, especially those from remote rural areas.
You will be encouraged to participate in curriculum development. This participation is possible through your formal feedback on teachers, course content and infrastructural facilities, as well as through debate and discussion at the department-specific student-teacher committees.
Student Enrolment
Jadavpur University admission announcements (dates/policies) are made in major newspapers and are also by media houses.
Jadavpur University Admission Process
UG Admission
Admission to undergraduate programs in the Engineering & Technology departments is through the West Bengal Joint Entrance Examination (WBJEE), followed by counseling.
You will have to be allotted a seat of Jadavpur University by WBJEE for admission to Engineering/ Technology/ Architecture or Pharmacy UG courses in JU
You must have a GMR (General Merit Rank) up to 10000 for General category and all GMR for other reserved categories.
Some vacant seats in 1st year UG in Engineering / Technology / Architecture / Pharmacy courses are filled up through Decentralized Counseling too.
Individual pass marks in Physics, Chemistry and Mathematics as compulsory subjects

Minimum 60% in above subjects taken together, with compulsory 60% in Mathematics, as well as minimum 30% in English in Class 12th

For Architecture course: you must qualify either in NATA or Paper 2 of JEE Mains

For admission to the UG programs in the Arts disciplines, a combination of merit (i.e. board results at the Class 12th level) and entrance test is in place. Individuals departments have the autonomy to decide upon respective admission criteria (cut-offs etc.).
In the Science disciplines, admission at the undergraduate level is strictly based on merit (i.e. board results at the Class 12th level).
Jadavpur University Admission Schedules
Arts
Admission process is initiated when the results for +2 Board examination is declared.
Science
Admission process is initiated when the results for +2 Board examination is declared.
Engineering & Technology
Admission process is initiated when the results for +2 Board examination is declared.
Jadavpur University Application Process
General
Youhave to apply online through the official website
You have to visit the official website
Navigate to designated location on the site. The active link will be scrolling on the top of the page
Then click "Apply link"
Fill up all the necessary details
Attach required information
Click submit button
Pay the Fees online.
This is through the SBI Collect system which accepts modes including Credit Card/Debit Card/ Net banking.
You can do this after 48 hours of form fill up.
After the successful payment you will have to submit the print out of online application along with a photocopy of online payment receipt downloaded from SBI to the office of Jadavpur University Main campus, Kolkata 700032.
Documents Required:
2 recent Passport Size Photograph
Attested Copy of Caste Certificate
Attested copies of all mark-sheets and certificates
NET/SET certificate, if any
Madhyamik admit card/certificate for verification of age
BA, B. Sc and B P Ed. Programs
Application is online only. You can access the application forms only on the official university website.
You must send your certificates for sports category, OBC category and PD category, if any, separately to the University.
The application process comprises primarily these given steps:
Register on theJU official website.
Login and enter your educational and personal information.
Click 'Submit' to save your data.
This will generate a unique number;you must note this number for use in future
Select the department you want to apply for.
Check the eligibility criteria from the link on the top right corner.
In case you are eligible, click 'Apply'
You will be given a different application number for each department that you apply for
Note down that Application number.
Make an online payment of Rs 150.00(Fee) through SBI I-Collect system using Net Banking/ Credit Card/ Debit Card.
Upload the SB Collect Reference No, and click on submit to complete the application process.
Note: you must submit attested photocopies of your certificates for participation in Sports/Games for applying under Sports category, and disability under the PD category along with a copy of the online payment receipt to the following address.
Office of the Dean and Secretary,
Faculty Council of Arts, U.G. Arts Building, Ground Floor
Jadavpur University, Kolkata 700032
BE, B Arch and B Tech courses
Admission will be granted on the basis of your score in WBJEE. If you name appears in the cutoff list, you will be called for counseling.
Provisional admission will be made after verification of your documents.
Your provisional admission will stand cancelled if you fail to pass your Class 12th boards or equivalent examination with Physics, Chemistry, Mathematics and English.
Applications for WBJEE can be filled online on the official WBJEE website.Check these steps:
Visit WBJEE website.
Click on "Apply Now'.
Enter your details, valid phone no. and email id.
Upload your Images and documents.
Pay application feeof INR 500/- plus the bank service charges payable through debit card/credit card/net banking.
Click on "Submit"
Enclosures required for WBJEE:
Scanned signature.
Recent colour photograph
Caste Certificate (if applicable)
Marks card/certificates 10th and 12th.
Left thumb impression.
Domicile Certificate
DPWD Certificate (if applicable)
Enclosures required for Jadavpur University application process:
5 copies passport size photograph.
Copy of WBJEE Allotment letters
Duly filled up downloaded Reporting Form for admission.
Original & Attested Xerox copy of Certificate, Admit-card and Mark-sheet or equivalents.
Original & Attested Xerox copy of Admit Card of WBJEE
Original & Attested Xerox copy of SC/ST Certificate (if applicable)
Family Income Certificate of Parent from the authentic authority.
Original & Attested Xerox copy of PC (Physically Challenged) Certificate (if applicable)
List of Affiliated Colleges under Jadavpur University 2021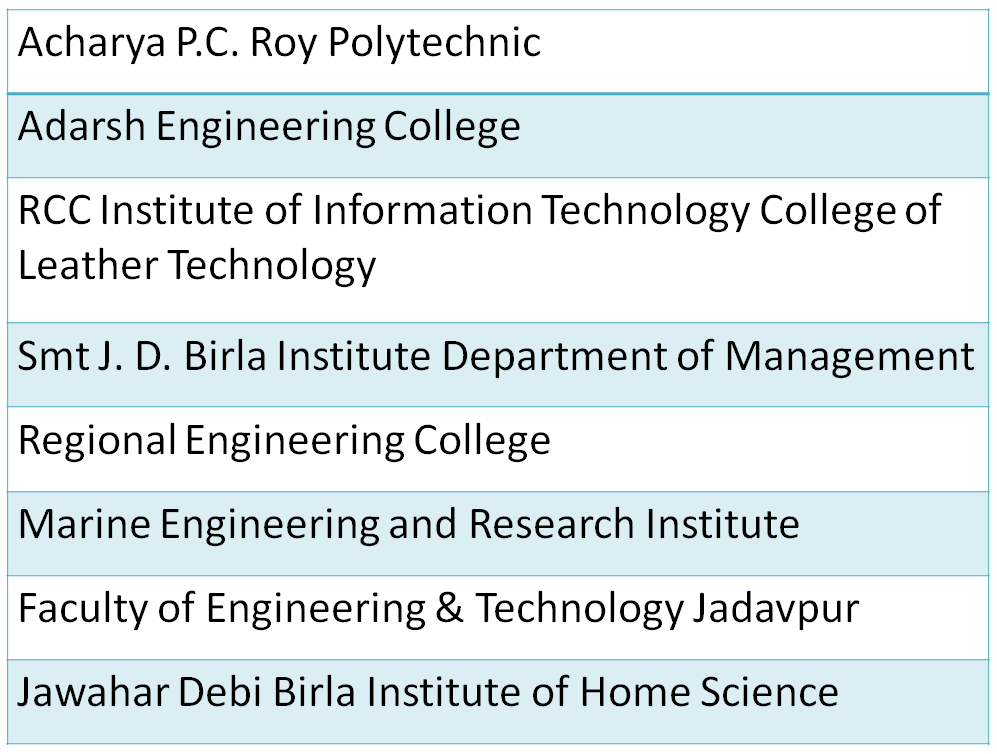 Jadavpur University Placements
(LPA = Lakhs per annum)
2019 Highlights:
Electronics & Telecommunication Engineering
Highest CTC: 28.75 LPA
Average CTC: 10.77 LPA
Highest CTC: 19.60 LPA
Average CTC: 6.62 LPA
Highest CTC: 7.00 LPA
Average CTC for Printing Engineering: 4.45 LPA
Average CTC for Information Technology: 13.63 LPA
2018 Highlights (Jadavpur University Placements)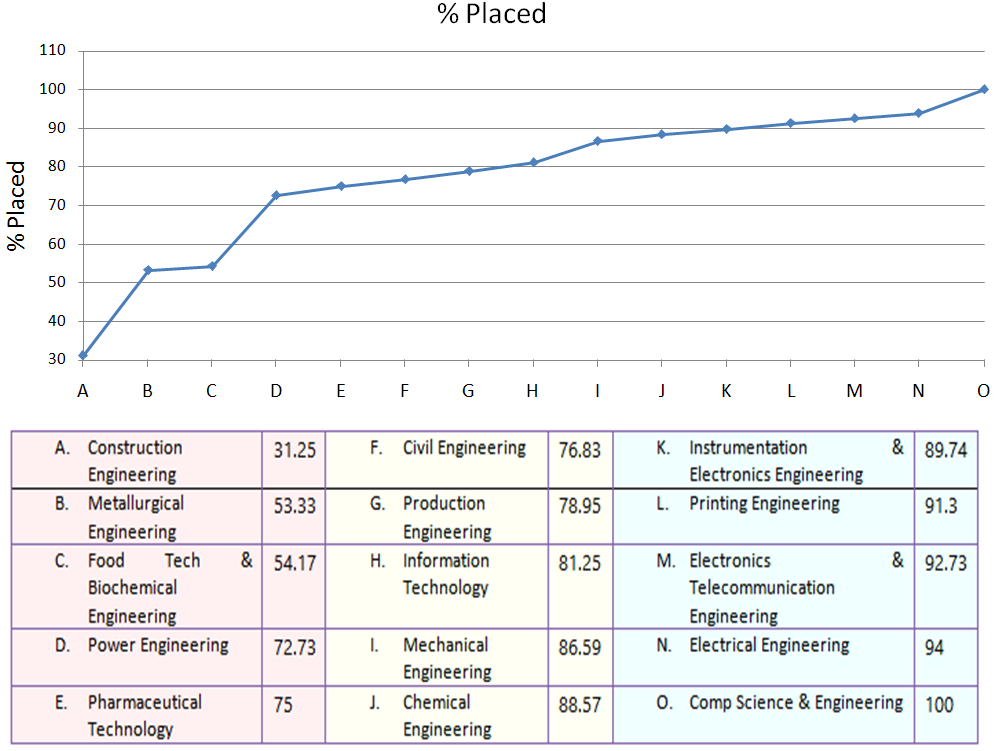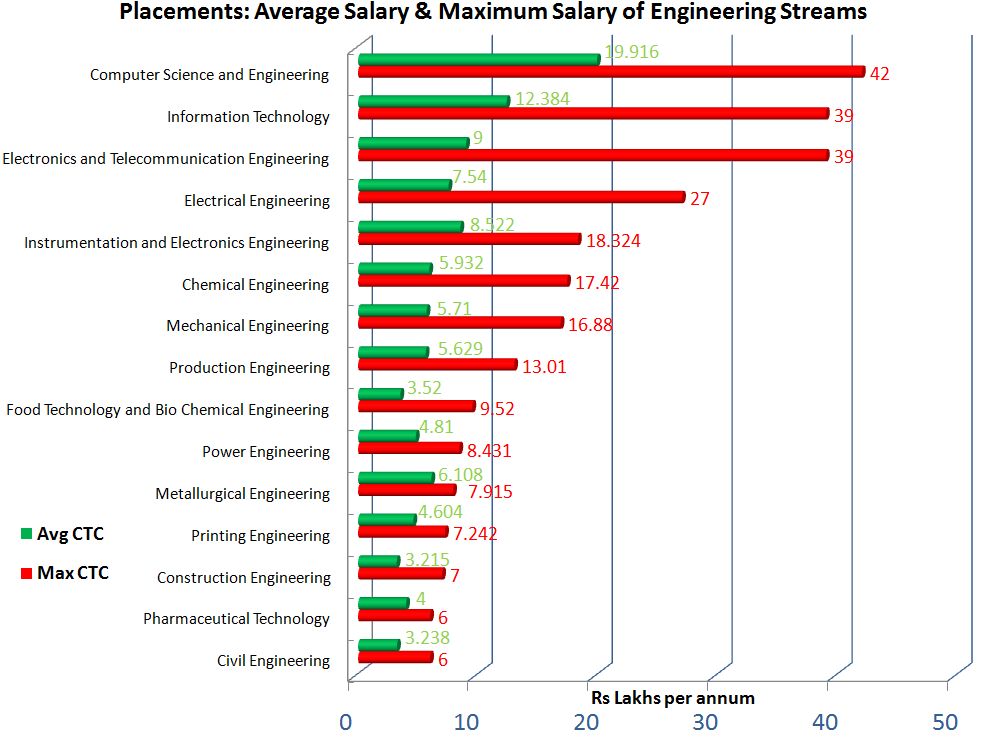 Useful Links
Conclusions
About done!
We have just served a gist of curated information about Jadavpur university courses, Jadavpur university admission, Jadavpur university application process, Jadavpur university placementsfor aspirants like you aiming at admission into one of the most coveted universities. It is one of the rare institutions which offer industry oriented learning with their programs carefully structured. Nevertheless, if you feel perplexed and confused about what to take up in your future years, how about reaching out to us for unbiased career counseling? Plan now!
Must Read
Disclaimer - This post may contain information drawn from University announcements made in past academic years. The same shall be updated as soon as notifications are released by the concerned authorities of Jadavpur University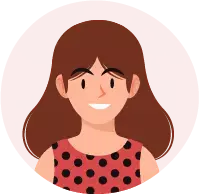 With a Master's in Biophysics-Biostatistics, Sreenanda acquired professional experience in computational proteomics of human molecules. She is currently working with the Research and Data Team at iDreamCareer.