To deal with the frequently changing work environments students need new life skills like creativity, critical thinking, problem-solving and decision making. This article will focus on how students benefit from online courses, a list of free online courses, top universities offering online courses, and much more.
With remote working and learning becoming the new normal in times of a pandemic, ardent learners have found simple ways to keep their knowledge development going. We will also touch upon a few online courses for students to gain workplace skills and details about the benefits of such skills.
So, stay tuned and keep reading!
Before you go on and explore about online courses, let's take a moment to understand why go for online courses and how these courses help you in your career and much more.
But what do these online courses do for you? How can you benefit from them and what value do these add to your overall learning?
Let's brush up some facts about online learning and understand the rising market of online education.
With technology and education coming together to give learners a platform to skill up and learn anytime anywhere, online learning has significantly grown over the last decade, states a Forbes article on The Rise of Online Learning.
According to MIT News, researchers have found that online classes are as effective as traditional classroom courses. Online Courses have the potential to exceed the standards, expectations, and learning goals of traditional class-room based learning system.
With the help of technological innovations, online learning has become a resourceful tool for learners globally. There are several online learning platforms that offer a host of courses online. A large number of top tier universities are democratizing the entire learning process for learners all over the world by making courses accessible via online learning platforms.
Many premium colleges/ universities offer Massive Open Online Courses (MOOC) i.e. large scale open courses offering unlimited participation through the web. Some of the promising online learning platforms include NPTEL, Coursera, Udacity, edX among many others. (discussed in detail below).
Why Online Courses for School Students?
According to Tony Wagner, an Education Expert and the author of the book The Global Achievement Gap, there's a fine gap between what the best schools are teaching to the students and the specific skills students must have for the future. There are skills that will be more than necessary for students to survive in the future of work. This calls for early intervention of students with the skills to be ready for the demands for the future of work.
So, the real question is: How can students be future ready?
The answer is simple: Helping students learn & develop the skills that they will need in the coming future. Take a look at the skills in the image below: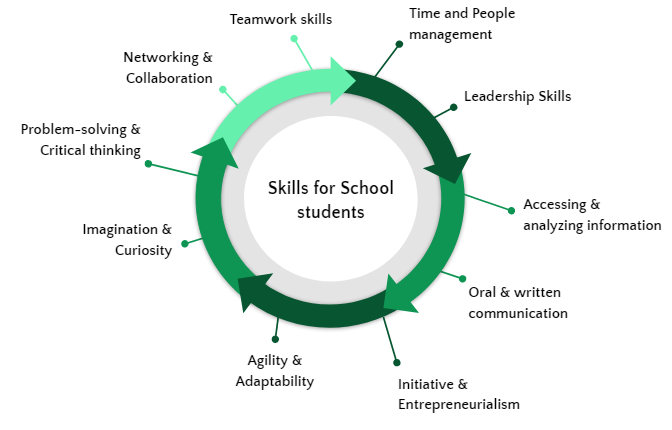 So, what are the benefits of online courses for students?
To cope with the constantly changing environment, possessing workplace skills have become essential for students. Students need new life skills like creativity, critical thinking, problem-solving and decision making, the ability to communicate and collaborate to lead a successful professional life in the 21st century. Let's see how learning/ developing skills helps some young students:
Enables them to find new ways of thinking and problem solving.
Helps them learn the ability to understand the complex and challenging business environment
Empowers students to be more agile and adaptable to different roles and working environments
Instills in them the potential to lead by influence
Builds confidence in communication and networking
Develops a deeper sense of self-awareness; strengths and weaknesses alike
Fosters readiness and flexibility to various jobs in diverse workplaces
Learning these skills will not only make students ready to cope with the ever-changing and advancing technology. Keeping in mind the current requirement of skills for students, we have come up with iDX, for making young students prepared for the challenges of the future. Check out the latest courses for school students by iDX and become future-ready.
What are the Advantages of Online Courses for professionals?
Let's take a look at some of the advantages in the infographics given below:
How online courses are taught?
Though online classes are a mix of pre-recorded videos and live lectures supplemented with reading materials, assignments, and more, some of the most common methods for teaching online courses may also include:
Online Courses are delivered via the internet in two formats namely: synchronous and asynchronous format. Online classes take place wherein the students have no in-person meetings with the course instructor or fellow peers. All the teaching content, learning activities, assessments, and tests are delivered online.

Synchronous online courses are real-time online courses in which the instructor and students interact online at the same time. All the learning material and resources are shared in real-time using group chats, emails, and other media sharing platforms.
Asynchronous online courses are self-paced online courses in which the course materials like pre-recorded lectures, readings, tests, and assignments are made available to students to access and study on flexible time schedules.

Partial-Online Courses partially work on traditional classroom instructional approaches wherein the instructors use online components to replace the class lectures. These are mostly divided into three subparts:

Blended courses involve both online teachings as well as traditional classroom-based methods. It includes the physical presence of both students and teachers.
Hybrid Courses are similar to blended courses. In Hybrid courses, a portion of face-to-face instructional teaching is replaced with web-based online learning components like video lectures, online discussions, etc.
Small Private Online Courses (SPOC) are courses in which the instructors use a blended approach to teaching by combining online components with traditional course settings which usually serve a limited number of students.
Top learning platforms
Take a look at some of the top online learning platforms:
NPTEL: The National Program on Technology Enhanced Learning (NPTEL) was initiated by seven Indian Institutes of Technology (Bombay, Delhi, Kanpur, Kharagpur, Madras, Guwahati, and Roorkee) and the Indian Institute of Science, Bangalore offers online courses in core disciplines like civil engineering, computer science and engineering, electrical engineering, electronics and communication engineering, and mechanical engineering.
Udemy offers online courses in disciplines ranging from marketing to design, language courses to online digital marketing courses.
Khan Academy offers online courses for school students in maths, art, computer programming, economics, biology, medicine among many others.
Alison offers free online courses in subjects relating to Information Technology, Science and technology, Coding, and much more.
MOOCs or Massive Open Online Courses offers free online courses and is an extension of edX. MOOCs offer free online courses in a wide range of subject disciplines from top instructors.
edX is a MOOC provider by MIT and Harvard. It offers online university-level courses in a wide range of disciplines, some of the edX courses are completely free of cost.
Coursera offers MOOCs, online degrees, specializations from top universities Yale, Michigan, Stanford, and leading companies like Google and IBM.
Future Learn offers online courses in a diverse selection of courses from top universities and industry experts.
Classcentralis a hub of free online courses and massive open online courses from top universities and companies in subjects ranging from data science to humanities.
Udacity offers MOOCs and online courses in programming, data science, artificial intelligence, digital marketing, etc. from top industry experts.
iDX is a unique portal targeted at workplace skill development for school students. iDX offers the latest courses like the Young Entrepreneur Program, Financial Literacy for teens, Solving problems with Design Thinking, and many other exciting online courses for school students.
Top Online degrees in India
Take a look at some of India's top online courses provided by top colleges/ universities/ web portals:
IIT Madras offers courses such as a diploma in programming, diploma in data science, BSc in programming, and data science.
IIT Bombay offers free online courses via edX, ClassCentral in Programming Basics, Introduction to Biostatistics, Geosynthetics, Mechanobiology, among many others.
IIM Kozhikode offers online degrees in postgraduate programs, short-duration management courses, and many others.
Indian Institute of Science, Centre for Continuing Education offers 34 courses in project management, product development and design methods, Introduction to Artificial Intelligence, and Applications among many other courses.
AICTE (All India Council for Technical Education) offers self-paced and international courses in game development, machine learning, engineering graphics, scrum ceremonies, etc.
NPTEL (National Program on Technology Enhanced Learning) for Engineering courses civil engineering, computer science and engineering, electrical engineering, etc.
UGC (University Grants Commission) offers courses for non-technical post-graduation education via SWAYAM online classes, e-PG Pathshala, CEC, and UGC MOOC courses on academic writing, digital marketing courses, mathematical courses, etc.
Swayam Prabha offers educational programs via telecasting lectures on a group of 32 DTH channels for mathematics, physics, chemistry, and other subjects.
National Digital Library offers a host of courses containing video lectures and notes of NPTEL/ SWAYAM courses and other study materials for subjects ranging from (but not limited to) physics, chemistry, biology to environmental science, and agriculture.
9 Top Online degrees in the world
According to QS Top Universities, following list of colleges and universities offer free online courses/ degrees for students:
Harvard University: offers numerous courses ranging from Data Science, Shakespeare's Life and Work, Justice, Health effects of Climate Change, to Fundamentals of Neuroscience, Bioethics, and many more.
University of California, Irvine offers courses ranging from Introduction to Electronics, to Combinational Game Theory, Machine Designing, to Materials Data Sciences and Informatics, and much more.
Georgia Institute of Technology offers free online courses in numerous subject disciplines such as Data Analytics in Business, Computing, engineering, supply chain logistics, and many more.
École Polytechnique provides 29 free online courses in Sciences, Technology, Engineering courses.
Michigan State University offers free courses in Game designing and development, photography basics, journalism, music theory, screenplay, and scriptwriting, etc.
California Institute of the Arts offers several creative courses in graphic designing, game designing, music theory, music technology UI/UX design, web design, and many more.
Hong Kong University of Science and Technology offers free online courses in advanced cardiac imaging, epidemics II, financial technology, and many more.
UCL (University College London) offers a variety of courses including the anthropology of social media, an introduction to health, culture, and well-being, and many more.
Massachusetts Institute of Technology (MIT) offers learners a variety of free courses via its open courseware. Some of the disciplines include introductory programming, entrepreneurship, energy, environment, number theory, and many more.
Do Online Courses have any value?
As online courses are gaining significance from students and working professionals alike, questions like: Are online courses/ MOOCs worth it? Will their certifications hold value in job selection? How do recruiters view these online courses, etc. usually come in mind. So let's discuss some facts first:
Online courses or MOOCs are great sources of learning and skilling up in areas of interest. Many take these courses to learn new skills whereas many upgrade their skills to meet the changing market standards.

Degrees and classroom-based courses are still the primary preference for many, online courses may add on to the already acquired knowledge and practical experience in that particular subject area.

With times changing and the way, technological transformations are challenging the old and traditional ways of doing things, gaining skills that are highly in demand adds more credibility to your CV than a mere degree from a university would.

Considering the rapid enforcement of technology into all sectors of our professional and personal lives, the future prospects of online courses are bright.

As times are changing, a study published in CNBC states that the future of work won't be about college degrees, it will be more about the relevant job skills.

Moreover, according to another study by the World Economic Forum– The Future of Jobs, almost 65% of children who are in primary schools will end up in jobs that don't even exist just yet.

The future of work will require more advanced skills as automation and AI are to replace most of the existing job roles. Moreover, the job website Glassdoor came up with a list of 15+ companies that no longer require a degree. Companies like Apple, IBM, and Google offer well-paying jobs to those with non-traditional education.

iDX offers a creative and easily accessible digital platform for young students to earn the top industry skills. These skills will not only empower students to get better employment opportunities but will also enable them for the up and coming challenges in the future of work. So why not take a look at iDreamCareer's initiative to help students be ready for the future of work?
Some direct useful links for your convenience
In Conclusion
In this article, we discussed online courses, how online courses can benefit school students and listed some of the top universities offering free online courses for students. So, have you decided which online course you are going to pursue? Do you want to know how you can learn the latest skills from top industry experts? Know more about iDreamCareer's initiative for school students!
Check out the following courses by iDX:
Shruti Verma has an experience of around 2+ years in research and analysis of careers, jobs, and industries. She has a knowledge of diverse fields spanning from career counselling, management consulting, engineering, and technology to science, finance, and humanities.