What are your options if you are looking for the best universities in India? How many can even match up to the top and popular universities? Who are the other close contenders?
The list is wide! Looking for a definitive list of the best universities in India? Yes? No doubt this is a massively debatable topic and you'll find multiple answers everywhere. To cut down your wide list of universities and to make your choice easier we have put together several lists according to common questions that students have.
Do You Know?

As of now, India has more than 1,000 universities, including 54 central universities, 416 state universities, 125 recognized universities, 361 private universities, and 159 institutes of national importance, including AIIMS, IIMs, IIITs, IISERs, IITs, NITs, and others.
All set to know about the best universities in India? Come along!
What all is covered in this post?
To make it easier for you, we have created a quick guide to everything you need to know about the best universities in India.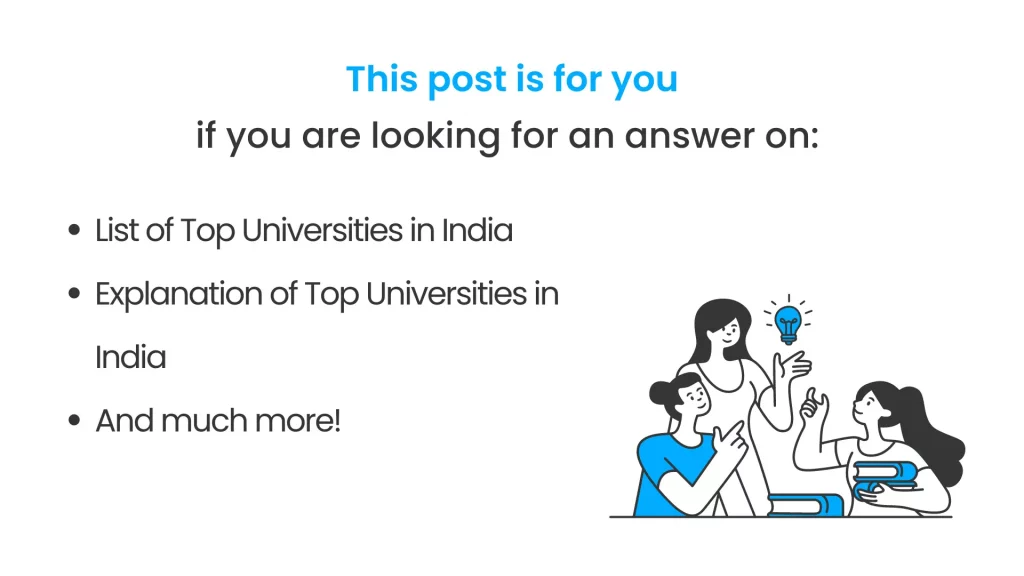 List of best universities in India
The National Institutional Ranking Framework (NIRF) uses specific methodologies based on specific parameters to rank institutions in India. NIRF uses ranking parameters and weighting to rank colleges as follows:
Teaching, Learning, and Resources (TLR) – 30%
Research and Professional Practice (RP) – 30%
School Leaving Certificate (GO) – 15%
Outreach and Inclusivity (OI) – 15%
Peer Perception (PR) – 10%
Below is the list of best universities in India by NIRF Ranking 2022:
About the best universities in India
In this section, we will introduce you to the explanation of the above-mentioned list of best universities in India:
Indian Institute of Science
The Indian Institute of Science, founded in 1909, is an Institute of Excellence located in Bangalore. IISc Bangalore started its venture with the joint efforts of Jamsetji Nushervanji Tata, the Government of India, and the Maharaja of Mysore. IISc Bangalore has 45 departments under six divisions namely: Department of Biological Sciences, Department of Chemical Sciences, Department of Electrical, Electronics and Computer Science (EECS), Department of Interdisciplinary Sciences, Department of Mechanical Sciences, and Department of Physical and Mathematical Sciences.
Discover More by accessing the Free Career Dashboard
This will help us share relevant information with you.
Jawaharlal Nehru University
JNU is a central research university located in New Delhi, India. According to the latest NIRF Ranking 2022, JNU has retained its 2nd position among the top universities in India. It is one of the top-ranked universities in India for postgraduate studies and research studies. It has been accorded the status of 'University of Excellence' by UGC and has been accredited with an 'A' grade by NAAC. The university has received recognition and accreditation from more than 18 defense and research and development institutes. It has 13 schools, 55 centers, and seven special centers.
Banaras Hindu University
Banaras Hindu University, also known as BHU, was established in 1916 by Pandit Madan Mohan Malviya. It has signed memorandums of understanding with more than 40 national and foreign universities and cooperates with many international universities. The campus consists of a temple, an airstrip, and a helipad. Various UG, PG, and Ph.D. courses are offered in Arts, Commerce, Science, and Education. Banaras Hindu University consists of 3 institutes, 3 institutes, 14 faculties, about 140 departments, and 4 interdisciplinary centers for women. One of the most famous affiliated colleges is IIT BHU.
Amrita Vishwa Vidyapeetham
Amrita Vishwa Vidyapeetham or Amrita University is a private university located in Coimbatore, India. It is a NAAC A++ accredited university. It is a multidisciplinary university with 15 schools spread across six campuses in southern India. The university currently offers 207 UG, PG, Ph.D., Integrated, Dual Degree, and Certificate programs in Engineering, Management, Medicine and Life Sciences, Arts and Humanities, and Social Sciences.
Jadavpur University
Jadavpur University (JU) is a public technological university located in Kolkata, West Bengal, India. It was established in 1905. The institution intends to expand and continue education by linking traditionally separate subjects in the light of ever-changing global contours. Jadavpur University offers UG, PG, and Ph.D. courses. Admission to each course is based on entrance exams like WBJEE, JELET, GATE, NET, etc., and registration is done online. Courses are offered in various fields like Arts, Science, Engineering, Pharmacy, etc.
University of Hyderabad
The University of Hyderabad is a UGC-approved and NAAC-accredited university. University of Hyderabad Admission 2022 is open for UG and PG programs. The University of Hyderabad is a central university established in 1974 and is approved by UGC. It offers postgraduate and doctoral courses in various fields of engineering, management, science, technology, etc. Admission to these courses is based on written tests and entrance examinations.
Conclusion
Learning about the best universities in India is only one of the important steps to preparing for your transition from school to college. But which university you should choose or rather which course you should study depends upon a lot of factors. Understanding those are critical. Making an informed choice of your education and career is very important. Talk to an expert counselor today.
iDreamCareer is always ready to help young minds like you from 9th class, 10th class, class 11, class 12 with an aim to select their most-suited career choices.
ALSO READ:
FAQs
What are the NIRF rating parameters?
The NIRF ranking is calculated based on five parameters – research and professional practice, teaching, learning and resources, graduation outcomes, peer perception, outreach, and inclusiveness.
What are some of the private liberal arts universities in India?
In recent years, we have seen the growth of liberal arts universities in the private sector. Some of the top liberal universities are Ashoka University, FLAME University, KREA University, and Azim Premji University.
What are some of the several universities that offer programs in psychology?
Some of the best universities that offer psychology programs are the University of Delhi, the University of Mumbai, Jawaharlal Nehru University, and Banaras Hindu University.
How many central universities are there in India?
There are around 54 central universities in India.
Discover More by accessing the Free Career Dashboard
This will help us share relevant information with you.

Anushree has 4+ years of experience in the career counseling industry as a Content Writer. She has also worked as a Social Media Marketing Expert for a startup and Content Quality Analyst for Publishing and E-learning Industry. She has done her Master's in Commerce and PGDM in Finance & Trade and Marketing & HR, but she is currently following her passion for writing.