Unconventional is the new conventional! Youngsters are opting for new, untrodden career paths today, from fashion designing to cosmetology, from cosmetic dentistry to fashion photography. Even engineering is not restricted to traditional mechanical, electrical, and computer engineering. With subjects like aeronautical engineering, mining engineering, agriculture engineering, etc. we have seen the rise of many alternative engineering courses in the past few decades.
Do you know?

Minerals like coal, petroleum, metallic minerals, and non-metallic minerals can be extracted naturally.
In earlier times, laborers were engaged in extracting minerals from the ground. The conditions in which the miners worked were quite dangerous, whether it was the suffocating atmosphere underground or the fatal accidents. There was a need to improve mining machinery and equipment, and then the study of mining engineering came into being.
Fascinated by this much info? Want to know more… Come along!
What all is covered in this post?
To make it easier for you, we have created a quick guide to everything you need to know about mining engineering.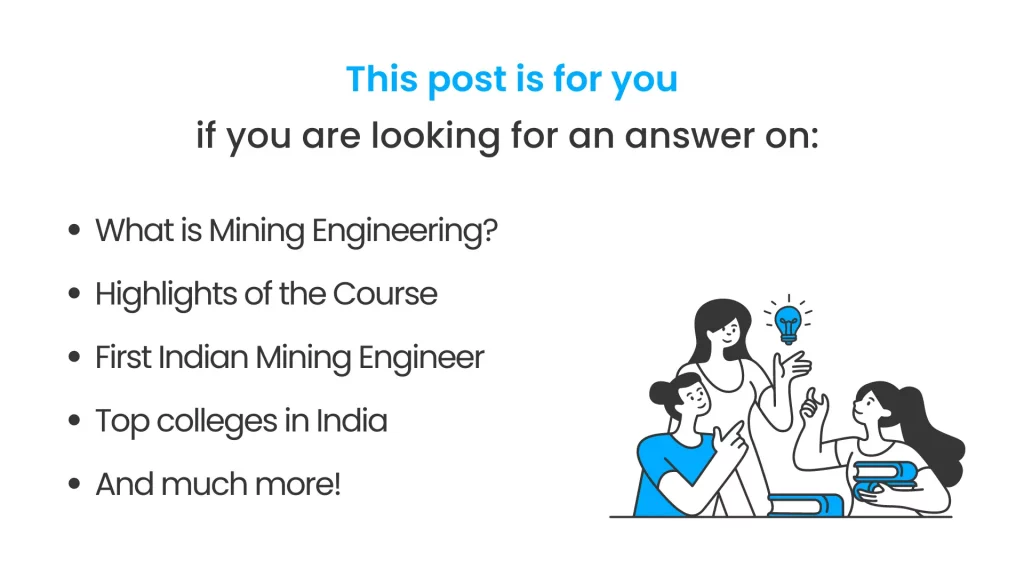 Discover More by accessing the Free Career Dashboard
This will help us share relevant information with you.
What is mining engineering?
Mining engineering is an engineering branch that involves the practice and application of technology for obtaining and processing minerals from the environment.
What does a mining engineer do?
Design mines and apply engineering principles to the safe and effective extraction of natural resources from these mines.
Focuses on creating mining equipment and techniques that are as friendly to the environment and cost-effective.
Work can be an office job or a field job. Depending on the type of mine, they may work above ground in an open cast mine, or underground in a traditional mine.
Should be prepared to travel and stay away from home for extended periods.
Often have to work in collaboration with Geologists and Metallurgical Engineers to locate and evaluate new mineral deposits.
Highlights of mining engineering course
Take a look at the highlight of the course.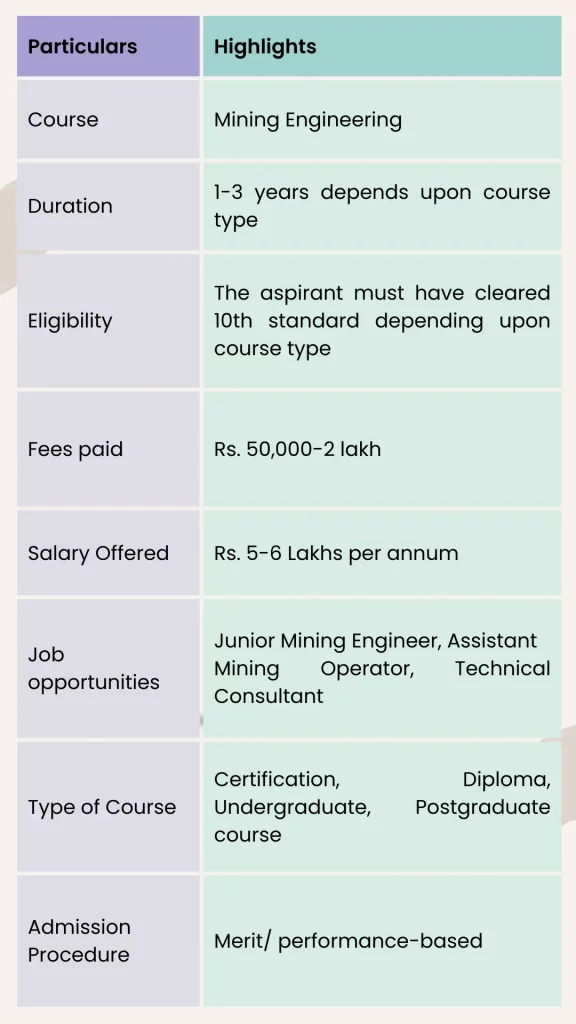 Who is the first Indian mining engineer?
Dr. Chandrani Prasad Verma, India's first female mining engineer, has paved the way for other women in the country to pursue careers in the mining industry, making great strides for all. In addition, Ms. Akanksha Kumari is also the first ever woman mining engineer to work in underground mines.
Top mining courses
Following are the top mining engineering courses:
Diploma in Mining Engineering
This is a diploma course. The program is designed for three years. Those who have completed class 10th are eligible to pursue this course.
B.E./B.Tech. Mining Engineering
It is a Bachelor of Science in Engineering program. The duration of the course is four years. Each academic year is divided into two semesters. Each semester lasts six months. Those who have completed class 12th with PCM subjects or related diploma programs are eligible to pursue this course.
M.E./M.Tech Mining Engineering
This is a Master of Science in Engineering program. The duration of the course is two years. Each academic year is divided into two semesters. Each semester lasts six months. Those who have completed their respective B.E. or B.Tech. program/ relevant M.Sc. programs are eligible to pursue M.E. or M.Tech. Mining engineering course.
PG Diploma programs
Here are some PG Diploma programs related to the mining engineering industry – PG Diploma in Mining Processing and PG Diploma in Mineral Engineering. The duration of the course can be from one to two years. Those who have completed the relevant B.E. or B.Tech. course are eligible to pursue PG Diploma programs related to this industry.
Ph.D. program
After completing the relevant M.E or M.Tech. one can apply for a Ph.D. program (related to the field of mining engineering). A Ph.D. is a doctoral degree.
Top mining engineering colleges in India
Now you know all the key points related to this field. The next step is to choose the right college. Here is the list of best colleges in India:
Amity University Ranchi
College of Engineering Guindy, Anna University (CEG)
IIEST Shibpur
IIT (ISM) Dhanbad/ BHU/ Kharagpur/
MATS University, Raipur
NIT Raipur/ Rourkela
NITK Surathkal
Pacific University, Udaipur
Parul University, Vadodara
Shri Rawatpura Sarkar University, Raipur (SRU)
Visvesvaraya National Institute of Technology (VNIT), Nagpur
Mining jobs in India
Ranging from complex aircraft parts to paints, minerals have a wide variety of use in diverse industries. From the road we drive on to the building we live in, everything needs different minerals or their by-products. Mining enterprise across the world has evolved in the last few decades with technological erudition brought to mining workplaces. Mineral Industry needs highly proficient engineers and scientists.
With the increasing significance of mining activities, a career in this field has become a lucrative option now. Jobs are available in both the government and the private sector.
Mining engineering salary
The starting salary for an engineer in India can be between Rs. 3-6 lakhs per annum.
Some of the organizations that hire engineers are:
The Indian Bureau of Mines
Geological Survey of India
Coal India
Tata Steel
Reliance
ONGC
HCL
NALCO
Neyveli Lignite
Countries like Saudi Arabia, the UK, Qatar, and Kuwait also provide lucrative career opportunities for interested candidates with a salary ranging from $64,000 to $98,000 per annum. The private sector has higher salaries whereas the government sectors have higher perks.
Epilogue
A career in mining engineering in India has become very important with the swelling demand for technological innovation and safe mining. Be it a mountain, desert, in the ocean, across India, or the world. You'll probably find these engineers working in all of these places sweating away on mining assignments. Explore the many aspects of a career in this field from exploration to production and mine closure.
It might all be quite confusing to you still unless you are clear about your strengths and weaknesses. Which field of Engineering is best for you? You must find out with the help of expert career counselors. A little help may save a lot of heartburn later.
At iDreamCareer with the help of our Career Counselling and Guidance Services and educational counsellors, we try to help many young confused minds from 9th class, 10th class, class 11, and class 12 with an aim to select their suitable career choices.
Also Read:
Offbeat engineering disciplines to discover –
Must Read
FAQs
Is there any diploma in a mining engineering course?
Yes, PG Diploma in Mining Processing and PG Diploma in Mineral Engineering are the 2 diploma courses.
Is engineering hard to study?
Engineering education is among the most challenging degrees you can get. The degree requires you to possess everything from logic and common sense to an enormous amount of patience when things go wrong. Designing can be very challenging because you essentially become a "professional problem solver".
Is there a demand for Mining Engineers?
As per IBEF, the employment of mining engineers is expected to grow by 3% by 2028. The increase in the employment of these engineers will be driven by the need for mining operations.
Discover More by accessing the Free Career Dashboard
This will help us share relevant information with you
Trending Posts


Anushree has 5 years of experience in the career counseling industry as a Senior Content Writer. She has also worked as a Social Media Marketing Expert for a startup and Content Quality Analyst for the Publishing and E-learning Industry. She has done her Master's in Commerce and PGDM in Finance & Trade and Marketing & HR, but she is currently following her passion for writing.