It's no secret that Italy is one of the most popular tourist destinations in the world. And yes, what you saw in the movie is real. If we could describe Italy in one word, we would choose "splendid". But what about studying MBBS in Italy?
Italy boasts some of the best medical schools in Europe. It has been a perennial choice for medicine and dentistry and its popularity is well-known in the medical world due to its modern approach and use of some of the latest technologies that also make learning more interesting and engaging. MBBS in Italy has an excellent reputation in the field of providing higher medical education due to its high teaching principles with advanced and sophisticated strategies and logical methodologies.
What do You need to Know?

Italy has the most outstanding universities than other medical colleges, perceived by renowned global associations including WHO, NMC, and UNESCO.
By studying medicine in Italy, you will not only get the chance to learn the basics of education, but you will also get the chance to experience the vibrant Italian way of life. The increase in the number of students choosing to study MBBS in Italy is due to the first-rate treatment guidance. It takes about six years to complete an MBBS course in Italy.
All set? Come along…
What all is covered in this post?
To make it easier for you, we have created a quick guide to everything you need to know about studying MBBS in Italy.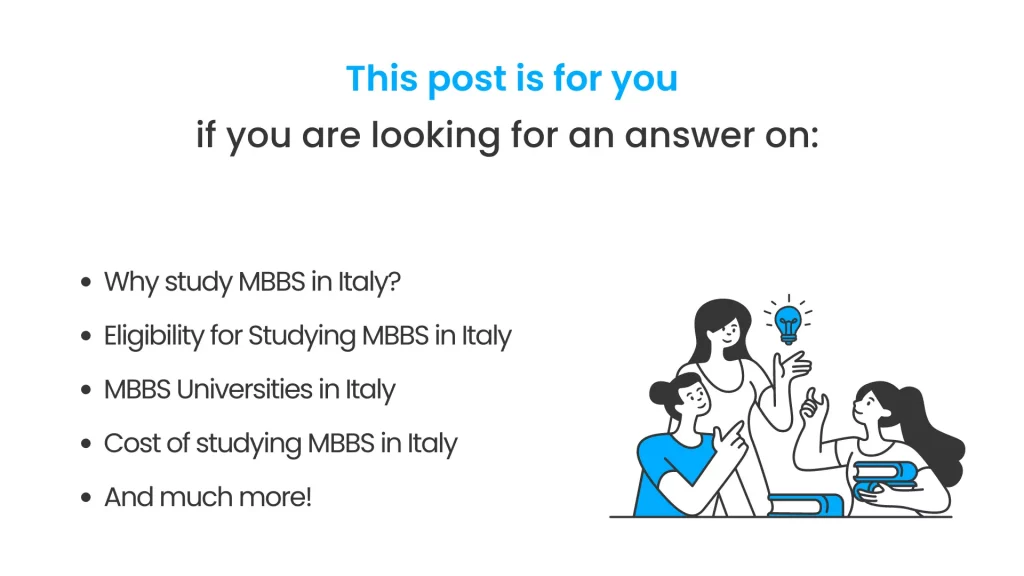 You must have this question in mind that is Italy really good for studying MBBS? So, we are here to answer you…
Why study MBBS in Italy?
Today, many Indian MBBS aspirants like to study in Italy because of its affordability, which other European MBBS universities in Italy provide you with an internship as well as an opportunity to work after obtaining a work license. A high score in the entrance tests for MBBS in Italy can also get you grants for both education and living. Private colleges can be slightly expensive, but the nature of the education makes it worth the expense. Some MBBS courses in Italy follow a global exam design.
Following are the reasons why studying MBBS in Italy could be the best choice:
Contemplating MBBS in Italy is commendable and not very expensive.
Usually, the fees for studying medicine in English can be between 500 and 5000 euros per year. Some universities have higher fees.
Students will have the opportunity to work in multidisciplinary medical clinics
MBBS study in Italy is approved by WHO and NMC.
Admission to Italian MBBS Universities is optional.
With superbly prepared multidisciplinary medical clinics, a wide range of potential outcomes, and complete openness to medical practice.
Eligibility for studying MBBS in Italy
The eligibility criteria for doing MBBS in Italy are as follows: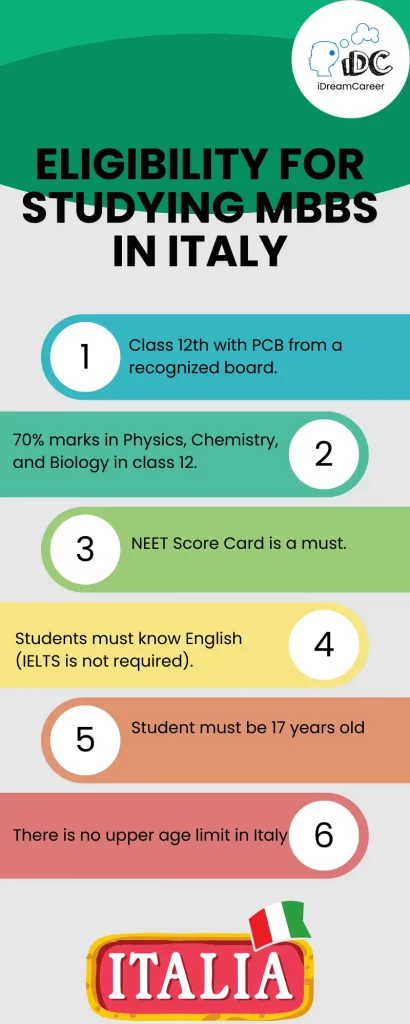 Students must have completed class 12th with PCB from a recognized board.
70% marks in Physics, Chemistry, and Biology in class 12.
NEET Score Card is a must.
Students must know English (IELTS is not required).
The student must be 17 years old, and there is no upper age limit in Italy.
Documents required to study MBBS in Italy
Before admission, the student must prepare all the documents. The required documents for MBBS in Italy are as follows:
A copy of a passport with a validity period of at least 18 months.
A copy of grades 10 and 12 marks and certificates.
A copy of the offer letter
Birth certificate
Medical certificate
10 passport-size photos
All documents must be approved by the Ministry of Foreign Affairs.
Documents and results of the HIV test
List of MBBS universities in Italy
Finding the right university for your chosen MBBS degree is an important decision that requires careful research. To help you choose the best university for an MBBS in Italy, we have compiled the best MBBS universities in Italy along with the Tuition fees:
| | | |
| --- | --- | --- |
| University Name | Annual Fees | Courses |
| Campus Bio-Medico University of Rome | € 18150 | Medicine |
| Catholic University of The Sacred Heart | € 15000 | Medicine |
| Humanitas University | € 15000 | Medicine |
| International Medical School in Milan | € 4000 | Medicine, Dentistry |
| Saint Camillus International University Of Health Sciences | € 20000 | Medicine |
| Sapienza University of Rome | € 2900 | Medicine, Pre-med |
| University Of Bari Aldo Moro | € 3500 | Medicine |
| University of Messina | € 2100 | Medicine |
| University Of Milano-Bicocca School of Medicine and Surgery | € 4100 | Medicine |
| University of Siena | € 4500 | Dentistry |
| Vita-Salute San Raffaele University | € 20150 | Medicine |
Cost of studying MBBS in Italy
Italian medical schools are well known for integrating theoretical studies with clinical training. Their degrees are recognized worldwide by organizations such as the WHO and the NMC (National Medical Commission) of India, as well as the General Medical Council (GMC) of Great Britain. The cost of medical education is a major problem worldwide, especially for students from developing countries. Compared to other countries like the UK, Ireland, etc., the cost of studying medicine and dentistry in Italy is quite low for international students.
Tuition fees for medicine and dentistry in Italy can be as little as US$5,000* at most public universities. In private international universities, it can range from USD 20,000 to USD 30,000*. The low tuition fees at many public and private medical universities in Italy make them affordable for international students.
Shedding light on the average cost of living in Italy, it ranges from US$7,000 to US$11,000* per year for one person. Therefore, Italy is quite affordable in terms of medical education and cost of living.
Conclusion
Getting into one of the best MBBS universities in Italy is quite easy if you have an excellent academic record and love medicine! Italy's MBBS colleges are considered to be among the oldest and most prestigious universities. The acceptance rate is also quite high and the universities provide a welcoming atmosphere for international students! You have the info you wanted. Do you want to make a career decision now? Not settled yet? In case, you feel indecisive or confused, do dial us up.
iDreamCareer is on a mission to reach every state and every child in order to ensure that talent is appropriately delivered to the industry.
Talk to our study abroad experts who have 20+ years of experience to know yourself in and out! We have helped several brilliant but confused minds with the aim to select their most-suited career choices. Hear the success story of Aayush who got an offer from the top 3 universities and is now studying at a University in Ottawa in Canada after getting career guidance from our industry experts!
Also, read;
MBBS in Italy: FAQs
What is the duration of MBBS in Italy?
The duration of the entire course is about 6 years, including the internship year.
Do all colleges and universities offer scholarships to international students?
Yes, there are MBBS in Italy scholarships for international students under certain criteria.
Is Italy good for MBBS?
Italy has become an ideal destination for pursuing MBBS and other academic courses due to the excellent education provided by reputed academic institutions.
Is IELTS required for MBBS in Italy?
If you choose MBBS in Italy in English, you need to get IELTS/TOEFL score
Is studying MBBS in Italy an expensive affair?
No, the total tuition fees and other expenses will not cost much while studying MBBS in Italy.

Anushree has 5 years of experience in the career counseling industry as a Senior Content Writer. She has also worked as a Social Media Marketing Expert for a startup and Content Quality Analyst for the Publishing and E-learning Industry. She has done her Master's in Commerce and PGDM in Finance & Trade and Marketing & HR, but she is currently following her passion for writing.