APJ Abdul Kalam, P. Chidambaram, Vishwanathan Anand, Indira K Nooyi, S. Radhakrishnan, and A.R.Rahman, these people are the legends in their own respective fields and need not be given any introduction. Hang on and think for a minute; can you spot one thing common amongst these personalities? Their place of origin- South India.
Known for its breathtaking and mesmerizing scenic beauty, coffee and tea plantations, alive with vibrant culture and lip-smacking food, this place is also home to numerous premier educational institutions. Every other learned person in Southern India is nothing less than a living library. This blog is for all those looking for an education city in India.
With highest literacy rates, year after year, South India has been churning out some of the sharpest minds. We bring you some of the top educational hubs from Southern India:
Bangalore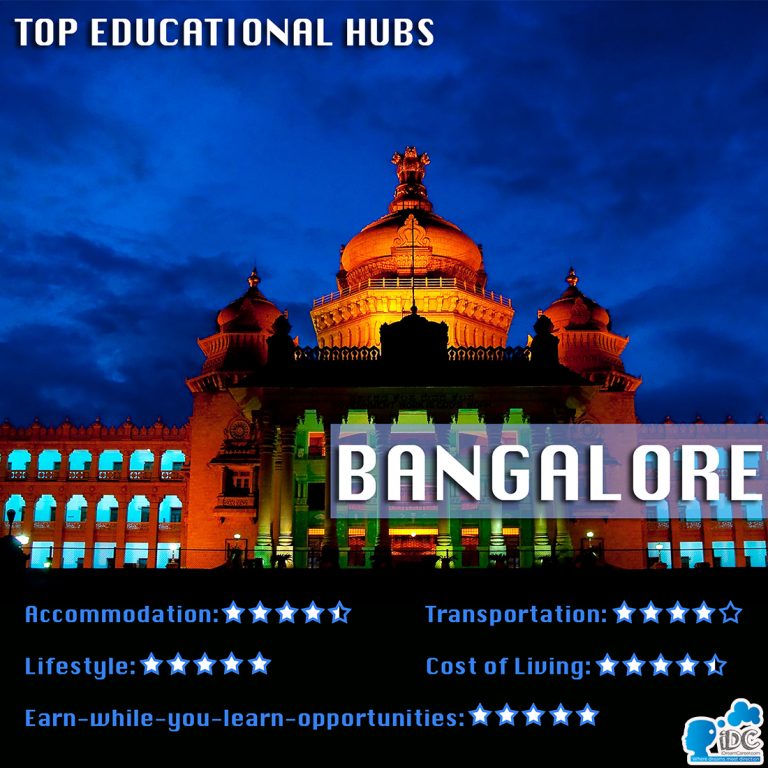 Bangalore is one of the top education city in South India. The capital city of Karnataka has renowned institutes for almost every stream. It ranges from law to health, from medicine to fashion, from management to social sciences; you name it, and the city has it!
This place is home to innumerable research and other premier institutes. The Indian Institute of Science, The Jawaharlal Nehru Center for Advanced Scientific Research, Indian Institute of Technology Research, Indian Space Research Organization, National Law School of India University, IIM, Bangalore Medical College, National Institute of Mental Health and Neuroscience, Rajiv Gandhi University of Health Sciences, NID, NIFT, and Christ University to name a few.
Bangalore's rich cultural heritage and soothing weather conditions make it an attraction for students across India. One will find multi-lingual people here. With decent accommodation and transportation facilities, Bangalore also offers some great earn-while-you-learn-opportunities for students to get hands-on experience. It also has an amazing nightlife and lifestyle to offer.
Discover More by accessing the Free Career Dashboard
This will help us share relevant information with you.
Chennai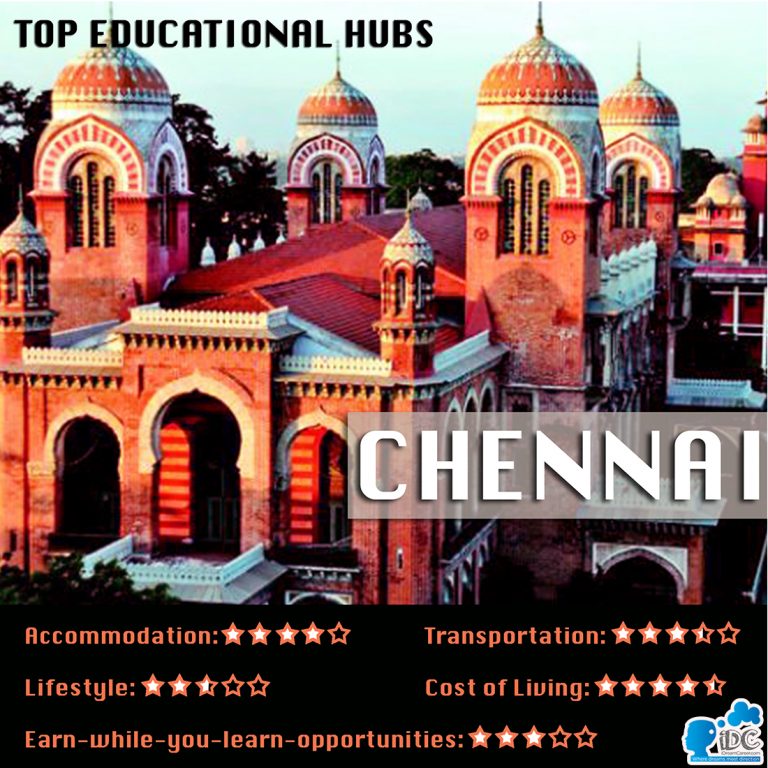 Chennai is the second topmost educational hub in India. The gateway to South India provides a gamut of opportunities to the students pursuing higher education. Indian Institute of Technology, Loyola College, Madras Christian College, Presidency College, Madras School of Economics, Chennai Mathematical Institute, and Great Lakes Institute of Management are some of the most prominent institutes of Chennai.
With good accommodation and cheap transportation facilities, Chennai is quite an inexpensive and reasonable city to live in. The culture is different and undoubtedly language is a huge barrier, but with the time you will get a grasp of Tamil too. Nightlife is often a complaint, on the flip side, one can spend many peaceful evenings at Marina's Beach and Elliot's Beach. The city will never fail to amaze you with the beautiful blend of sea, sand, and surf.
Hyderabad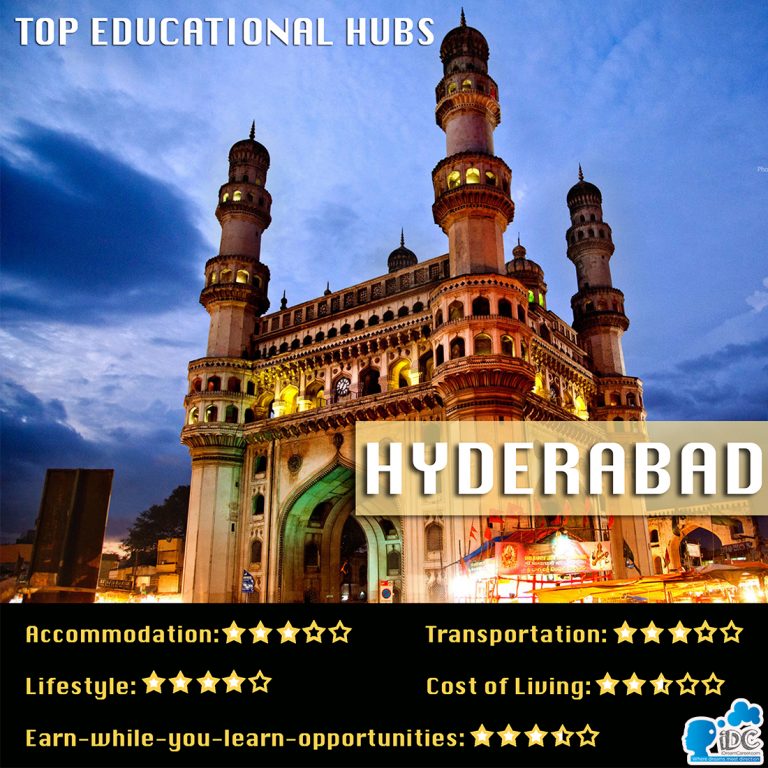 Hyderabad is one of the most famous education city in India. The city of Pearls and the land of palatable Biryani is really pacing up as an emerging educational hub. University of Hyderabad, English and Foreign Languages University, Indian Institute of Technology, BITS – Pilani, Indian School of Business, Jawaharlal Nehru Technological University, International Institute of Information Technology, and Tata Institute of Fundamental Research are some of the finest institutes available in this city providing higher education.
Hyderabad is a perfect amalgamation of ancient and modern India. Certainly, this place is one of the hottest IT markets in India and provides happening lifestyle too. The presence of good international schools is one of the prime reasons in offering the best quality of living standards.
Although Telugu speaking population is high, the language is not a major issue as a blend of Hindi, English, and Urdu solves the purpose. The city provides reasonable accommodation; transport facilities and students can also get plenty of opportunities to get hands-on experience.
Thiruvananthapuram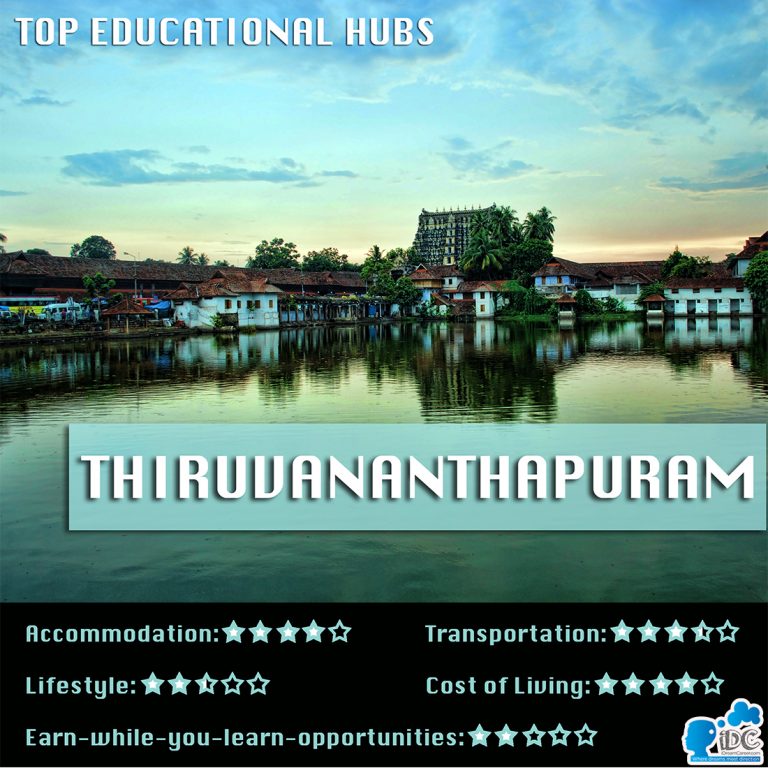 Looking for an education hub in South India? Then you should look for institutions in Thiruvananthapuram. The capital city of Kerala is an academic as well as Research and Development hub. Indian Institute of Science Education and Research, College of Engineering, Government Engineering College, Indian Institute of Space Science and Technology, Centre for Development Studies, Centre for Development of Imaging Technology are some of the renowned institutes of the city and the regional headquarters of IGNOU is also located here.
According to the Times survey, Thiruvananthapuram is the best city to live in Kerala. With decent accommodation and transportation services, the city is home for many ex-pats. The Technopark, one of the largest IT parks in India, has been a really successful project and the city is pacing up for more infrastructural developments.
Also Read
Coimbatore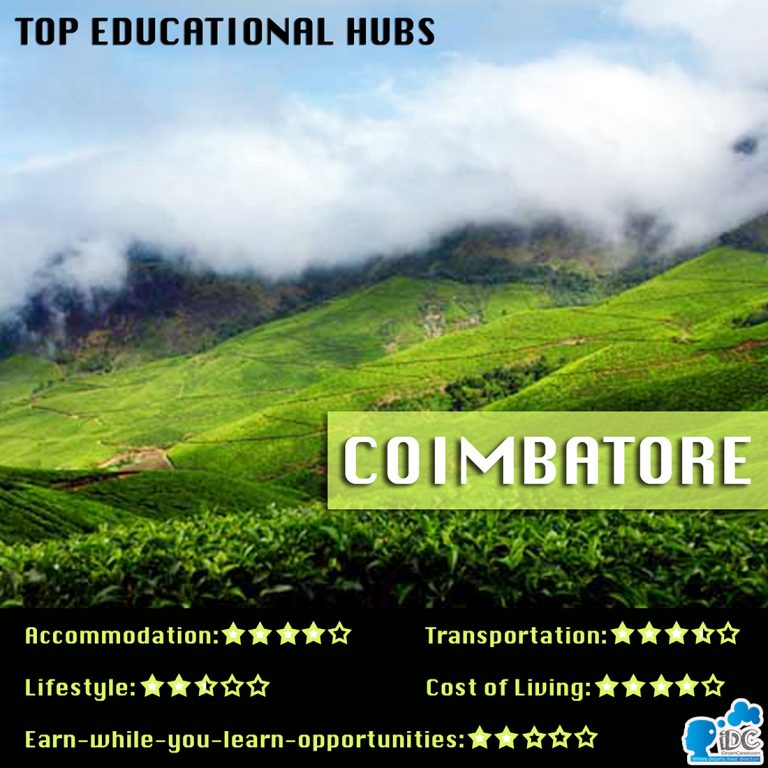 Coimbatore a.k.a Manchester of South India is a major city in Tamil Nadu. Known for its educational institutes, it has 54 engineering colleges, 2 medical colleges, 18 polytechnics and more than 70 Arts and Science Colleges.
Tamil Nadu Agricultural University, Anna University, Institute of Forest Genetics and Tree Breeding (IFGTB), Tamil Nadu Institute of Urban Studies, Government Arts College, Bharathiar University, Government College of Technology, Government Law College, Coimbatore Institute of Technology, Coimbatore Medical College are the topmost education city in India.
Coimbatore has a well-developed transport infrastructure and a lower cost of living. A large number of students flock to this place to pursue higher education.
Tiruchirappalli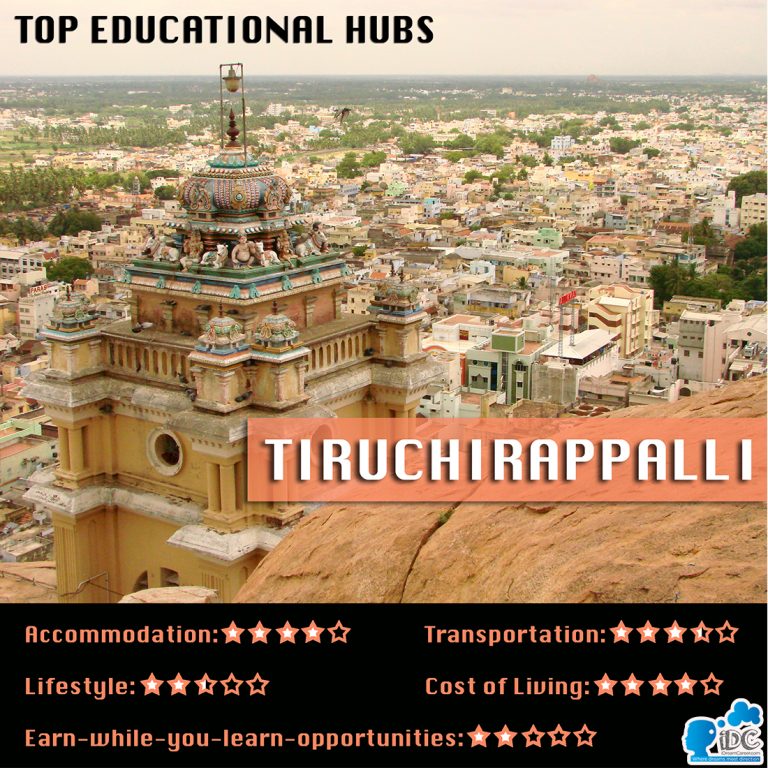 Popularly known as Trichy, Tiruchirappalli is one of the largest cities in the state of Tamil Nadu. The city is situated on the bank of Cauvery River and is rich in history and heritage.
Indian Institute of Management (IIMT), Indian Institute of Information Technology (IIIT) and National Institute of Technology (NITT), St. Joseph College, Bishop Heber College, Jamal Mohamed College, the Government Law College, The Anbil Dharmalingam Agricultural College & Research Institute and the National Research Centre for Bananas are some of the premier institutes in Tiruchirapalli.
With a fairly better transport facility and easy availability of accommodation, the city attracts many students for higher education. Although it does not provide many earn-while-you-learn-opportunities, it still is quite an affordable place to live in.
The south-Indian part of our country has a unique cultural diversity and a flavor of its own. Moreover, 'Simple living and high thinking' is the ideology of the people in Southern India. Language could be an obstacle but don't you worry, English will come always to your rescue and with the time you will become a Roman in Rome too. So are you ready to gain multicultural experience and add the 'tadka of south' in your education? *Head down south* as our beloved Google Maps would say!
By Palak Arora
Discover More by accessing the Free Career Dashboard
This will help us share relevant information with you
Trending Posts

The iDC Editorial Team brings in a collective work experience of more than 25 years in diverse fields spanning from career counselling, management consulting, engineering, and technology to science, finance, and humanities. The team's key competencies are in research and analysis of careers, jobs, and industries. The team boasts of a few best-in-class writers on careers and education.