Looking for the Indian cities with the best education hub or maybe with great student life? Education in India, as in many other countries of the world, is given prime importance.

Do you know?

The Right to Education Act is an Act of the Parliament of India passed in 2009. It embodies the principle that all children between the ages of 6 and 14 have the right to free and compulsory education.
The law makes education one of the basic rights of children between the ages of 6 and 14. Due to all these benefits and government assistance, India has become one of the best educational destinations in the world. This Act not only made education compulsory for students but also made other provisions that help in promoting education in India.
What all is covered in this post?
To make it easier for you, we have created a quick guide to everything you need to know about the education hub.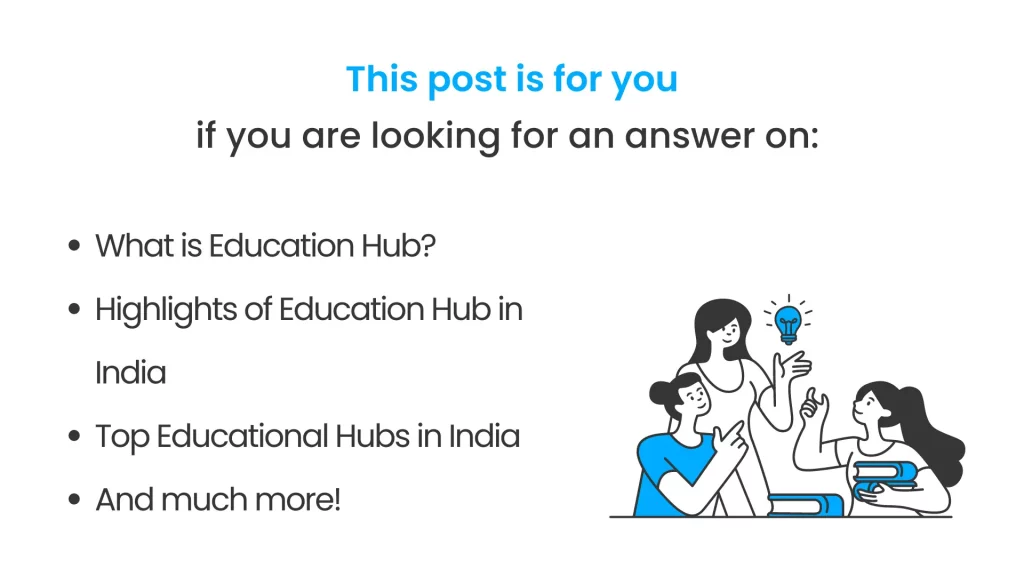 What is an education hub?
The educational hub refers to a designated region that aims to increase the country's competitiveness by providing high-quality education to both foreign and domestic students. It also provides a context for the production of knowledge and innovation through education and training.
Highlights of the education hub of India
The place for India's best educational hub is a tie between Delhi and Mumbai, both contributing the maximum number of institutes among India's 1000 most trusted institutes, both with 89 each.
Bangalore, which was already known as an educational hub, unexpectedly got the privilege of being the second-best educational hub in India with 77 institutes ranked in the top 1000.
Chennai is the third best educational hub in the country with 63 institutions in the top 1000 most trusted institutions in India.
Ahmedabad ranks fourth in the ranking of the best educational centers in India with 52 institutions among the top 1000.
Kolkata, a city with some of India's oldest institutes, is listed at 41 out of India's 1000 most trusted institutes, making it the fifth best educational hub in India.
Indore is the sixth best educational hub in India with 39 institutions.
Jaipur and Vishakapatnam are ranked seventh among the top educational centers in India with 34 institutions each.
India's eighth best educational hub is Coimbatore, with 30 educational institutions ranked among India's most trusted.
Bhopal and Lucknow are ranked ninth with 27 institutes each in the most trusted list.
The tenth place among the best educational centers in India is occupied by three cities together – Jodhpur, Kota, and Nagpur, each of which has 23 educational institutions in the top 1000 institutions in India.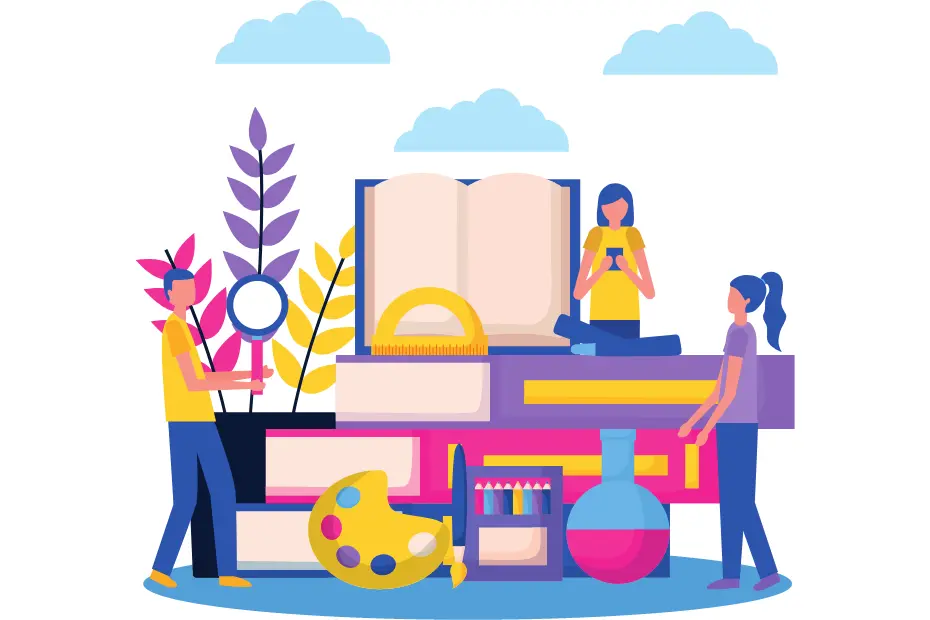 Discover More by accessing the Free Career Dashboard
This will help us share relevant information with you.
List of the top educational city of India
While education in every shape and form is of great importance, there are cities across India that are known for their literacy, they have the best universities that are recognized as the best centers of education. Hence, students and applicants seeking quality education from reputed institutes often choose their college based on location.
So, if you too are on your way to getting a quality education in India, don't worry! We are here to guide you and provide you with a short list of cities in India where you can plan and achieve your higher education goals.
Ahmedabad
Bengaluru
Bhopal
Bhubaneswar
Chennai
Delhi
Hyderabad
Indore
Jaipur
Kanpur
Kolkata
Lucknow
Mohali
Mumbai
Pune
About 5 top educational hubs in India
Mumbai
The Indian state of Maharashtra is one of the most famous and popular cities that not only provides quality education to students but also makes them explore beyond their imagination. It has a various number of old institutes and is also a popular destination among students in India for higher education.
Here are 2 famous institutes and universities in Mumbai:
University of Mumbai
Indian Institute of Technology, Bombay
Other prominent institutes include Narsi Monji Institute of Management (NMIMS), Maharashtra National Law University (MNLU), and Tata Institute of Social Sciences (TISS).
Delhi
The capital of India is the most populous city after Mumbai. It is the best education center in India for students in terms of education. In addition, the capital of India is home to various institutes of technical universities such as IIT Delhi, NSIT, NIT Delhi, and DTU.
Here are 2 famous institutes and universities in Delhi:
Delhi University (DU)
Indian Institute of Technology, Delhi
Some other prominent and famous universities include Jawaharlal Nehru University (JNU), Indian Institute of Mass Communication (IIMC), etc. One of the famous medical institutes in India is AIIMS (All India Institute of Medical Sciences) which is located in this student town.
Bangalore
Bangalore is the second top education hub in South India. The capital city of Karnataka has renowned institutes for almost every stream. It ranges from law to health, from medicine to fashion, from management to social sciences; you name it, and the city has it!
This place is home to innumerable research and other premier institutes. The Indian Institute of Science, The Jawaharlal Nehru Center for Advanced Scientific Research, Indian Institute of Technology Research, Indian Space Research Organization, National Law School of India University, IIM, Bangalore Medical College, National Institute of Mental Health and Neuroscience, Rajiv Gandhi University of Health Sciences, NID, NIFT, and Christ University to name a few.
Bangalore's rich cultural heritage and soothing weather conditions make it an attraction for students across India. One will find multi-lingual people here. With decent accommodation and transportation facilities, Bangalore also offers some great earn-while-you-learn opportunities for students to get hands-on experience. It also has amazing nightlife and lifestyle to offer.
Chennai
Chennai is the third topmost educational hub in India. The gateway to South India provides a gamut of opportunities to students pursuing higher education. Indian Institute of Technology, Loyola College, Madras Christian College, Presidency College, Madras School of Economics, Chennai Mathematical Institute, and Great Lakes Institute of Management are some of the most prominent institutes in Chennai.
With good accommodation and cheap transportation facilities, Chennai is quite an inexpensive and reasonable city to live in. The culture is different and undoubtedly language is a huge barrier, but with time you will get a grasp of Tamil too. Nightlife is often a complaint, on the flip side, one can spend many peaceful evenings at Marina's Beach and Elliot's Beach. The city will never fail to amaze you with the beautiful blend of sea, sand, and surf. 
Ahmedabad
Ahmedabad is considered one of the most literate cities in India and has been an educational hub since before independence. As of 2020, the literacy rate in Ahmedabad is 88.29%, according to the Ahmedabad city census. Students can easily find courses related to Medicine, Arts, Science, Commerce, Law, and Management in Ahmedabad.
Here is a list of famous institutes in Ahmedabad
National Institute of Design
Indian Institute of Management
Apart from the above universities, the city has institutes like Gujarat Technological University, Nirma University of Science and Technology, Center for Environmental Planning and Technology, and B.J. Medical College.
Conclusion
So, if you want to reach your dreams and are looking for a place where you can make a leap of faith towards success, go for it!
Do you want to make a career decision now? Not settled yet? In case, you feel indecisive or confused, do dial us up. iDreamCareer is on a mission to reach every state and every child in order to ensure that talent is appropriately delivered into the industry. iDreamCareer experts are always ready to help young minds like you from 9th class, 10th class, class 11, and class 12 to select their most-suited career choices.
ALSO READ:
Discover More by accessing the Free Career Dashboard
This will help us share relevant information with you
Trending Posts


Anushree has 4+ years of experience in the career counseling industry as a Senior Content Writer. She has also worked as a Social Media Marketing Expert for a startup and Content Quality Analyst for Publishing and E-learning Industry. She has done her Master's in Commerce and PGDM in Finance & Trade and Marketing & HR, but she is currently following her passion for writing.