Are you planning to take a Language Proficiency test? But wondering which one is best for you? CELPIP vs IELTS: Want to know which test wins? Which one is the right fit for you? No wonder competitive exams with flying colors are an important part of the application process if you want to go study abroad. Especially those that are needed to prove your knowledge of a certain language spoken in the country where you want to study. CELPIP and IELTS are also mandatory language proficiency exams.
The similarity between the Canadian English Language Proficiency Index Program (CELIP) and the International English Language Testing System (IELTS) is that both serve as a test to assess one's English proficiency. In addition, they are necessary exams for immigration and studying abroad. IELTS is an international-level exam, while CELIP is specifically designed for students to move to or study in Canada and obtain citizenship.
Citizenship and Immigration Canada (CIC) recognizes both CELPIP and IELTS as some forms of English language testing for immigration purposes. When a final score is proposed, it is compared to the Canadian Language Benchmark (CLB). This benchmark sets national language standards for second language recognition. In this post, we will talk about CELPIP vs IELTS in more detail.
Do you know?
Canada has seen exponential growth in the number of Indian students year after year. According to Statistics, in 2021, 621,565 international students hold study permits for various levels of study. The number of international students in Canada studying only in higher education institutions is currently 388,782 students.
What all is covered in this post?
To make it easier for you, we have created a quick guide to everything you need to know about the CELPIP vs IELTS.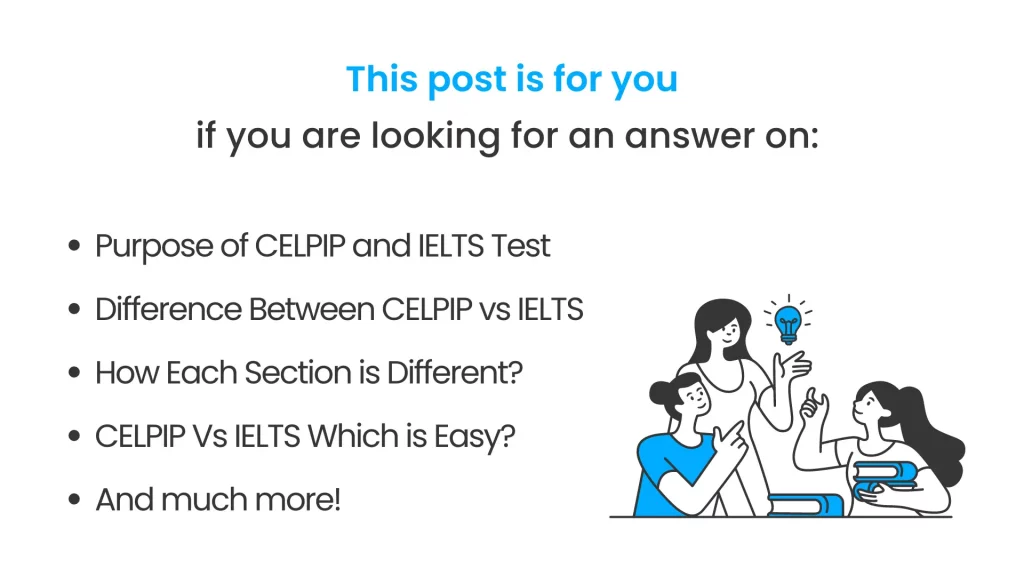 Purpose of CELPIP and IELTS test
Each of the tests has a purpose. Each test is focus specific. For example, if you want to apply for immigration, you need to take IELTS general and if you are applying for education, then go for academic IELTS.
IELTS Academic is given when you are gaining admission to Canadian and non-Canadian speaking universities. Similarly, for professional recognition in Canada, you need to pass academic IELTS.
If you are applying for permanent residence in Canada, you must pass the general IELTS test. A General IETLS test is required for Immigration to Australia, New Zealand, and the UK.
The CELPIP General Test also consists of the Canadian Permanent Residency Application. The CELPIP General test score is accepted by several private colleges in Canada.
Difference between CELPIP vs IELTS
Here is the comparison table of both the tests:
IELTS
CELPIP
Four types of language skills are tested here.
In the General LS version of this test, only listening and speaking skills are measured.
IELTS can be used for a variety of visa processes, including study visas, work visas, and permanent residence visas.
CELPIP is intended only for permanent residence and citizenship visas.
There are two versions, one is IELTS General Training and the other is IELTS Academic.
There are two versions, one is CELPIP General and the other is CELPIP General LS.
Score Breakdown: Listening – 30 minutes; 4 components, a total of 40 questionsReading – 60 minutes; 3 components, 40 questions
Speaking – 11-14 minutes; 3 components: Introduction, Individual Speech and Two-Way DiscussionWriting – 60 minutes; 2 components: Writing a Letter and Responding to a Point of View, Argument or Problem
Score Breakdown: Listening -47-55 minutes; 7 components, a total of 40-46 questions (40 scored)Reading – 55-60 minutes; 4 components, 38-45 questions (38 scored)Speaking – 15-20 minutes; 8 components, a total of 8 short-answer questionsWriting – 53-60 minutes; 2 components: Writing an Email and Responding to Survey Questions
CELPIP vs IELTS: How each section is different?
In this section, we will discuss how each section of both tests is different. Come along…
CELPIP or IELTS speaking
Before you decide, consider whether you are more comfortable with a computer or the physical presence of an examiner who will conduct your oral test. Some find it easy to present in front of a person, while others are less confident and will be better at talking to a computer.
There are same 8 speaking tasks in CELPIP General and CELPIP LS. You are tagged based on:
Accomplishing the task
Good vocabulary
Content
Ability to listen
IELTS General and IELTS Academic have the same oral test, that is, you have to speak in front of a person. It speaks to three sections including
Introduction
Presentation
Analysis and discussion
IELTS reading vs CELPIP reading
If you are in the habit of reading books online then CELPIP computer-based test can be easy for you.
CELPIP General Reading is a computer-based test. You will read the questions on the computer and answer them on the computer. These questions need to be completed within the given time and these questions are mostly multiple-choice type questions. Here you have to choose the answer that best suits you. You should fully understand the question to get the right answer.
IELTS General and Academic Reading have different reading texts. In this section, you must have the ability to spell and write clearly and understand how each question works.
CELPIP vs IELTS writing
As for the writing section, it depends on your comfort level. If you find it easier to write on a computer, then CELPIP and IELTS computer-based tests are good for you. However, if you think you are comfortable with a pencil, then the IELTS paper basis is for you. Computer-based CELPIP and IELTS need two essays. In these essays you must:
Complete the essays within the allotted time
Please provide a complete answer.
Use good structure when writing your essay.
Create coherent arguments.
Use grammatically correct sentences.
Use a polite tone and vocabulary.
CELPIP vs IELTS general test – listening
CELPIP General and CELPIP LS have the same 40 questions as in IELTS. In CELPIP, you don't see the questions before the recording, so you should have a good memory to remember. You should be able to take notes quickly. Answer the questions within the given time frame.
Both IELTS General and Academic tests also have 40 questions. Here you will see pre-listening questions, which is a positive compared to CELPIP. You should be able to understand the questions quickly as you have to write in a short amount of time while playing the recording. Make sure the test center you choose should provide you with headphones so you can listen carefully. Otherwise, some test centers use one sound source for all test takers.
Now that we know how each section is different in both tests, let's discuss some more differences of both tests….
CELPIP score vs IELTS scores
Both tests are approved and accepted by the Canadian immigration organization. Test results are compared to the Canadian Language Benchmark (CLB), which demonstrates national language standards for second language recognition. IELTS vs CELPIP test results is compared with CLB scores in tables.
Here is a comparison of CLB and CELPIP scores in the table below.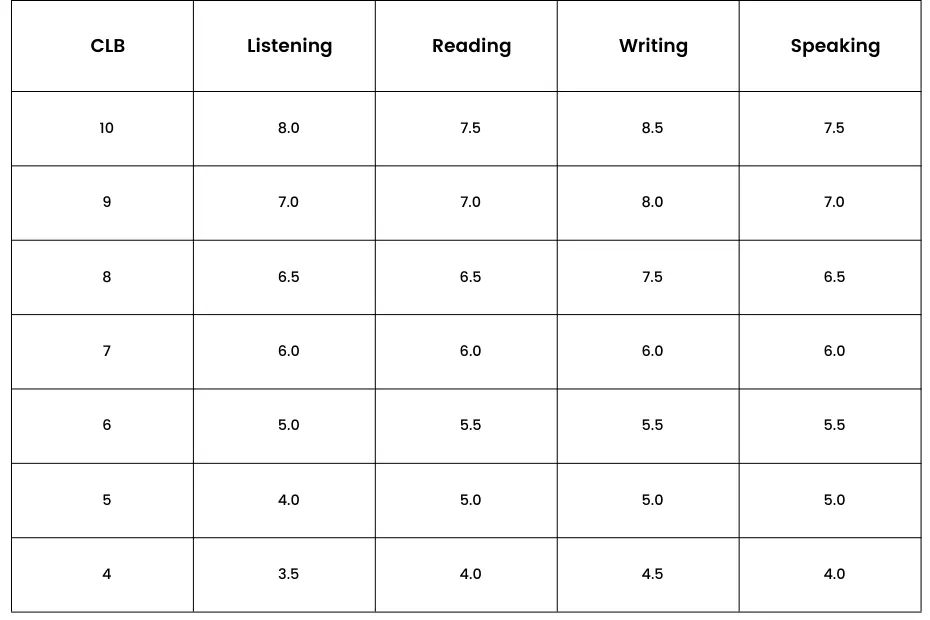 Here is a comparison of CLB and IELTS scores in the table below.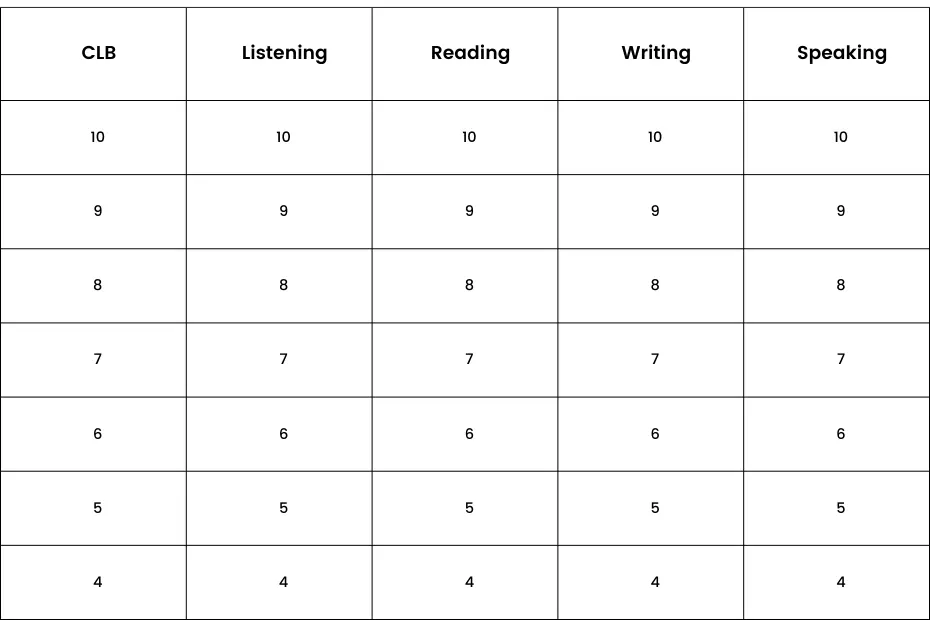 IELTS vs CELPIP difficulty
The level of difficulty between these tests is largely similar. As you have seen in the table above, even the results are quite similar, with the IELTS test being slightly harder in terms of the grading system. However, there are other levels of difficulty, such as
Format: IELTS is a paper-based test followed by a personal interview between the candidate and the examiner. CELPIP is a computer-based test. Why does anyone find it difficult? Social anxiety is a real problem; some may find it difficult to take the IELTS test because they have to use their voice to answer the questions they are asked. They will probably find solace in writing the answers.
Accent: Since CELPIP is specifically for Canadian citizenship and the like, it uses Canadian English, which may not be too different from other English dialects, but some words may sound confusing. IELTS recognizes American, British, and Australian English dialects. India uses a British English dialect, so we wouldn't have any problems with IELTS.
CELPIP Vs IELTS which is easy?
Candidates often ask themselves: 'which test is easy – CELPIP or IELTS?' The truth is that neither test is easy, but there are some points in the tests that outweigh others when compared.
CELPIP is the Canadian English Language Proficiency Index Program and IELTS stands for International English Language Testing System. These tests are designed to assess English proficiency, both tests are used for study, work, and immigration, although the CELPIP has been specifically considered to assess Canadian English. CELPIP is suitable for people who want to obtain Canadian permanent residence or citizenship.
You will find CELPIP easier than IELTS for reading and listening. Similarly, you will know that IELTS is easier than CELPIP. If you are taking an immigration test, you must keep all the points in mind before you take the test. Before the test, think of all the options that you think you can ace in CELPIP or IELTS. Consider your strengths and weaknesses. In which area do you excel and in which area do you need to improve? For example, if you are a great speaker, you should go for the CELPIP test. If you want a computer-based test you have to go for CELPIP.
Strengths and weaknesses of each test
Each of the tests has some strengths and weaknesses that should be considered before you decide:
In Conclusion
So, here you have the tricky essentials of the CELPIP vs IELTS exam. We hope you have some clarity about the matter now. Although if you are preparing for the CELPIP or IELTS exam, it is enough evidence that you have decided where you want to see yourself in the future, career decision is one of the most important things in your life and you may want to talk to industry experts. Know yourself in and out!
iDreamCareer is on a mission to reach every state and every child to ensure that talent is appropriately delivered to the industry.
Talk to our study abroad experts to know yourself in and out! We have helped several brilliant but confused minds to select their most-suited career choices. We have helped many students like Anjana Prasanna who was not very confident about her capabilities. Later with the help of career guidance and moral support from our study abroad experts she got an offer from King's College London! We have also helped several brilliant but confused minds like Aayush, and Tapan to select their most-suited career choices.
Also Read:
FAQs
Is CELPIP easier than IELTS?
They both have the same difficulty level. The CELPIP test has a longer speaking and listening section than the IELTS, so if these are not your strong points, the IELTS exam has a better chance of success. When we compare the difficulty of CELPIP and IELTS, there is no obvious difference between them. Both exams are difficult and require a good level of English and serious preparation.
Is CELPIP equivalent to IELTS?
Both have the same level of difficulty, but you can choose one or the other based on the following. The CELPIP test has a longer speaking and listening section than the IELTS, so if these are not your strong points, then the IELTS exam has a better chance of success for you.
Is CELPIP harder than IELTS?
Both IELTS and CELPIP were designed to measure English language proficiency; the level of difficulty is about the same in both tests.
How long is my CELPIP score valid?
We will make your scores available to you for 2 years from the test date. However, the length of time your scores are considered valid by different institutions is determined by their individual policies. You can obtain this information from these institutions.
Can I resit the CELPIP just by speaking?
No, you cannot retake the speaking-only assessment test. It is mandatory that you retake the full exam (4 modules).

Anushree has 4+ years of experience in the career counseling industry as a Senior Content Writer. She has also worked as a Social Media Marketing Expert for a startup and Content Quality Analyst for Publishing and E-learning Industry. She has done her Master's in Commerce and PGDM in Finance & Trade and Marketing & HR, but she is currently following her passion for writing.