America! The land of opportunity, initiators of Rock n Roll, home for the Woodstock, is today home for people from all around the globe. Does that excite you too like your friends? Want to study in USA? Looking for a definite list of the best MBA colleges in USA?
Did you know?

As of 2019, with above 2.8 million Indians living in the USA, it has also become the second-best home for us Indians. Even though these 2.8 million Indians constitute roughly 1% of the American population, this is still a huge number.
Studying in USA is the most preferred abroad study destination for Indians, followed by the United Kingdom and Canada. The number of Indian students is expected to rise even further due to the motivating examples of Satya Nadella and Sundar Pichai. So, who wants to be the next Nadella or Pichai?
Without further ado! Come along!
What all is covered in this post?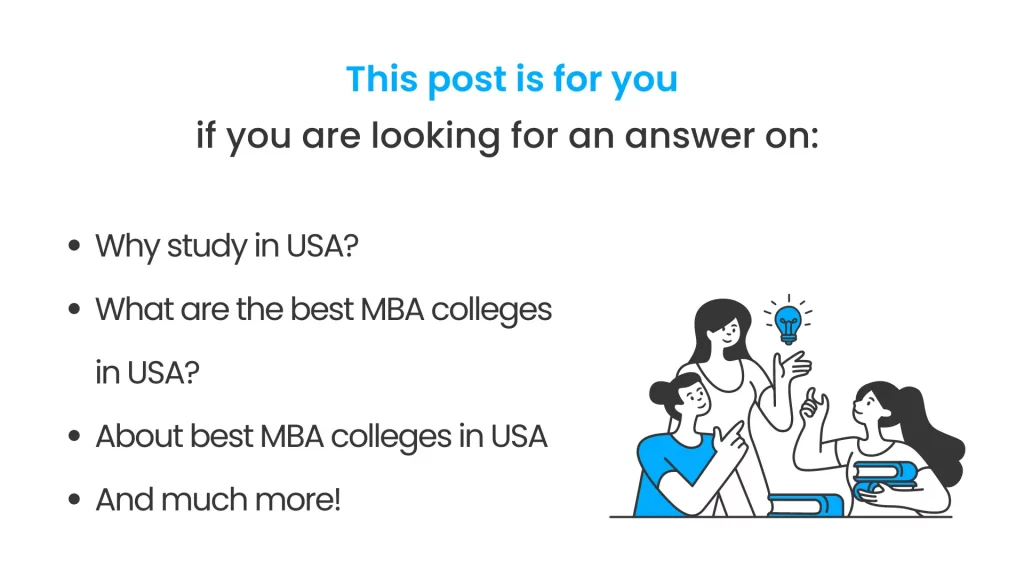 Why study MBA in USA?
If you are aspiring to walk in the footsteps of these personalities and pursue a study in America, there are 5 things you must know about studying in USA and about the American education system:
Types of Colleges in America
Just like we have two types of colleges or universities in India; private and government, even the USA has State colleges or Universities and Private Colleges or Universities. The state schools are run by the local or state government while their counterparts are privately run.
Credit System
Unlike the syllabus pattern in India, where the student has to gulp down the whole course in one go, the Credit System in the USA breaks the course into a certain number of credits. Generally, the number of credits is equivalent to the number of hours dedicated to the course every week. Mostly the credits for the course vary from 3 to 5 and it also denotes the difficulty or importance of the course.
Knowledge Bite???

The full-time courses in most universities are covered in 12 to 15 credits which cover four or 5 courses every term. Every student has to earn a minimum credit to graduate.
Fees
The tuition fees in US Universities defer on the basis of several factors like location, course, and type of university. However, the biggest factor is whether the college is private or state-run. All universities have different tuition fees which vary according to the selected course. The fees generally vary from 10,000 dollars to 35,000 dollars annually. However, the cost of the program cannot be considered a benchmark for the quality of education.
On-Campus Jobs
If you are still converting the above figures into rupees equivalent and finding it a bit intimidating, the education system in the USA allows you to earn while you learn. Most international students find these jobs very supportive and it generally helps them cover their expenses other than the tuition fees. As the name suggests, in these jobs, you work part-time inside the university campus.
Full-time international students are allowed to work for a maximum of 20 hours per week during the term. However, you are allowed to work full time for 40 hours per week in summer. On-campus jobs generally cover works like library duty, cafeteria work, lab assistance, etc., and can pay anywhere between 7 to 12 dollars per hour.
Accommodation
Finding the most fitting shelter is one of the biggest hassles faced by international students in the USA. Generally, the universities help the students by sending a detailed dossier regarding available accommodation options for students.
To give you a brief idea, the following are the accommodation options for students:
On-campus Dormitories
Off-campus Apartments
10 best MBA colleges in USA
Let's look at the ranking lists of the 10 best MBA colleges in USA for Indian students: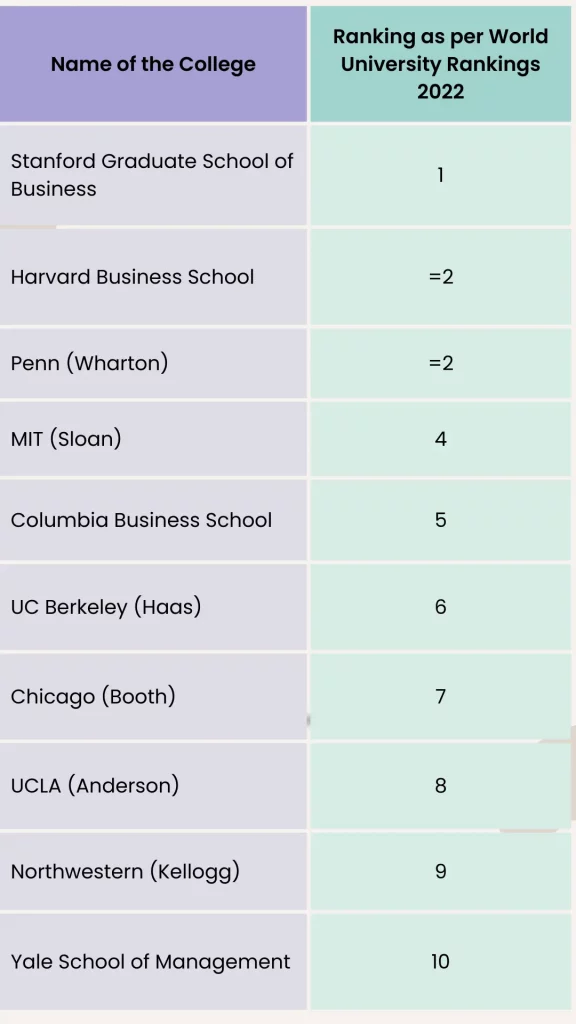 About best MBA colleges in USA
In this section, we will introduce you to the explanation of the above-mentioned list of best colleges:
Stanford Graduate School of Business
Stanford Graduate School of Business is the world's leading institute of business and management. It is one of the best MBA colleges in the USA. According to the QS Global MBA Rankings 2022, the business school is ranked number one in the world for its MBA program.
Highlights:
The college was established in 1885.
Along with the Stanford MBA program, the institution offers 2-degree courses – Stanford MSX and Ph.D.
It has a high acceptance rate of 5.7% (2021). Currently, 35% of students enrolled at Stanford GSB are of foreign origin.
The fees for the MBA program is Rs. 58.03 lakhs to Rs. 60 lakhs per year.
Harvard Business School
Harvard Business School is a graduate business school and part of the prestigious Harvard University. HBS is particularly popular in India because of its famous Indian alumni – Ratan Tata and Anand Mahindra.
Highlights:
The college was established in 1636.
It offers MBA programs along with online programs and executive education programs.
The acceptance rate of the college clearly shows a tough admission as it only has a 10% of enrollment.
The fees for the MBA program is Rs. 57.05 lakhs per year
Penn (Wharton)
This prestigious business school in the US has played an important role in transforming the study of business from commerce into an intensive and respected profession.
Highlights:
The college was established as the university's first business school in 1881.
One can choose from more than 19 undergraduate majors, 19 MBA majors, and 9 doctoral programs.
The acceptance rate for this college is 9% for the year 2020.
The fees for the MBA program is Rs. 65.93 lakhs per year

MIT (Sloan)
The MIT Sloan campus is located along the Charles River in Cambridge, Massachusetts, USA. MIT Sloan School of Management is one of the most famous MBA colleges in USA.
Highlights:
The college was founded in 1914.
It offers bachelor's, master's, and Ph.D. programs. Also offers an Executive Program in General Management: a 9-month program.
The acceptance rate for the college is 11.5%.
The fees for the MBA program is Rs. 72.8 lakhs per year
Columbia Business School
Columbia Business School is among the top 10 global business schools, according to the U.S. News and World Report. CBS has an excellent graduate employment rate of 94% after 3 months of graduation. International students get job opportunities from various sources such as campus interviews, corporate events, COIN job postings, and more.
Highlights:
It was established in 1754.
The B-school offers admission to 7 Masters' programs along with various career-oriented research courses.
In 2022, it has an acceptance rate of just 5%. Out of 687 applications, only 37 were selected.
The fees for the MBA degree is Rs. 60.11 Lakhs – 99.39 Lakhs per year
Admission requirements in best MBA colleges in USA
3-or-4 years Bachelor's degree from a recognized university or educational institution
Academic Transcripts
GMAT/GER/GPA Score
An English proficiency test such as IELTS or TOEFL or PTE or Duolingo
Resume (CV)
Statement of Purpose
2 letters of recommendation
Work experience

It's a wrap!
There you go! Loads of options to choose from. In fact, these best MBA colleges in USA differ in rank because of fractional scores only. Not a major difference at all. Getting a college pedigree is a big thing in the industry today! The big packages go to them eventually!
iDreamCareer is on a mission to reach every state and every child in order to ensure that talent is appropriately delivered into the industry.
Talk to our study abroad experts who have 20+ years of experience to know yourself in and out! We have helped several young confused minds like Aayush, Tapan, and many more with an aim to select their most-suited career choices.
ALSO READ:
FAQs
Which MBA college is best in USA?
Here are some of the best MBA colleges in USA – University of Chicago (Booth), University of Pennsylvania (Wharton), Northwestern University (Kellogg), Stanford University, Harvard University, Massachusetts Institute of Technology (Sloan), Yale University, Columbia University, etc.
Can someone pursue MBA in USA for free?
Pursuing an MBA degree for free in the USA is not easy, there is hardly any school that offers free programs. However, there are many universities that offer scholarships to study MBA in USA.
How long can you stay in USA after MBA?
After completing your MBA program, you are eligible for Optional Practical Training (OPT), which is a 12-month period during which you can stay and work in the US. This allows you to work in any industry related to your field of study.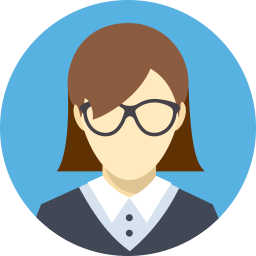 Anushree has 5+ years of experience and currently she is associated with idreamcareer.com as a Content Writer. She has also worked as a Social Media Marketing Expert for a startup and Content Quality Analyst for Publishing and E-learning Industry. She has done her Masters in Commerce and PGDM in Finance & Trade and Marketing & HR, but she is currently following her passion towards writing.