America! The land of opportunity, initiators of Rock n Roll, home for the Woodstock, is today home for people from all around the globe. Does that excite you too like your friends? Planning to improve your managerial and leadership skills? Dreaming of pursuing MBA in USA?? The number of Indian students in USA is huge due to the motivating examples of Satya Nadella and Sundar Pichai. So, who wants to be the next Nadella or Pichai?
Did you know?

As of 2019, with above 2.8 million Indians living in the USA, it has also become the second-best home for us Indians. Even though these 2.8 million Indians constitute roughly 1% of the American population, this is still a huge number.
Studying in USA is the most preferred abroad study destination for Indians, followed by the United Kingdom and Canada.
Look no further. You may find a ton of thought-provoking advice for an MBA in USA here & there, but you will need to know these nondescript details too. Most sources will miss these as too common.
What all is covered in this post?
To make it easier for you, we have created a quick guide to everything you need to know about MBA in USA.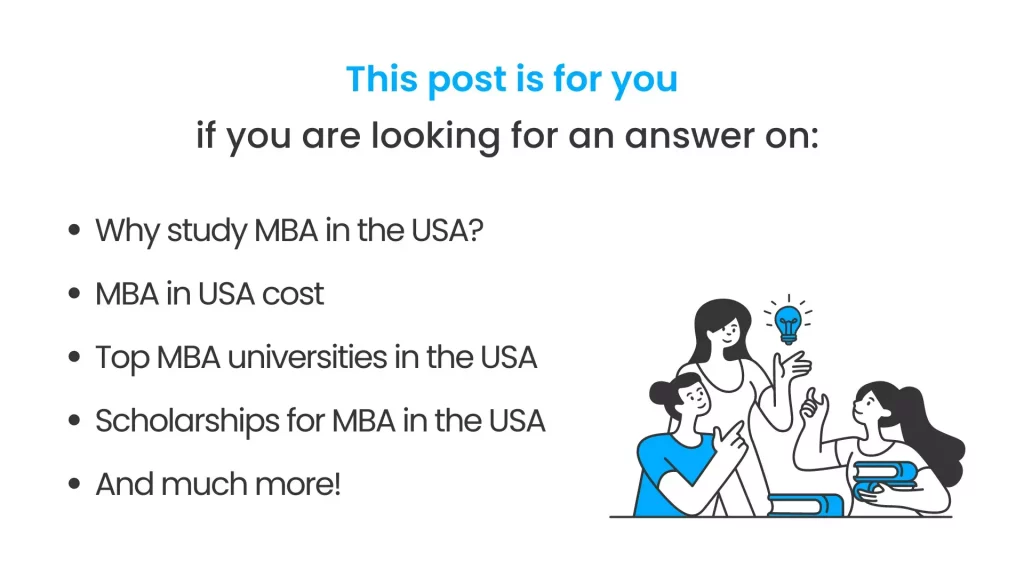 Without further ado! Come along!
Why study MBA in USA?
Here are the reasons why you should pursue an MBA in USA:
Excellent education and internationally recognized degree.
A variety of MBA programs and specializations.
Many US MBA programs offer internship opportunities to help you gain valuable experience at reputable American companies. Unparalleled networking capabilities.
Earning a Master of Business Administration degree in the US will increase your earning potential and career opportunities.
Highlights of MBA in USA
An MBA in the US is one of the most sought-after destinations for international students – it's a cliché! Everyone knows that the USA is the best choice for students who want to do their MBA abroad.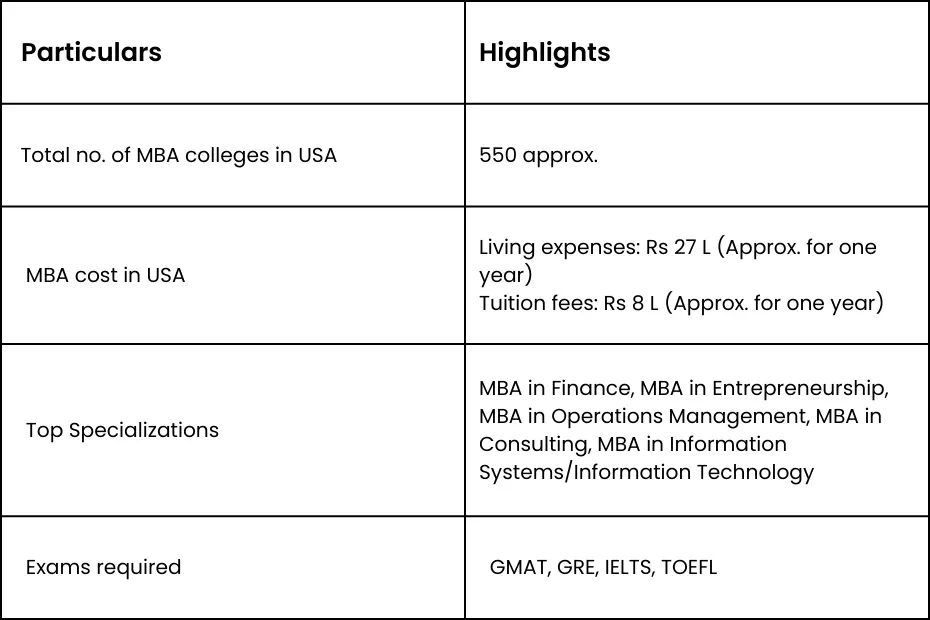 MBA in USA for Indian students – Eligibility
Students from India who wish to apply for MBA programs in USA universities should ensure that they meet the following criteria:
Applicants should ensure that they have a good GPA from their previous degree so that the admissions process is smooth.
Must have completed 16 years of education, which means class 12th, and a four-year bachelor's program
Make sure you have relevant work experience to meet the university's requirements.
Bachelor's degree from a recognized examining board.
IELTS/PTE/TOEFL scores are required for study abroad for non-native English speakers.
GMAT or GRE scores, whichever is acceptable at the university.
MBA fees in USA
The cost of studying for an MBA in the US ranges from USD 45,000 to 77,000 (INR 32.9 Lakhs – INR 58.5 Lakhs) per year. However, an MBA from a top 10 business school can cost more than 1 cr. In addition, you will need to pay the expenses before arrival.
Pre-arrival expenses
This section includes the cost of applying for a visa and fees for the various tests and entrance exams required to study in the US:
Program Application Fee: Rs. 0.07 Lakhs – 0.15 Lakhs
US Student Visa Application Fee: Rs. 0.13 Lakhs
TOEFL/IELTS Fee: Upto Rs. 0.14 Lakhs
GRE Fee: Rs. 0.16 Lakhs
MBA in USA cost of living
In this section, the cost-of-living expenses in USA will be provided to you:
Accommodation: Rs. 0.75 lakhs- 1.50 lakhs (Monthly)
Health Insurance: Rs.0.34 lakhs- 0.53 lakhs (Monthly)
Meals: Rs.0.02 lakhs- 0.03 lakhs
Personal Expenses: Rs. 0.22 lakhs- 0.45 lakhs (Monthly)
Transportation: Rs. 0.07 lakhs- 0.22 lakhs (Monthly)
MBA salary in USA
Whether there is a recession or a booming market, there will be a huge demand for MBA jobs in the US. The salary of an MBA in popular MBA positions is quite high and one can achieve success in one's career over time.
MBA graduates can get the opportunity to work in some of the most prestigious organizations in the world. The best business schools in the USA offer excellent opportunities to work with Fortune 500 companies.
Leading technology organizations such as Amazon, Google, Microsoft, & eBay and popular consulting firms such as McKinsey & Company, Boston Consulting Group Inc. (BCG), Bain & Company and Deloitte prefer to hire talent from popular MBA programs in the US.
Knowledge Bite –

According to the US Department of Education, the US is the world's largest MBA ecosystem with approximately 125,000 students enrolled annually. According to a survey by GMAC recruiters, the average starting salary for MBA graduates is around Rs. 80 lakhs per annum. MBA in Finance is one of the highest paying MBA specializations with a base salary of Rs. 95 lakhs.
Best MBA universities in USA
Now you know all the key points related to MBA in USA. The next step is to choose the right MBA college or university. Here is the list of best universities:
| | |
| --- | --- |
| University | QS World University Rankings |
| Stanford Graduate School of Business, Stanford University | 1 |
| Wharton School, University of Pennsylvania | 2 |
| Sloan School of Management, Massachusetts Institute of Technology | 3 |
| Harvard Business School, Harvard University | 4 |
| Columbia Business School, Columbia University | 8 |
| Haas School of Business, University of California Berkeley | 10 |
| Kellogg School of Management, Northwestern University | 14 |
| Anderson School of Management, University of California, Los Angeles | 15 |
| Yale School of Management, Yale University | 17 |
| Stern School of Business, New York University | 19 |
Scholarship for MBA in USA
Given that higher education has overtaken homeownership as the second largest lifetime expense, it's no wonder so many students are turning to scholarships for help.
Here is the list of best MBA scholarships, especially for international students from all countries and mostly from India.
Arizona State University W. P. Carey Forward Focus MBA Scholarship
Harvard University – MBA Scholarships In US, 2021
Joseph Wharton Fellowships
McKinsey Award at MIT Sloan
NYU Stern School of Business – William R. Berkley Scholarships In US
Ritchie-Jennings Memorial Scholarship
The University of Houston MBA Scholarship
University of Chicago Booth School of Business Scholarship
University of Florida Warrington College of Business
Wharton's Emerging Economy Fellowships
Conclusion
There you go! You have the info you wanted for pursuing MBA in USA. Do you want to make a career decision now? Not settled yet? In case, you feel indecisive or confused, do dial us up.
iDreamCareer is on a mission to reach every state and every child in order to ensure that talent is appropriately delivered into the industry.
Talk to our study abroad experts to know yourself in and out! We have helped several brilliant but confused minds with an aim to select their most-suited career choices. We have helped many students like Anjana Prasanna who was not very confident about her capabilities. Later with the help of career guidance and moral support from our study abroad experts she got an offer from King's College London! We have helped several young confused minds like Aayush and Tapan with an aim to select their most-suited career choices.
ALSO READ:
FAQs
Can someone pursue MBA in USA without work experience?
Yes, you can pursue MBA in USA without prior work experience. Some of the universities are – Wharton MBA (University of Pennsylvania), Chicago Booth School of Business (University of Chicago), Columbia Business School (Columbia University), Yale School of Management, Stanford Graduate School of Business, etc.
Can someone pursue MBA in USA without GMAT?
Yes, you can pursue MBA in USA without GMAT. Some of the universities are – Northwestern University, Suffolk University, University of Phoenix, Pace University, University of Delaware, University of St. Thomas, etc.
How affordable is MBA in USA for Indian students?
It is a dream for Indian students to do an MBA in the USA. However, an average MBA in the US costs around 70 lakhs per year. It is only a fee and you will also have to pay seven to eight lakhs for living expenses. This can be difficult to manage for many worthy students.
Keeping this in mind, we have compiled a list of the affordable MBA colleges in USA for Indian students. They are – University at Buffalo, Lamar University, Iowa State University, University of California Miramar, etc. Their average tuition fees range from Rs. 9 lakhs to Rs. 17 lakhs per annum.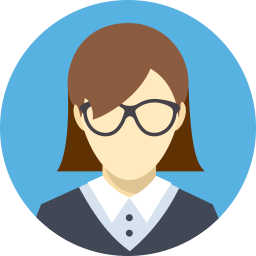 Anushree has 5+ years of experience and currently she is associated with idreamcareer.com as a Content Writer. She has also worked as a Social Media Marketing Expert for a startup and Content Quality Analyst for Publishing and E-learning Industry. She has done her Masters in Commerce and PGDM in Finance & Trade and Marketing & HR, but she is currently following her passion towards writing.