Wondering to pursue higher studies in USA? Confused about top public universities in USA? Studying in USA is the most preferred abroad study destination for Indians, followed by the United Kingdom and Canada. Look no further. You may find a ton of thought-provoking lists for top public universities in USA here & there, but you will need to know these nondescript details too. Most sources will miss these as too common.
Public colleges and universities generally operate under the supervision of state governments and are funded in part by taxes and state grants. As a result, these universities often offer discounted tuition to residents of their states. Public schools run the gamut from small liberal arts colleges to large research institutions.
What to know?

USA government invests US$476,452 million in research and development, which is 2.7% of total GDP. Thus, completing a master's degree in USA increases the chances of research and its funding.
So, without taking your much time let's dive into the info you wanted…
What all is covered in this post?
To make it easier for you, we have created a quick guide to everything you need to know about public universities in USA.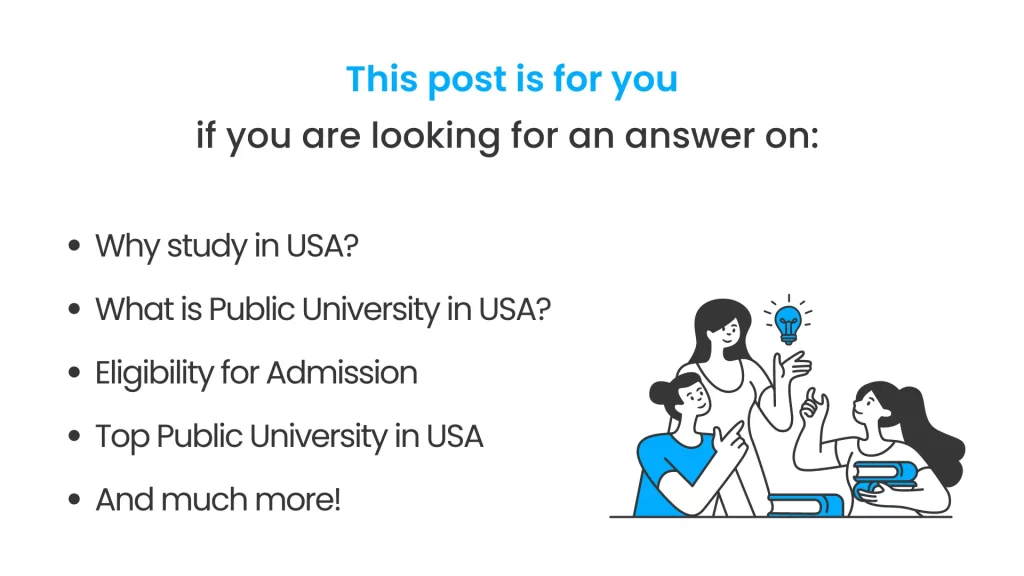 Why study in USA?
If you are aspiring to walk in the footsteps of these personalities and pursue a study in America, there are 5 things you must know about studying in USA and about the American education system:
Top Universities
When it comes to the rankings of the Top Universities in USA, the institutions perform very well in both global and subject rankings.
Credit System
Unlike the syllabus pattern in India, where the student has to gulp down the whole course in one go, the Credit System in the USA breaks the course into a certain number of credits. Generally, the number of credits is equivalent to the number of hours dedicated to the course every week. The full-time courses in most universities are covered in 12 to 15 credits which cover four or 5 courses every term.
Fees
The tuition fees in US Universities defer on the basis of several factors like location, course, and type of university. The fees generally vary from 10,000 dollars to 35,000 dollars annually. However, the cost of the program cannot be considered a benchmark for the quality of education.
On-Campus Jobs
Full-time international students are allowed to work for a maximum of 20 hours per week during the term. However, you are allowed to work full time for 40 hours per week in the summer. On-campus jobs generally cover works like library duty, cafeteria work, lab assistance, etc. and can pay anywhere between 7 to 12 dollars per hour.
Read More: Why study in USA?
What is Public University in USA?
A public university or public college, unlike a private university, is owned by the state or receives significant public subsidies from a national or subnational government. Most public universities and colleges in USA are public universities or colleges founded and supported by government agencies. Every state in USA has at least one public university, and large states have more than thirty.
Eligibility for admission in public universities
Public universities in the United States have earned their name due to the number of majors and low tuition fees. These institutions tend to have large campuses and employ renowned faculty. But in order to get admission to the best US public universities for international students, some basic eligibility criteria must be met.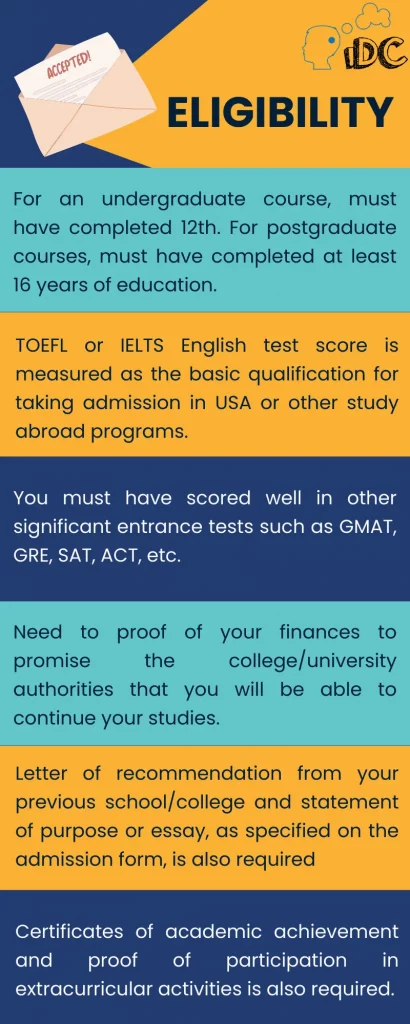 List of public universities in USA for international students
Here is a list of the top 15 public universities in USA: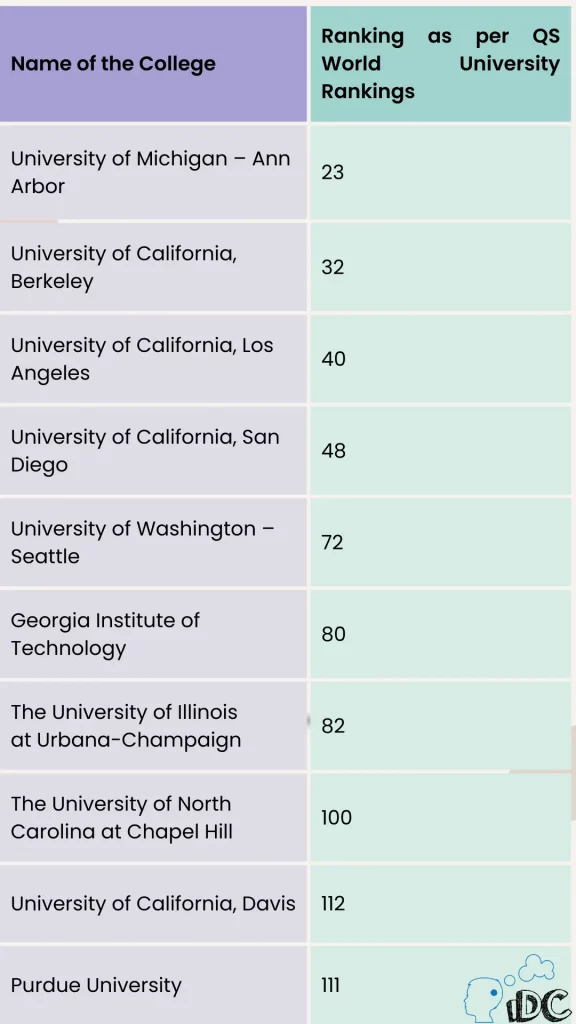 List of public universities in USA for MS
Students who wish to pursue graduate education at public universities in the United States can choose from a variety of universities. Public universities have much more accessible programs and a variety of courses. Here are some of the best public universities in USA for master's degrees.
Georgia Institute of Technology (Georgia Tech)
The University of Virginia
University of California – Berkeley
University of California Irvine (UCI)
University of California, Los Angeles (UCLA)
University of California—Santa Barbara
University of North Carolina—Chapel Hill
Also, read: Cheapest Universities in the USA
Public universities in USA for MS in computer science
Some of the best public universities in USA for MS in Computer Science:
Georgia Institute of Technology
University of California, Berkeley
University of California–Davis
University of California—Irvine
University of California–Los Angeles
University of California–San Diego
University of California–Santa Barbara
University of Michigan–Ann Arbor
University of North Carolina at Chapel Hill
University of Virginia
Top public universities in USA for engineering
Following are some of the top public universities in USA for engineering:
Florida State University
Georgia Institute of Technology
Purdue University–West Lafayette
The Ohio State University
University of Florida
University of Illinois Urbana-Champaign
University of Maryland, College Park
University of Texas at Austin
University of Wisconsin—Madison
William & Mary
Studying cost in public universities in USA
Compared to private universities, public universities in the United States are much cheaper and cost-effective.
Studying at government institutions can cost up to $26,200 (Rs. 19,54,800) on average. Other expenses, including room and board, can total $11,140. (Rs. 8,28,300).
The total cost of studying in public institutions in USA can range from $41,950 to $49,900. (Rs. 31,19,200- Rs. 37,14,100)
Students should be aware that most public universities do not award scholarships unless sponsored by someone else.
Also, Read: PR in the USA
There you go!
You have the info you wanted. Do you want to make a career decision now? Not settled yet? In case, you feel indecisive or confused, do dial us up.
iDreamCareer is on a mission to reach every state and every child in order to ensure that talent is appropriately delivered into the industry.
Talk to our study abroad experts to know yourself in and out! We have helped several brilliant but confused minds with an aim to select their most-suited career choices. We have helped many students like Anjana Prasanna who was not very confident about her capabilities. Later with the help of career guidance and moral support from our study abroad experts she got an offer from King's College London! We have helped several young confused minds like Aayush and Tapan with an aim to select their most-suited career choices.
ALSO READ:
FAQs
Are public universities in USA free?
Public universities are less expensive compared to private ones, and some are free.
What is the cheapest public university in USA?
Some of the cheapest public universities in the US are California State University, Long Beach; Alcorn State University; Texas Southern College, and many more.
Is USA expensive for international students?
Yes, studying in the US is expensive. International students pay around USD 32,000-60,000 per year, depending on the university and the course.
How long is it enough to live in USA?
The average living wage for all of the United States is $67,690

Anushree has 5 years of experience in the career counseling industry as a Senior Content Writer. She has also worked as a Social Media Marketing Expert for a startup and Content Quality Analyst for the Publishing and E-learning Industry. She has done her Master's in Commerce and PGDM in Finance & Trade and Marketing & HR, but she is currently following her passion for writing.