Looking for studying in USA but worried about the visa application procedures? Need info about student visa USA procedure? The number of Indian students in USA is huge due to the motivating examples of Satya Nadella and Sundar Pichai. So, who wants to be the next Nadella or Pichai?
If you are one of the aspiring few who have already been accepted to the university you wanted, applying for a student visa is the next important step towards realizing your dream of studying in USA. The amount of information may be huge at first, but by organizing everything, you will be able to deal with the whole process easily.
Did you know?

Student visa in USA can be issued in 3 ways: F1 Visa, J1 Visa or M1 Visa. F1 and J1 visas allow employment but do not guarantee it. The M1 visa, however, does not provide employment opportunities.
What all is covered in this post?
To make it easier for you, we have created a quick guide to everything you need to know about student visa USA procedure.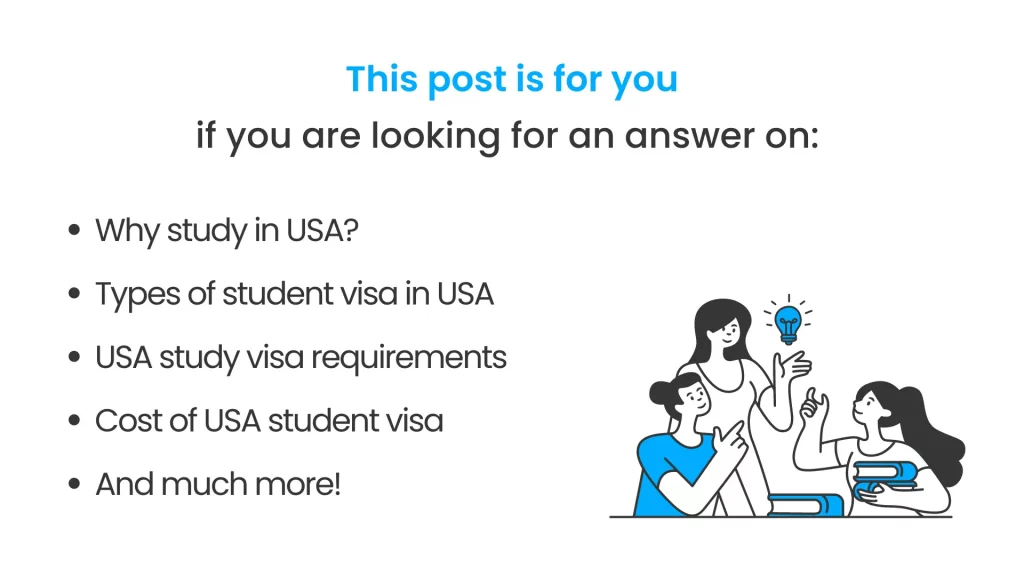 Without further ado! Come along!
Why study in USA?
Listed below are a few reasons why studying in USA is one of the world's leading learning options: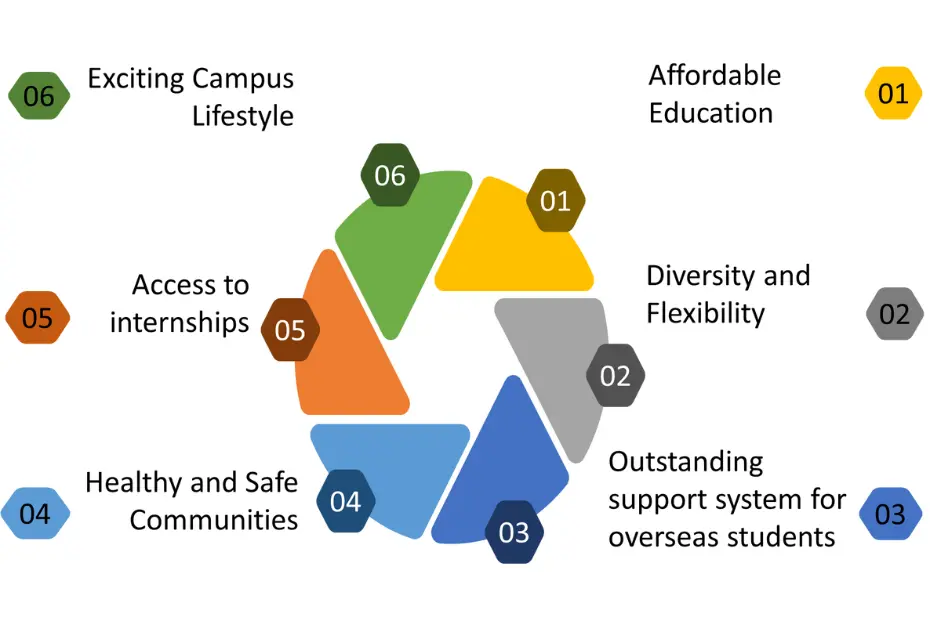 Types of student visa in USA from India
Following are the three types of student visas in USA:
Student visa F1
Those applying for an undergraduate program as well as a graduate program such as MS, MBA, etc. programs that require more than 18 hours of study per week need an F1 visa.
Spouses or children accompanying F-1 visa holders will travel on an F-2 visa. Also, the spouses cannot work, but can accompany and/or apply for their own visa for work or study.
Exchange visa J1
The J-1 exchange visitor visa is for students, visiting scholars, or faculty participating in an exchange program.
The J1 visa is usually applied by professionals traveling to USA on an exchange program, hence the name Exchange Visitor Visa. These may include a 10-month professional training or some kind of research fellowship, etc. In any case, the applicants will be notified about the same by the relevant authorities.
Spouses or children accompanying J-1 visa recipients will travel on a J-2 visa. Please note that husband and wife can work if permission is obtained in advance.
M-1 professional/non-academic student visa
The M1 visa is a type of student visa that is intended for vocational schools. While the application process for F1 and M-1 visas is similar, the difference is that M1 visas are time-stamped upon entry and students cannot overstay.
Steps to apply student visa for USA from India
If you are looking for an answer on how to get a student visa for USA, this section is for you! Here are the steps you need to follow for applying student visa USA from India: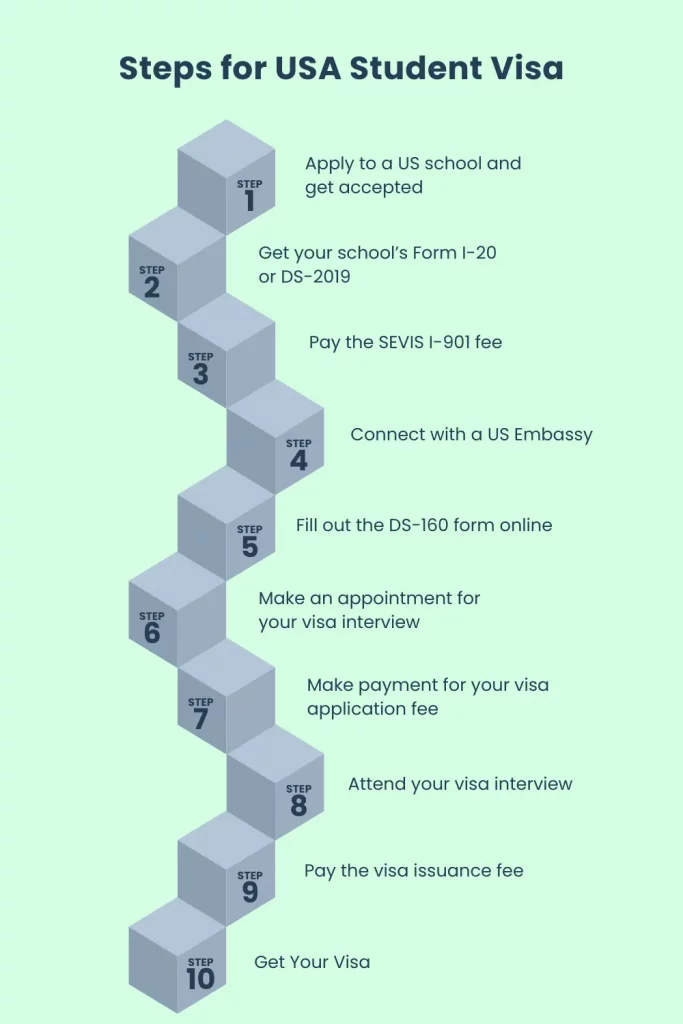 USA study visa requirements for Indian students
In comparison, a student visa requires a lot more documents from you than a tourist visa. You need mandatory documents as well as supporting documents about your financial and academic records. Be sure to review this checklist before going to the consulate for your visa interview.
Following are the documents required for student visa for USA:
Evidence of Financial Resources for F1 Visa such as-

Income Tax return – past 3 years (Form 16)
Bank statements/passbook – past 3 years
Original pay/salary slips and letters of employment
Scholarship letter (if any)
Loan approval letter by the bank or the concerned authority

Form I-20 from the college you have applied
Interview appointment letter (original and copy)
Original mark sheets/provisional certificates
Passport with a validity date at least six months beyond your period of stay.
Printed copy of the online application form i.e., DS-160
Score cards of TOEFL, GMAT, IELTS, etc., exams
SEVIS Fee Receipt
Supporting Financial Documents for F1 Visa
Visa fees payment confirmation receipt
Student visa for USA from India cost
The fees for a US student visa are:
SEVIS (Student and Exchange Visitor Information System) fee which is US$350 or INR 26,000 and
MRV/Visa Application fee is US$160 or approximately INR 11,800 Indian Rupees.
Point to be Noted:

The MRV fee is the same for all three types of student visas, while the SEVIS fee is different only for the J1 visa and is $220 that is approximately INR 16,300.
Checkout the PR in the USA process!
Is IELTS required for USA student visa?
IELTS is not a mandatory requirement for student visa for USA. But only for those who have completed an international baccalaureate or have previously studied in an English-speaking country.
Conclusion
There you go! You have the info you wanted. Do you want to make a career decision now? Not settled yet? In case, you feel indecisive or confused, do dial us up.
iDreamCareer is on a mission to reach every state and every child in order to ensure that talent is appropriately delivered into the industry.
Talk to our study abroad experts who have 20+ years of experience to know yourself in and out! We have helped several brilliant but confused minds with an aim to select their most-suited career choices. Hear the success story of Aayush who got an offer from top 3 universities and is now studying in University in Ottawa in Canada after getting career guidance from our industry experts!
ALSO READ:
FAQs
How many years is F1 visa valid for?
For Indian passport holders, the F-1 student visa is generally valid for five years from the start date of your program.
Does USA student visa get rejected?
Yes, a student visa may be denied if you apply after the program start date on Form I-20 or DS-2019, or if you fail to provide the required documents or meet the required requirements.
Is getting F1 visa difficult?
F1 visa is a fairly simple application procedure, however, it is a very long process and it can cause various complications. The best thing you need to do is to be honest with your application, make sure you have all the necessary documents and as with everything in life, don't lie, especially if you are going to apply for an F1 visa.

Anushree has 4+ years of experience in the career counseling industry as a Senior Content Writer. She has also worked as a Social Media Marketing Expert for a startup and Content Quality Analyst for Publishing and E-learning Industry. She has done her Master's in Commerce and PGDM in Finance & Trade and Marketing & HR, but she is currently following her passion for writing.