Are you the one who wants to establish your career in the media industry? Do you want to pursue a career in media studies? But do you actually know what is media studies? Don't worry this post is for you!
Roll, sound, and a confident lady or a gentleman appear on your television screen delivering the most important happening all around the world which is termed as 'news' in day-to-day life. Let's see the other picture, a rough and tough guy is standing somewhere in the public area and reporting the current scenario with perfect ease, giving answers to all the questions being asked fluently.
The two scenarios (out of many others) appear so glamorous, appealing yet convincing that the majority of students pursuing media studies.
Do you know?

According to a report published by IAMAI and Kantar Research, the number of internet users in India is expected to reach 900 million by 2025 from ~622 million in 2020, growing at a CAGR of 45% by 2025.

The advertising video on demand (AVoD) segment is expected to grow at a CAGR of 24% to reach USD 2.6 billion by 2025.
Yes, this means there will be a never-ending demand for a media professional not only in India but also in the world! All set?
What all is covered in this post?
To make it easier for you, we have created a quick guide to everything you need to know about media studies.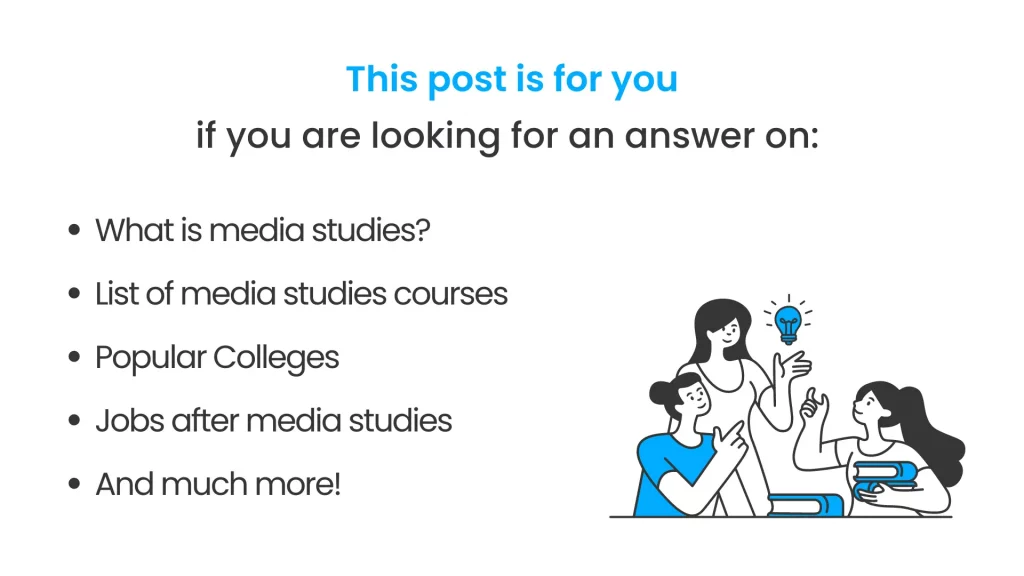 What does media studies mean?
Simply put, mass media can be defined as technology designed to communicate or reach a mass audience. The mass media is the primary means of communication for the general public to communicate with each other as well as at a higher level. The most popular types of media include newspapers, radio, television, the Internet, magazines, and more!
Discover More by accessing the Free Career Dashboard
This will help us share relevant information with you.
Media Studies encompasses mass communication, PR, journalism, and many more related wings. This field is comparatively new and it's now being taken seriously all across the globe. In a country like India, media studies will have a very big role to play since it is directly linked with information handling and framing mindsets along with opinions of the masses.
Why study communication and media studies?
Here are a few reasons why you should pursue communication and media studies:
A degree in Communication and Media Studies offers you great insight into how we respond to events in the media, and how media can influence and portray people and brands.
The mass media and communication field of study explores topics such as corporate communication, new media, and public relations.
Media studies graduates typically find work in the media and creative industries. They could work in television, radio, film, or digital media. Some pursue careers in journalism, advertising, and publishing.
A media and communication degree will prepare you for a career as a media planner, multimedia specialist, film producer, or public relations specialist.
As new media continues to grow, many new career opportunities are emerging for communications and media professionals, including social media planners, marketers, and managers.
Top mass media studies courses
Take a look at some of the popular mass media studies courses:
| | |
| --- | --- |
| Name of the courses | Type of course & duration |
| B.A. Film Making and Mass Communication | Undergraduate Degree/3 years |
| BA Hons in Hindi Journalism & Mass Communication (BHJMC) | Undergraduate Degree/3 years |
| BA Hons Journalism & Mass Communication (BJMC) | Undergraduate Degree/3 years |
| BA Hons Multimedia & Mass Communication (BMMMC) | Undergraduate Degree/3 years |
| BA in Journalism | Undergraduate Degree/3 years |
| Bachelor of Mass Media (BMM) | Undergraduate Degree/3 years |
| Diploma Course in Development Journalism | Diploma/ 4 months |
| Diploma in Journalism and Mass Communication | Diploma/2 years |
| Diploma in Media Studies | Diploma/3 years |
| M.A in Journalism and Mass Communication | Post-graduate Degree/2 years |
| P.G. Certificate Course in Hindi Journalism | Post-graduate Certification/1 year |
| P.G. Diploma in Hindi Journalism | Post-graduate Diploma/2 years |
| Post Graduate Diploma in Business Journalism & Corporate Communication (DBJCC) | Post-graduate Diploma/1 year |
Popular colleges/centres for media studies
Now you know all the key points related to media studies. The next step is to choose the right college. Here is the list of best media studies colleges in India:
AJK Mass Communication Research Centre, Jamia Millia Islamia
Christ University, Bangalore
Indian Institute of Journalism and New Media (IIJNM), Bangalore
Indian Institute of Mass Communication (IIMC), New Delhi
Manipal University, School of Communication, Udupi
Manorama School of Communication
Savitribai Phule Pune University, Pune
Symbiosis Institute of Media and Communication (SIMC), Pune
University of Hyderabad
Xavier Institute of Communications, Mumbai
About Deviprasad Goenka Management College of media studies
Deviprasad Goenka Management College of Media Studies (DGMC), Mumbai is a leading media and communication institute with a state-of-the-art infrastructure where students, researchers, and media professionals interact to facilitate a dynamic career path.
It is supported by its parent organization RSET, which has been working in education for over seven decades. It offers courses in Journalism, Advertising, Communication, and Filmmaking at undergraduate and postgraduate levels and also offers Standalone Postgraduate Programs (PGP) in various media verticals such as Integrated Marketing, Advertising and Communication, Event Management, Filmmaking, Sports Marketing, and Management.
New media studies jobs
Creative industries and cultural industries make use of media studies graduates apart from the media industry of course. The work areas where such professionals are required are PR and media practice, writing along with publishing, journalism, digital media, computer games, video, and filmmaking, television, and radio. The main employers of media studies professionals are:
Colleges and universities
Marketing organizations
Government bodies
Civil services
Communication agencies
Newspaper industry
Media companies
publishing houses
TV and radio companies
PR consultancies
To sum up
India is in huge requirement of responsible unbiased media studies professionals. If a career in writing, reporting, and handling of information seem attractive to you, then this nation is in need of a qualified capable population like you.
It might all be quite confusing to you still unless you are clear about your strengths and weaknesses. Which field of media studies is best for you? You must find out with the help of expert career counselors. A little help may save a lot of heartburn later.
At iDreamCareer with the help of our Career Counselling and Guidance Services and educational counsellors, we try to help many young confused minds from 9th class, 10th class, class 11, class 12 with an aim to select their suitable career choices.
Useful link
FAQs
What is media studies also referred to as?
When individual plans to study media academically, the courses offered by universities fall under the heading of Mass Communication. Thus, another name for media studies in mass communication.
Is media studies a good degree?
Yes, it is a good career option. Media studies graduates can find employment opportunities in marketing, broadcasting, photography, and other fields. Although the list is long, here are some of the most popular careers in media research and the average annual salary in the United States, according to Glassdoor: Digital Marketing Specialist – $60,000.
What are the types of media?
The three types of media are commonly known as news media, social media, and web resources. Some other forms of modern media are print media, television, movies, etc.
Discover More by accessing the Free Career Dashboard
This will help us share relevant information with you
Trending Posts


Anushree has 5 years of experience in the career counseling industry as a Senior Content Writer. She has also worked as a Social Media Marketing Expert for a startup and Content Quality Analyst for the Publishing and E-learning Industry. She has done her Master's in Commerce and PGDM in Finance & Trade and Marketing & HR, but she is currently following her passion for writing.