The term "Extended Reality" (XR) refers to a wide variety of immersive technologies that combine the real and virtual worlds. Virtual reality (VR), augmented reality (AR), and mixed reality (MR) are all examples of XR, and each of these technologies presents distinct prospects for innovation and advancement.
We will discuss what Extended Reality is in this article.
Along with the qualifications required to become an XR engineer and skills required to work as an XR engineer. We'll also look at the XR market's current situation, job possibilities, trends, XR, programming, XR coding, XR platform development and qualifications required to become a XR engineer.
What is Extended Reality?
Virtual Reality (VR), Augmented Reality (AR), and Mixed Reality (MR) all are included under the umbrella concept of "Extended Reality" (XR). These technologies enable the creation of immersive, interactive experiences by fusing the physical and digital realms. Users can engage with virtual objects and situations in a way that feels intuitive and natural thanks to XR.
Different types of extended reality development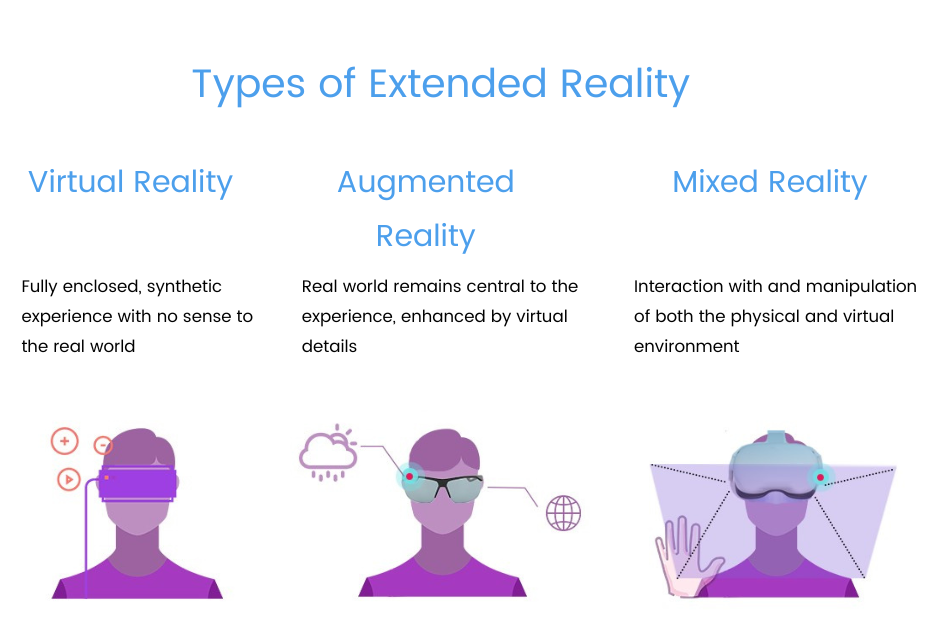 There are basically three types of extended reality development which are as follows:
Virtual reality (VR) requires XR development skills which are completely immersive experience where you are transported to a different world. You are disconnected from reality and all of your senses are at work. This may be employed for instructional or amusement purposes.
Mixed reality (MR) requires XR development skills which is a blend of the real and virtual worlds. You are still aware of your surroundings but can also see and interact with digital content. This can be used for educational or collaborative purposes.
Augmented reality (AR) requires XR development skills which adds digital content on top of the real world. This can be used for gaming, navigation, or productivity purposes.
Extended Reality: What does an XR engineer do? Market and trends of Extended reality (XR)
A XR Engineer develops and codes applications that utilize Extended Reality (XR) technologies, such as augmented and virtual reality. This can include designing user interfaces, designing 3D scenes, coding interactions between users and the XR development platform for environment, and creating XR courses. Additionally, a XR Engineer troubleshoots and optimizes XR technologies, which can involve XR programming, XR coding, XR designing.
XR market and trends
The XR market is expected to experience a compound annual growth rate (CAGR) of 58.2% from 2023 to 2030, growing from USD 18.4 billion to USD 457.06 billion (2022 – 2030).
The main market factors boosting market growth include the desire for extended reality (XR) to enable people to operate efficiently remotely, participate in virtual meetings, and envisage a living environment of their company.
Additionally, it is anticipated that as more people learn about its benefits, XR's application will expand internationally in the defence, transportation, retail, travel, and tourism sectors.
What are the skills XR development really requires?
An XR software engineer requires a diverse set of skills to design and develop immersive experiences that incorporate virtual, augmented, and mixed reality technologies.
XR programming and coding skills are critical for creating the underlying software and ensuring it is optimized for the available hardware.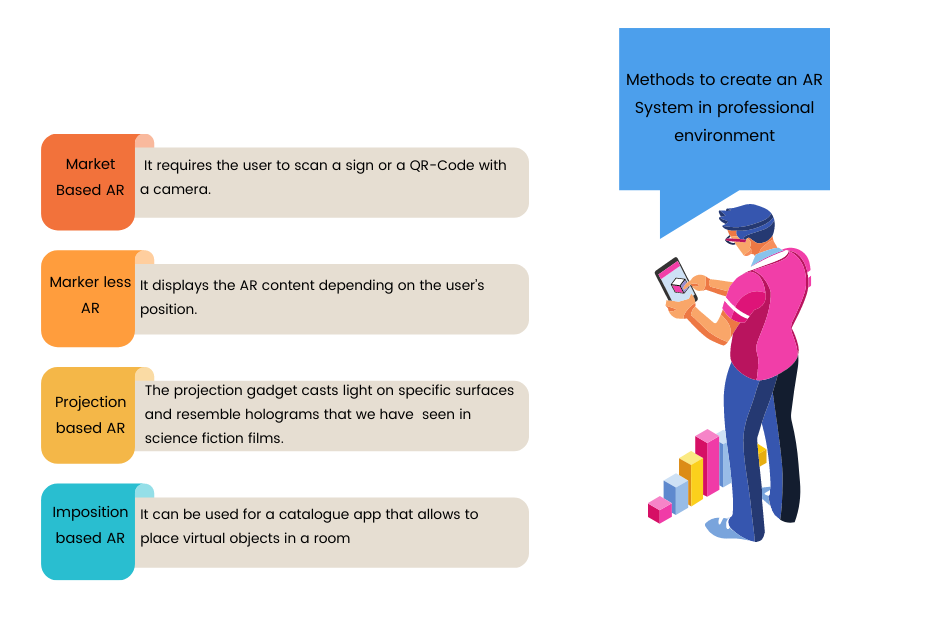 In order to develop visually stunning experiences that are immersive and user-friendly, XR engineers also need a solid grasp of XR design concepts. These design abilities include:
Attention to detail
User interface design
3D modelling and animation.
Delivering top-notch XR platform development experiences that satisfy customers and end users requires effective teamwork with other members of the development team, such as designers, artists, and project managers. A competent XR engineer ultimately combines technical mastery with imaginative vision to push the limits of what is practical in XR.
Scope of Extended Reality: Qualifications to become a XR engineer, Extended reality jobs, Extended reality course
Some people think Extended reality could have a significant impact on our lives much sooner than that; nevertheless, others predict Extended Reality will become commonplace in about ten years.
According to some experts, Extended reality will be utilised to improve education by bringing academic subjects like history to life.
Extended reality may also enable disabled persons to enjoy activities they previously believed they were unable to perform; simulations of routine tasks like cooking and running errands might provide them the opportunity to perform actions that might be challenging or impossible in the actual world.
To become an Extended Reality engineer, you typically need to have the following qualifications
A bachelor's degree in software engineering, computer science, or a similar course of subject. Other than computer specialization candidates with degree in physics, mathematics, or other technical subjects might also be accepted based on their respective work experience.
Strong XR programming skills in languages such as C++, Python, and Java.
Experience in XR designing such as 3D graphics, game development, and computer vision.
Familiarity with XR development platform and software, such as Unity and Unreal Engine.
Strong problem-solving skills and the ability to troubleshoot technical issues that arise during development.
Excellent communication and teamwork skills, as XR development typically involves working with other engineers, designers, and stakeholders.
Extended Reality jobs
You can find jobs in various fields with the ongoing demand for the extended reality field which include
Unity/Unreal Developer
XR UX/UI Designer
VR Sound Effects/VR Video Specialist
Mixed Reality Designer
Hologram Stylist
Augmented Reality Life Designer/Consultant
XR Project Managers
You'll see a greater application of XR in many facets of life in the upcoming years. Many instances include:
Being able to analyze sports games
Navigating through hospitals, shopping malls, and buildings
Virtual educational field trips for students
Product guides and catalog navigation
Expert Thoughts
The field of extended reality is expanding quickly and presents tremendous potential for innovation and growth. A solid background in computer science and engineering, as well as knowledge with XR development platforms, XR programming, XR coding, XR design prerequisites for becoming an XR software engineer.
There are several courses and programmers available that can aid in the development of the abilities required to become an XR software developer. Also, keeping abreast of the most recent XR market trends and technological advancements can assist you in staying ahead of the curve in this quickly developing industry.
Epilogue
We hope we have served you most of the answers. Thinking about wandering into the vast expanse of Extended Reality? Whether you've already planned a career in it or just starting to dip your toes in the thoughts of it, allow us to make it a bit easier for you.
Talk to an expert today to figure out more of what you must know before you begin your journey. At iDreamCareer with the help of our Career Counselling and Guidance Services and educational counsellor, we try to help many young confused minds from 9th class, 10th class, class 11, class 12 with an aim to select their suitable career choices.
Useful links
FAQs
What are some practical applications of extended reality (XR)?
Extended reality (XR) has a wide range of practical applications in various industries. For example, it can be used in gaming, education, healthcare, architecture, engineering, and many others.
Which are the top recruiters in the AR & VR field?
Leap, Apple, Augmented Reality Labs, Microsoft, Niantic, Zappar, Intelivita, Lucyd, Acropolis Infotech, and others are some of the well-known businesses in this industry.
What undergraduate courses are available in AR and VR?
Candidates can enrol in courses like BCA (Augmented Reality / Virtual Reality), BSc Computer Science (Virtual and Augmented Reality), Diploma in Augmented Reality (AR)/ Virtual Reality (VR)/ Mixed Reality (MR), B.Sc. in Gaming, Augmented and Virtual Reality etc.
What are the important skills required to make a career in AR & VR?
One needs both technical and non-technical abilities, such as in-depth understanding of social/web-based content, User Experience (UX) Mobile Design, Marker Detection, Sound knowledge of Design, etc., to succeed in these fields.
What is the difference between AR and VR?
AR does not replace the real world with 3D effects, whereas VR does. An immersive virtual environment is produced through virtual reality. On the other side, augmented reality creates a real-world scene.
Rishi Vasishat is a B.tech graduate in computer science with 4 years of experience in Research & Data management. Currently working with iDC as a Research Analyst.