UPSC (Union Public Service Commission) is a premier central recruiting body that is responsible for recruiting candidates for various posts under All India Services, civil services cadre, defence services cadre as well as Armed Forces of the Union of India. Under the Central and State Government of India, UPSC conducts a National Level Exam for around 24 services.
Before committing that you will take this UPSC exam, we suggest you have a thorough understanding of the UPSC syllabus. Having an understanding of the syllabus is extremely crucial on the road for clearing the UPSC Examination.
Let's talk about the UPSC syllabus, books for UPSC, syllabus for Prelims & Mains examination, optional subjects in UPSC exam, and more.
But before that, you need to understand that in order to clear the UPSC exam, you will be required to clear the following three stages of examination:
Preliminary Examination – General Studies Paper I (GS) & General Studies Paper II (CSAT-Civil Services Aptitude Test)
Mains Examination – 9 Theory Papers (General Studies I-IV, Language Papers, Essay & Optional)
Interview – Personality test.
.
UPSC Prelims Syllabus
UPSC Prelims is an objective type examination, conducted for selecting the candidates for the Main Examination. Following is the syllabus for the UPSC Prelims exam: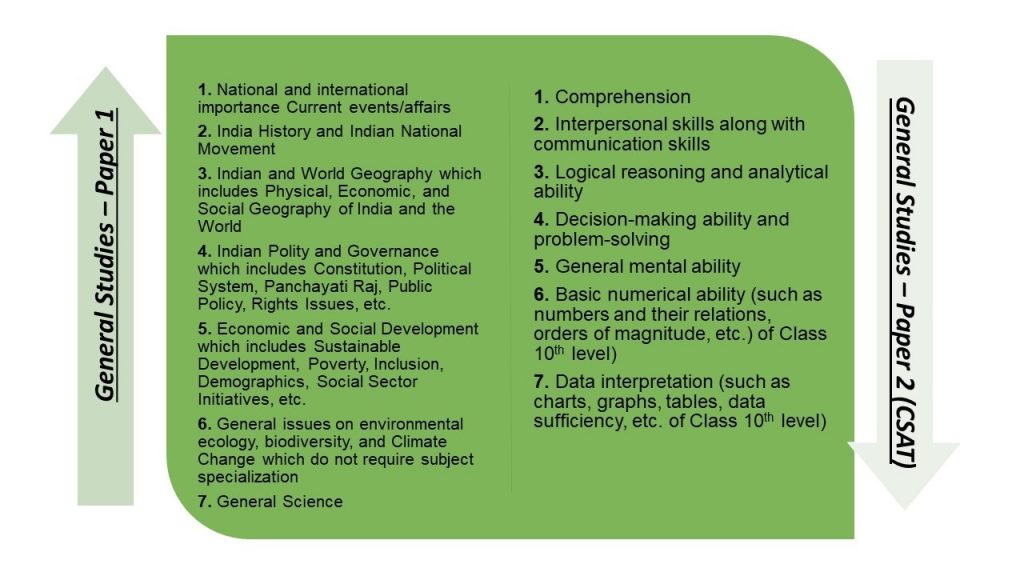 Points to Remember
UPSC Prelims Paper 2 is a qualifying paper and the maximum qualifying marks fixed is 33%
The paper pattern is multiple choice/objective type.
You will be required to appear in both the Papers of UPSC Prelims for evaluating the examination.
In case you do not appear in UPSC Prelims, you will be disqualified.
With every unsuccessful attempt at the prelims, you lose 1 from the total no. of allowed attempts at the UPSC exam.
UPSC Mains Syllabus
UPSC Mains is conducted to evaluate the understanding ability along with the writing skills of the candidate on the various issues and events, happening at the national and international levels. Following is the syllabus for the UPSC Mains exam:
Paper 1 – Essay writing – can be written in any medium (as per your choice)
Paper 2 – General Studies – I (Related to Indian Heritage & Culture, History & Geography of the World & Society)
Paper 3 – General Studies – II (Related to Heritage & Culture, History & Geography of the World & Society)
Paper 4 – General Studies – III (Related to Technology, Economic Development, Biodiversity, Security & Disaster Management)
Paper 5 – General Studies – IV (Related to Ethics, Integrity, and Aptitude)
Paper 6 – Optional Subject I*
Paper 7 – Optional Subject II*
*Refer to the list of UPSC Optional Subjects. You may also refer to the previous year's question papers as a reference.
List of UPSC Optional Subjects – PAPER-VI & PAPER VII
| | | |
| --- | --- | --- |
| Subject Name | Subject Name | Subject Name |
| Agriculture | Dogri | Tamil |
| Animal Husbandry and Veterinary Science | English | Telugu |
| Anthropology | Gujarati | Urdu |
| Botany | Hindi | Mathematics |
| Chemistry | Kannada | Mechanical Engineering |
| Civil Engineering | Kashmiri | Medical Science |
| Commerce and Accountancy | Konkani | Philosophy |
| Economics | Maithili | Physics |
| Electrical Engineering | Malayalam | Political Science and International |
| Geography | Manipuri | Psychology |
| Geology | Marathi | Public Administration |
| History | Nepali | Sociology |
| Law | Odia | Statistics |
| Assamese | Punjabi | Zoology |
| Bengali | Santhali | |
| Sanskrit | Sindhi | |
Books for UPSC
Books For Prelims Exam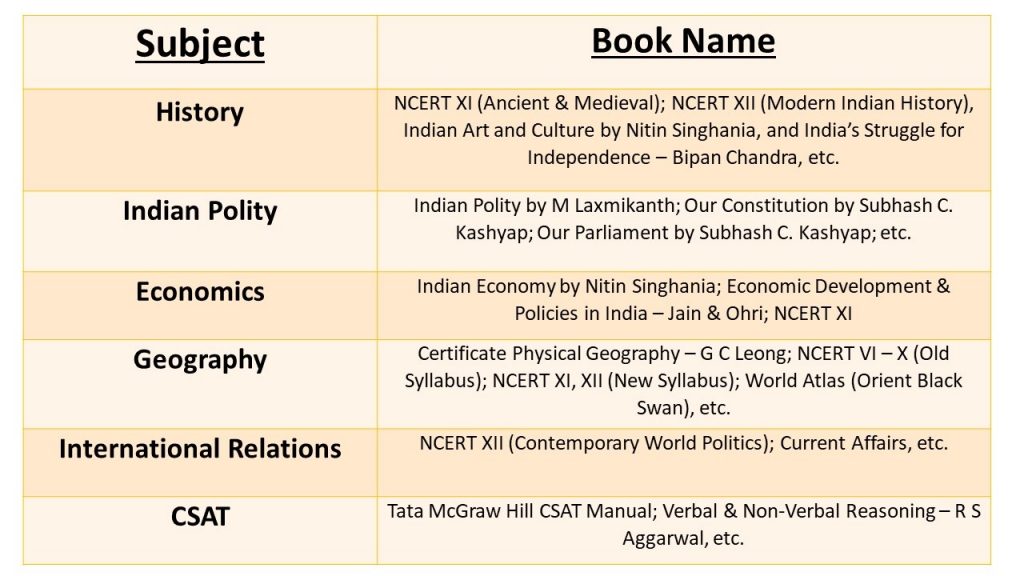 Books For Mains Exam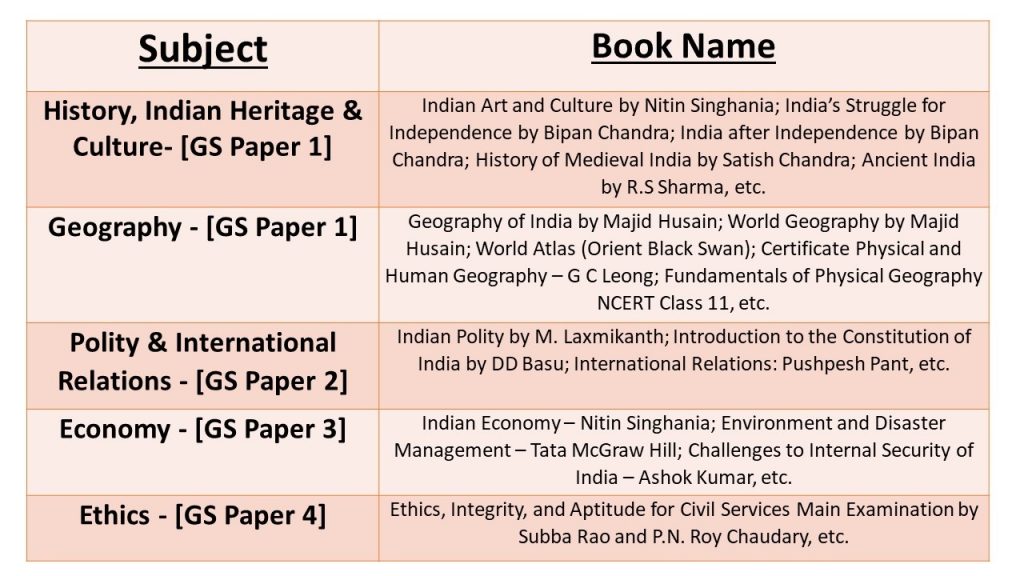 Note: We are not endorsing any book/publisher. It is always advised to do your own research before making any purchase.
Get Free Career Dashboard Access
Conclusion
Does that put some of your doubts to rest? Since UPSC conducts a variety of exams so you are advised to read and understand the UPSC syllabus for every exam before starting your preparation. We recommend you to not rush through career decisions. If you are struggling with your career decisions, we are just a call away. iDreamCareer has helped millions of young minds by planning their future careers. Talk to our industry experts and know yourself in and out!
Also, check:
.
FAQs
Can I select an optional subject, which I have not studied at the graduate/post-graduate level?
Yes.
What is the language of the UPSC exam question paper?
It's both in English and Hindi language. You will select the language while applying for the exam.
Is Mathematics compulsory for preparing UPSC exam?
No, it is not compulsory to have mathematics for preparing UPSC exam.
Is it possible to clear UPSC in 1 year?
Yes. Smart studying & efficient time management are most essential.
..
Anushree has 4+ years of experience and currently she is associated with idreamcareer.com as a Content Analyst. She has also worked as a Social Media Marketing Expert for a startup and Content Quality Analyst for Publishing and E-learning Industry. She has done her Masters in Commerce and PGDM in Finance & Trade and Marketing & HR. In her free time she loves building content for her blog, sketching and exploring new food joints.