Studying abroad has many benefits for your personal and professional development, such as experiencing new cultures and perspectives, expanding your network, and improving your language skills. If you're still wondering which European country should be your next study-abroad destination, we have the right answer for you: Austria! This post is for you if you want to study in Austria!
Do you know?

You can study in Austria without learning German! Well, you will be happy to know that there are more than 250 programs in English at different levels of study.
Austria or Österreich or officially the Austrian Republic is a landlocked country located in the central part of Northern Europe. The country borders the beautiful countries of Germany, Czech Republic, Slovakia, Hungary, Slovenia, Italy, Switzerland, and Liechtenstein and has a population of around 9 million people. The country is a federal republic and is divided into 9 lands (Bundesländer) and is located in the heart of the Alps.
Excited! Ready to explore more… Come along…
What all is covered in this post?
To make it easier for you, we have created a quick guide to everything you need to know about studying in Austria.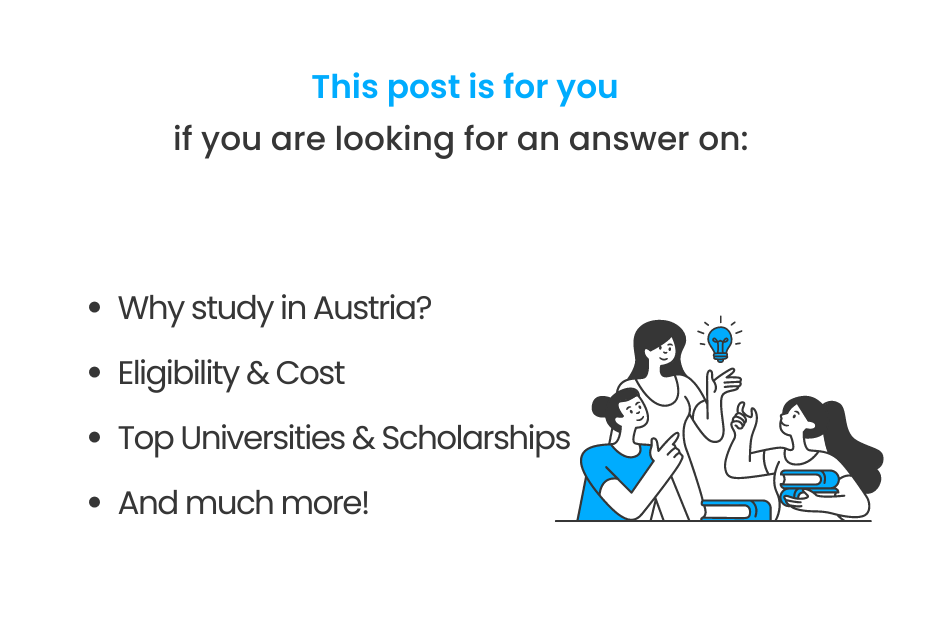 Why study in Austria?
Although the overall size of Austria as a country is small, it is hardly a reason not to study in Austria for higher education. There are a number of reasons why international students study in Austria, which is roughly the size of a US state. Following is the list of the benefits of studying in Austria:
Affordable and convenient education
Many students prefer to study abroad in Austria due to the relatively inexpensive education system. The country offers a more relaxed and comfortable curriculum where students can take their time. The cost of the courses is also cheaper than in many other countries.
German language study opportunities
Most universities expect students to take German language classes along with their semester credits. Studying here will help students learn German, one of the most widely spoken languages ​​in the world, and a useful tool for finding a job in Germany and Austria.
Courses in English
Most universities offer programs taught in English, which provides greater convenience for students.
Rich culture and heritage
Austria is synonymous with classical music, UNESCO World Heritage sites, historical landmarks, music, literature, and much more. The environment is attractive to students.
Affordable cost of living
Austria offers affordable travel and accommodation costs for students. Food is also cheaper than in many other countries.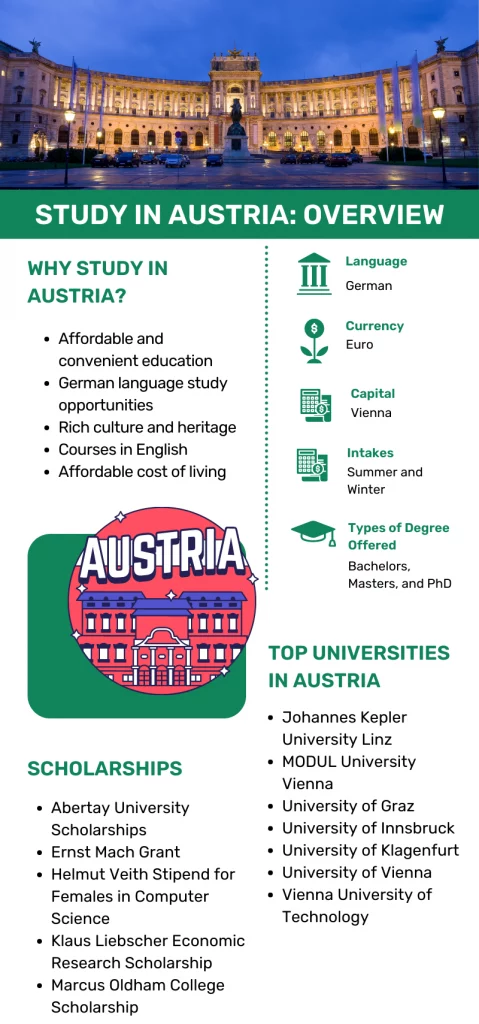 Eligibility requirements to study in Austria
There are some general requirements for studying in Austria in English for international students. Here are the documents you will need to study at Austrian higher education institutions:
Language proficiency test
The first requirement of the English universities in Austria is the knowledge of English to check if you can succeed in their courses. Almost all English universities in Austria accept the following official English proficiency tests:
IELTS
TOEFL
C1 Advanced
PTE is academic
Educational requirements
Students must have an A-level diploma or a high school diploma, which must be equivalent to finishing an Austrian high school.
for undergraduate studies: high school leaving certificate or equivalent
for Master's degree: Bachelor's degree or equivalent
for doctoral studies: diploma, master's degree or equivalent degree
Other required documents:
Valid passport or identity card
Passport size photos
A resume or CV if the university asks for one.
Cash fund to prove that you can support yourself in Austria
Statement of Purpose
Certificates of extracurricular activities
Recommendation letter
Now the question comes how much does it cost to study in Austria? Let's have a look
Cost of studying in Austria
Austria has a high standard of living, but it comes at a cost to international students. Food, accommodation, and bills are more expensive compared to other EU countries; students also pay more for accommodation.
Cost of education
However, lower tuition fees make up for higher living costs: if you're from the EU or EEA, you'll likely pay less than €500 per semester. If you are from the rest of the world, the fee can be as high as €1,000 per semester.
Cost of Living
The cost of living in Austria can be divided into the following groups:
Accommodation – approximately 200-500 euros per month.
Products – students can expect to spend around 200-250 euros each month.
Transport – It will cost 2 euros for a single bus/metro ticket, while a monthly pass will cost around 30-50 euros.
Food – Restaurants will charge around €7-20 for food and drinks.
Top universities in Austria
Austria has the best universities and quality education for budding thinkers and students. With Austria's top-ranked universities, studying in Austria has benefited international students and is home to some of the largest, most popular, and renowned business schools, law colleges, medical universities, and engineering schools in the world.
Here is the list of top universities in Austria:
Johannes Kepler University Linz
MODUL University Vienna
University of Graz
University of Innsbruck
University of Klagenfurt
University of Vienna
Vienna University of Technology
List of scholarships to study in Austria
You will study on fully or partially funded scholarships in Austria. Every year, the Austrian government and Austrian universities provide scholarships in Austria for international and local students, and we have listed here some of the best Ph.D. scholarships in Austria, Masters in Austria, and undergraduate scholarships.
In this section we have listed scholarships to study in Austria:
Abertay University Scholarships
Ernst Mach Grant
Helmut Veith Stipend for Females in Computer Science
Klaus Liebscher Economic Research Scholarship
Marcus Oldham College Scholarship
Vienna International Postdoctoral Program
Webster Vienna Private University Scholarships
It's a Wrap!
Austria is a great place for future international students like you. Compared to other popular study destinations such as USA, UK, or Australia, tuition fees are very affordable. The quality of life is very high, and the crime rate in the country is low.
There are many beautiful landscapes waiting to be explored, and if you are not already into sports, you will be in for a big change when you move to Austria. With its rich history and culture, this European country seems to have it all.
So, what are you waiting for? If you are still confused! Do dial us! iDreamCareer is on a mission to reach every state and every child in order to ensure that talent is appropriately delivered to the industry. Talk to our study abroad experts to know yourself in and out! We have helped several brilliant but confused minds with the aim to select their most-suited career choices. We have helped many students like Anjana Prasanna who was not very confident about her capabilities. Later with the help of career guidance and moral support from our study abroad experts she got an offer from King's College London! We have helped several young confused minds like Aayush and Tapan with an aim to select their most-suited career choices.
ALSO READ:
FAQs
Can I study while working in Austria?
As for students from the EEA, Switzerland, and the EU (except Croatia), they can study without a permit. For those who belong to other countries and have a residence permit, the number of working hours is limited. This may depend on citizenship and visa.
Is IELTS required for Austria?
As in other countries, to study in Austria, you need to have the results of an English language test. If not IELTS, then the results of other tests like TOEFL, PTE, etc. should be submitted.
Can international students study in Austria?
More than 60,000 international students (representing 26% of the country's student population) have already chosen to study abroad in Austria, fascinated by art, culture, intellectual history, unique architecture, and enchanting, memorable landscapes. Read our Guide to Studying in Austria to find out.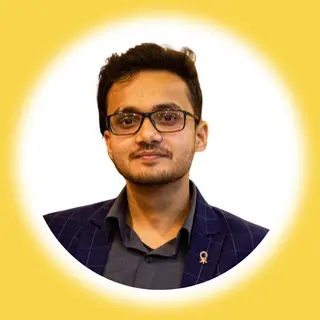 Sushant has been writing since his early days of childhood and currently, he's serving as a Content Writer with iDreamCareer. Sushant has two start-ups of his own and he has been writing content for them since their inception. Apart from that he is passionate about writing which is why he is following his passion for writing with iDreamCareer.