Denmark is no longer a sleepy Scandinavian country for travelers looking for culture, food, and history, from the design capital to the revitalized small towns. When you study in Denmark, you will be studying in a highly developed and wealthy country with a liberal mindset, free healthcare, and a high standard of living.
Denmark is known worldwide for its outstanding scientists, innovative thinking, creativity, and world-renowned universities. Danish is the main language in Denmark. Most study programs in Denmark are taught in Danish, but you will also find more than 700 study programs taught in English. More than 86% of Danish citizens speak English. Here is a guide to studying in Denmark in English.
Cycle down Inderhavnsbroen with its impressive panorama, lift the "rock!" (Danish for toast) to new friends, and learn about the famously test-averse Scandinavian education system. Choosing a Danish university for higher education can be the start of your most exciting journey.
All set to know more? Continue reading…
What all is covered in this post?
To make it easier for you, we have created a quick guide to everything you need to know about studying in Denmark.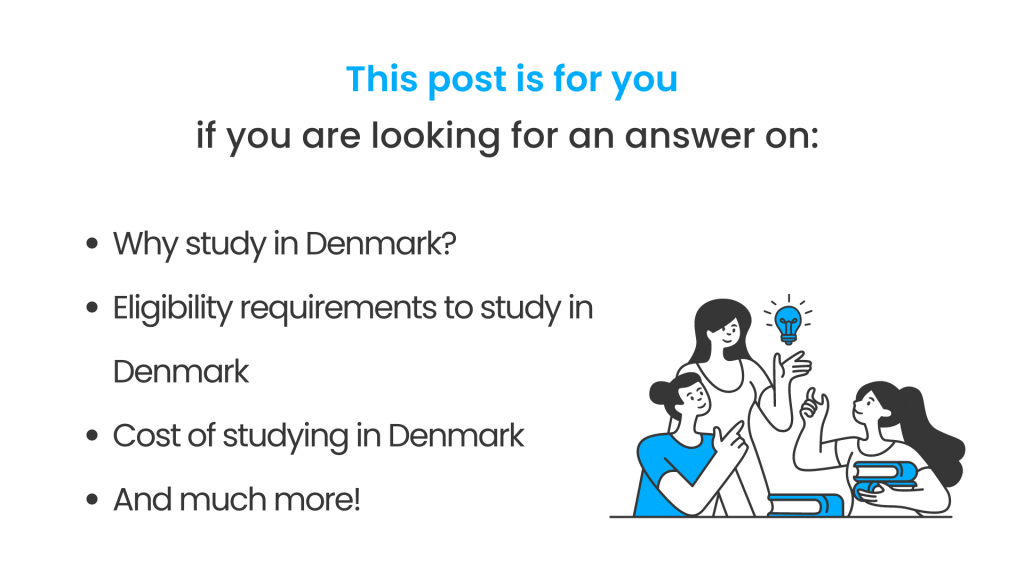 Why Study in Denmark?
Studying in Denmark allows you to study at world-renowned institutions in a safe, welcoming atmosphere with a high chance of employment after graduation. The way of life in Denmark is relaxed, with an emphasis on an ecological lifestyle and a clean environment.
Denmark is a kingdom of thriving cities and idyllic landscapes; an innovative society with a green lifestyle. It is also known as one of the best countries to study in Europe. Denmark's location makes it a gateway to other Scandinavian countries and the rest of Europe. Berlin is only an hour's flight away. London and Paris can be reached in less than two hours. And Barcelona, ​​Rome, Vienna, and Prague are only a few hours away by flight.
Here are some of the reasons why to study in Denmark: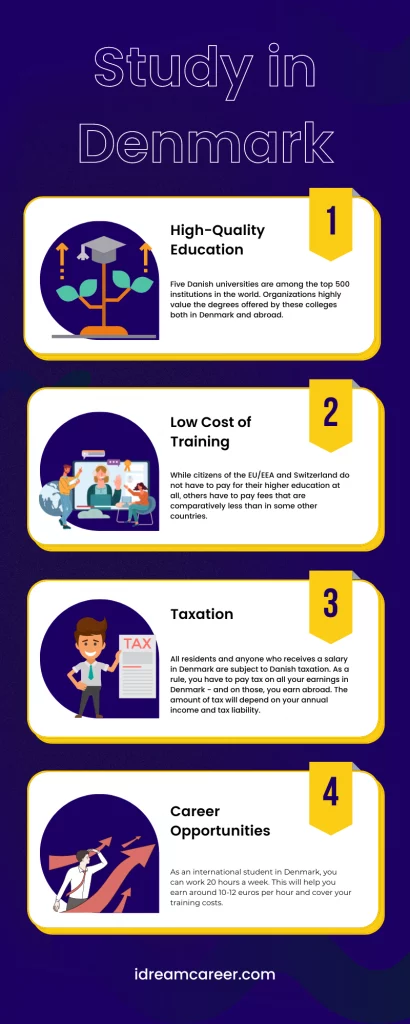 High-quality education
Five Danish universities are among the top 500 institutions in the world. Organizations highly value the degrees offered by these colleges both in Denmark and abroad.
Low cost of training
While citizens of the EU/EEA and Switzerland do not have to pay for their higher education at all, others have to pay fees that are comparatively less than in some other countries. Moreover, several scholarships and grants are available to help international students offset their expenses.
Taxation
With an extensive civil service, income tax rates in Denmark are among the highest in the world. However, the tax system is progressive – the more you earn, the more taxes you pay.
All residents and anyone who receives a salary in Denmark are subject to Danish taxation. As a rule, you have to pay tax on all your earnings in Denmark – and on those, you earn abroad. The amount of tax will depend on your annual income and tax liability.
Career opportunities
As an international student in Denmark, you can work 20 hours a week. This will help you earn around 10-12 euros per hour and cover your training costs. And after graduation, you can get a job permit, find a profession and advance your career in Denmark!
Eligibility Requirements to Study in Denmark
Once you've shortlisted the universities you want to apply to, you'll need to browse their websites and find out their entry requirements. However, some requirements are common across programs and universities.
For undergraduate, you will need to submit-
Certificate of secondary education
Proof of English language proficiency (83 in TOEFL or 6.5 in IELTS)
For postgraduate Studies in Denmark –
Transcripts
Statement of Purpose
Letters of recommendation
summary
Proof of English language proficiency (83 in TOEFL or 6.5 in IELTS)
Standardized test scores (GRE or GMAT)
Portfolio (for subjects such as fine arts, architecture, etc.)
Start preparing these documents 6 months before applying. After applying, it's time to wait. If you are shortlisted, you will receive an acceptance letter which you can then use to apply for a student visa!
Now you might have a question
How to study in Denmark without IELTS?
Denmark is home to some of the best universities in the world for Indian students. To study in a country without an IELTS score, a student must provide proof of their English language proficiency or ability to speak English at least an intermediate level. However, we recommend that you take the IELTS and then apply to Danish institutions, as this will give you an edge over other students and also make it easier for you to be comfortable there.
Cost of Studying in Denmark
As an exporter of fairy tales and hygge, Denmark often tops the charts of the world's happiest countries. With its love of design and laid-back vibe, not to mention the wide range of English-language programs offered by Danish universities, the country has also become a top destination for international students.
Tuition fees for studying in Denmark
The tuition fees you pay will depend on where you are from. If you are from an EU/EEA country, you can attend Danish universities for free. If you are from any other country, you will pay tuition. Each educational institution has different fees, as well as the level of education. On average, you have to pay between 45,000 and 120,000 Danish kroner per year. There are scholarships for students offered by individual institutions as well as other initiatives.
Living cost in Denmark
Your living expenses will depend on where you choose to live, as larger cities will be more expensive than smaller cities and towns. On average, your budget should be between 6,000 and 13,500 Danish kroner per month. This includes accommodation, food, and travel. Another cost that students should consider is health insurance. Although emergency medical care is free in some cases, you may need a health insurance policy. Check with your facility to see if you need health insurance. If you are a Nordic, EU/EEA, or Swiss citizen, you can work in Denmark throughout your studies without any restrictions, but you will need a work permit. If you are from another location, you will be able to work up to 20 hours per week during term time and full-time in June, July, and August. You will also need a work permit.
Now you must be thinking about how to get a work permit. Don't worry here is the info!
How to get a post-study work visa in Denmark?
An application for a work-based residence permit must be submitted to the Danish Agency for International Recruitment and Integration (SIRI).
As a general rule, you must have an employment contract with a company registered in Denmark to be able to apply.
A work-based residence and work permit allow you to sponsor a family member to accompany you into the country. You can also travel within the Schengen area for up to 90 days within 180 days, but the permit does not allow you to work in other Schengen countries.
To apply, you need to prepare the following documents:
A copy of all pages of the applicant's passport – including all blank pages and the front and back covers of the passport.
Power of attorney from the applicant
An employment contract or job offer that contains information about your salary and terms of employment, as well as a job description. The proposal or contract must not be more than 30 days old.
Document of education relevant to the proposed job
Documentary proof of the parts of your salary or benefits that are not shown in the employment contract, e.g., rent paid for housing or wages paid to you abroad
Document confirming permission, if necessary
It's a Wrap!
You have the info you wanted. Do you want to make a career decision now? Not settled yet? In case, you feel indecisive or confused, do dial us up.
iDreamCareer is on a mission to reach every state and every child to ensure that talent is appropriately delivered to the industry.
Talk to our study abroad experts to know yourself in and out! We have helped several brilliant but confused minds to select their most-suited career choices. We have helped many students like Anjana Prasanna who was not very confident about her capabilities. Later with the help of career guidance and moral support from our study abroad experts she got an offer from King's College London! We have helped several young confused minds like Aayush and Tapan intending to select their most-suited career choices.
Also Read:
FAQs
Is studying in Denmark free?
Education is free for Danish and EU students, but there are several scholarships and grants for international students to help cover tuition costs. Danish students are entitled to government assistance to cover living expenses while studying at university.
Can someone stay in Denmark after their studies?
The establishment scheme is a "job after study" for people from non-EU countries with a (professional) bachelor's, master's, or Ph.D. degree who need a residence permit to find a suitable paid job in Denmark after graduation. You can now apply for the program up to 12 months after graduation.
How much do students earn in Denmark?
The minimum wage per working hour is not fully stated in Denmark, but students earn between 75 and 90 Danish kroner per hour. Working part-time in Denmark is extremely rewarding as you can support yourself and pay a significant portion, if not all, of your living expenses per month.
Do international students get jobs in Denmark?
As an international student in Denmark, you also have the right to work while living here. You can also look for full-time employment when you graduate. work while studying: If you are a Nordic, EU/EEA, or Swiss citizen, there is no limit to the number of hours you can work in Denmark.

Anushree has 5 years of experience in the career counseling industry as a Senior Content Writer. She has also worked as a Social Media Marketing Expert for a startup and Content Quality Analyst for the Publishing and E-learning Industry. She has done her Master's in Commerce and PGDM in Finance & Trade and Marketing & HR, but she is currently following her passion for writing.