A note from iDreamCareer's founder & CEO to students & parents
Keshav, an undergraduate student in the US, came back to India dropping his course mid-way. He did not have much knowledge regarding the admission process and believed that the 'counsellor agent' to whom he went to take guidance would help him get into the right university with the right course. He was offered this entire guidance free of cost which was the big attraction.
Keshav did not understand nor think twice about how this entire effort of application guidance was offered free of cost and went ahead with the counselling agency. Admissions done and off to pursue his dreams, Keshav left home with high ambitions and hopes. But, his dreams were shattered within the first year and he came back leaving his course midway, realizing that he has been put on a 'commission model' by the agent.
Keshav and millions of students in India are being cheated on the purview of free-of-cost study abroad application guidance. While the offer looks promising especially since it's free of cost, students & parents have no idea that it's them who pay from their own pockets for the vested interest of the counselling agents. Let us tell you how.
The great commission model of universities and agents
Step 1: When you apply through counselling agents, the counseling agents apply through a portal/platform where your college application number is locked against that agent with the university.
Step 2: Once you receive an admission offer and pay your 1st-year college fees, your seat then becomes eligible as a 'commission payment' to your counselling agent.
Step 3: Only post-completion of the 1st semester, does this commission get paid by the university to the counselling agency.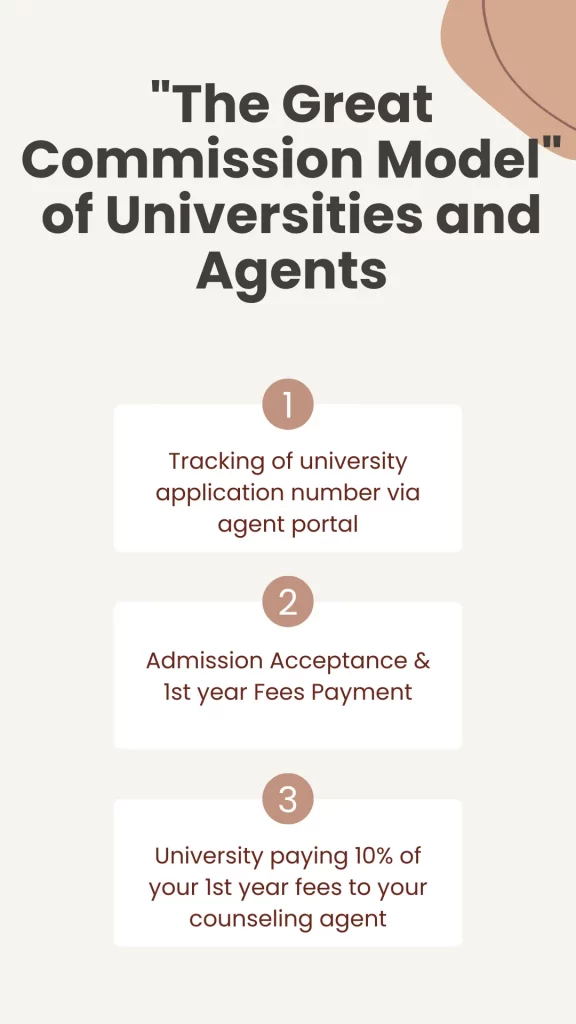 Remember this commission is generally 10-15% of the first-year fees you have paid to the college. It ranges from 1 lakh to 5 lakh depending on the college and course you pay the fees.
So at one end, you get this feeling that you paid nothing during your admission application process to a counsellor but, in reality, if you see as per the above model, it's your college fees that make up for this agent's commission & it is generally much more than the study abroad guidance fees you will pay to any genuine and unbiased counsellor in India.
In the commission model apart from losing more money, you end up with other losses as well, non-financial & Financial:
Being advised and pushed to a limited set of 5-10 colleges where agents get their commission. These colleges may not be the right fit for you.
Being guided to take up courses that are not the right fit and not of your interest to you as agents get more money for filling specific courses which are not popular maybe (as in the case of Keshav).
Lesser probability of getting university scholarships. As universities pay for the commission for the seat to the agent, the chances and probability of getting a scholarship are much less. Once you apply, your application is tagged as 'agent referred student' in the universities admission system and processed through the application number tracking.
Conclusion
With a counseling agency, you may feel good saving some Rs. 1-2 lakh by not paying for your study abroad guidance process, however, you lose much more than you can imagine. Plus the very fact that it's your entire career at risk! Is that the price you want to pay?
This article has been written with the view of educating students and parents on this commission model especially after seeing so many students' careers being put at risk by these agents. We hope this article will educate students and parents and help you make a wiser and safer decision.
iDreamCareer is on a mission to reach every state and every child to ensure that talent is appropriately delivered into the industry. Talk to our study abroad experts to know yourself in and out! We have helped several brilliant but confused minds to select their most-suited career choices. We have helped many students like Anjana Prasanna who was not very confident about her capabilities. Later with the help of career guidance and moral support from our study abroad experts she got an offer from King's College London! We have also helped several brilliant but confused minds like Aayush, and Tapan to select their most-suited career choices.
In case you wish you take genuine and 100% unbiased guidance, please apply for iDC Study Abroad free orientation session with senior study abroad experts by filling this form – https://forms.gle/tqXgYFMV2BM2cdE79
Regards,
Ayush Bansal
Founder & CEO
iDreamCareer.com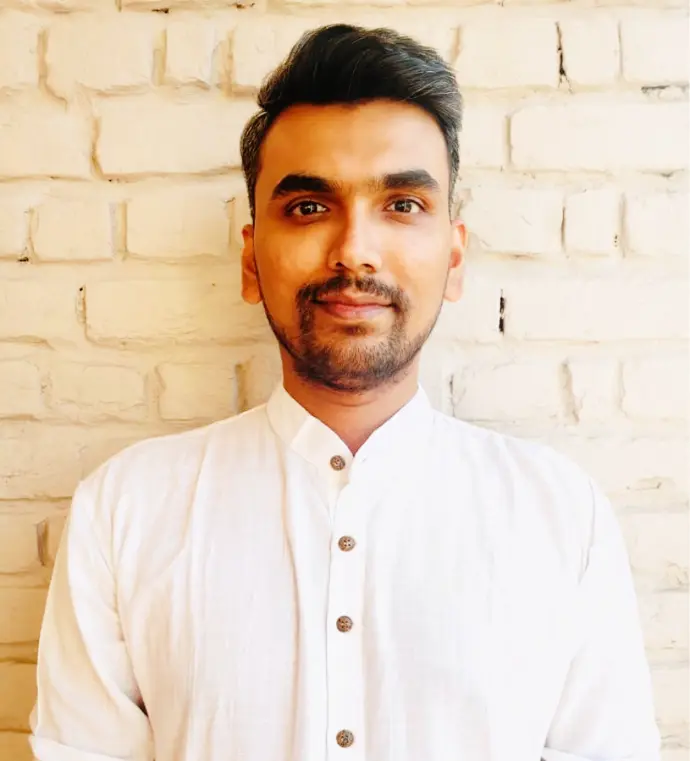 Ayush, at the age of 17, encountered the challenge for a student to choose the right career while guiding a domestic helper to get back to education. Later at the age of 22, he chose to quit his lucrative job in Investment Banking to solve this problem and founded iDreamCareer. He has spent the past 11 years in the space of career guidance and as a full-time entrepreneur for the last 10 years. He has successfully led iDreamCareer to become the largest career counseling social enterprise in India empowering close to 2.5 Crore+ students annually. Ayush was selected as India's top 10 Entrepreneur by the US state government to attend the GES 2016, hosted by US President Barack Obama. iDreamCareer was recently selected as World's top 200 EdTech companies by Arizona State University & GSV Venture for the GSV Cup 2020 & also as South Asia's top 100 EdTech companies by Holon IQ. Ayush is a featured columnist & speaker on various forums including large media houses like Times of India, Hindustan Times, and also the United Nations. He has recently made it to the Business World Education 40 under 40 2020.