If you are looking for an answer to what to pursue after 12th with non-medical subjects, then this article will shed light on a list of non-medical subjects for class 11th & 12th, a career in non-medical after 12th, and much more!
12th is the most critical page in your life's book.
You should not only focus on your studies but also on a future life course. This is the end of your spring and the beginning of a careful life. But this difficult life can turn into a happy journey if you choose your career options wisely after class 12th with non-medical subjects.
List of non-medical subjects for 11th & 12th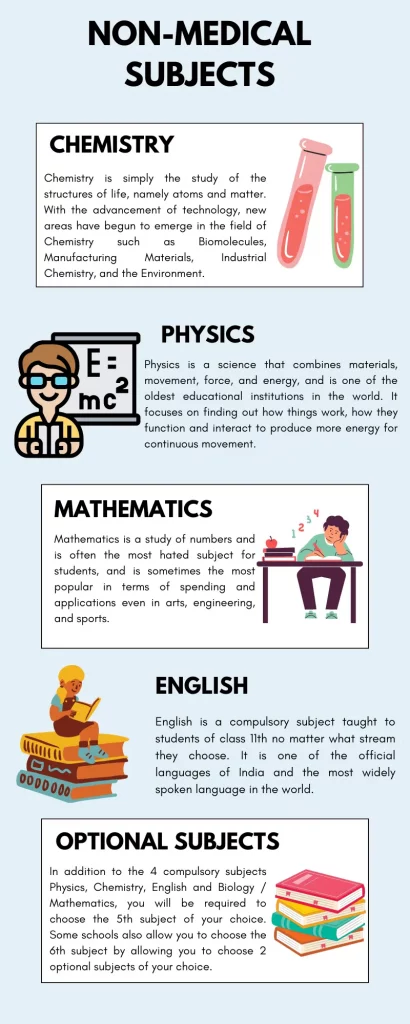 ---
---
Discover More by accessing the Free Career Dashboard
This will help us share relevant information with you.
Core Subjects
1.Physics
2.Chemistry
3.Mathematics
4.English
Optional Subjects
1.Computer Science
2.Physical Education
3.Economics
4.Fine Arts
5.Informatics Practices
6.Engineering Drawing
7.Psychology
8. Environmental Studies
Note: Some schools also give an option to choose the language (Hindi, Arabic, German, French, Spanish, etc.) as an optional subject. For more details about 11th science subjects, you may refer to the CBSE Senior School Curriculum.
---
---
List of non-medical subjects in B.Sc.
B. Sc can be pursued in many non-medical subjects – some of the most popular are Physics, Chemistry, Mathematics, Computer Science, etc. Apart from this, you can also choose to do a B.Sc. program that focuses on all major non-medical subjects.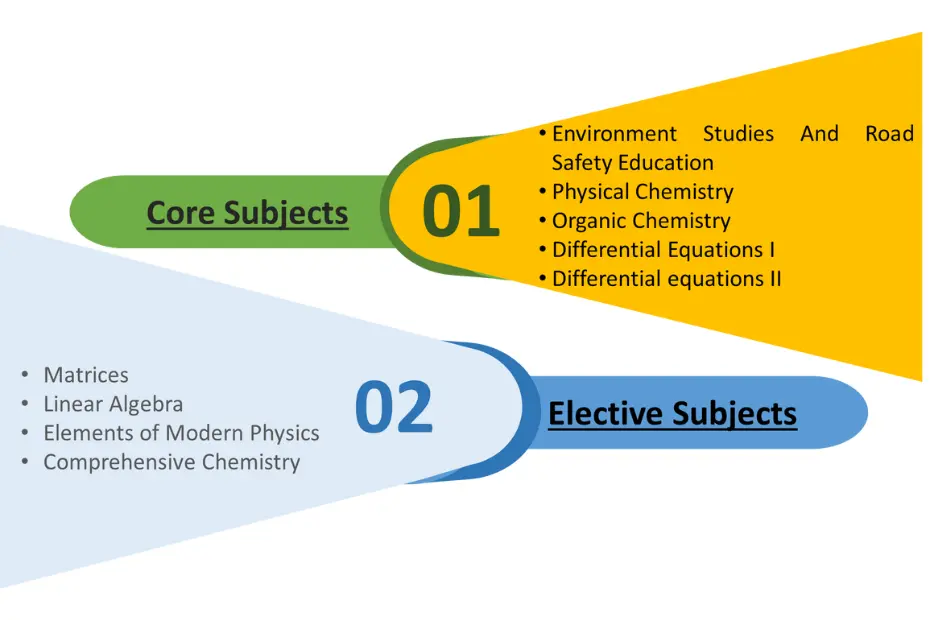 ---
---
Top 10 career options in non-medical after 12th
Here are some cool options you can chose from
Engineering is one of the most promising career options for non-medical subject students because the need for an engineer is always high in the Indian industry. You will be required to appear for an entrance test for pursuing B. Tech. The most common entry tests are JEE Mains and JEE Advanced and a few other regional and independent tests.
Some of the trending specializations are:
Computer Science
Information Technology
Civil
Mechanical
Electrical
Electronics and Tele-communication
.
B. Arch program is specialized for those who have a great interest in architectural design and infrastructure. You will be trained to do construction projects and are involved in all stages of the construction project. It is a 5-year course offered by various public and private institutions.
Bachelor of Science (B.Sc.):
One of the most popular programs among students after 12 is B.Sc. It is a 3-year undergraduate degree course. Some of the popular and most promising specializations in B. Sc are – B.Sc. Chemistry, Physics, Mathematics, Forestry, Horticulture, Information Technology, Computer Science, Electronics, Agriculture, Hotel Management, Biotechnology, Nautical Science, Environmental Science, and Electronics & Communication.
In this study, you can pursue a Bachelor in Statistics (B. Stat) or a Bachelors in Mathematics (B. Math). You may find many job options in private and public organizations in the banking, insurance, and finance sectors. They employ mathematical majors to develop the project, research activities, trade surveys, and statistical analysis in stock markets.
You can choose to become a teacher or an instructor after completing class 12th with non-medical subjects. Some popular courses are:
Diploma in Elementary education
Primary Teachers Training course
Diploma in Yoga education
Bachelor of physical education (B.P.Ed.)
Bachelor of elementary education (B.El. Ed)
---
---
If you do not want to spend your life doing coding and running around computers, here is one of the most popular after your class 12th with non-medical subjects. BA LLB is one of the most popular courses after 12th non-medical. The law is widely practiced in India and abroad. You can also opt for a master's degree which is LLM after completing your LLB.
This is one of the most preferred career options for those with a strong interest in IT, quick thinking, and reasoning skills, who can analyze the situation and apply ideas to solve it.
Job opportunities in this field are Software consultant, Software Developers, Web Designer, Web Designer, Technical Writer, etc. You may complete BCA (Bachelor's in Computer Applications) followed by MCA (Master's in Computer Applications) from any reputed university or college and can make your career in it.
Tourism is becoming increasingly popular these days. This has led to profits in the tourism industry. Therefore, hotel management courses are gaining momentum every day. Students who are interested in the field can easily enter it after pursuing class 12th with non-medical subjects. Students can pursue Bachelor-3 years, Master-2 years, and Doctoral degrees-M.D./M.Phil. in hotel management.
Bachelor's in Arts:
There is also an option to pursue BA for those who wish to change their stream. BA can be done in various subjects such as marketing, sales, English, Hindi / Urdu, Social Science, Foreign Language.
Creative Careers:
There are many Creative career options available for those who want to pursue their career as per their interests such as Fine Arts (Music, Dance, Painting, etc.), media studies, advertising, journalism, film making, photography, animation, Bachelor in designing, interior design, accessory design.
Conclusion
One should keep in mind that after class 12th non-medical, choosing stereotype career options is not a solution. There are several careers you can choose from so you need to decide wisely. The fear of choosing the wrong career flies over everyone's head, so one must weigh all the factors before settling down to choose a particular career.
If you are confused or have questions. Don't hesitate, do dial us up. It is often useful to reach out to expert counselors for addressing individual issues. iDreamCareer experts are always ready to help young minds like you from 9th class, 10th class, class 11, class 12 with an aim to select your most-suited career choices.
Also, read
Recent Releases
Discover More by accessing the Free Career Dashboard
This will help us share relevant information with you
Trending Posts


Anushree has 5 years of experience in the career counseling industry as a Senior Content Writer. She has also worked as a Social Media Marketing Expert for a startup and Content Quality Analyst for the Publishing and E-learning Industry. She has done her Master's in Commerce and PGDM in Finance & Trade and Marketing & HR, but she is currently following her passion for writing.