With a career in digital marketing, you use different tools/methods to promote different products and services on digital platforms like mobile, social media, websites, etc. Want to build a career in digital marketing after your graduation? Looking for pursuing MBA in digital marketing?
Look no further. You may find a ton of thought-provoking advice for a career in this field here & there, but you will need to know these nondescript details too. Most sources will miss these as too common.
But before that…
Do You know?

According to the report published by IIM Skills; by 2023, it is predicted that in India, there will be more than 650 million & by 2025, 900 million internet users which is a massive number and can build easily a strong digital ecosystem in the country.
Yes! This means if you want to build your career in digital marketing, chances are much higher that you will have good future growth! Come along to find out more.
What all is covered in this post?
To make it easier for you, we have created a quick guide to everything you need to know about an MBA in digital marketing.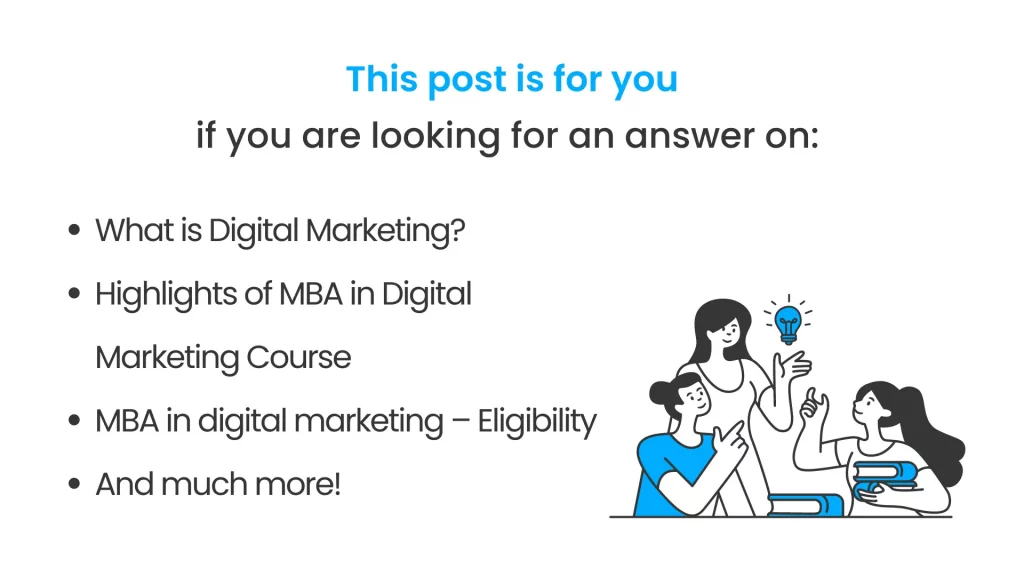 What is digital marketing?
The term digital marketing refers to the use of digital channels to sell goods and services to reach consumers with the help of websites, mobile devices, social networks (like Facebook, Instagram, Pinterest, etc.), search engines, and other similar channels.
Digital marketing incorporates some of the same principles as traditional marketing and is often considered a new way for companies to get closer to consumers and understand their behavior. Companies often combine traditional and digital marketing methods in their strategies.
MBA in digital marketing – course highlights
The MBA in Digital Marketing is a two-year postgraduate program that focuses on using digital or electronic media to promote and advertise a product, service, or brand.
CAT, MAT, XAT, SNAP, and CMAT are the most popular MBA entrance exams in India.
The types of Digital Marketing MBA programs in India include full-time MBA in Digital Marketing, Distance MBA in Digital Marketing, Online MBA in Digital Marketing, and Executive MBA in Digital Marketing.
MBA Digital Marketing jobs are available in both private and public sectors.
Google, Facebook, Mirum India, Zomato, LinkedIn, Amazon, Flipkart, Webchutney, Pinstorm, Langoor, and others are among the top companies hiring digital marketing professionals for various positions.
The average starting salary of an MBA Digital Marketer can range from Rs. 5 to 6 lakhs PA.
Discover More by accessing the Free Career Dashboard
This will help us share relevant information with you.
What to know?

According to LinkedIn, the "Digital Marketing Specialist" role is among the top 10 most in-demand jobs, with 860,000 job openings. The most requested experience in digital marketing includes social media, content strategy, SEO, analytics, and more.
MBA in digital marketing – Eligibility
If you wish to enroll in a digital marketing MBA, you must ensure that they meet the basic required criteria.
While each college has its own eligibility criteria, the general eligibility criteria for MBA in Digital Marketing are as follows:
You should have Bachelor's Degree like BBA, BA, B. Sc, B. Com, or BCA in any discipline with 50 percent aggregate marks or equivalent CGPA (5 percent relaxation is given to SC/ST students) from any recognized University / College / Institute.
Final year students are also eligible to apply, but their admission will be subject to obtaining a minimum of 50 percent marks (relaxation of 5 percent is given to SC/ST candidates) in B.Sc.
You must pass national entrance exams such as CAT/MAT/GMAT/CMAT or other equivalent entrance exams to apply for MBA Digital Marketing Management programs.
MBA in digital marketing colleges in India
There are many educational institutions in India that offer management courses. Prior academic achievement and entrance test scores are used to determine admission. Some of the best management schools in India are listed below:
Centurion University of Technology, Bhubaneswar
Graphic Era University, Uttarakhand
IIDE – Indian Institute of Digital Education, Mumbai
IIKM, Business School, Chennai
Integral University, Lucknow
JK Lakshmipat University, Jaipur
Rayat Bahra University, Punjab
RIMT University, Punjab
RVS Institute of Management Studies and Research, Tamil Nadu
Xavier Institute of Management and Research, Mumbai
MBA in digital marketing syllabus
The list of subjects in MBA in Digital Marketing includes both theoretical and practical subjects. Following is the syllabus of the course:
MBA Digital Marketing First Year Subjects
Business Research Management
MS Excel
Marketing Basics
Marketing Management
Decisions Science
Accounting for Business Decisions
Organizational Behaviour
Enterprise Analysis
Operations Management
Human Resource Management
MBA Digital Marketing Second Year Subjects
Digital Marketing
Mobile Marketing
Digital Branding
Email Marketing
Strategic Management
E-Commerce
Social Media Marketing
Web Analytics
Content Marketing
Search Engine Marketing
MBA in digital marketing salary in India
The average salary that a graduate earns after obtaining a master's degree depends on many factors such as company policies, individual abilities, knowledge, and experience of the graduate, and many more. Public companies or institutions pay more compared to private companies or institutions. The average salary ranges from Rs. 3 lakhs PA to 15 lakhs PA.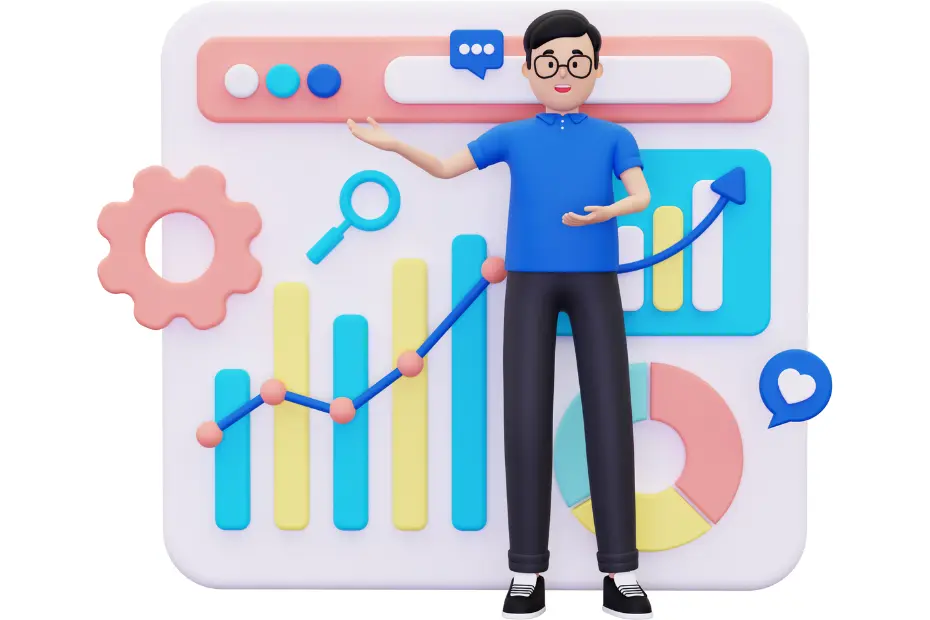 Epilogue
A career with MBA in digital marketing is less about "digital" and more about "marketing". The digital marketing scene is ever-changing! DM gurus and bloggers declare a tool or tactic which appears hot one week and dead the next.
Career planning is an intense affair and iDreamCareer is the foremost in India helping millions of young minds discover their true mettle. We at iDreamCareer always believe in helping young minds discover their true mettle. We try to help young confused minds from 9th class, 10th class, class 11, and class 12 with an aim to select their most-suited career choices.
Also Read:
FAQs
Which field is best in digital marketing?
Content marketing, search engine optimization, and social media expertise are some of the common departments.
What is an MBA in Digital Marketing?
MBA in Digital Marketing is a course that provides the candidate with practical and theoretical studies in the digital marketing sector. The course is related to traditional marketing but equips the candidate with a different set of skills. The course grooms and is creative, as well as managerial skills of the candidate.
Is an internship a mandatory part of an MBA program in digital marketing?
Yes, since the MBA in Digital Marketing is a professional program, students are required to complete a mandatory internship or on-the-job training in the relevant subject.
Discover More by accessing the Free Career Dashboard
This will help us share relevant information with you
Trending Posts


Anushree has 4+ years of experience in the career counseling industry as a Content Writer. She has also worked as a Social Media Marketing Expert for a startup and Content Quality Analyst for Publishing and E-learning Industry. She has done her Master's in Commerce and PGDM in Finance & Trade and Marketing & HR, but she is currently following her passion for writing.