What's a gavel, you ask? It is the wooden hammer that a judge stomps when he asks the courtroom to be in order. If you're an aspiring law-freak, you must already know about it!
.
This post talks about the responsibilities of a judge, the eligibility, the courses, the exams, the different routes of becoming a judge and more. To understand about it more in detail, don't miss out on this page.
---
If you find this page too long, boring & sleep-inducing, you'll be better off without taking a chance at legal studies! Else, let the experts assure you now.
---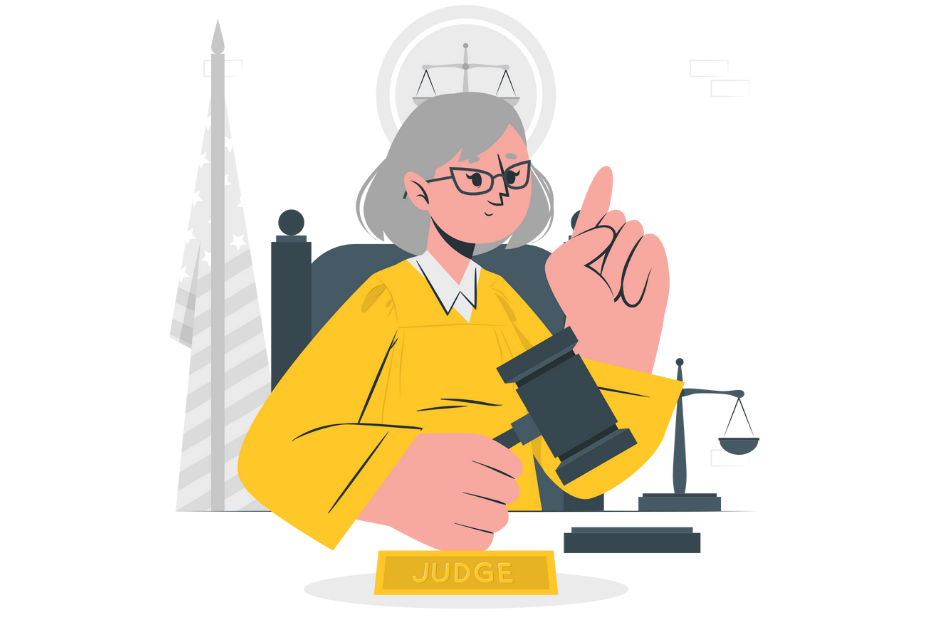 Responsibilities of a Judge
Study and analyse various documents presented by the parties in a legal case – parties could be a plaintiff (a person or an organisation filing a legal case), a defendant (a person or an organisation charged with a civil, criminal or other offence), petitioner (who files a petition to obtain a court ruling about some matters) and a respondent (persons and organisations who are asked by a court to answer to some matters related to a petition.
Study and analyse various evidences presented by the lawyers representing a plaintiff or a petitioner and also analyse various evidences presented by the lawyers of a defendant, a petitioner, or a respondent.
Listen to the arguments presented verbally as well as in writing by the plaintiffs, defendants, petitioners, and respondents.
Listen to the witnesses called by the parties and listen to their cross-examinations by the lawyers of the parties.
Based upon the various documents, documentary evidences, confessions of defendants, cross-examinations of the defendants, plaintiffs, and others, witnesses' inquiry and cross-examinations, arguments of lawyers of the parties in a legal case, pass various rulings and judgements which are in compliance with the provisions of a country's Constitution and various laws.
Interpret legal provisions and past rulings and judgements of various High Courts and the Supreme Court.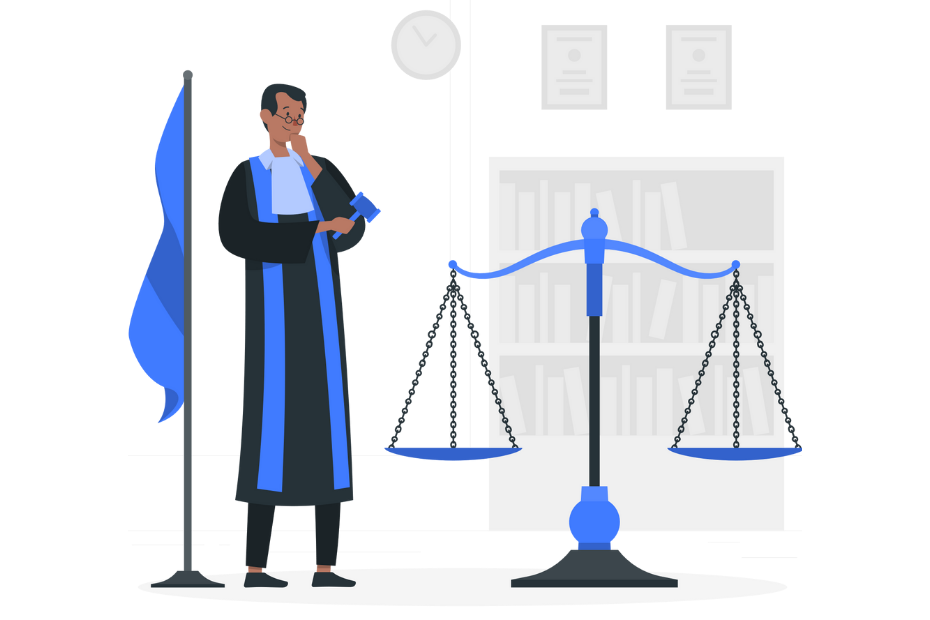 Eligibility to become judge in India
First, after acquiring a degree in Law (LLB or BA LLB/ B.Com LLB/ B.Sc LLB/ B.B.A LLB), you will have to clear the All India Bar Examination (AIBE) which is conducted by the Bar Council of India.
To become a District Judge, you will have to appear for States Judicial Service Examinations which is the entry level exam for law graduates to become members of the subordinate Judiciary (Judge of District Court- Entry Level).
Judicial Services Exam is an entry-level examination for law graduates to become a member of subordinate judiciary. The exam is conducted by state judicial branch and thus the examination structure varies from state to state.
The State Judicial Service Examination is conducted in 3 stages- Preliminary examination, Mains exam and Viva/Personal Interview.

The Viva / Personal Interview test
It may assess the following attributes in a candidate (these are only indicative and do not comprise all the criteria):
Analytical and logical abilities
Balance of judgement
Compassion and empathy
Critical abilities
Deductive and Inductive Reasoning abilities
Ethical thinking
Integrity and morality
.
In order to appear for Lower Judiciary Services you need to have a degree in Law with no prior experience required. The age of candidate should be 21 – 35 years. Whereas, in order to appear for Higher Judicial services (HJS) exam you need to have a law degree in graduation with a minimum of seven years of litigating practice.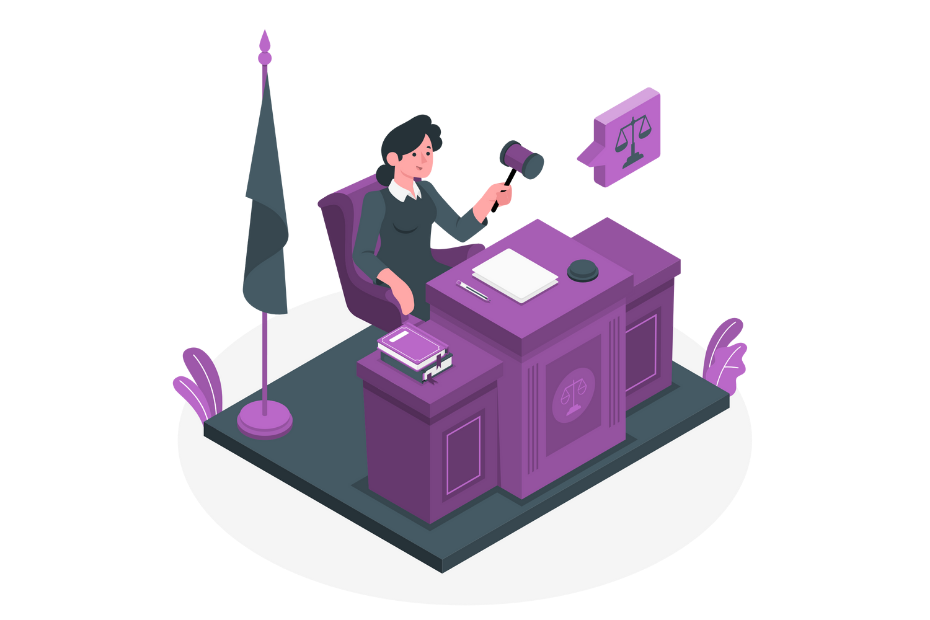 Supreme Court Judges
..are recommended by the Collegium of the Supreme Court. Appointment finally depends upon the consent of the President of India who also consults the Ministry of Law before consenting an appointment.
You can also choose a direct career pathway by practicing as a lawyer for 20-25 years and become eligible and be nominated as a Judge in High Court first and then Supreme Court.
You need to be 65 years of age or less to become elected as Supreme Court Judge along with a minimum of 10 years of working as an advocate in High Court or 2 equivalent session courts.
How to become a judge in India?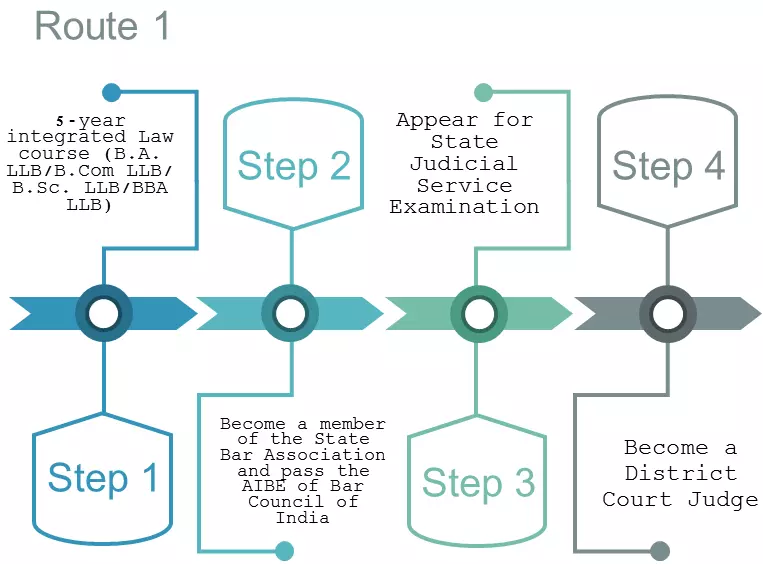 .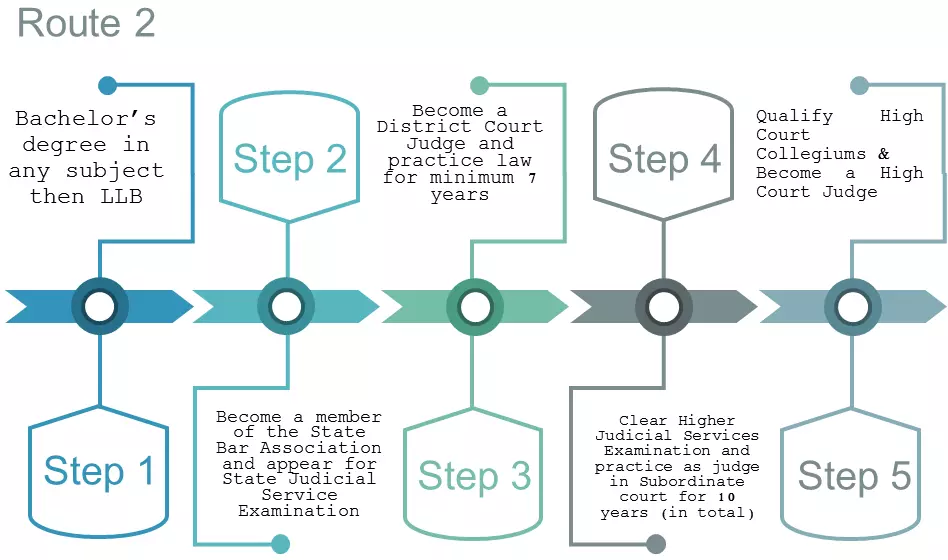 .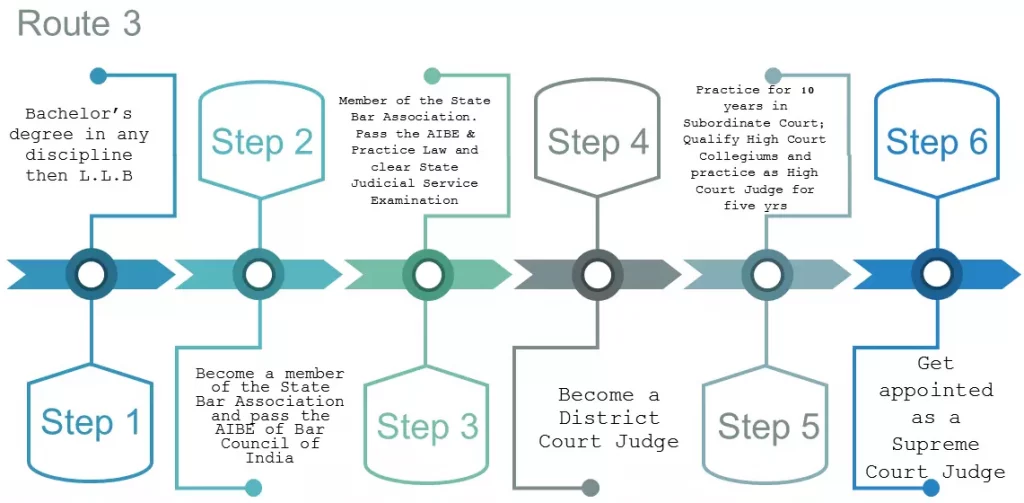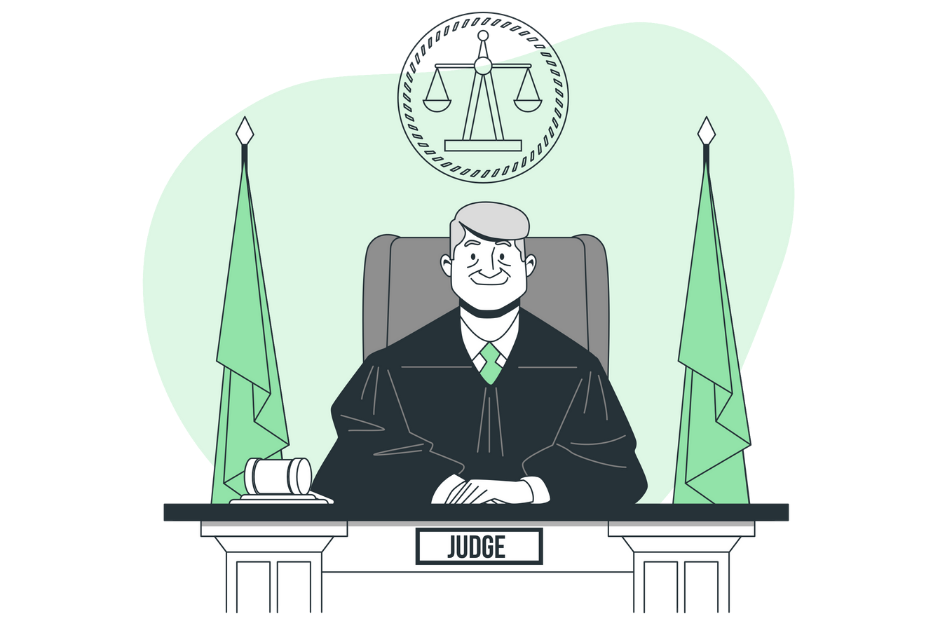 .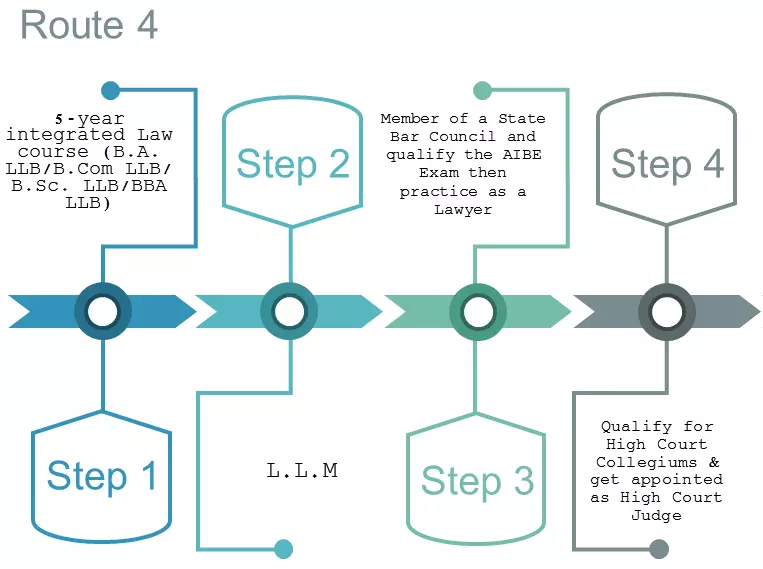 .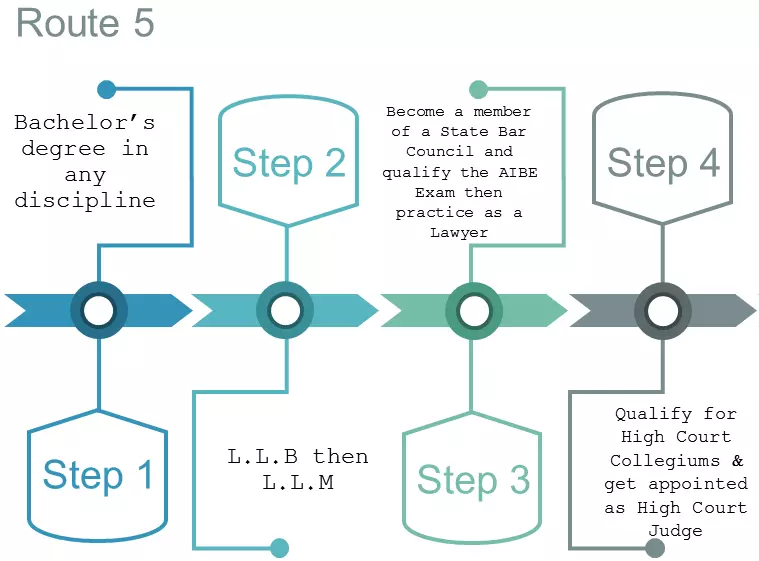 .
.
Employment Opportunities for Judge
You can start at various levels of the Indian Judiciary System:
District Judge (Entry Level)
Civil Judge (Junior Division)
Criminal Judge (Junior Division)
After a Degree in law and becoming a member of the Bar council of India, appear and qualify State Judicial Service Exam in order to be eligible for the position of a District Judge (Entry Level) or Civil Judge (Junior Division) or Criminal Judge.
Practising as a District Judge in entry level position or a Junior Division Civil Judge or a Criminal Judge in Junior Division you may be promoted to the position of senior and super senior divisions in the respective job positions.
You can further appear and clear the Higher Judicial Services Examinations for which a minimum of 7 years of litigating practise is required.
You will be promoted to senior level positions as you clear the second level of Judicial Services i.e. Higher Judicial Services.
With more number of years in litigating practice, you can expect more and more opportunities in senior level positions.
Final Words
I'm sure you know, becoming a judge is no cake walk. And probably that is why many want to try it. It takes years of practice, preparation and professional training/ experience. Since, the Indian Judiciary is so laggard in all aspects, we are observing a decline in the enthusiasm among students for this discipline altogether. Another emerging reason is because there is a very high possibility of automation in the litigation ecosystem starting right from the advocacy positions to the super-senior levels too. However, career planning at all stages of life is an extremely tricky process and has its own tribulations. Availing expert advice is recommended. iDreamCareer has guided millions of young minds and is ready to help you too. Visit SCI's official portal here.
Recent Releases
Discover More by accessing the Free Career Dashboard
This will help us share relevant information with you
Trending Posts

.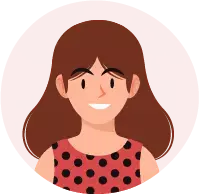 With a Master's in Biophysics-Biostatistics, Sreenanda acquired professional experience in computational proteomics of human molecules. She is currently working with the Research and Data Team at iDreamCareer.