As more people seek natural ways to manage pain and improve their overall health and well-being, the demand for chiropractors has been steadily increasing in recent years which is driven by several factors, including the aging population, the rise of chronic diseases, and a growing awareness of the benefits of chiropractic care. In this blog post, we will explore what a chiropractor is, what they do, how to become one, and a lot more.
Let's dive in…
Who is a Chiropractor?
A chiropractor is a healthcare professional who employs non-invasive methods in the diagnosis and treatment of musculoskeletal and nervous system disorders. Chiropractors are trained to perform spinal adjustments, which involve manipulating the spine and other joints in the body to improve mobility and reduce pain. They also provide advice on exercise, nutrition, and lifestyle changes to help their patients achieve optimal health.
What does a Chiropractor do?
A chiropractor diagnoses (finds out), treat, and prevents "musculoskeletal disorders", particularly those related to the spine and nervous system. 
Chiropractors use a variety of techniques to help their patients manage pain and improve function.

The most common technique used by chiropractors is spinal manipulation, which involves applying pressure to the spine and other joints in the body to improve mobility and reduce pain.Other techniques used by chiropractors include massage, stretching, and exercise therapy.
As a Chiropractor, you will perform:

Soft-tissue therapy AdjustmentsJoint bracing/taping (e.g., Kinesio taping)Exercises and stretches Referrals to integrative medicine experts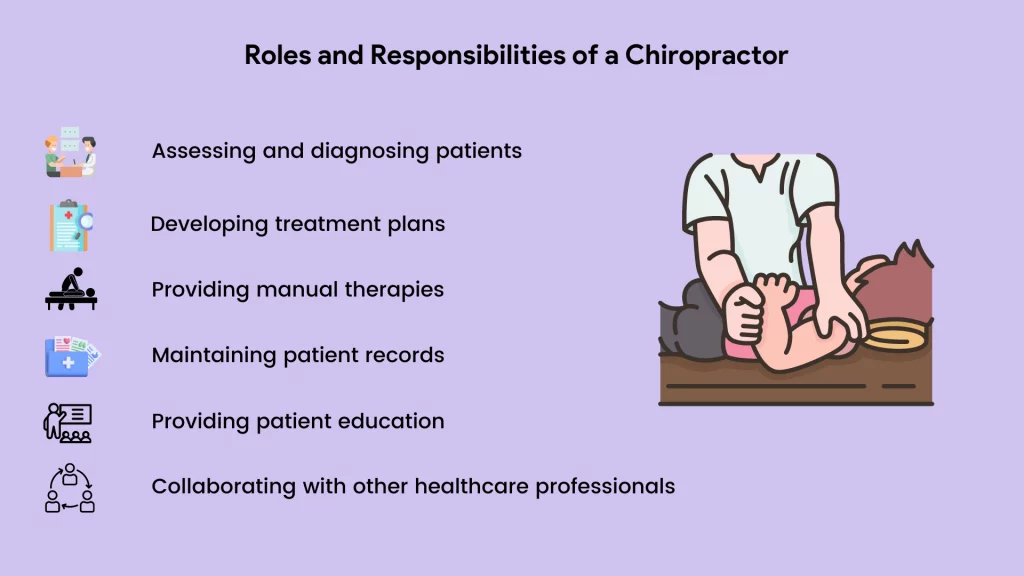 How to become a Chiropractor?
To become a chiropractor in India, you must follow these steps: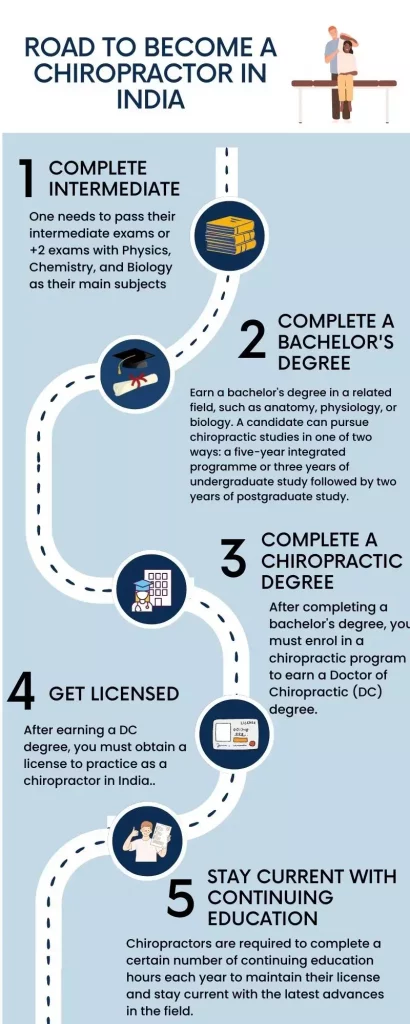 Chiropractor courses in India
The chiropractic degree program comprises 4200 hours of classroom study, laboratory work, and clinical experience. The curriculum has Neurology, Orthopaedics, Geriatrics, Physiotherapy, Anatomy, Physiology, Public health, Neurology, Orthopedics, Radiography, Pathology, Bio-Chemistry, Biomechanics, Lab diagnosis methods, etc.
| | |
| --- | --- |
| Course Name | Duration |
| Certificate course in Chiropractic | 6 month |
| Diploma in Integrated Sports Massage | 6 month |
| Diploma in Sports and Game Therapy(DSGT) | 1 Year |
| Diploma in Sports and Health Science(DSHS) | 1 Year |
| Diploma in Advance Massage Therapy(DAM) | 1 Year |
| Fellowship Diploma in Sports and Health Science | Six Month |
| Diploma in Osteopathy (DO) | 1 Year |
| Diploma in Chiropractic (DC) | 1 Year |
| Bachelor in Chiropractic (B.C.) | 4 Years |
| Master in Chiropractic | 2 Years |
| Doctor of Medicine in Chiropractic | 2 Years |
Here are some colleges offering courses for Chiropractic studies
All India Institute of Medical Sciences (AIIMS)
Amity University
Banaras Hindu University, Varanasi
CMC, Vellore
IGNOU
Maulana Azad Medical College, Delhi
SNDT University, Mumbai
SRM University
Chiropractor course fees?
The course fees for chiropractic programs in India can vary depending on several factors, including the institution, location, and level of education. However, for a basic 4-year Bachelor of Chiropractic Science degree program, the minimum course fee is around ₹15,000, while the maximum can be as high as INR 1500000. The average course fee is around ₹4,00,000.
Chiropractor vs Physiotherapist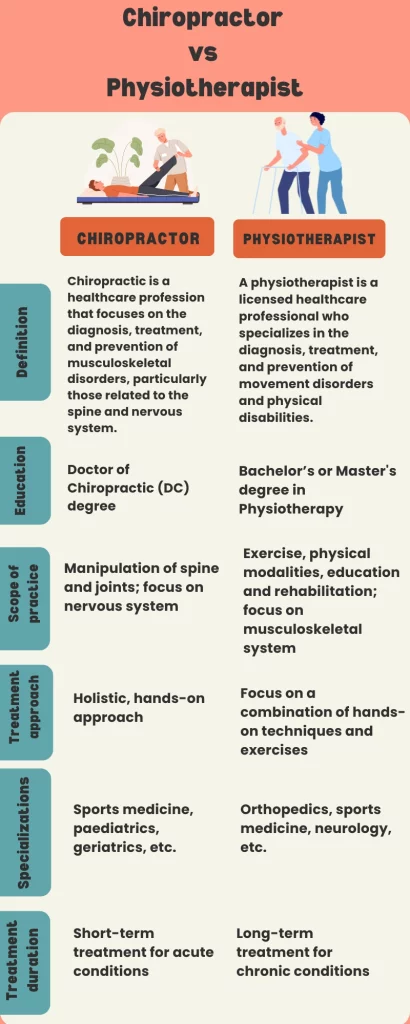 Chiropractor Salary
According to the government wage scale, a chiropractor employed by a government hospital gets compensation of around 35,000 to 40,000 Indian rupees per month on average.
Below are just estimated salary ranges and actual salaries may vary based on a variety of factors such as geographic location, type of employer, and the chiropractor's level of experience and qualifications.
| Years of Experience | Salary Range |
| --- | --- |
| | |
| Less than 1 year | ₹2,00,000 – ₹4,00,000 |
| 1 – 4 years | ₹2,40,000 – ₹8,00,000 |
| 5 – 9 years | ₹4,20,000 – ₹10,00,000 |
| 10 – 19 years | ₹6,00,000 – ₹15,00,000 |
| 20 or more years | ₹8,50,000 – ₹20,00,000 |
Chiropractor Jobs
List of jobs profiles:
Private Practitioner
Sports Chiropractor
Corporate Chiropractor
Chiropractic Consultant
Chiropractic Educator
Chiropractic Technician
Clinical Chiropractor
Rehabilitation Chiropractor
Here are some potential recruiters for chiropractors in India:
Hospitals
Corporate Companies
Sports Teams
Fitness Centers
Chiropractic Colleges
While chiropractic is still a relatively new field in India, it is gaining acceptance among healthcare professionals and patients alike. The demand for chiropractic care is increasing as more people become aware of its benefits, such as improved mobility, pain relief, and overall wellness. Overall, the scope of chiropractic in India is promising, and it presents a unique opportunity for healthcare professionals who are passionate about helping others in achieving optimal health and well-being.
Epilogue
We hope we have served you with most of the answers. Thinking about wandering into the vast expanse of Chiropractor? It is undoubtedly one of the most sought-after job roles in the industry today. Whether you've already planned a career in it or just starting to dip your toes in the thoughts of it, allow us to make it a bit easier for you.  Talk to an expert today to figure out more of what you must know before you begin your journey. At iDreamCareer with the help of our Career Counselling and Guidance Services and educational counsellor, we try to help many young confused minds from 9th class, 10th class, class 11, class 12 with an aim to select their suitable career choices.
Useful links
FAQs
Q: How long does it take to become a chiropractor in India?
A: A Bachelor of Chiropractic degree typically takes 4-5 years to complete, plus any additional requirements for a license.
Q: What subjects do I need to study to become a chiropractor in India?
A: The subjects you would typically need to study to become a chiropractor in India include anatomy and physiology, biochemistry, pathology, microbiology, immunology, neurology, biomechanics, diagnosis and clinical assessment, radiology and diagnostic imaging, chiropractic principles, and techniques.
Q: Can I study chiropractic in India or do I need to go abroad for my education?
A: Yes, you can study chiropractic in India. There are several colleges in India that offer chiropractic programs, including colleges affiliated with the All India Council of Chiropractic & Science (AICCS). However, if you wish to study in a college abroad, you may need to qualify in relevant entrance exams for that country and meet the requirements for the specific college
Q: Are there any specific entrance exams for admission to a chiropractic college in India?
A: Yes, many chiropractic colleges in India require applicants to take entrance exams such as NEET (National Eligibility cum Entrance Test) or the entrance exam conducted by the respective colleges to qualify for admission.
Q: Is it necessary to have a license to practice chiropractic in India?
A: Yes, it is mandatory to have a license to practice chiropractic in India. To obtain a license, you need to complete the chiropractic program, undergo clinical training, and pass the licensing examination.
Q: What kind of condition a Chiropractor can treat?
A: Chiropractors in India are trained to treat a wide range of musculoskeletal conditions, including back pain, neck pain, headaches, and sports injuries. They may also provide preventive care and wellness advice to patients.
Q: Is it possible for a physiotherapist to become a chiropractor?
A: Yes, you can become a chiropractor by taking the BPT course. Following BPT, you must complete a chiropractic course.
Currently working as a Research Analyst at IdreamCareer after completing Master's in Economics (Specialization in World economy)