Do you want to pursue a career in finance and related fields? Are you good with numbers and calculations and have a diverse set of management and problem-solving skills? Instead of choosing the same old common fields, you can choose from a variety of specialized career fields in finance. One such prospect is the CFA exam, which is becoming increasingly popular among those seeking a professional degree in finance.
Did You Know?

CFA is a professional degree which is offered by the CFA Institute, USA
If you found this post in the endless stream of content available to you on Google, consider yourself lucky. You've made a wise choice.
Without further ado! Continue reading…
What all is covered in this post?
To make it easier for you, we have created a quick guide to everything you need to know about the CFA exam.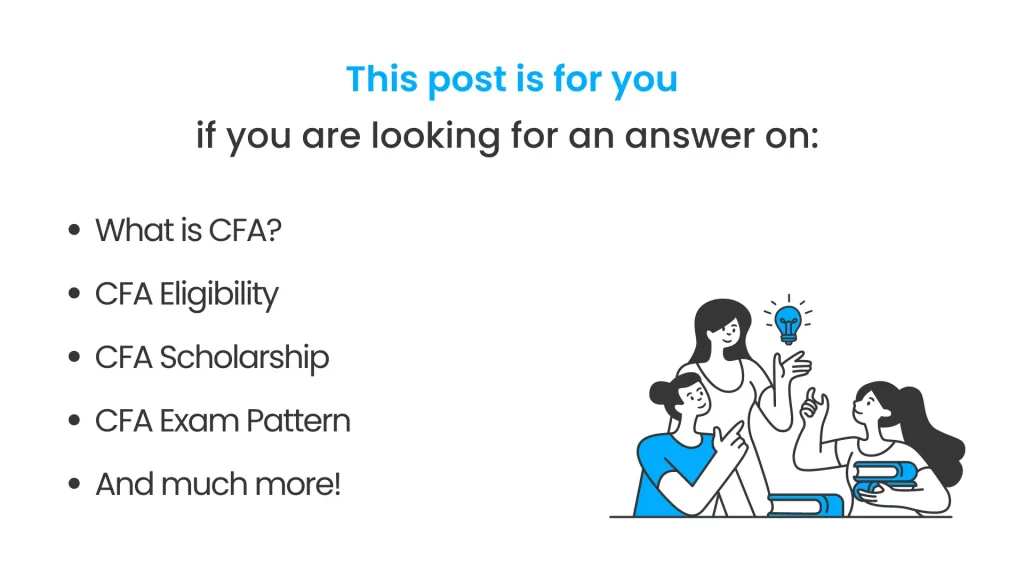 What is CFA?
The full form of CFA has Chartered Financial Analyst. Offered by the CFA Institute, this course focuses on several aspects of finance and management along with the integration of core knowledge of the investment discipline. It works to improve your analytical skills and gives you an understanding of how you can navigate ethical issues in the investment industry.
This program is very useful for those who aspire to a career in banking or financial services. The course syllabus includes equity investment, corporate finance, derivatives, financial reporting, and analysis, etc. It prepares applicants for ethical investment management. The course includes different phrases and a duration of 1.5 – 4 years.
CFA eligibility
In order to pursue the CFA course, there are some prerequisites specified by the CFA Institute that you must fulfill. These qualification requirements are described below.
You should have a bachelor's degree in finance as institutes look for candidates with fundamental knowledge in banking, finance, and investment which is further polished in the CFA course.
You must have at least four years of proven work experience in a finance-related career field.
Letters of recommendation: With more than 150,000 people from more than 165 countries registered charter holders, competition for the CFA course is fierce. Therefore, to prove your credibility, you will need to submit letters of recommendation from more than two well-known and renowned professionals working in your field.
A minimum of 4,000 hours of work experience along with letters of recommendation is mandatory for the CFA course.
Discover More by accessing the Free Career Dashboard
This will help us share relevant information with you.
Did you know?

CFA Institute has a lesser-known Global Investment Certification that is completely free, completely online, requires only 100 hours of training, with a relatively high score.
CFA exam dates
The CFA program includes a series of three exams: Levels I, II, and III. Use the calendar to view upcoming exams and other important exam dates. These dates are subject to change based on conditions. Each exam is held in an exam window, while the exam dates available for each candidate may vary depending on enrollment availability at the time of scheduling.
CFA Institute reserves the right to close registration and schedule dates earlier than previously announced, subject to terms and conditions. For the latest information on upcoming exams, please visit CFA Exam Updates page (link mentioned in the useful section).
CFA scholarship
There are several scholarships available. Following are some of them: –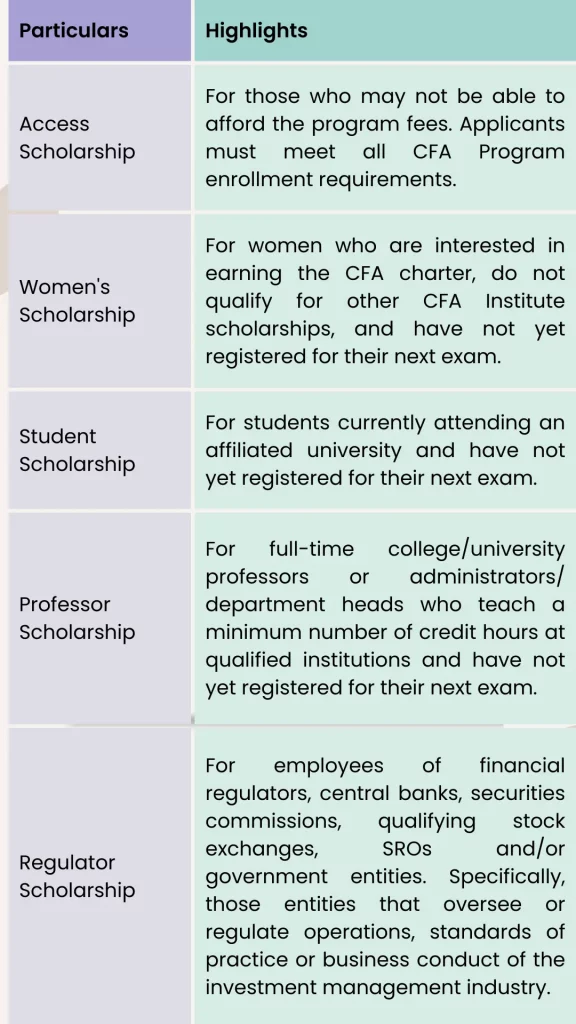 CFA exam pattern
The CFA course consists of three levels of exams that must be passed to obtain professional credentials. Each level of the CFA tests candidates on different aspects spanning the disciplines of finance and investment. To help you understand the process of this course, we have detailed the three CFA level pattern below: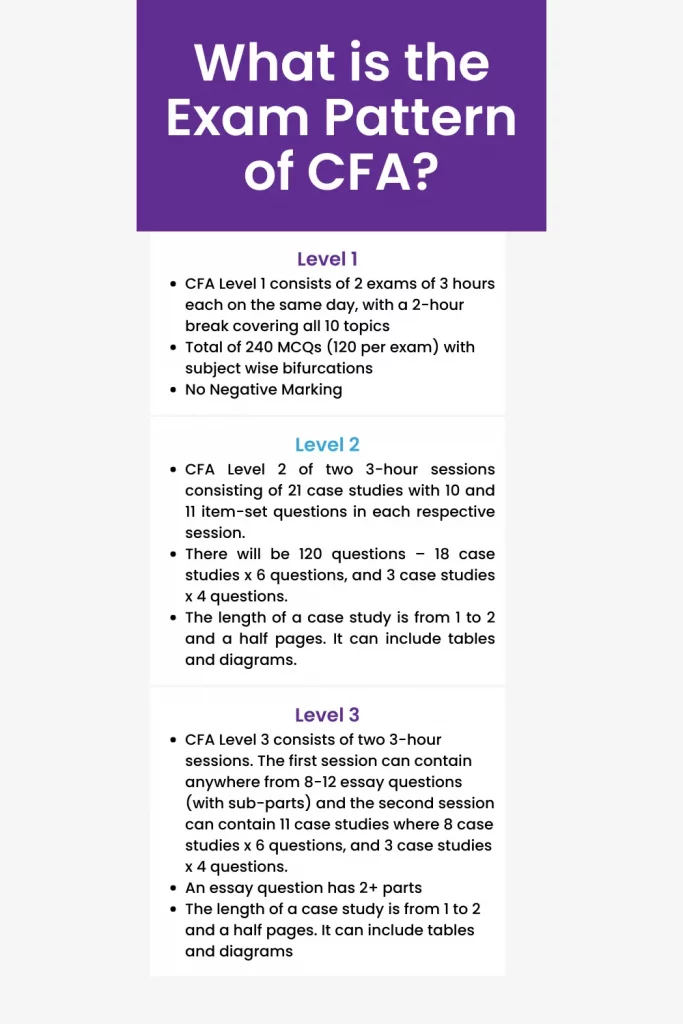 CFA exam fees
The registration fee for the CFA course is US$350. The fee for the CFA course in India is INR 27,090 at the registration stage. The fee for rescheduling the exam date is $250. The detailed fees for the CFA course are given below:
| | |
| --- | --- |
| Registration Type | CFA Course Fee |
| Early Registration | USD 900 (i.e., Rs. 69,660) |
| Standard Registration | USD 1,200 (i.e., Rs. 92,880) |
CFA level 2 exam date
The CFA Institute has published the CFA Level 2 exam date in 2022 on its official website cfainstitute.org. According to the CFA Level 2 exam schedule, the 2022 CFA Level 2 exams will be held three times a year – in February, August and November. The CFA Level 2 exams for the August 2022 session will be held from August 30 to September 3, 2022. The CFA Level 2 exams for the November session will be held from November 22 to November 26, 2022.
The CFA Institute has also announced the CFA Level 2 exam date 2022 for the May 2023 session The CFA 2022 exam date for the May 2023 session will be held from 23 to 27 May 2023.
Final words
If the CFA course appeals to you because of the tremendous opportunities it offers, but you do not know how it can benefit your career or how you can effectively prepare for this exam, then contact our team of experts.
At iDreamCareer with the help of our Career Counselling and Guidance Services and educational counsellors, we try to help many young confused minds from 9th class, 10th class, class 11, class 12 with an aim to select their suitable career choices.
Also Read:
FAQs
Can I apply for CFA in my final year?
Yes, final-year students are eligible for CFA.
Is work experience required for CFA?
Yes, must have work experience of 4 years or more.
How competitive is the CFA?
The level of competition depends on the level, it can be between 40% and 50%.
How to check CFA level 1 exam date 2022?
A candidate should keep track of all the CFA exam-related dates. Missing any important date might lead to missing important deadlines such as the last date to apply, examination date, date of result, etc. Hence, a candidate should keep on visiting the official website to know about important dates or any date-related changes.
Discover More by accessing the Free Career Dashboard
This will help us share relevant information with you
Trending Posts


Anushree has 4+ years of experience in the career counseling industry as a Senior Content Writer. She has also worked as a Social Media Marketing Expert for a startup and Content Quality Analyst for Publishing and E-learning Industry. She has done her Master's in Commerce and PGDM in Finance & Trade and Marketing & HR, but she is currently following her passion for writing.