Whatever the point of entry, there is a chance of high growth in the field of Banking. Also, there are vast avenues for networking, social service, making a name for oneself and self-satisfaction. A working person always earns more than what he can carry around in his pocket. This extra money not only needs safeguarding but also further investment so that it can earn more money. Yes. We are talking about a career in Banking.
Career Fact: Switzerland, a country which is a mere 132nd area-wise and 98th population-wise in the world, is the financial capital of the world since it is the most preferred banking destination in the world.

What is Banking?
Banking is the management of other people's money. In earlier times, a career in banking was limited to loans and safeguarding of deposits. Now the services provided by banks have increased manifold like providing debit and credit cards, lockers, ATM services, online transfer of funds, insurance, brokerage services, fund managers, risk management services, advice to corporates, etc.
With the increase in the roles played by banks, the need for skilled professionals to manage the same has also risen. Apart from Graduates and Post-graduates, professionals like CA, MBA, MCA, Actuaries are enjoying a lucrative career in banking.
Top International Institutes
Most MBA courses offered internationally by reputed universities have integral banking courses as a part of their financial concentrations.
Top Indian Institutes
Apart from these courses employees of various banks can pursue diploma, certificate and management courses offered by the Indian Institute of Banking and Finance (IIBF), a professional body of banks, financial institutions and their employees.
Recruitment Process
Public Sector Banks generally recruit at two levels:
Clerical: The minimum qualification is 10+2. Selection is through a competitive exam. On clearing of JAIIB and CAIIB certificates, the candidates can reach up to the level of Chief Managers and above.

Probationary Officer/Assistant Manager: Minimum qualification is Graduation in any discipline. Selection is through a competitive exam. These candidates can reach up to the top-most level i.e. CMD.
Recruitment to the above two cadres is looked after by IBPS, a body for joint recruitment in Clerical and PO cadre in Public Sector Banks. Also, the recruitment of specialists in Middle Management posts like IT experts, Lawyers, CAs, MBAs etc., is undertaken by each Public Sector Bank individually.
Private Banks generally prefer graduates for recruitment at any level. Executive-level jobs are filled with professionals like MBAs, CAs, etc., through the direct interview, campus placement, etc.
Career Path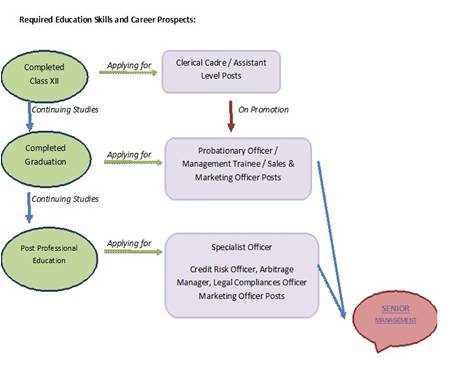 Job Opportunities
Due to the expanding nature of banking operations, there are a number of job profiles active nowadays in banks.
General Branch Banking – In PSB's generalist officers are recruited as Probationary Officers POs and the clerical cadre with remuneration of appx Rs 20,000 a month plus for clerical cadre and Managerial cadre earns appx Rs 40,000 plus perks.

Sales and Marketing Officer – They look after the development of sales and marketing of new and existing products and services offered by the bank. Starting salary for a marketing officer is in the Rs 50,000 plus range, plus commissions on sales.

Product Design Officers – Their main focus is on designing of new and relevant products and services. The preferred candidates are Actuaries and CA's.

Technology Officers – B.Tech, BE or MCA are preferred for these posts. They look after technology-driven banking operations, innovation, and automation. They earn at par with POs.

Investment Bankers – This is a high risk-high gain area. Generally, MBAs from reputed institutes and experienced CA's are preferred. Overseas compensation is as high as 2 crores.

Credit Officers – They look after the credit policy making and approval and disbursal of loans. PSB's appoint POS, however, private banks prefer specialized officers.
There are various other profiles reserved for more experienced and senior management executives like – arbitration, corporate financial consulting, IPO management, etc.
Future Prospects
There is a prospective chance of 4-5 lakh job openings in the banking sector in the next 5 years. Whatever the point of entry, there is a chance of high growth in this field. Also, there are vast avenues for networking, social service, making a name for oneself and self-satisfaction. A career in Banking possesses all the qualities looked for in a good job opportunity, especially if you want to excel in handling financial assets as well as people.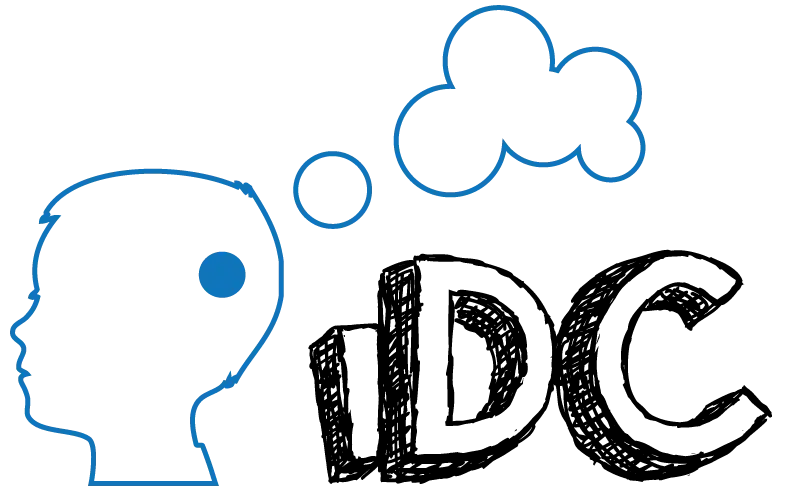 The iDC Editorial Team brings in a collective work experience of more than 25 years in diverse fields spanning from career counselling, management consulting, engineering, and technology to science, finance, and humanities. The team's key competencies are in research and analysis of careers, jobs, and industries. The team boasts a few best-in-class writers on careers and education.