The advent of the twenty-first century marked an era of accelerated progress and economics as a career field saw an uproar providing immense opportunities to individuals passionate about the subject. This blog talks about how to pursue a career in economics and what are the opportunities in this field.
A Career in economics has widened tremendously in the last two decades because of globalization and rapid economic development. The growth of any organization, as well as a nation, depends upon the economic policies undertaken. Economists are well-qualified specialists and strategists who analyze, devise and predict economic trends. Based on their theories and derivations, policies are implemented as action plans.
The scope of the subject is significant at both national and international levels because the ever-increasing role of economics is being understood by nations & organizations. There is an extensive demand for economic researchers, analysts, consultants, and strategists who are well-trained to understand changing economic trends. Economic advisors are now seen as an inevitable part of any small- or large-scale organization.
The field of a career in economics is highly interesting and offers a diversity of subjects within it. Banking, industrial sector, trade, commerce, taxation, finance, insurance, and several other areas require basic to advance knowledge of economics. Thus, in order to establish a shining career with great economic growth, economics can serve as the right career option.
What is covered in this post?
To make it easier for you, we have created a quick guide to everything you need to know about a career in economics.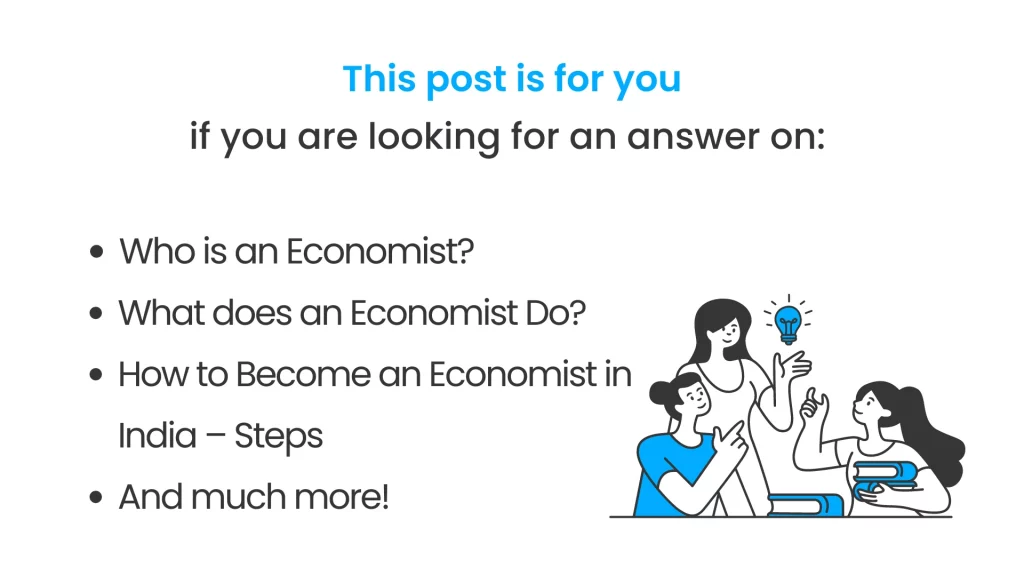 Who is an Economist?
Economists study and analyze the ways people, nations, and businesses use scarce resources such as land, labor, raw materials, and money to produce goods and services. They study and analyze the various ways as well as the costs and benefits of distributing and consuming these goods and services. Economists carry out research, collect and analyze data, monitor economic, business, and political trends, and develop forecasts for future situations. Their work helps nations shape policies to benefit people; helps businesses to make crucial decisions; helps investors to decide where to invest; and so on.
Why Study Economics?
There are many reasons why someone might choose to study economics. Here are some of the most common ones:
Understanding how the world works: Economics is the study of how individuals, businesses, and governments make decisions about allocating resources. By studying economics, you can gain a deeper understanding of how the world works and why certain events occur.
Career opportunities: Economics is a versatile field that can lead to a wide range of career opportunities. Graduates can work in government, business, finance, consulting, research, education, and many other fields.
Improved decision-making: Economics provides individuals with the tools and analytical skills to make informed decisions about personal and professional matters. Studying economics can help individuals make better decisions about investments, employment, and other important decisions.
Contributing to society: By studying economics, individuals can gain a better understanding of how policies and decisions affect society as a whole. This can lead to better public policy decisions that improve people's lives.
Personal development: Economics teaches critical thinking, problem-solving, and analytical skills that are valuable in many aspects of life. Studying economics can also help individuals become better-informed citizens and engage in meaningful debates about economic policy issues.
Discover More by accessing the Free Career Dashboard
This will help us share relevant information with you.
What does an economist do?
As an economist, you will study how and why societies, nations, businesses, and people distribute resources such as land, labor, money, etc., and deal with the scarcity of these resources. You will study how resources and scarcity affect and relate to human well-being. You will study and advise how scarce resources could be used judiciously and in the best possible way for the benefit of individuals, enterprises, Governments, and people at large.
Following are some of the roles and responsibilities you will be required to carry out as an economist:
Collect, compile, and analyze data, and present economic relationships through mathematical theories.
Provide information that will be useful for decision-makers by using economic theory, mathematics, and statistics to solve real-world problems.
Study the costs and benefits of an action or a goal and derive the best way to accomplish a particular goal.
Carry out tests to determine if a given economic theory is based on facts or has practical significance.
Study the about incentives and their nature, and how incentives can be used in a social, moral, and financial sphere to accomplish goals
Study consumer and business choices and trade-offs that can be made to achieve optimum functionality.
Conduct research, prepare reports or formulate plans to address economic problems related to the production and distribution of goods and services or monetary policies and other policies relating to government revenue.
Collect and process economic and statistical data using statistical & mathematical theories on a sample group, which can then be used to predict the tendencies of larger groups.
Analyze market spheres and seek to maximize profit.
Disseminate knowledge and undertake trainees.
Forecast production and consumption of resources and supply, consumption, and depletion of resources.
Formulate recommendations, policies, or plans to solve economic problems or to interpret the market functionality
Study the impacts that new public policies, such as proposed legislation or taxes, will have on the progression of society.
Study economic and statistical data in the area of specialization, such as finance, labor, or agriculture.
How to Become an Economist in India – Steps
To become an economist in India, you generally need to follow these steps:
Complete your 10+2 education: You need to complete your 10+2 education with a background in Mathematics and Economics as the main subjects.
Pursue an undergraduate degree: You can pursue a Bachelor's degree in Economics (B.A. in Economics) or Bachelor of Science (B.Sc.) in Economics or a B.Com degree with a specialization in Economics.
Pursue a Master's degree: After completing your undergraduate degree, you can pursue a Master's degree in Economics (M.A. in Economics) or a Master of Science (M.Sc.) in Economics. You can also opt for an MBA or an M. Phil in Economics.
Build your skills and knowledge: As an economist, you need to have strong analytical and quantitative skills, in addition to excellent writing and communication skills. You may also need to be proficient in using computer software for data analysis.
Gain work experience: To gain work experience, you can work as an intern or research assistant with a reputed economics research institute or organization.
Pursue a Ph.D.: If you want to advance your career in economics, you may pursue a Ph.D. in Economics.
Keep yourself updated: Keep yourself updated with the latest research, trends, and policies in the field of economics. You can attend conferences, workshops, and seminars, and read journals and publications related to economics.
Look for job opportunities: You can work in various sectors such as government, research institutions, international organizations, consulting firms, banks, and corporations.
Eligibility Criteria to Become an Economist
The eligibility criteria to become an economist in India may vary depending on the organization or institution that you wish to work for. However, here are some general requirements:
Educational Qualifications: To become an economist in India, you typically need to have a Bachelor's degree in Economics or a related field such as Mathematics or Statistics. You may also need to have a Master's degree in Economics or a related field. Some institutions or organizations may require a Ph.D. in Economics.
Age Limit: There is no specific age limit to becoming an economist in India.
Nationality: You must be a citizen of India or hold a valid work permit or visa to work in India.
Required Skills: As an economist, you need to have strong analytical and quantitative skills, in addition to excellent writing and communication skills. You may also need to be proficient in using computer software for data analysis.
Entrance exams: Some universities or institutes may require you to clear entrance exams such as the UGC-NET, GATE, or JRF to be eligible for admission to their postgraduate or research programs in economics.
Other Requirements: Depending on the organization or institution, you may be required to have knowledge of specific areas such as macroeconomics, microeconomics, econometrics, international economics, environmental economics, development economics, or finance.
Career Options in Economics
In this section, we will discuss job opportunities as an economist. Immense opportunities are available in economics and individuals can select any of the fields they desire to pursue in this sector. There are both public and private sector jobs available in abundance. Freelancer jobs as economic analysts, critics, and reviewers also have great scope. They can specialize in macroeconomics and deal with investments, inflation, and productivity-related jobs.
Most economist jobs require a postgraduate degree qualification at least. Following are some of the job positions one can get:
Junior Research Fellow, after clearing NET-JRF or other relevant entrance exams.
A Junior Time Scale (JTS)/ Assistant Director/ Research Officer (Grade IV) after clearing the IES (Indian Economic Service) exam, after post-graduation.
Postdoctoral Research Fellow, after Ph.D.
Teacher in the Army Education Corps.
Economics officer (Junior Investigator) in the Government.
Analyst / Associate Analyst in BFSI (Banking, Financial Service, Insurance) industry
Young Professional (Consultant) in BFSI & Government.
Research Associate in BFSI & Government Institutes
Grade A officer (Assistant Manager) at SEBI through SEBI recruitment exam after Graduation
Equity Research Analyst
Assistant Manager of Trade Finance
Economists can find teaching, research, analyst, or consultant job roles across Education Institutes, Government Agencies, Socio-economic Research Centres, Banking, Financial Service companies & Insurance agencies.
Salary of Economist in India
The salary of an economist in India can vary depending on a number of factors such as experience, education, industry, and location.
According to PayScale, the average salary of an economist in India is around ₹707,697 per year. However, salaries can range from ₹302,486 to ₹2,424,670 per year depending on the factors mentioned above.
Additionally, economists working in the private sector or in industries such as banking, consulting, or finance may have higher salaries compared to those working in academia or government. Salaries can also vary based on location, with major cities like Mumbai, Delhi, and Bangalore typically offering higher salaries compared to smaller cities or rural areas.
Final words!
A career in economics is adorned with honor, recognition, knowledge, skilled expertise, and financial gains. The scope of this sector is constantly increasing. Post the economic crises and recession era, the role of economists has increased as they tend to predict the rise and fall of the world market economy. This industry is the basis of every other sector and hence it has tremendous prospects to offer. Why not pursue a career in such an amazing field where intellect and economic gains come hand in hand?
We hope we have served you with enough information. Do you still want to get your doubts answered? Why don't you connect with our industry experts? Yes, you read it right! You can get your queries resolved in just 60 seconds from our Career counselors. So, what are you waiting for? Download the iDreamCareer app now!
iDreamCareer always believes in helping young minds discover their true mettle. We try to help young confused minds from 9th class, 10th class, class 11, class 12 with an aim to select their most-suited career choices.
Also Read:
Career in Economics: FAQs
What is economics?
Economics is the social science that studies the production, distribution, and consumption of goods and services.
What are the career opportunities in economics?
Some of the popular career opportunities in economics include economist, financial analyst, market research analyst, data analyst, policy analyst, consultant, and academician.
What are the qualifications required for a career in economics?
To pursue a career in economics, one must have a bachelor's degree in economics, business, finance, or a related field. A master's or a Ph.D. degree in economics can enhance career prospects in this field.
What are the skills required for a career in economics?
The skills required for a career in economics include strong analytical and critical thinking skills, excellent communication and writing skills, proficiency in statistical and data analysis tools, and a solid understanding of economic theories and principles.
What are the job prospects in economics?
The job prospects in economics are generally good, with a projected growth rate of 14% for economists and 18% for market research analysts from 2020-2030, according to the BLS.
What are the challenges of a career in economics?
Some of the challenges of a career in economics include the constant need to keep up with changing economic trends, the need to work with complex and large datasets, and the pressure to provide accurate economic forecasts and analyses.
Discover More by accessing the Free Career Dashboard
This will help us share relevant information with you
Trending Posts


Anushree has 4+ years of experience in the career counseling industry as a Senior Content Writer. She has also worked as a Social Media Marketing Expert for a startup and Content Quality Analyst for Publishing and E-learning Industry. She has done her Master's in Commerce and PGDM in Finance & Trade and Marketing & HR, but she is currently following her passion for writing.