Here you have the most challenging competitive exams. These are the toughest exams in India today.
When we look at how tough an exam is, we must judge them at least by these 4 factors:
Number of competitors
Number of seats available
Quality of competitors
Pass rates trend
.
As 1 and 2 increases, it is obvious that 3 will decline. 4 should ideally vary with 3. However, 3 is neither definite nor quantifiable. So, it is assumed that 3 increases as 4 scales upwards. Also, 3 is not, in any way, related to 2 or 1. There are no relations between the first three.
Matrix Re-look
Depending on these four and the stages of life when the exams are taken, we have prepared a matrix for ease of understanding. First, have a look at the matrix. These are the conventional toughest exams in India. Then we go into the details about the exams.
Also, this is not a ranking list and is not exhaustive in any way. Please use your discretion before utilizing information shared here for other targets.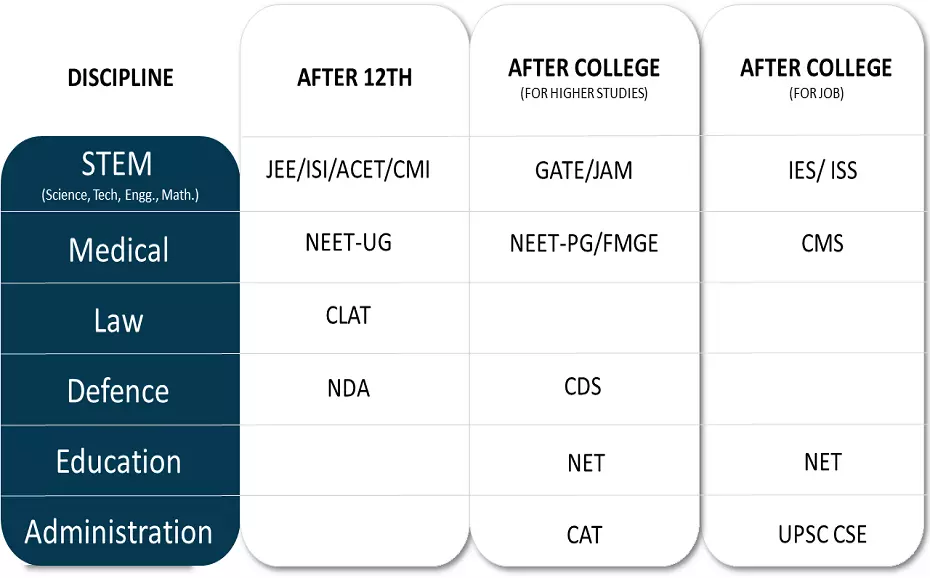 Brief Descriptions of The Toughest Exams
Here are short introductions to the exams from the matrix above. You will find a para on each of them below.
Read along. You may discover something you didn't know!
Some may be known to you and some are not so popular. Also, as we move away from the school level exams, the number of applications obviously drop and so does the popularity. The only exception being the UPSC exams which is both popular and challenging!
ISI Exam
This is considered one of the toughest entrance exams in the world. Selected students are offered entry into one of the most prestigious institutions, the Indian Statistical Institute (ISI). The courses are B.Math and B.Stat. degree programs at ISI.
ACET
Actuarial sciences, heard of it? ACET is a not-so popular exam but is gaining immense following as it is tough to crack and is a self-paced course which promises sky-high salaries at the end. ACET offers entry into the Indian Actuarial Institute (IAI). Even if you manage to crack ACET, the subsequent papers are hell of a shot. But, once you are done with at least 3 papers, you are sorted for life as you will be hunted by the top-paying companies for hefty packages.
JEE
This is India's centralized national level exam to select meritorious students at the class 12th standard, for engineering disciplines. The exam has 2 levels- JEE Main & JEE Advanced. As you already know, you have to clear both levels to get into any of the IITs. Apart from IITs, JEE scores are also accepted by other Engineering institutions.
CMI
This is also one of the toughest exams in the world and there are only around 100 seats. This is also not a popular exam because of its very low success rate, so competition is very low with only around 10000 applications or slightly more. But, you see, the quality of competitors is outstanding.
NEET-UG
This is India's centralized national level exam to select meritorious students at the class 12th standard, for MBBS. Medical aspirants are in multiples of 1000s and we know this is a tough nut to crack as the number of applicants is obnoxiously high as is the quality of competition. This also includes those who will ultimately be selected for the prestigious Institutes of National Importance (INI) in the country like AIIMS & AFMC so the exam is definitely challenging.
CLAT
This is a national level exam organized by the Consortium of National Law University (NLU) to grant admission for law courses in India at undergraduate and postgraduate levels. It no longer tests rote-learning abilities of candidates and instead, question-related to current affairs are asked.
NDA exam
The NDA exam is conducted for the recruitment of the candidates to the Army, Naval and Airforce. The exam is conducted twice a year to screen out the best candidates for the country's most prestigious defence academy. It is a mandate for candidates to have appeared in JEE (Mains) examination to be eligible for NDA Technical Entry Scheme (10+2).
Check the Army Technical Entry Scheme latest prospectus here.
Check all other Indian army entry routes here.
Discover More by accessing the Free Career Dashboard
This will help us share relevant information with you.
GATE
This exam facilitates admissions for postgraduate engineering courses or M.Techs. Should you opt for GATE after B.Sc or MSc? Can you go for both? This also offers direct entry to government services. Can you opt for MTech after doing BSc? GATE tests your concepts taught during 4 years of an undergraduate degree.
JAM
This is also not a very popular exam but every year more than 50000 applications are received. This exam aims at selecting candidates for MSc courses in the IITs specifically for Physics Chemistry Mathematics Geology and Biotechnology. This exam is also for graduates only.
NEET-PG
This is also a very challenging exam and is specifically for medical graduates who aim at completing their MD level studies in government colleges of India. This is planned to be replaced by the NEXT exam soon.
FMGE
This is a licensure examination for medical graduates who have pursued medicine abroad, in order to practice in India. Firstly, only NEET-selected candidates can go abroad to study medicine, as per recent norms. The quality of returning doctors were falling rapidly (they couldn't pass NEET-PG) and these students were typically from very well-off families and finally after landing up there for MBBS, they used to find it very difficult to pass even the first set of papers in college. So, NEET was made mandatory for studying medicine abroad, recently. After they come back, they can either clear NEET-PG to study MD or get a license to practice here through FMGE. However, both NEET-PG and FMGE along with the MBBS final year exams are planned to be replaced by NEXT.
CDS exam/AFCAT
CDS exam is to select graduates for the defence services of India. AFCAT is for selection in the Indian Air Force only, except the dental or medicine branches of the forces.
CAT
This needs no introduction obviously because of high-paying packages offered to MBA-degree holders. CAT offers entry into prestigious management colleges in the country for an MBA degree.
IES
IES (Indian Engineering Services) exam aims to shortlist candidates for various engineering positions and vacancies under the different departments of the Government of India.
ISS Exam
In order to be eligible for Indian Statistical Service Examination, you must hold a Bachelor's degree in Mathematics/Mathematical Statistics/ Statistics/ Applied Statistics or similar field. The minimum age to be eligible for ISS exam is 21 years and the maximum age is 30 years. The Indian Statistical Service examinations and recruitment are conducted by the Union Public Service Commission (UPSC). The examination is conducted in two parts. Part I comprises of total 6 papers of 1000 marks. The first two papers will be of subjective type and carries 100 marks each and the other four papers are of 200 marks each.
CMS
Combined Medical Services Examination is conducted for recruitment as Medical Officer in various government posts.
NET
The National Eligibility Test (NET), also known as UGC NET, is for selecting candidates for the posts of college lecturers or for PhD openings in government research institutes in the country.
UPSC CSE
This needs no introduction. This exam is by far, the toughest in terms of scale of competition. This is to select candidates for the Indian Administrative Services, Indian Police Services, Indian Revenue Services etc.
Final Words
There you have our compilation of the toughest exams in India today. We wish you all the best in case you are aiming at any of them. Otherwise, if you are still unsure of your capabilities or your targets, you can confidently get in touch with out senior counsellors for students. iDreamCareer has been helping young confused minds from 9th class, 10th class, class 11, class 12 with an aim to select their suitable career choices.
Our Latests
.
Discover More by accessing the Free Career Dashboard
This will help us share relevant information with you
Trending Posts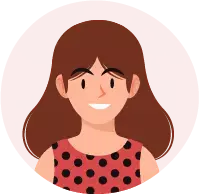 After acquiring a Master's in Biophysics-Biostatistics and having subsequent experience in computational proteomics of animal proteins. Sreenanda has been working in this career counselling industry for 4+ years. She holds expertise in research and analysis of careers, jobs, and industries.