The Indian education system is one of the best education systems in the world. The number of students who take various entrance exams every year is huge. Thousands of exams are conducted in India every year; most of them are easy to crack, but some of them are considered the most durable. Yes, there are many competitive exams which are known as toughest exams in India.
Do you know?

A competitive examination refers to an examination conducted by a government or a company to recruit candidates who possess the necessary skills and intelligence for a good job.
Competitive exams are designed and designed to measure aptitude, mental toughness, technical skills, physical fitness, etc. These exams are administered orally, online, with pen and paper, or in a pattern that requires the test taker to have a specific set of skills. When we look at how tough an exam is, we must judge them at least by these 4 factors:
Number of competitors
Number of seats available
Quality of competitors
Pass rates trend
As 1 and 2 increase, it is obvious that 3 will decline. 4 should ideally vary with 3. However, 3 is neither definite nor quantifiable. So, it is assumed that 3 increases as 4 scales upwards. Also, 3 is not, in any way, related to 2 or 1. There are no relations between the first three.
We don't want to scare you! Always remember, they are just exams. Don't panic, take a deep breath and prepare well for these toughest exams… Nothing is impossible, you can do it!
What all is covered in this post?
To make it easier for you, we have created a quick guide to everything you need to know about the toughest exams in India.
Now enough of talking let's come along to have a detailed understanding… After all we are here for a reason…
List of top 10 toughest exams in India
Here is the list of the toughest exams in India. Read along. You may discover something you didn't know!
Some may be known to you and some are not so popular. Also, as we move away from the school level exams, the number of applications obviously drops and so does the popularity. The only exception is the UPSC exams which are both popular and challenging!
Let's start…
ISI Exam – Indian Standards Institute
ACET – Actuarial Common Entrance Test
JEE – Joint Entrance Examination
NEET-UG – National Eligibility Entrance Test UG
NEET-PG – National Eligibility Entrance Test PG
GATE – Graduate Aptitude Test in Engineering
CAT – Common Admission Test
NDA exam – National Defence Academy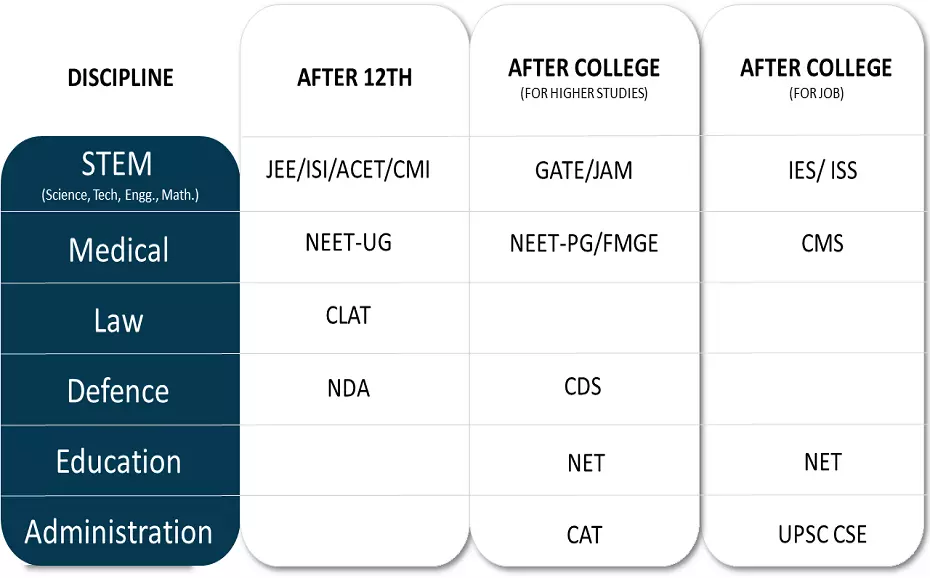 Discover More by accessing the Free Career Dashboard
This will help us share relevant information with you.
About the top 10 toughest exams in India
In this section, we will discuss the above-mentioned toughest exams in India along with their eligibility and other key details:
Union Public Service Commission (UPSC)
The Union Public Service Commission, also known as UPSC is India's top central hiring body for all Group 'A' officers employed by the Indian government. All Group "A" roles of all central government entities, which also include all central public sector undertakings and all central autonomous bodies, are subject to its recruitment and examination procedures.
Eligibility
Nationality requirements for the IAS exam include being an Indian citizen, someone of Indian ancestry, or a subject of Nepal, Bhutan, or Tibet who had been resident in India before January 1, 1962.
Candidates for the IAS exam must possess a graduate degree from an accredited university.
The minimum age requirement for the UPSC Civil Services Exam is 21 years old, and the maximum age is 32 years old.
Note – Category-wise age limit relaxation has been allowed by the conducting body. Candidates are kindly advised to verify the same with the official notification list.
Application Fee: INR 100
Indian Standard Institute Exam (ISI)
Indian Standard Institute) is a once-a-year national-level online entrance exam that ISI Kolkata administers to students who wish to be admitted to a variety of courses, including B Stat (Hons), B. Math (Hons), M Stat, M Math, MS (QE), M Tech (CS), M Tech (CrS), M Tech (QROR), MS (QMS), MS (LIS), PG Diplomas, and Research Fellowships. The grades obtained in the written exam and interview are used to determine admission.
Eligibility
Regarding B.Stats/B.Maths (Hons): An applicant must have successfully finished the 12th grade with English and Mathematics as the required subjects in order to be admitted to this program.
For M.Tech. Computer Science/M.Tech. CrS (Cryptology & Security): A Master's degree in Physics, Electronic Science, Mathematics, Statistics, IT, Computer Science, or a B. Tech. or BE, or an equivalent degree such as GRAD, AMIE, DOEACC, or ISTE, is required of applicants.
For the degrees M.Stats, M.Maths, MSc in Library & Information Science, and MSc in Quality Management: A bachelor's degree in a related field of study is required for admission to the aforementioned program.
PGD (Agricultural and Rural Management): To be eligible for admission to this program, a candidate must hold a three- or four-year Bachelor's Degree in any area with Mathematics or Statistics as a topic studied at least at the intermediate (10+2 level).
Application Fee – ₹1250
Actuarial Common Entrance Test (ACET)
Candidates who intend to join as student members of the Institute of Actuaries of India and desire to take actuarial tests are eligible to take the "Actuarial Common Entrance Test."
Eligibility
Students who have appeared 10+2 or an equivalent examination and waiting for the result.
A candidate who has passed 10+2 or any other higher courses/examinations.
Diploma.
Finance, or any other stream, but you have love for Mathematics and skills in Numeracy.
Mathematical Sciences: Maths, Statistics, Econometrics or any other.
Engineering.
Management.
Chartered Accountant, Cost Accountant, or Company Secretary.
Application Fee: ₹3000
Joint Entrance Examinations (JEE)
For admission to different engineering institutes in India, the Joint Entrance Examination is an engineering entrance exam. It is made up of the JEE-Main and the JEE-Advanced, two separate exams.
Eligibility
Student must have passed 10+2 in a Science stream with Maths as a core subject
Students must have secured an aggregate of 75%
Application Fee: 1000
National Eligibility Entrance Test – UG
Previously known as the All India Pre-Medical Test (AIPMT), the National Eligibility criteria Entrance Test (Undergraduate) or NEET (UG) is an all-India pre-medical entrance exam for students wishing to enroll in undergraduate medical (MBBS), dental (BDS), and AYUSH (BAMS, BUMS, BHMS, etc.) programs in government and private institutions in India as well as for those planning to pursue primary medical education abroad.
Eligibility
Candidates must have completed the 10+2 program, or an equivalent, with core courses in Physics, Chemistry, Biology/Biotechnology, and English from an accredited board.
Aspirants who are taking Class 12 or an equivalent exam are also eligible to apply for NEET.
Application Fee: ₹1600
National Eligibility Entrance Test PG
Students who intend to enrol in various postgraduate Doctor of Medicine, Master of Surgery, and diploma courses at government or private medical institutes in India must first pass the National Eligibility cum Entrance Test (Postgraduate).
Eligibility
The Indian Medical Council Act of 1956 requires candidates to hold an MBBS degree or a provisional MBBS pass certificate.
Candidates must possess a Medical Council of India (MCI) or State Medical Council (SMC) or MCI-issued MBBS qualification registration, either permanent or provisional (MCI).
Candidates who meet the NEET PG qualifying requirements must finish a one-year internship.
Application Fee: ₹4250
Graduate Aptitude Test in Engineering
For the purpose of admission to master's programs and employment in public sector companies, the Graduate Aptitude Test in Engineering is an exam administered in India that primarily assesses the thorough comprehension of numerous undergraduate engineering and science disciplines.
Eligibility
A candidate who has already completed any government-approved degree program in Engineering / Technology / Architecture / Science / Commerce / Arts is eligible for appearing in the GATE exam.
Application Fee: ₹1700
Common Admission Test
For entry into graduate management programs, the Common Admission Test is a computer-based exam. Verbal Ability and Reading Comprehension, Data Interpretation and Logical Reasoning, and Quantitative Ability make up the three portions of the test.
Eligibility
Educational Qualification: Bachelor's Degree
Marks in Graduation: 50%
Application Fee: ₹1800
National Defence Academy
For entry into the Army, Navy, and Air Force wings of the NDA, UPSC administers the NDA exam. Candidates who want to join the Army, Navy, or Air Force should take this exam as a first step.
Eligibility
The applicant must have taken and passed Class 12 or an equivalent exam from an accredited board.
The applicant must be taking or have passed a class 12 or equivalent exam in mathematics and physics.
Application Fee: ₹100
Common Law Admission Test
Except for NLU DELHI, which accepts admission via the AILET exam in India, the Common Law Admission Test is a centralised national level entrance test for admission to 23 National Law Universities. These scores are also used for admission to the majority of privately and independently funded law schools in India.
Eligibility
Candidates must have received 45% overall, or the equivalent, in their 10+2 exam or an equivalent test.
Candidates from the reserved categories must have received 40% overall, or an equivalent, in their exams.
Application Fee: ₹4000
Final words
There you have our compilation of the toughest exams in India today. We wish you all the best in case you are aiming at any of them. If you are doubtful of making a career selection and want a second opinion about how to crack the toughest exams in India, then why take a chance? Talk to expert career counselors now and get unbiased guidance on whether or not you should pursue your dream. You can also have a look at our Career Planning Program. You can also get your queries resolved in just 60 seconds from our Career counselors. So, what are you waiting for? Download the app now! iDreamCareer has helped millions of young minds like you from 9th class, 10th class, class 11, and class 12 discover their true mettle and is ready to help you too.
ALSO READ:
FAQs
What is the first most difficult exam in India?
ISI (Indian Statistical Institute) entrance test is national level. It is considered to be the toughest exam in India.
Which is more difficult IIT or UPSC?
The Union Public Service Commission (UPSC) exams have been ranked third in this list, making it the second most difficult exam in India after the IIT JEE exam. The Graduate Aptitude Test in Engineering (GATE), which was ranked eighth, is the third most difficult exam in India.
Is IAS more difficult than JEE?
UPSC exam if you clear this exam, you become IAS, IPS, IES, IRS and many more. The competition here is so high that around 10 lakh candidates appear for the UPSC exam and around 1000 posts for selection. So now you might be wondering what type of tough competition there is.
What is the longest exam in the world?
The Gaokao exam is a compulsory exam that every high school student in China who wants to pursue higher education must take. The exam is held for 9 hours over two days. Only about 0.2 percent of applicants scored high enough to get into top colleges.
In which country is the most difficult exam?
Every year, millions of students in China take the Gaokao, which is taken by students in the third and final year of high school, usually from June 7 to 8 or 9. It is the Chinese version of the American SAT test and the British A-level test. known as one of the toughest exams in the world.
Our Latests
.
Discover More by accessing the Free Career Dashboard
This will help us share relevant information with you
Trending Posts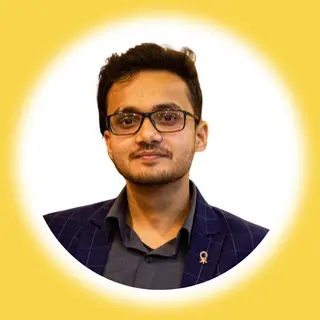 Sushant has been writing since his early days of childhood and currently, he's serving as a Content Writer with iDreamCareer. Sushant has two start-ups of his own and he has been writing content for them since their inception. Apart from that he is passionate about writing which is why he is following his passion for writing with iDreamCareer.