NEET Exam or National Eligibility cum Entrance Test, is an entrance examination for medical aspirants wanting to pursue a career in this field. The exam is conducted as per the regulations of the National Medical Commission Act-2019, Indian Medical Council Act-1956, and the Dentists Act-1948 and others as amended consequently. To have sure shot success in the NEET exam, we believe you must have a detailed guide on the NEET pattern & syllabus 2023. And so we have curated this guide for you!
What to know?

NEET 2023 Exam Date Announced NEET 2023 Application Form will be published by 1st week of April 2023. NEET 2023 will be conducted by National Testing Agency (NTA). The NEET entrance exam is conducted every year.
NEET 2023 is a national-level entrance test that is organized for admission to MBBS and BDS courses. Admission will be given to the students who will successfully qualify for NEET 2023 after obtaining the qualifying marks. NEET 2023 exam is a single medical examination for admission to the MBBS course. Admission to the MBBS course offered by JIPMER and AIIMS institutions will be through NEET UG 2023 scores.
Without further ado! Let's get started…
What all is covered in this post?
To make it easier for you, we have created a quick guide to everything you need to know about the NEET pattern & syllabus 2023.
Highlights of the NEET Exam
In this section, we will introduce you to the highlights of the NEET 2023 exam.
NEET 2023 online form submission can start from December 2022.
You are restricted to apply for the NEET exam through online mode. There is no offline application submission.
Students can submit the application form only through the official website of NTA – nta.ac.in / www.ntaneet.nic.in.
Students must provide their mobile phone number and email address.
Students must upload their photo (10kb to 200kb) and caption (4kb to 30kb) in JPG/JPEG format.
They need not send/send the confirmation page or any other documents to NTA by post/fax/manual.
Providing false information will disqualify you from appearing in future examinations conducted by NTA.
Examination fees once submitted will not be refunded under any circumstances. The possible application fee will be Rs.1400 for the unreserved category and Rs.750 for OBC/SC/ST/PwD/Transgender. Service/handling charges and GST will be payable as per the rules.
Students can make application payments through Credit Cards, Debit cards, Net Banking, and e-Challan.
Discover More by accessing the Free Career Dashboard
This will help us share relevant information with you.
NEET Exam Pattern 2023
According to the NEET 2023 exam pattern, the question paper will consist of 200 questions out of which the candidates have to attempt 180. The candidates need to go through the exam pattern to get an idea about the NEET exam and prepare accordingly.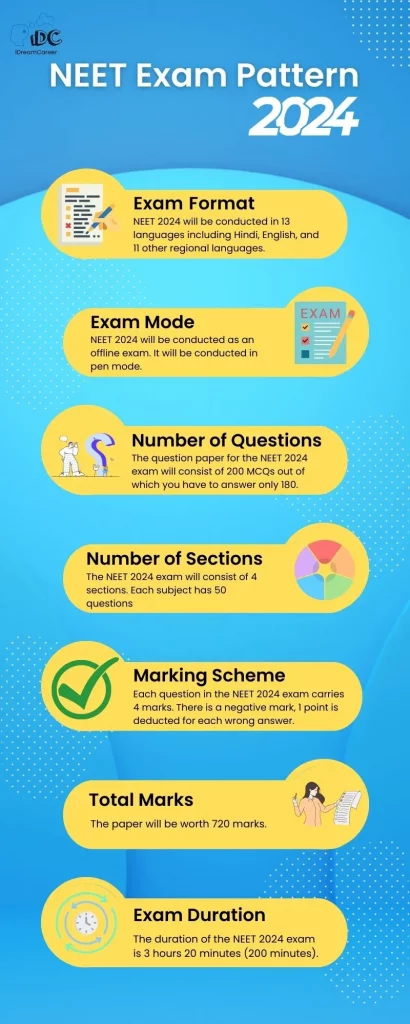 Exam Format
NEET 2023 will be conducted in 13 languages ​​including Hindi, English, and 11 other regional languages ​​- Odia, Assamese, Kannada, Bengali, Marathi, Malayalam, Tamil, Telugu, Gujarati, Punjabi, and Urdu.
Exam Mode
NEET 2023 will be conducted as an offline exam i.e.; it will be conducted in pen mode in more than 500 test cities across India. Like last year. The NEET 2023 exam is expected to be held in 14 exam cities abroad.
Number of Questions
The question paper for the NEET 2023 exam will consist of 200 MCQs out of which you have to answer only 180.
Number of Sections
The NEET 2023 exam will consist of 4 sections (Biology is divided into Botany and Zoology). Each subject has 50 questions, 35 from Section A and 15 from Section B. Out of 15 questions from Section B, candidates have to attempt 10 questions.
Marking Scheme
Each question in the NEET 2023 exam carries 4 marks. There is a negative mark, i.e., 1 point is deducted for each wrong answer. However, marks are not deducted for leaving a question unattempted
Total Marks
The paper will be worth 720 marks.
Exam Duration
The duration of the NEET 2023 exam is 3 hours 20 minutes (200 minutes). Keep in mind that there is no section time limit in the NEET exam.
Note: If you want to know what important exam dates are, refer to our NEET 2023 exam dates post!
NEET Exam Syllabus 2023
In this section, we will discuss the NEET exam syllabus 2023 for UG & PG.
NEET UG Syllabus
NEET 2023 Syllabus consists of Class XI and Class XII topics in Physics, Chemistry, and Biology. The latest NEET UG Syllabus has a total of 97 Sections/Chapters. Here is the subject-wise syllabus for each subject:
| | |
| --- | --- |
| Class 11th Syllabus | Class 12th Syllabus |
| NEET Physics Syllabus | NEET Physics Syllabus |
| Physical world and measurement | Electrostatics |
| Kinematics | Current Electricity |
| Laws of Motion | Magnetic Effects of Current and Magnetism |
| Work, Energy and Power | Electromagnetic Induction and Alternating Currents |
| Motion of System of Particles and Rigid Body | Electromagnetic Waves |
| Gravitation | Optics |
| Properties of Bulk Matter | Dual Nature of Matter and Radiation |
| Thermodynamics | Atoms and Nuclei |
| Behaviour of Perfect Gas and Kinetic Theory | Electronic Devices |
| Oscillations and Waves | |
| NEET Chemistry Syllabus | NEET Chemistry Syllabus |
| Some Basic Concepts of Chemistry | Solid State |
| Structure of Atom | Solutions |
| Classification of Elements and Periodicity in Properties | Electrochemistry |
| Chemical Bonding and Molecular Structure | Chemical Kinetics |
| States of Matter: Gases and Liquids | Surface Chemistry |
| Thermodynamics | General Principles and Processes of Isolation of Elements |
| Equilibrium | p- Block Elements |
| Redox Reactions | d and f Block Elements |
| Hydrogen | Coordination Compounds |
| s-Block Element (Alkali and Alkaline earth metals) | Haloalkanes and Haloarenes |
| Some p-Block Elements | Alcohols, Phenols and Ethers |
| Organic Chemistry- Some Basic Principles and Techniques | Aldehydes, Ketones and Carboxylic Acids |
| Hydrocarbons | Organic Compounds Containing Nitrogen |
| Environmental Chemistry | Biomolecules |
| — | Polymers |
| — | Chemistry in Everyday Life |
| NEET Biology Syllabus | NEET Biology Syllabus |
| Diversity in Living World | Reproduction |
| Structural Organisation in Animals and Plants | Genetics and Evolution |
| Cell Structure and Function | Biology and Human Welfare |
| Plant Physiology | Biotechnology and Its Applications |
| Human physiology | Ecology and environment |
NEET PG Syllabus 2023
NEET PG Syllabus 2023 is prepared by NBE. The NEET PG syllabus includes subject areas as per the Post Graduate Medical Education Regulations issued by the Medical Council of India. It is important for the candidate to go through the NEET PG 2023 Syllabus before starting the preparation as it includes topics and subject weightage. The NEET PG Syllabus will give the test taker an idea of ​​the topics he/she needs to prepare for the exam. NBE does not prescribe the NEET PG Syllabus word for word, so candidates can refer to the syllabus prescribed by the Medical Council of India. The NEET PG Syllabus mainly includes the subjects taught in the MBBS course. The NEET PG syllabus covers topics from pre-clinical, para-clinical, and clinical sections.
Following is the list of subjects covered in the NEET PG syllabus:
Pre-clinical Subjects
Anatomy
Biochemistry
Physiology
Para-Clinical Subjects
Forensic Medicine
Microbiology
Pathology
Pharmacology
Social and Preventive Medicine
Clinical Subjects
ENT
Medicine Dermatology and Venereology
Obstetrics and Gynaecology
Ophthalmology
Paediatrics
Radiodiagnosis
Surgery, Orthopaedics and Anaesthesia
Bonus: Top Books for NEET 2023 Exam
To prepare for NEET 2023, candidates can refer the books mentioned below:
Concepts of Physics – H. C. Verma
D C Pandey Objective Physics for NEET -D C Pandey
Elementary Problems in Organic Chemistry for NEET – M. S. Chauhan
GRB A Textbook of Physical Chemistry for NEET – O.P. Tandon
NCERT Biology of Class XI and XII -NCERT
NCERT Chemistry of Class XI and XII – NCERT
NCERT Chemistry Textbooks – NCERT
NCERT Physics of Class XI and XII – NCERT
NCERT Physics Textbooks – NCERT
Objective NCERT at your FINGERTIPS for NEET – Biology -MTG Editorial Board
Objective NCERT at your FINGERTIPS for NEET – Chemistry- MTG Editorial Board
Objective NCERT at your FINGERTIPS for NEET – Physics -MTG Editorial Board
Conclusion
Candidates who are preparing for NEET next year should first familiarize themselves with the exam pattern and syllabus. After that, they need to shortlist the books to prepare for NEET 2023. NCERT books should be referred to complete the topics in the syllabus. Candidates should prepare a NEET preparation schedule. This should be followed to complete the preparation on time.
Hope we have served you enough! Still, got questions? Why don't you connect with our industry experts? Yes, you read it right! You can get your queries resolved in just 60 seconds from our Career counselors. So, what are you waiting for? Download the app now!
iDreamCareer has helped millions of young minds like you from 9th class, 10th class, class 11, and class 12 discover their true mettle and is ready to help you too.
Also Read:
NEET Pattern and Syllabus: FAQs
When will NEET application form be released?
NEET 2023 application form will be released by 1st week of April 2023.
How many sections are there in NEET PG 2023 Syllabus?
The NEET PG 2023 syllabus consists of three sections: Pre-Clinical, Para-Clinical, and Clinical.
Can someone clear NEET after 1 year from zero level?
Nothing is impossible if you prepare hard and are dedicated to the NEET exam. 1 year is enough to clear NEET from zero level. Focus, study every day, go through the NEET syllabus section-wise and weightage, complete NCERT books and refer 1 other guide for each subject, solve previous year papers, join mock test series and revise regularly.
Can we get the correctional facility to edit NEET 2023 application form?
Yes, candidates who have successfully registered will get an opportunity to make corrections to the NEET 2023 application form.
Discover More by accessing the Free Career Dashboard
This will help us share relevant information with you
Trending Posts


Anushree has 4+ years of experience in the career counseling industry as a Content Writer. She has also worked as a Social Media Marketing Expert for a startup and Content Quality Analyst for Publishing and E-learning Industry. She has done her Master's in Commerce and PGDM in Finance & Trade and Marketing & HR, but she is currently following her passion for writing.