UGC NET exam is a national-level exam conducted to test the eligibility of Indian nationals for Assistant Professors' jobs only or for Junior Research Fellowship and eligibility for Assistant Professors' jobs in Indian Universities and colleges. This article is for all those individuals looking for detailed and updated information on UGC NET, the admission process, eligibility, and more.
An Important update: UGC National Eligibility Test (UGC-NET) – June 2020 will be conducted from 16th-18th September 2020 and 21st-25th September 2020, as per Public Notice dated 20-08-2020.
Some facts you must know:
The candidate's performance in both the papers of NET exam determines his/her entitlement of JRF award and Eligibility for Assistant Professor both.
Candidates qualifying exclusively for Assistant Professor will not be considered for the award of JRF.
The recruitment of candidates qualifying the Test of eligibility for Assistant Professor will be governed and regulated by the concerned colleges/ states governments and universities.
What is UGC NET?
University Grants Commission National Eligibility Test or UGC NET is a college/university Teaching & Fellowship Exam. It is conducted to determine the eligibility of Indian Nationals for the position of Assistant Professor only or Junior Research Fellowship & Eligibility for Assistant Professor both in Indian Universities and colleges.
UGC NET is now conducted by the National Testing Agency (NTA)and is usually conducted twice a year.
The candidates with at least 55% marks in Master's degree or equivalent examination from university/ institution recognized by UGC are eligible to apply for UGC NET. To read about the UGC NET exam eligibility criteria in detail, jump on to the next section.
UGC NET Exam Eligibility
A minimum of 55% marks (without rounding off) in Master's Degree or equivalent examination from UGC recognized universities/ institutions in Humanities (including languages) and Social Science, Computer Science & Applications, Electronic Science, etc. are eligible to apply for UGC NET.
Candidates belonging to the Other Backward Classes (OBC) non-creamy layer/ Scheduled Caste (SC)/ Scheduled Tribe (ST) or Persons with Disability, who have secured at least 50% marks in Master's degree or equivalent exam are eligible to apply for UGC NET.
Candidates whose results for Master's degree final examinations are awaited or who are still pursuing their Master's degree are also eligible for UGC NET provided they pass their respective degree with at least 55% marks and within two years from the date of the NET result.
Candidates belonging to the third gender are also eligible to the qualification criteria for SC/ ST/ PwD categories i.e. relaxation in fee, age, and qualification criteria.
For candidates whose Master's level exam dated 19th September 1991 are also eligible for a relaxation of 5% aggregate in qualification marks.
Candidates are required to appear for UGC NET in the subject of their Master's Degree only. If the subject isn't mentioned in the list, candidates can opt for the related subject for the exam.
Top 100 Universities in India Accepting UGC NET Score
As per the NIRF 2020 ranking, following is the list of top 100 Universities in India that accept the UGC NET score for admission to their various doctoral and postdoctoral courses:
Indian Institute of Science
Jawaharlal Nehru University
Banaras Hindu University
Amrita Vishwa Vidyapeetham
Jadavpur University
University of Hyderabad
Calcutta University
Manipal Academy of Higher Education
Savitribai Phule Pune University
Jamia Millia Islamia
University of Delhi
Anna University
Bharathiar University
Homi Bhabha National Institute
Birla Institute of Technology & Science
Vellore Institute of Technology
Aligarh Muslim University
Institute of Chemical Technology
Andhra University
Siksha `O` Anusandhan
Jamia Hamdard
University of Madras
Kerala University
Kalinga Institute of Industrial Technology
Shanmugha Arts Science Technology & Research Academy
Panjab University
Mysore University
Sri Ramachandra Institute of Higher Education And Research
Osmania University
Mahatma Gandhi University
Thapar Institute of Engineering & Technology
King George`s Medical University
JSS Academy of Higher Education and Research
Tata Institute of Social Sciences
S. R. M. Institute of Science and Technology
Alagappa University
Amity University Noida
Sri Venkateswara University
Sathyabama Institute of Science and Technology
Tezpur University
KoneruLakshmaiah Education Foundation University
Saveetha Institute of Medical and Technical Sciences
Symbiosis International
Gujarat University
Delhi Technological University
Dr. D. Y. Patil Vidyapeeth
Gauhati University
University of Kashmir
North Eastern Hill University
Visva Bharati
Guru Nanak Dev University
University of Jammu
Bharathidasan University
Calicut University
Banasthali Vidyapith
Shiv Nadar University
SVKM`s Narsee Monjee Institute of Management Studies
Pondicherry University
Bharath Institute of Higher Education & Research
Madurai Kamaraj University
Datta Meghe Institute of Medical Sciences
Cochin University of Science and Technology
Bharati Vidyapeeth
Punjabi University
Mumbai University
Birla Institute of Technology
Mizoram University
Bangalore University
Dr. Babasaheb Ambedkar Marathwada University
KLE Academy of Higher Education and Research
Gandhi Institute of Technology and Management
Kalasalingam Academy of Research and Higher Education
Kuvempu University
NITTE
Sri Sathya Sai Institute of Higher Learning
Maharshi Dayanand University
Padmashree Dr. D. Y. Patil Vidyapeeth
Lovely Professional University
International Institute of Information Technology Hyderabad
Visvesvaraya Technological University
Goa University
Dayalbagh Educational Institute
Periyar University
Dibrugarh University
Jain University
Yenepoya University
Central University of Punjab
Sri Balaji Vidyapeeth Mahatma Gandhi Medical College Campus
Kalyani University
Krishna Institute of Medical Sciences
The Gandhigram Rural Institute
The University of Burdwan
Maharishi Markandeshwar
Guru Jambheshwar University of Science and Technology
Guru Gobind Singh Indraprastha University
Utkal University
Graphic Era University
Chettinad Academy of Research and Education
Kurukshetra University
Vignan's Foundation for Science, Technology & Research
UGC NET Selection Criteria
To be eligible for awards of JRF or Assistant Professor or both, students need to qualify and clear the UGC NET Exam. The exam comprises of two papers: Paper I and Paper II. UGC NET exam is a Computer Based Test (CBT). Both the papers consist of objective type, multiple choice based questions.
Take a look at the info graphic to know more details about the NET exam: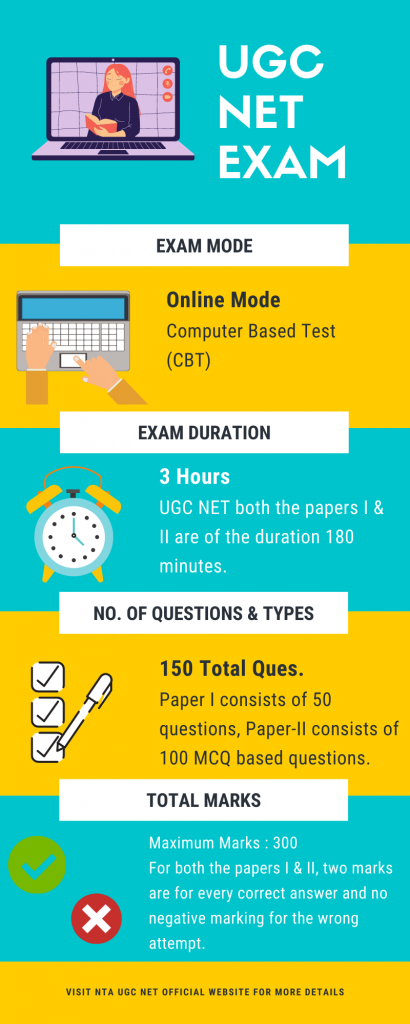 Paper I and Paper II have a cumulative time duration of a total of three hours. Usually, the first shift starts from 9:30 AM to 12:30 PM and the Second Shift starts from 2:30 PM to 5:30 PM.
Paper I consists of a total of 50 questions of 100 marks. Two marks each for the correct answer and no negative marking for incorrect answer.
Paper-II consists of a total of 100 questions comprising of 200 marks. Two marks each for the correct answer and no negative marking for incorrect answer.
All the 150 questions are of objective type, multiple choice based questions.
NET Exam Application Form
Step 1- To fill the UGC NET Exam application form, visit the official website, and apply for UGC NET online. Fill up the registration form and download the information brochure. Once done students must read the brochure thoroughly and fill up the personal information on the web portal.
Step 2- After successfully filling the details, the next step is to fill the UGC NET Exam application form. Students must fill their personal details like name, father's name, and important educational information.
Step 3- Includes uploading images and signature to the application form.
Step 4- Students are required to complete the application from by paying UGC NET application fee. For General category the application fee is Rs 1000; for General- EWS/ OBC- NCL- Rs 500 and; for SC/ ST/ PwD / Transgender- Rs 250.
Step 5- On successful payment of application fee, students can download the confirmation page and keep a print out of the same for future references.
UGC NET Syllabus
UGC NET Paper 1 evaluates a candidate's teaching and research aptitude. The potential Candidates must possess possess and represent cognitive abilities, which include comprehension, analysis, evaluation, understanding the structure of arguments, deductive and inductive reasoning. Canidates must also hold fundamental understanding of teaching and learning processes in higher education system.
UGC NET Paper 2 is based on the subject chosen by the candidate. This paper evaluates the candidate's in-depth knowledge and expertise in the respective subject.
NTA UGC NET is conducted for a total of 81 subjects.
UGC NET exam comprises of two papers as we discussed above. So let us now understand the NET Syllabus for both of these papers one by one.
UGC NET Paper- I
Unit- I- Teaching Aptitude
Teaching: Concept, Objectives, Levels of teaching (Memory, Understanding, and Reflective), Characteristics, and basic requirements.
Learner's characteristics: Characteristics of adolescent and adult learners (Academic, Social, Emotional and Cognitive), Individual differences.
Factors affecting teaching related to Teacher, Learner, Support material, Instructional facilities, Learning environment, and Institution.
Methods of teaching in Institutions of higher learning: Teacher centered vs. Learner-centered methods; Off-line vs. On-line methods (Swayam, Swayamprabha, MOOCs, etc.).
Teaching Support System: Traditional, Modern, and ICT based.
Evaluation Systems: Elements and Types of evaluation, Evaluation in Choice Based Credit System in Higher education, Computer-based testing, Innovations in evaluation systems.
Unit-I of UGC NET Paper 1
Unit-II Research Aptitude
Research: Meaning, Types, and Characteristics, Positivism, and Postpositivistic approach to research.
Methods of Research: Experimental, Descriptive, Historical, Qualitative, and Quantitative methods.
Steps of Research
Thesis and Article writing: Format and styles of referencing.
Application of ICT in research
Research ethics
Unit-II of UGC NET Paper I
Unit-III Comprehension
A passage of text is given. Questions are asked from the passage to be answered
Unit-IV Communication
Communication: Meaning, types, and characteristics of communication.
Effective communication: Verbal and Non-verbal, Inter-Cultural and group communications, Classroom communication.
Barriers to effective communication
Mass-Media and Society
Unit-V Mathematical Reasoning and Aptitude
Types of reasoning
Number series, Letter series, Codes, and Relationships
Mathematical Aptitude (Fraction, Time & Distance, Ratio, Proportion and Percentage, Profit and Loss, Interest and Discounting, Averages, etc.).
Unit-VI Logical Reasoning
Understanding the structure of arguments: argument forms, the structure of categorical propositions, Mood and Figure, Formal and Informal fallacies, Uses of language, Connotations, and denotations of terms, Classical square of opposition
Evaluating and distinguishing deductive and inductive reasoning
Analogies
Venn diagram: Simple and multiple uses for establishing the validity of arguments
Indian Logic: Means of knowledge
Pramanas: Pratyaksha (Perception), Anumana (Inference), Upamana (Comparison), Shabda (Verbal testimony), Arthapatti (Implication), and Anupalabddhi (Non-apprehension).
Structure and kinds of Anumana (inference), Vyapti (invariable relation), Hetvabhasas (fallacies of inference).
Unit-VII Data Interpretation
Sources, acquisition, and classification of Data
Quantitative and Qualitative Data
Graphical representation (Bar-chart, Histograms, Pie-chart, Table-chart, and Line-chart) and mapping of Data.
Data Interpretation
Data and Governance
Unit-VIII Information and Communication Technology (ICT)
ICT: General abbreviations and terminology
ICT: General abbreviations and terminology
Digital initiatives in higher education
ICT and Governance
Unit-IX People, Development and Environment
Development and environment: Millennium development and Sustainable development goals
Human and environment interaction: Anthropogenic activities and their impacts on the environment.
Environmental issues: Local, Regional and Global; Air pollution, Water pollution, Soil pollution, Noise pollution, Waste (solid, liquid, biomedical, hazardous, electronic), Climate change and its Socio-Economic and Political dimensions
Impacts of pollutants on human health
Natural and energy resources: Solar, Wind, Soil, Hydro, Geothermal, Biomass, Nuclear, and Forests
Natural hazards and disasters: Mitigation strategies
Environmental Protection Act (1986), National Action Plan on Climate Change, International agreements/ efforts- Montreal Protocol, Rio Summit, Convention on Biodiversity, Kyoto Protocol, Paris Agreement, International Solar Alliance
Unit-X Higher Education System
Institutions of higher learning and education in ancient India
Evolution of higher learning and research in Post Independence India
Oriental, Conventional and Non-conventional learning programs in India
Value education and environmental education
Professional, Technical and Skill-Based education
Policies, Governance, and Administration
UGC NET Paper-II
List of subject options in Paper-II:
Economics / Rural Economics /Co-operation / Demography / Development Planning/ Development Studies / Econometrics/ Applied Economics/Development Eco./Business Economics
Political Science
Philosophy
Psychology
Sociology
History
Anthropology
Commerce
Education
Social Work
Defense and Strategic Studies
Home Science
Public Administration
Population Studies
Music
Management (including Business Admn. Mgt./ Marketing/ Marketing Mgt./ Industrial Relations and Personnel Mgt./ Personnel Mgt./ Financial Mgt./ Co-operative Management)
Maithili
Bengali
Hindi
Kannada
Malayalam
Oriya
Punjabi
Sanskrit
Tamil Telugu
Urdu
Arabic
English
Linguistics
Chinese
Dogri
Nepali
Manipuri
Assamese
Gujarati
Marathi
French (French Version)
Spanish
Russian
Persian
Rajasthani
German
Japanese
Adult Education/ Continuing Education/ Andragogy/Non-Formal Education
Physical Education
Arab Culture and Islamic Studies
Indian Culture
Labour Welfare/Personnel Management/Industrial Relations/ Labour and Social Welfare/Human Resource Management
Law Library and Information Science
Buddhist, Jaina, Gandhian and Peace Studies
Comparative Study of Religions
Mass Communication and Journalism
Performing Art – Dance/Drama/Theatre
Museology & Conservation
Archaeology
Criminology
Tribal and Regional Language/Literature
Folk Literature
Comparative Literature
Sanskrit traditional subjects (including) Jyotisha/Sidhanta Jyotish/ Navya Vyakarna/ Vyakarna/ Mimansa/ Navya Nyaya/ Sankhya Yoga/ Tulanatmaka Darsan/ Shukla Yajurveda/ Madhav Vedant/ Dharmasasta/ Sahitya/ Puranotihasa /Agama)
Women Studies
Visual Art (including Drawing & Painting/Sculpture Graphics/Applied Art/History of Art)
Geography
Social Medicine & Community Health
Forensic Science
Pali
Kashmiri
Konkani
Computer Science and Applications
Electronic Science
Environmental Sciences
Politics including International Relations/International Studies including Defence/Strategic Studies, West Asian Studies, South East Asian Studies, African Studies, South Asian Studies, Soviet Studies, American Studies
Prakrit
Human Rights and Duties
Tourism
Administration and Management
Bodo
Santali
Yoga
Sindhi
Outlines of UGC NET Paper-II
Take a look at the syllabus of some of the subjects in UGC NET Paper II:
Subject: English
Unit– I : Drama
Unit- II: Poetry
Unit- III: Fiction, short story
Unit– IV: Non-Fictional Prose
Unit– V: Language: Basic concepts, theories, and pedagogy. English in Use.
Unit– VI: English in India: history, evolution, and futures
Unit– VII: Cultural Studies
Unit– VIII: Literary Criticism
Unit– IX: Literary Theory post World War II
Unit– X: Research Methods and Materials in English
UGC NET Syllabus for English
Subject: POLITICAL SCIENCE
Unit – 1: Political Theory
Unit – 2: Political Thought
Unit – 3: Indian Political Thought
Unit – 4: Comparative Political Analysis
Unit – 5: International Relations
Unit – 6: India's Foreign Policy
Unit – 7: Political Institutions in India
Unit – 8: Political Processes in India
Unit – 9: Public Administration
Unit – 10: Governance and Public Policy in India
UGC NET Syllabus for Political Science
Subject: Commerce
Unit 1: Business Environment and International Business
Unit 2: Accounting and Auditing
Unit 3: Business Economics
Unit 4: Business Finance
Unit 5: Business Statistics and Research Methods
Unit 6: Business Management and Human Resource Management
Unit 7: Banking and Financial Institutions
Unit 8: Marketing Management
Unit 9: Legal Aspects of Business
Unit 10: Income-tax and Corporate Tax Planning
UGC NET Syllabus for Commerce
Subject: Psychology
Emergence of Psychology
Research Methodology and Statistics: Research: Meaning, Purpose, and Dimensions
Psychological testing
The biological basis of behavior: Sensory systems: General and specific sensations, receptors and processes
Attention, Perception, Learning, Memory, and Forgetting
Theoretical perspectives on thought processes
Determinants of personality: Biological and socio-cultural
Nature, scope, and history of social psychology
Issues of Gender, Poverty, Disability, and Migration: Cultural bias and discrimination
UGC NET Syllabus for Psychology
Subject: Computer Science and Applications
Unit – 1: Discrete Structures and Optimization
Unit – 2: Computer System Architecture
Unit – 3: Programming Languages and Computer Graphics
Unit – 4: Database Management Systems
Unit – 5: System Software and Operating System
Unit – 6: Software Engineering
Unit – 7: Data Structures and Algorithms
Unit – 8: Theory of Computation and Compilers
Unit – 9: Data Communication and Computer Networks
Unit – 10: Artificial Intelligence (AI)
UGC NET Syllabus for Computer Science and Applications
In Conclusion
In this article we discussed UGC NET Exam, admission procedure, eligibility criteria and a comprehensive list of top 100 universities accepting the UGC NET Score. We hope you got some clarity about what is UGC NET and are soon planning to sit for this exam.
Although preparing for NET in itself means you are already sure what you are going to do, in case you wish to take second opinion from some expert counsellors, you may avail iDreamCareer's professional services.
For detailed guidance, you can take help of our professional services which include:
Useful Links
Some top universities you may want to know more details about:
Shruti Verma has an experience of around 2+ years in research and analysis of careers, jobs, and industries. She has a knowledge of diverse fields spanning from career counselling, management consulting, engineering, and technology to science, finance, and humanities.