Cracking competitive exams with flying colors is an important part of the application process if you want to study abroad. Especially those that are needed to prove your knowledge of a certain language spoken in the country where you want to study. One such mandatory language proficiency exam is IELTS. The International English Language Testing System (IELTS) is an important exam that is mandatory to qualify if the candidate plans to study abroad and belongs to a country where English is not the official language. Do you want to qualify for IELTS in one go? Are you looking for a guide to boost your IELTS preparation? This post is for you.
Did you know?

With effect from August 2021, IELTS tests in India are administered by IDP after it acquired a 100% stake from the British Council.
Before you start for IELTS preparation, it is important to learn the exact format of the IELTS test. After learning about the IELTS test, review the test content and check what types of questions are asked in each section. It is important to know the IELTS exam pattern (refer to the link in the also read section) and format before studying IELTS 2022 preparation tips. If you choose the self-study route to prepare for the IELTS exam, you need to study the best IELTS books and resources that are readily available. Since you will be working alone, you should make sure that you are well-equipped with IELTS study materials for the preparation phase. In this article, we will guide you on how to prepare for IELTS section by section and IELTS material. We will also tell you how to prepare for IELTS at home.
Without further ado! Come along…
What all is covered in this post?
To make it easier for you, we have created a quick guide to everything you need to know about IELTS preparation.
IELTS exam preparation – Step-by-Step guide
Having an effective IELTS preparation strategy can give you an edge over others. Understand the IELTS test pattern and plan your daily routine accordingly. Review the questions and assignments for each section. Also, read IELTS rules and regulations. Then start practicing with sample IELTS questions, this will give you an idea of ​​what to expect in the IELTS test. Also, after some time, know where you are and check your progress. Take timed and untimed IELTS practice tests and explore your strengths and weaknesses. You can get official IELTS practice material to help you pass the IELTS test with real IELTS questions.
Here is the step-by-step guide to help you prepare for the IELTS exam: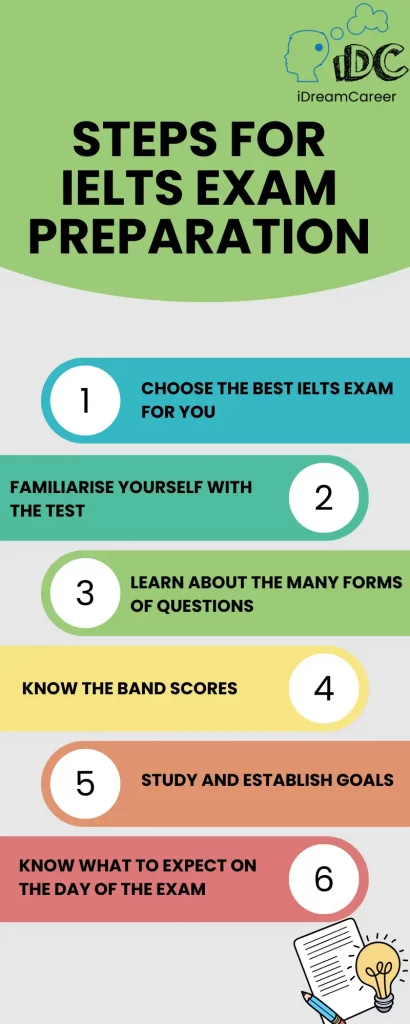 How to prepare for IELTS at home?
Due to the COVID-19 pandemic, many students are taking the IELTS test at home and want to learn how to prepare for the IELTS test at home. We have mentioned some IELTS preparation tips for those who want to prepare for the IELTS test at home.
Explore the IELTS exam, learn about the IELTS syllabus and the IELTS test pattern, and learn about the structure of the test
Browse study materials online for IELTS preparation
Collect your IELTS preparation books and read them carefully
Learn more about each skill

Reading, writing, listening and speaking

Develop your English skills and improve your reading, writing, and listening skills
Formulate IELTS strategies with the time constraints of the exam in mind
Start taking practice tests
Note: IELTS preparation is a process and it takes around 10-12 weeks to move up the score band by one point.
How to do IELTS preparation online?
When you register for IELTS, you will receive an online IELTS preparation course that will be considered the core material for IELTS. A 30-day online IELTS preparation course that will help you prepare for all four skills – listening, reading, writing, and speaking. With this program, you can prepare for the full IELTS test or focus on one or more IELTS skills. The course includes:
Practice tests of your preferred module
Up to 25 hours of online learning
Response and feedback model
Study strategies and test-taking tips from experts
Note: You will receive an activation link to your email once you registered for IELTS. You will get 30 days of access after activation.
IELTS preparation books
Choosing the best IELTS preparation books is very important to get good scores. It may seem difficult at first, but it is not impossible to pass the exam successfully. You need persistence, determination, and a willingness to embrace new concepts to earn good results quickly. At the same time, choosing the right preparation material is also vital as it helps in understanding the exam paper material. It's common to get confused between what to buy and what suits your needs, as there are so many options available.
However, here is a list of prep books to help you out
Barron's IELTS Superpack
Cambridge IELTS 14 Academic Student's Book with Answers with Audio
Check your English Vocabulary for IELTS
Focus on IELTS Foundation: Foundation Coursebook
IELTS Trainer
Mometrix IELTS Book for General Training and Academic 2022
Official IELTS Practice Materials
Road to IELTS
Simon Braveman's Target Band 7
The Official Cambridge Guide to IELTS
Also, read; Check IELTS Result
Ideal IELTS preparation time
The minimum time required to prepare for the IELTS exam is 4 months. For a few, it could be 6 months. There are no official rules regarding the minimum amount of time you should allow yourself for IELTS preparation.
Some find that 15 days of preparation is enough for them, while others may need more time. It is simply based on the level of skill and knowledge the test taker possesses.
A few candidates with a decent level of English might want to work on the 5-month IELTS plan. On the other hand, those with a high level of English may only need a month or two to prepare for the exam.
Conclusion
Good to have you, finally, on this other side! Looking forward to getting admission to an esteemed institution of global repute? Hope we've been able to help you with most of the knowledge that you were asking for. Your mind must be brimming with all the details of the IELTS pattern and every task type of the IELTS exam pattern papers. Nevertheless, how about some handholding to get you through this? Try a discussion with our expert career counselors with decades of experience in studying abroad.
iDreamCareer is on a mission to reach every state and every child to ensure that talent is appropriately delivered into the industry. Talk to our study abroad experts to know yourself in and out! We have helped several brilliant but confused minds to select their most-suited career choices. We have helped many students like Anjana Prasanna who was not very confident about her capabilities. Later with the help of career guidance and moral support from our study abroad experts she got an offer from King's College London! We have also helped several brilliant but confused minds like Aayush, and Tapan with an aim to select their most-suited career choices.
ALSO READ:
FAQs
How long does it take to prepare for IELTS?
We recommend that students spend at least 6-8 weeks preparing for the IELTS exam, focusing on basic grammar, reading speed, test-taking strategy, and writing skills. Each part of the IELTS exam is different, so make sure you fully understand what is expected of you.
How to start IELTS preparation?
Exam preparation is fairly easy as long as you are organized. You'll need to decide on the type of international English test you want to take, the format of the test, which skills you need to focus on, and of course, improve your English!
How much preparation is required for IELTS?
It depends on the candidate's English proficiency. However, the average IELTS preparation time is six to eight weeks.
Can IELTS be prepared at home?
The good news is that you don't have to shell out vast amounts of money to train a trainer. With methodical and systematic planning and a thorough understanding of the test structure, you can prepare for IELTS at home.
How many days of preparation are required for IELTS?
The time required to prepare for IELTS should range from 30 to 60 days. Experts recommend spending three to four hours a day on IELTS preparation.
Can I take the IELTS test without coaching?
For some candidates, having a tutor and a regular study plan with a fixed time to prepare for the exam is important. IELTS test may seem simple to many but at the same time, it may be difficult for some to know its complexities. Candidates can go through the exam pattern and check the topics they have to cover. If you feel you need tutoring to prepare, then seek tutoring or self-study.
Is it difficult to score 7 in IELTS?
It is not difficult to score 7 in IELTS. Most of the students tend to be around 5-6 bands so by focusing on their weak areas candidates can improve their scores. Be it a written test or any other area where you score less, focus more on it, and getting a decent score won't be that difficult.

Anushree has 4+ years of experience in the career counseling industry as a Content Writer. She has also worked as a Social Media Marketing Expert for a startup and Content Quality Analyst for Publishing and E-learning Industry. She has done her Master's in Commerce and PGDM in Finance & Trade and Marketing & HR, but she is currently following her passion for writing.