High school in Norway is at an international level that is second to none. Most public universities in Norway do not charge tuition fees. International students consider Norway one of the happiest countries to study abroad. As a leading economy, the country offers various types of MBA programs at affordable tuition fees. Do you want to know more about how to get an MBA in Norway? MBA in Norway attracts all the attention in the world as a place for applicants who want to get a master's degree from abroad. 
Do you know?

The school system in Norway is considered one of the best in the world. Its main goal is to provide high-quality education for all students, regardless of their background or ethnicity.
Because the state funds schools, decisions about the quality and structure of education are made by local school administrations. As in other countries, the school system in Norway is very focused on efficiency and effectiveness. As a result, it prepares you to compete in the global market.
If you want to study MBA in Norway, keep reading…
What all is covered in this post?
To make it easier for you, we have created a quick guide to everything you need to know about the best MBA in Norway.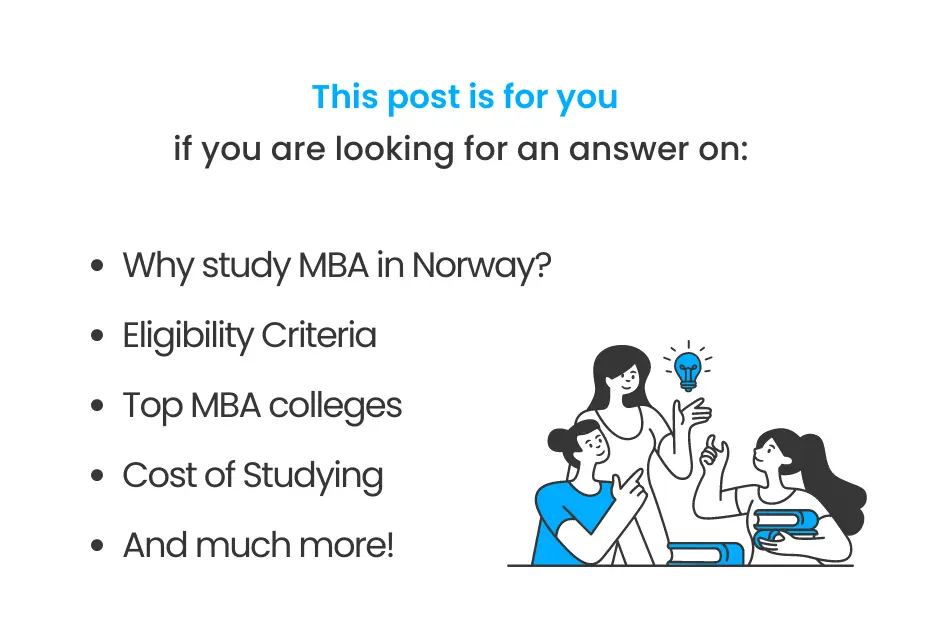 Why study MBA in Norway?
Norway offers a unique student experience and Norwegian higher education institutions welcome applications from qualified students from around the world. Internationalization is a priority in all sectors of the Norwegian education system. Universities and colleges are constantly working to facilitate international students.
Eight reasons why you should study in Norway
Quality education
With a wide range of high-quality courses and great flexibility, Norwegian institutions have proven to be an ideal place to study. From vocational subjects to postgraduate studies, there are many opportunities for both exchange and degree-seeking students to realize their ambitions.
Close and equal student-teacher relationship
The "open door" policy of professors, teachers, and administrative staff in Norwegian educational institutions is well known. They are both available and accessible to students to arrange the maximum learning outcome for their students.
Critical thinking is encouraged
In the Norwegian classroom, professors expect graduate students to question their teaching and existing theories in their field of study. The ability to approach a problem differently and critical thinking are valued skills.
Time to specialize
In most cases, master's programs offered at Norwegian educational institutions last for more than 2 years. This allows students to work on their thesis for a full year, meaning that students get the chance to delve deeper into their area of ​​research.
Most universities offer free education
The Norwegian government considers access to high-quality higher education for all to be an important part of Norwegian society and provides the higher education sector with extensive resources. Therefore, in most universities, international students do not pay tuition fees.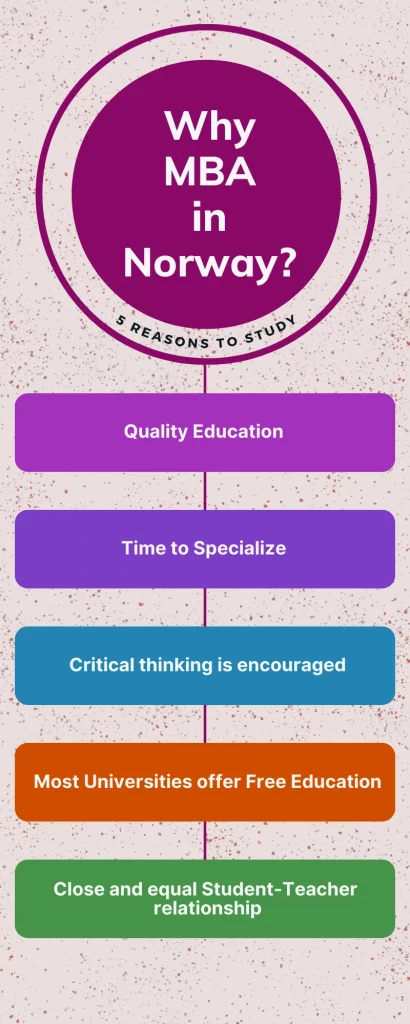 Eligibility criteria for MBA in Norway
Eligibility criteria depend on the university a student is applying to, but as far as we researched, there are some common points that all universities follow, which are listed below.
An applicant for an MBA in Norway must have obtained a bachelor's degree in any discipline from a recognized board with good grades.
English proficiency certificates such as EILTS or TOEFL are important for admission.
Some universities may also request 3 years or more of administrative or management experience with employer certification.
Also, some colleges may request scorecards for entrance exams, such as the GMAT or GRE. This criterion depends on the university.
Now, here is the most asked question;
Can a student study MBA in Norway without GMAT?
Applicants must have a bachelor's degree in business administration or equivalent with at least 120 ECTS in business administration and related subjects. Applicants with a bachelor's degree from a non-Norwegian/Scandinavian school must have a documented GMAT or GRE test.
Top MBA colleges in Norway
Norway is known for its top MBA colleges. Here are some. These institutes give more breathing space to people who want to truly live a peaceful life in Norway or people who want to work there part-time or on programs. Some available Norwegian colleges for MBA for Indian students:
Bi Norwegian Business School
NHH Norwegian School of Economics
The Norwegian University of Science and Technology
UiS Business School
University of Agder
Almost all of these colleges offer MBA programs in English for Indian students, however, students should check the specific websites for the respective colleges before applying. Also, tuition is free in these colleges, but students have to apply within a certain deadline.
Cost of studying MBA courses in Norway
Studying at a university in Norway involves the lowest living costs in Nordic countries. These are housing, books, food, and utilities.
In Norway, students can expect to pay between 800 and 1400 euros per month. In larger cities, average costs may be higher.
Bergen: 1,252-2048 USD
Oslo: 1,366-2276 USD
Tromso and Trondheim: 1,138-1821 USD
Living costs
In general, students in Norway pay about 36% of their living costs for accommodation. Most students choose to live in a student house or rent an apartment. Prices vary depending on various factors such as location, type of apartment, and whether they share a place with other students.
Cost of food
You will spend between $284 and $400 per month on food. There are various ways to save money, such as learning how to cook and buying food at a discount. You'll spend about US$22 at a budget restaurant for dinner for two and up to US$10 for a beer at a mid-range restaurant.
Transport costs
In Norway, students enjoy discounts on public transport with a student card. The transit card costs about $62 a month.
Additional Expenses
You'll typically need about $57 a month for consumables, including books and magazines.
MBA Jobs in Norway
After graduating from a Norwegian university or university institution, international students are allowed to stay in Norway for up to a year to look for work.
Please note that you must apply for a residence permit as an applicant before your current permit expires and after you complete your degree.
Compared to many other countries, the Norwegian labor market is characterized by its informality, both in terms of conversation and dress code. After an MBA, you will have many options. As a student, you will have a friendly relationship with your professor and this will carry over to the workplace where you can have lunch with your boss.
In Norway, the official working day is relatively short, with 7.5 hours per day and 37.5 hours per week being the norm. When it comes to working, Norwegians work long hours. We look forward to being able to work a flexible schedule and occasionally work from home.
The Norwegian labor market offers excellent opportunities for upward social mobility. Women are increasingly taking on leadership roles and policies are in place to encourage and promote gender balance. Working in the private sector on parental leave, for example, is not controversial.
Salary after MBA in Norway
Salary for MBAs in Norway is usually around USD 1,05,977 per year. Based on the level of education, people with a master's degree usually receive the highest level of pay.
Different experiences can affect salary. For example, for people with 4-8 years of experience, the average salary is about $1,42,397.
In Conclusion,
An interesting combination of subjects can be studied at universities and university colleges in Norway, and a wide range of English-language courses and programs are available to international students. In addition, student life in most higher education institutions is very dynamic, with a wide range of social activities.
Still confused? Why don't you talk to our study abroad professionals? iDreamCareer aims to reach every state and every child to ensure that talent is properly delivered to the industry.
Talk to our study abroad experts to find out for yourself! We have helped several brilliant but confused minds to choose the most suitable career. We have helped many students like Anjana Prasanna who was not very confident about her abilities. Later, with the help of career guidance and moral support from our study abroad experts, she received an offer from King's College London! We have helped several young confused minds like Aayush and Tapan to choose the most suitable career for them.
ALSO READ:
FAQs
Is the MBA taught in English in Norway?
An MBA is a sought-after program for most international students. There are many master's degrees in business and management that are taught in English.
Is IELTS required for a student visa to Norway?
The minimum IELTS score accepted in Norway is 6.5. IELTS band 7 is strongly recommended.
What is the usual application date for a scholarship in Norway?
If you want to be in time for the next fall semester in Norway, which starts in September, you must apply by March 15. Some universities have their own 'pre-qualification' terms which should also be checked.
Can an international student study for an MBA in Norway for free?
Tuition is completely free, except that some universities require a small fee per semester, which can be settled at €80 or so. But a student should also be careful about the cost of accommodation, transport, and food

Anushree has 4+ years of experience in the career counseling industry as a Content Writer. She has also worked as a Social Media Marketing Expert for a startup and Content Quality Analyst for Publishing and E-learning Industry. She has done her Master's in Commerce and PGDM in Finance & Trade and Marketing & HR, but she is currently following her passion for writing.