Looking for the top career options after BA? You are in the proper location. The majority of students struggle with the decision of whether to continue their education or start looking for work right once after graduating. But the truth is that in today's ruthless business environment, a graduate degree is no longer sufficient to survive.
Students must pursue higher education and enroll in additional courses if they want to get a competitive advantage. The Bachelor of Arts (BA) degree is one of the most popular courses among students. The curriculum allows for the advancement of specific career routes by extending specialties like English, Geography, Political Science, Economics, History, Psychology, or Archaeology.
Since there are many different professional paths that BA specialties can lead to, it might be confusing for students to decide which course to do after BA English in order to find rewarding Bachelor of Arts careers. We'll examine some of the most popular employment alternatives after a BA in today's article. If you're looking for jobs or career alternatives after earning a BA, you might be shocked by some of the professions we've included here. Read on and share your thoughts.
What all is covered in this post?
In order to bring career options after BA into the limelight for you, we have created this blog to help you be updated regarding the best career opportunities after BA.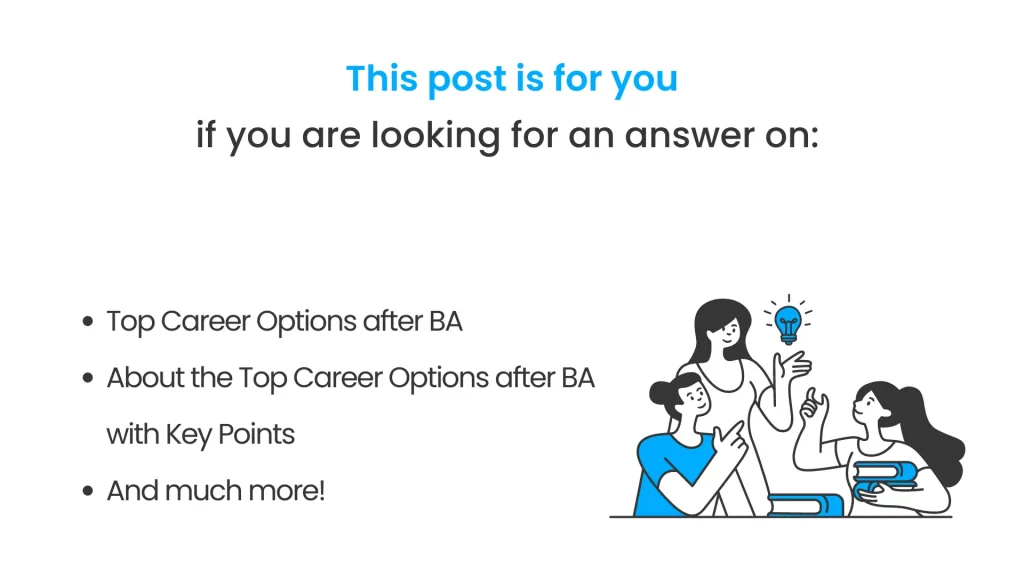 Top Career Options after BA
Well done on finishing your B.A. The top career options after BA with their key points are shown below. Following the completion of your B.A., you might be interested in the following careers.
Completing your Masters
Becoming a Software Developer
Develop business analytics skills
Become a Data Scientist
Digital Marketing
Try Insurance Industry
Become a Manager (MBA)
Government Jobs after BA
About the top Career Options after BA
In this section, we will discuss everything about above mentioned top career options after BA:
Completing your Masters
An M.A. degree is the best option for you if you have a strong interest in a particular subject you studied. You will mostly get in-depth knowledge on the topics you choose. There are many job opportunities that will open up for you after completing your postgraduate degree.
Crucial Pointers
Students who complete post-programs Bachelor's like the MA are eligible for doctoral programs, expanding their professional opportunities and their knowledge in their subjects.
You'll primarily get in-depth knowledge about your selected subjects.
If one wants to work in academia, one alternative is to pursue postgraduate degrees.
Following a BA, candidates can also enroll in quick courses to upgrade their skills or pursue certificate and diploma programs geared toward the workplace.
Eligibility Criteria for MA
An undergraduate degree
There are varied qualifying requirements for different colleges, such as minimum graduation marks.
Becoming a Software Developer
You did read that correctly. After pursuing your B. A., it is possible to begin a career in software development. You can enroll in some of the best software development courses by taking a variety of tests.
Crucial Pointers
You must engage in a programming language course after earning your BA in order to learn about various programming languages.
By pursuing an MCA course, you can also earn your certification as a software developer.
Eligibility
Knowledge of programming language
An undergraduate degree
Develop a business analytics expertise
You could pursue a career in business analytics if you've always been interested in applying the newest technologies to everyday problems. Professionals in business analytics evaluate and analyze issues in order to find workable solutions.
Crucial Pointers
In order to tackle business-related problems, you would learn how to use Tableau, Python, and other comparable technologies.
Additionally, you will study supply chain, marketing, human resources, and machine learning analytics applications.
Following a BA, you could work as a growth manager, management consultant, or in a managerial capacity in the fields of finance, marketing, sales, or strategy.
Eligibility
An undergraduate degree with a minimum of 55% marks.
Professional work experience
Discover More by accessing the Free Career Dashboard
This will help us share relevant information with you.
Become a Data Scientist
People have long believed they need to acquire a degree in science or technology to work in the field of data science. A B.A. degree is also necessary to work as a data scientist. This is a fantastic post-B.A. job path.
Crucial Pointers
It has uses in data mining, big data, and deep learning.
After receiving a BA, you must engage in a data science diploma program.
To become a data scientist, you must learn a multitude of technologies, such as Kera, MongoDB, Python, MS Excel, Hadoop, Tableau, and MySQL.
Eligibility
An undergraduate degree
Digital Marketing
As the internet has grown significantly over time, so too has digital marketing. One of the best courses a student can take today is digital marketing. As online businesses expand quickly, having a working internet connection is necessary for all digitally-based organizations. However, digital marketing expertise is necessary to draw clients to any business.
Crucial Pointers
Following a BA in Digital Marketing, your career will involve ensuring that clients utilize online channels more effectively in order to expand their consumer bases and revenue streams.
You must first finish a postgraduate course in digital marketing before you can call yourself a digital marketer.
The topics of content marketing, marketing analytics, SEO (search engine optimization), and SEM (search engine marketing) will all be discussed.
You'll discover how various websites operate as well as the proper use of social media networks.
You will be able to select from a wide range of employment responsibilities after completing a postgraduate study in digital marketing, including digital marketing executive, digital marketing manager, SEO executive, content writer, social media marketing specialist, search engine marketer, and many more.
Eligibility
An undergraduate or equivalent degree
The required skills and certificates
Try Insurance Industry
In India, the insurance sector is expanding at a fantastic rate. And during such times, everyone needs financial support for unexpected expenses. If you enjoy interacting with people, you should start your career in the insurance industry. You can enroll in a PG Life Insurance program to enter this field. Your starting income after completing the program can be as high as 2.5 LPA.
Crucial Pointers
The insurance industry, sales strategies, the foundations of financial services, insurance products, and their regulations should all be familiar to you.
It's a great way to get started in the financial sector.
Enrolling in the course ensures that you will be hired by HDFC's front-line sales staff as a Business Development Manager, Corporate Agency Manager, or Financial Planning Manager.
Eligibility Criteria
An undergraduate degree
Become a Manager (MBA)
One of the top options for Indians after completing their undergraduate degree is an MBA. MBA is always recommended because it essentially opens up a variety of professional alternatives for pupils. You will develop your problem-solving skills while studying MBA, which will help you become a capable manager.
Crucial Pointers
One of the most sought-after job paths for young people is an MBA.
You can learn how to address business issues through a Master of Business Administration program, preparing you to manage effectively.
Similarly to this, understanding how to resolve business issues would help you be successful even as an entrepreneur.
Management, administration, and organization are taught in the MBA program.
Business development, marketing, human resource management, and finance all offer leadership opportunities.
The need for MBA professionals is strong.
Eligibility
An undergraduate degree
GMAT/CAT/XAT or another management scorecard
Government Jobs after BA
After earning your B.A., you can apply for a position with the government. Most students pursue government employment because of the wonderful benefits that come with it. The list of important government tests that can help you get a wonderful government job is provided below.
SSC (Staff Selection Commission)
UPSC (Union Public Service Commission)
Indian Railways (RRB)
Defence Services (Indian Army)
State Public Services
Crucial Pointers
In addition to applying for jobs for BA students, candidates can search for appealing prospects working for the government through competitive government tests.
Eligibility
An undergraduate degree
Candidates will have to clear the needed examinations.
Our Verdict
You have learned about some of the top post-B.A. employment alternatives that we have prepared for you. Hope your all BA-related queries were resolved and the blog had something new and unexpected for you. Now, you are all set to fly into a world of limitless opportunities.
Please feel free to share any questions or comments about what career to pursue after earning your B.A. in the comments section below. You will hear from a member of our team of specialists as soon as possible.
iDreamCareer has helped millions of young minds to find the perfect-fit career path that has helped them to succeed in their life ahead. You can be the one too! You can get your queries resolved in just 60 seconds from our Career counselors. So, what are you waiting for? Download the app now!
FAQs
Can a student of art stream their career in government?
Yes, a student of art can most certainly develop their career in government agencies such as the Administration, UPSC, Defense services, Railways, Civil services, and so forth depending on their areas of specialization.
Can a student continue their studies after receiving a B.A.?
Yes, a student can pursue further education in areas like the MBA (Masters of Business Administration), the M.A., and post-graduate certificates in management, computer technology, media, journalism, filmmaking, human resources, photography, and hospitality management, among others.
Can a student who has graduated from the arts then pursue an MBA?
Yes, graduates of the B.A. program can also pursue an MBA. You can choose from a variety of MBA specializations, including MBAs in interior design, airport management, entrepreneurship, aviation, and management.
Is BA good for civil services?
The minimal educational requirement to take the exam is a bachelor's degree. One of the many strategies to boost your preparation for the Civil Services exam is to have a suitable graduate degree. It is advisable for candidates to plan ahead and enroll in a B.A. program that has a connection to the UPSC exam or a shared syllabus.
Which government jobs are best suited to BA students?
Students should explore alternative opportunities to get a prestigious job in a prestigious company in addition to banking and SSC. Graduates are always in demand for positions in public sector banks.
Discover More by accessing the Free Career Dashboard
This will help us share relevant information with you
Trending Posts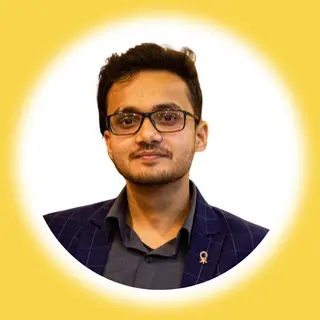 Sushant has been writing since his early days of childhood and currently, he's serving as a Content Writer with iDreamCareer. Sushant has two start-ups of his own and he has been writing content for them since their inception. Apart from that he is passionate about writing which is why he is following his passion for writing with iDreamCareer.