With traditional forms of advertising fading away, the phrase "content writing" has become more and more popular over time. Companies from all sectors have realized that traditional, outbound marketing techniques are insufficient for success in the digital age. By creating emotional connections with their target market through content writing, businesses may foster patron loyalty and brand engagement. Every digital marketing strategy frequently starts with content authoring since emotional content is essential for everything from email and social media promotion to blogging and SEO techniques. In this blog, we will tell you how to become a content writer.
Do you know?

Marketers expect the content marketing industry's revenue to exceed $135 billion by 2026.
In the current digital era, the practice of organizing, creating, and disseminating web material is referred to as content authoring. Along with writing the information, content writers may also be expected to edit and promote it. Inbound marketing techniques such as content authoring are used to draw customers to a certain brand, item, or website. It is a profession where writers create written material for websites and other types of media. The content team of a business, which consists of marketing experts, project managers, and executive officers, assigns writing jobs to writers.
What all is covered in this post?
In order to bring the profession into the limelight for you, we have created this blog to help you be updated regarding the ways on how to become a content writer.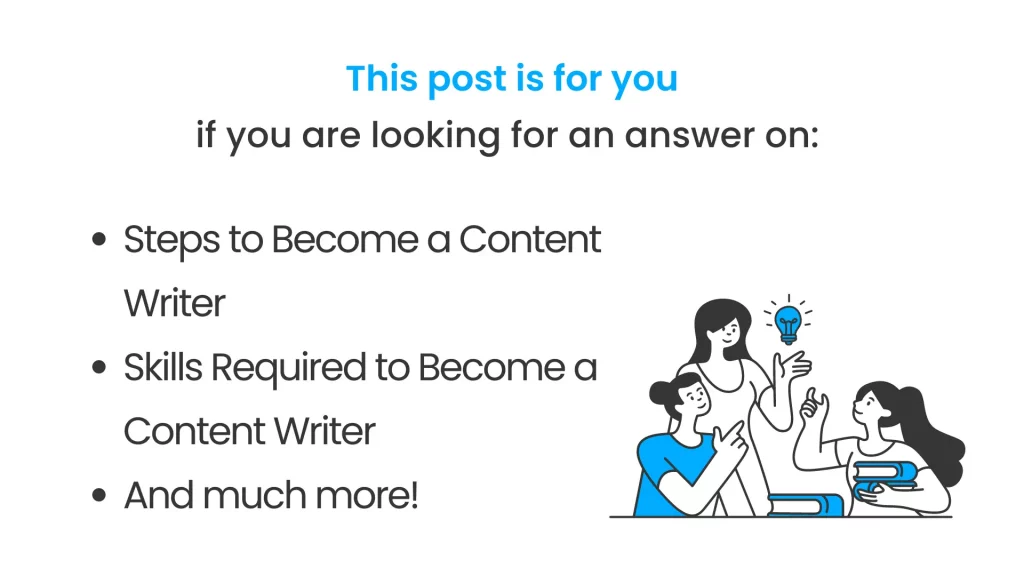 Steps to Become a Content Writer
Below is a list of some of the necessary actions you can do to become a content writer for your reference.
Abilities to Develop
Although a degree isn't always necessary, it can often be advantageous for both the writer and the company to have one in a field like English, journalism, or mass communication. The most crucial talent is writing ability, which is a prerequisite. Although difficult to perfect, writing is not impossible. Practice is the key to enhancing writing abilities. In today's digital age, there is a growing need for skilled writers. They now need to be skilled in SEO, HTML, and CSS in addition to writing. These abilities could be acquired through a variety of paid and unpaid online courses. Moz's Beginner's Guide is a wonderful place to start if you're new to SEO.
It teaches you all the starting-point tips and tactics and is totally free. Another crucial ability to master is HTML, which is necessary for web creation. There is little need for in-depth proficiency in these languages; only the fundamental formatting skills of headings, lists, and hyperlinking are needed. For the majority of positions, knowing CSS is not a requirement, although it might be useful. However, it's unquestionably important to learn how to use tools and websites like WordPress and other content management systems.
Establishing Existence
A crucial first step is to establish your presence. It's crucial to share your abilities with the rest of the world after learning them. The best method for showing abilities is to create a portfolio. A resume and a portfolio are similar. It encapsulates the essence of a person's abilities and of his or her work. The initial step for new writers should be to produce several articles to demonstrate their writing abilities. The articles can be blog posts on topics of interest, writing for a club, neighborhood organization, or college newspaper, essays on contentious issues, profiles of fascinating people or locations, etc.
Locating Work
The first step is to register with a web-based company. Freelance writing positions are available without the arduous task of client acquisition. The second is to work as an internal writer for a business. It would be a nine-to-five job. An in-house writer's primary duty is to ensure that all of their online content—which may include blogs, email newsletters, and social media posts—is consistent with their brand. The third is to start working for yourself. Although initially challenging, freelancing has the potential to be the highest-paying job if mastered. Flexibility is an advantage of freelancing.
Discover More by accessing the Free Career Dashboard
This will help us share relevant information with you.
Skills Required to Become a Content Writer
It's time to be a little bit more explicit about the qualities you want in a content writer. Here are 8 crucial abilities that ought to be on everyone's list, even though some people's lists could be a little larger than others.
Adaptability – When it comes to elements like tone and voice, a smart content writer is aware that different clients have varied needs.
Time Management – We probably don't need to tell you how important time management skills are in business. A competent content writer should be well aware of and able to adhere to your schedule.
Problem-Solving – Instead of just giving it your best shot and hoping for the best results, there is a reason you're looking to hire a content writer. Skilled writers are aware that their work involves more than just relaying information.
Grammar and Vocabulary – Nothing is more unflattering than text that appears to have been authored by your niece or nephew who is 10 years old. An excellent content writer will be aware of this and take care to employ perfect grammar and terminology in your project.
Research Skills – There's no need to freak out if it's not always possible to discover a content writer who is an authority on your subject. Due to the power of research, seasoned content writers have no trouble writing about a variety of topics.
SEO and Content Strategy – Even if you have the best piece of content in the world, it won't matter if no one ever reads it. To ensure that your page obtains a decent Google position, content writers are trained to apply techniques like search engine optimization (SEO).
Creative Writing – Let's face it, no one will likely pay attention to uninteresting stuff for very long. To draw readers in, a content writer should be able to use techniques like comedy, timeliness, and clear communication.
Editing – A content creator who consistently submits their first draught for review won't likely last very long. Your candidate should be aware that a significant portion of their job requires excellent self-editing skills.
Content Writer Scope and Salary
The realization of the task's potential has led to an increase in the outsourcing of article writing employment to India. The United States and the United Kingdom, which need to lower the cost of hiring firms, are potential clients for this activity. India has greatly profited from this industry, which employs thousands of people nationwide, in addition to the fact that they are promoted.
Foreign countries are utilizing India's potential for profit by taking advantage of highly qualified English-speaking candidates. China, Brazil, South Africa, Russia, and India are the top five countries that offer online article-writing services.
Some of the sectors/industries where content writers are in demand are:
Media Industry
PR Industry
E-Commerce
Digital Market Industry
Medical Industry
IT Industry
Content Writer Salary
The experience of the content creators, the organization's brand value, and the location or city where the content creator works all influence the content writer's remuneration.
Average Annual Salary
| | |
| --- | --- |
| Name of Organization | Average Annual Salary |
| Government | 2.20 L |
| Private | 1.80 L |
Specialization Wise
| | |
| --- | --- |
| Specializations | Average Annual Salary |
| Web Content Writer | 3 L |
| Content Writer for Marketing | 3.10 L |
| Medical Content Writer | 4 L |
| Technical Writer | 3.50 L |
Experience Wise
| | |
| --- | --- |
| Experience | Average Annual Salary |
| Fresher | 1.80 L |
| Experienced | 4.50 L |
Epilogue
Content writing is a very in-demand profession in the current scenario. One can easily earn a good livelihood by earning a decent amount of money while writing content for a firm or as a freelancer. Not only content writing enhances your writing skills but also it is one of the best internships for college students. Experienced content writers, at their full potential, can earn up to 6 LPA.
We hope that we have provided you with the relevant information regarding content writing.
iDreamCareer has helped millions of young minds to find the perfect-fit career path that has helped them to succeed in their life ahead. You can be the one too! You can get your queries resolved in just 60 seconds from our Career counselors. So, what are you waiting for? Download the app now! iDreamCareer has helped millions of young minds like you from 9th class, 10th class, class 11, and class 12 discover their true mettle and is ready to help you too.
Also Read:
How to Become a Content Writer: FAQs
How much can a freelance content writer make in India per month?
There are no certain confinements regarding freelance content writers. Although a freelance content writer can earn from INR 30,000 to INR 1,00,000 per month. An experienced content writer can earn even more.
What is the future of content writing?
A MarketingProfs survey estimates that 2 million blog entries are created every day. Future projections indicate that this number will increase exponentially.
What industry is content writing?
Content writers are needed by the digital marketing sector for a variety of jobs in digital marketing organizations, including writing for blogs, SEO marketing, and Email Marketing campaigns.
What is SEO content writing?
The process of organizing, producing, and optimizing material with the main objective of ranking in search engines is known as SEO writing.
What are the types of content writing?
Some of the different sorts of content writing include SEO content writing, technical writing, communication and marketing writing, publication-based and editorial writing, research and report writing, and feature writing.
Discover More by accessing the Free Career Dashboard
This will help us share relevant information with you
Trending Posts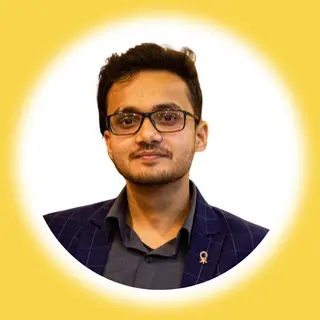 Sushant has been writing since his early days of childhood and currently, he's serving as a Content Writer with iDreamCareer. Sushant has two start-ups of his own and he has been writing content for them since their inception. Apart from that he is passionate about writing which is why he is following his passion for writing with iDreamCareer.