Engineering Management is not what people say it is. It is more!
This is a change of career track, essentially. It is about switching from an engineering role to a product manager role. You'll need to develop a bunch of new skills you didn't know even existed.
In addition to the typical bugs & production issues…
…as an engineering manager you will also have to deal with people's emergencies. Project planning emergencies. Recruiting emergencies. People conflict emergencies!
The math is simple. An Engineering Manager handles 5 to 10 engineers. So, it easily means there are 5 to 10 times more engineering jobs than manager jobs. Stakes are high and competition is intense, especially because there are high chances to promote a high-performance engineer into a managing role instead of hiring laterally.
However, EM courses are highly promising and highly coveted. Top recruiters look for EM qualifications in an engineer in addition to engineering experience while hiring for EM roles.
What is Engineering Management?
Engineering Management is a very well-qualified job for engineering graduates. It provides students with all the skills an MBA can equip but integrates them extensively into the field of engineering and its applications. It is the perfect way for a person with an engineering degree to make his or her career stand out by demonstrating both technical and managerial skills.
Are you all set to dig in further?
Highlights of engineering management courses
Offline courses:

MTech in Engineering Management
PG Certificate in Engineering Management
MS in Engineering Management
PG Diploma in Engineering Management

Duration: 1 year to 2 years
Eligibility criteria: BE/B.Tech in Engineering followed by an entrance exam specified by the university or institute
Entrance exams: There are many entrance exams both private level, state level, and national level tests. And so, this course is very competitive. Some of the entrance exams are GATE, UPSEE, AP PGECET, and many more depending upon the university or institute.
Fees: Rs. 1,00,000 – Rs. 5,00,000
Online courses:

Engineering Management MSc Online by Brunel University London
MSc in Engineering Management Online by Tufts University – Medford, USA
Master of Science Engineering Management by Westcliff University, USA
Master of Science in Engineering Management by Embry-Riddle Aeronautical University, USA, and many more.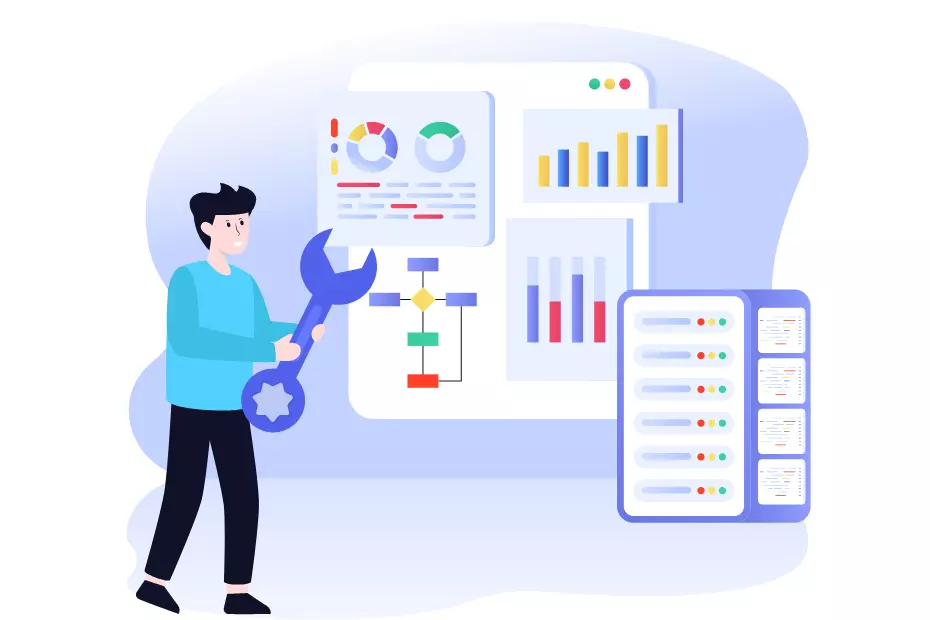 Subjects covered in engineering management course
Some of the core subjects covered in the engineering management course are:
Statistics and Probability
Applied Machine Learning
Data Science for Business Intelligence/Data Analysis
Operations Management
Accounting and Financial Management
Project Management
Product Management
Economics & Public Policy/ Managerial Economics
Leadership and Organizational Behaviour
Systems Engineering and Architecture
Manufacturing Management
Computer Simulation for Risk
Technology Management
International Business Management
Engineering Systems Simulation
Design Project Management
Note: Check the official website of the Institute for the detailed syllabus before applying.
Discover More by accessing the Free Career Dashboard
This will help us share relevant information with you.
What is the scope of engineering management?
Master's in engineering management (MEM) course trains you to manage both the work aspect of the staff and the visual resources, by organizing them. It requires important technical knowledge and communication skills to lead a team.
---
Engineering management has great growth potential & offers a much higher salary than a standard engineering degree. Work can be more complex than that of an engineer.
---
Engineering graduates often covet Management Trainee positions. This has a huge impact on the business of engineering and can help you achieve more than a mere degree in engineering. They are highly sought after in today's work-focused environment and are trusted with very large projects, thus, making the study worthwhile.
Job opportunities after engineering management course
Here are some work roles / designations that you can look for across job boards in India or abroad after a degree in Engineering Management. Your role will typically be called "Engineering Manager" and you will be involved in leadership responsibilities across core engineering disciplines. However, here are some specific examples, depending on the kind of industry sector your company is operating in and the kind of duties you are to perform (for eg., forecasting or operations or supervising etc).
Examples of job roles:
Support Engineering Manager (for eg., in companies like Amazon, Microsoft etc.)
Utilities Engineering Manager
Research Engineering Program Manager (like in Lockheed Martin Corporation)
Manager, Web Engineering (for eg., in companies like Disney)
Manager, Systems and Network Engineering
Manufacturing Engineering Manager (like in Northrop Grumman)
Engineering Manager, Forecasting
Manager of Solutions Engineering
Engineering Manager, Collaborative Technical Learning (for eg., in companies like Netflix)
Every company, irrespective of whether they are operating in core engineering disciplines or not, will require engineering managers.

Jobs are ample, and salaries are very competitive.

Think of out-of-the-box companies like Spotify, Netflix, Starbucks, Disney, Uber, Adobe, Kraken (cryptocurrency company), Etsy, Liberty Mutual Insurance, Slack, American Express etc.

All these companies are not your regular engineering companies but have multiple openings for engineering managers in India as well as abroad. Try your luck! You may get placed in their headquarters too!
You may dream of a job in these BIG companies too –
These are primarily engineering or software dev or e-commerce or engineering consultancies.
Amazon
Google
BOEING
Apple
Microsoft
Facebook
Flipkart
Oracle Corporation
Cisco System
Tata Consultancy Services
PwC – PricewaterhouseCoopers
Cognizant
Bharat Heavy Electricals Limited
Bain & Company
.
Epilogue
There you have an overview of Engineering Management as a discipline. Ready to enroll? No? Reach out to our star mobility experts and industry seniors for a helping hand in suggesting a career for you. iDreamCareer, with its Career Planning Program, engages millions of young confused minds from 9th class, 10th class, class 11, class 12 intending to unfurl suitable career choices for them.
Useful Links
.
FAQs
Is engineering management course tough?
Yes, being successful as an Engineering Management Trainee is difficult because it requires specific skills (both hard and soft) along with managerial qualities.
Is engineering management course better than an MBA?
For an engineer, even if an MBA is a popular option, MEM (Masters in Engineering Management) will be more inclined to his or her job and be more useful. It helps them succeed in the same field and as a result, it can be a good decision if one is really interested in engineering rather than business and management.
Do I need to have a job experience for engineering management course?
No.
Will engineering management course help me in getting more salary?
No. Classic misconception. Some engineers who excel in their work may be paid more than their supervisors. With an EM degree, you can only find a ladder you can start with, which goes high enough!
.

Anushree has 4+ years of experience in the career counseling industry as a Senior Content Writer. She has also worked as a Social Media Marketing Expert for a startup and Content Quality Analyst for Publishing and E-learning Industry. She has done her Master's in Commerce and PGDM in Finance & Trade and Marketing & HR, but she is currently following her passion for writing.