An MBA in Ireland combines business and management skills. Studying MBA in Ireland helps Indian students to expand their knowledge. An MBA in Ireland will help them pursue a career in administration in their chosen sector. It provides students with the opportunity to gain a comprehensive understanding and experience in management.
International students who want to study an MBA in Ireland will not be disappointed. Ireland has many business schools that have international accreditation from organizations. The best business schools are in Dublin, Limerick, Cork, and Galway.
So, if you want to study in Ireland for an MBA program, you are making a smart choice!
What all is covered in this post?
To make it easier for you, we have created a quick guide to everything you need to know about studying MBA in Ireland.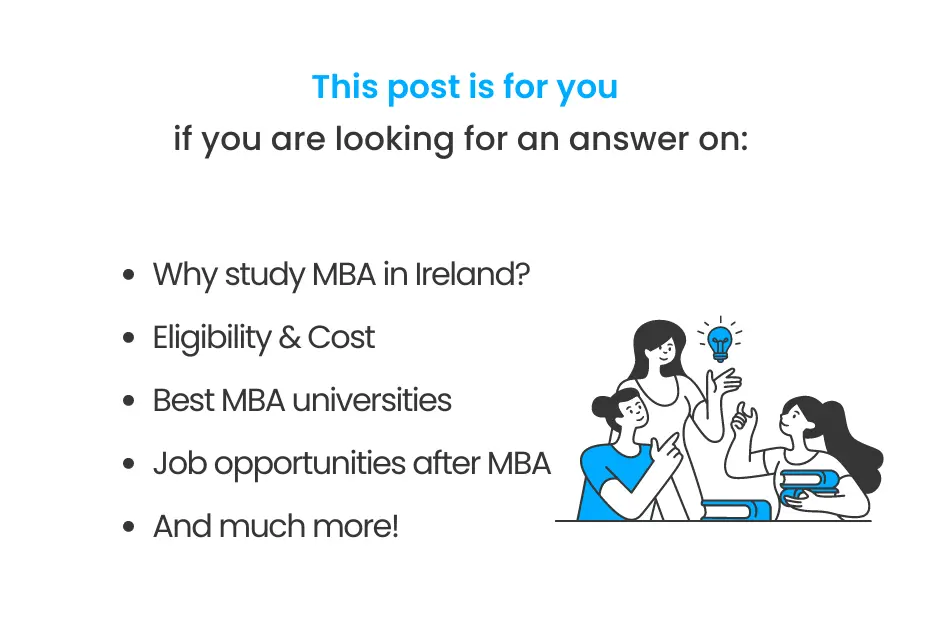 Why study MBA in Ireland?
Ireland has a long history of being a prominent center of education and training throughout Europe. Along with a distinguished intellectual and academic past, it has a rich history. The nation is considered one of the most popular destinations for higher education.
Here are a few reasons why studying MBA in Ireland is the best choice:
The cost of an MBA in Ireland for Indian students is cheaper compared to the United States and the United Kingdom.
Ireland is a desirable business destination offering career opportunities for MBA graduates.
Employment opportunities after an MBA in Ireland are high. The average salary of MBA graduates in Ireland is increasing by 30-40% every year.
Can study MBA in Ireland in English and at internationally recognized universities.
Most of the Indian students who studied at the top MBA colleges in Ireland are placed within 6 months of graduation. University College Dublin (UCD) – Business School students are placed for 3 months.
Indian students studying MBA in Ireland can stay here for 2 years and extend their visa after completing their studies. This is good news for seeking and securing placement in MNCs after studying MBA in Ireland.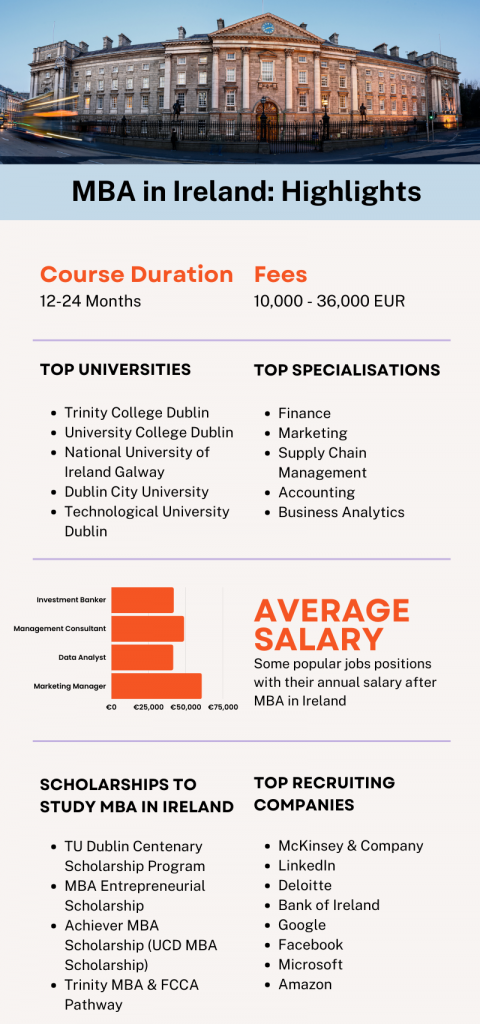 Eligibility of MBA in Ireland for Indian students
Students who wish to enroll must meet the following requirements.
They must have completed a 3–4-year undergraduate course in a relevant field.
The degree must be obtained from a respected university. If not, the student must have a significant track record of business achievement.
Some universities require 2-3 years of work experience
Applicants must pass English proficiency tests such as TOEFL, IELTS, or PTE. Applicants with formal education in English may be exempted.
GMAT with a minimum score of 550 is required.
The candidate must have a minimum of 3-5 years of work experience.
MBA in Ireland without GMAT
Most universities in Ireland require students to have a GMAT score. An eligible candidate must have a cutoff score above 550; the benchmark may vary for each university.
Although the GMAT or GRE is an important eligibility criterion for an MBA in Ireland, universities in Ireland consider assessing students based on their past performance and significant relevant work experience. That is why it is also possible to get an MBA in Ireland without a GMAT. Only if you have:
Master's or Ph.D. degree from a recognized university in a quantitative field.
Longer professional career (8-10 years or more).
Additional professional accomplishments and credentials deemed deserving of waiver
Best MBA universities in Ireland
Located in the heart of Europe's fastest-growing economy, Ireland's MBA universities are equipped to meet the needs of today's economy. The university has close relationships with many renowned universities and organizations around the world. In this way, the student gets good exposure and an opportunity to build international networks. In addition, English is the medium of instruction in all Irish universities. Therefore, language is never a barrier for international students to choose any course in Ireland. So, let's see what are the best business schools in Ireland for international students.
| | |
| --- | --- |
| University Name | Tuition Fees (EURO) |
| Dublin Business School | 12,500/25,000 |
| Griffith college | 14,000/28,000 |
| National University of Ireland Galway | 31,000 |
| Technology University of Dublin | 21,000 |
| Trinity College Dublin | 34,700/34,700 |
| University college cork | 27,000 |
| University College Dublin | 34,500/31,900 |
| University of Limerick | 33,444 |
Cost of MBA in Ireland
This section examines the costs of studying abroad, which include the tuition fees and tuition fees that international students must pay while pursuing an MBA in Ireland.
MBA in Ireland Tuition fees
For international students, an MBA in Ireland will cost around €10,000-€15,000 per year. There are several schools in Dublin that offer the cheapest tuition fees. For and eg. The IBAT college will cost around €4,000 per year. The most expensive college is Smurfit School, which costs around €29,000 per year.
Cost of living in Ireland
The cost of living in Ireland depends on the region in which you live.
The average monthly cost of living varies from EUR 650 to EUR 1,000.
Dormitory accommodation provided by universities in Ireland costs around €200-300.
Students can choose accommodation based on sharing or can also go for homestay.
Job opportunities after MBA in Ireland
Students with an MBA degree have many career prospects in various sectors. Ireland itself is home to many tech giants like Amazon, Google, Facebook, etc., which have a high demand for MBA students. MBA students can also start their own businesses as Ireland's entrepreneurial culture is very vibrant. Non-EEA students can also obtain a work visa for approximately 2 years after completing their course. MBA graduates in Ireland can expect to earn around €53,000 (INR 44.77 lakh) per year working in Ireland.
Below are some of the job profiles an MBA degree holder from an Irish University may consider:
Business Analyst
Business Operation Analyst
Chief Financial Manager
Data Quality Analyst
Digital Optimisation Lead
Operation Manager
Product Manager
Product Strategist
Program Manager
Senior Operation Manager
Conclusion
Hey there! Finally, you've reached this end.
Now, to put all those existing doubts at the back of your mind to rest, why not ask expert professionals? Call us to gear up now! Take action!
iDreamCareer is on a mission to reach every state and every child to ensure that talent is appropriately delivered to the industry.
Talk to our study abroad experts to know yourself in and out! We have helped several brilliant but confused minds to select their most-suited career choices. We have helped many students like Anjana Prasanna who was not very confident about her capabilities. Later with the help of career guidance and moral support from our study abroad experts she got an offer from King's College London! We have also helped several brilliant but confused minds like Aayush, and Tapan to select their most-suited career choices.
Also, read;
FAQs
Is GMAT required for MBA in Ireland?
Colleges such as Dublin Business School, IBAT College, and Griffith College offer an MBA in Ireland without a GMAT. Please note: GMAT is a mandatory criterion if you want to enter universities in Ireland.
What is the scope of an MBA from an Irish University?
Studying MBA in Ireland helps Indian students to expand their knowledge. An MBA in Ireland will help them pursue a career in administration in their chosen sector. Firms such as Mckinsey visit the campuses of most of Ireland's leading universities, allowing applicants to connect with advisers and explore a fast-growing market.
What is the average age group of students applying for an MBA in Ireland?
The average age group of students applying for an MBA in Ireland is from the late 20s to mid-50s.
Is work experience mandatory to study an MBA in Ireland?
Yes, 2-3 years of previous work experience is required. However, it is recommended that students check with their university as each university will have its own unique eligibility criteria for admission.

Anushree has 4+ years of experience in the career counseling industry as a Senior Content Writer. She has also worked as a Social Media Marketing Expert for a startup and Content Quality Analyst for Publishing and E-learning Industry. She has done her Master's in Commerce and PGDM in Finance & Trade and Marketing & HR, but she is currently following her passion for writing.