Over the years, Ireland has become a popular study destination for international students. The government has invested heavily in its higher education institutions, making modern institutes credible for higher education. Also, the medium of instruction at universities is in English. International students who wish to study in Ireland and are from non-European countries will need to apply for an Irish student visa.
But what is the procedure for applying for a student visa in Ireland? Don't worry! We are all here to help you out. But before that one more question…
Do you know?

According to figures published by the Ministry of External Affairs, Government of India, about 1.3 million Indian students are studying abroad, of which 5,000 are enrolled in various courses in Ireland. There are currently over 32,000 international students studying in Ireland, representing over 100 countries. The Irish education system is very similar to the British one.
What all is covered in this post?
To make it easier for you, we have created a quick guide to everything you need to know about the student visa procedure in Ireland.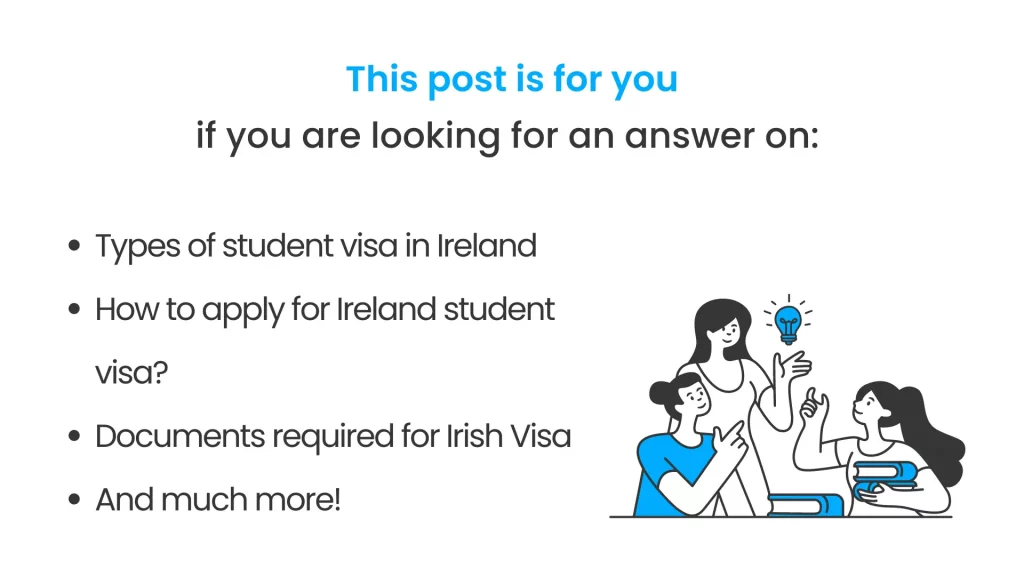 Types of student visas in Ireland
There are two types of student visas in Ireland you can apply for:
Type C study visa: if your study program/course will last less than 3 months, i.e., 90 days
Type D study visa: if your study program/course will last more than 3 months.
Therefore, to apply for a student visa in Ireland, the period of study is very important. It should also be noted that to stay longer than 3 months, non-EU/EEA students must also register with the Garda National Immigration Office. This permits you to stay in Ireland beyond the first 90 days. The same information applies when applying for a student visa to Ireland from India.
If you are applying for an Irish D visa, you will need to follow the Irish Student Visa Checklist which we discuss later in this post.
How to apply for an Ireland student visa?
To obtain a student visa, you need to follow the following steps:
You can apply for a study visa to Ireland up to 3 months before your travel date.
As mentioned earlier, candidates will need to visit the official website of the Irish Immigration Service to complete the online student visa application form.
Visa applicants will be required to complete an online application form, submit supporting documents and follow the instructions on the short application form generated by the system. The summary application sheet will also contain the transaction number of your application. This is important as you will need it later.
The application summary sheet will indicate whether you are required to attend a Visa Application Center (VAC) to provide biometric information and documents.
Applicants will be required to pay a fee for applying for a visa to Ireland.
After completing the payment and appointment process, a payment receipt and a confirmation receipt will be sent to your email address. You must print the receipts and bring them with you to the appointment.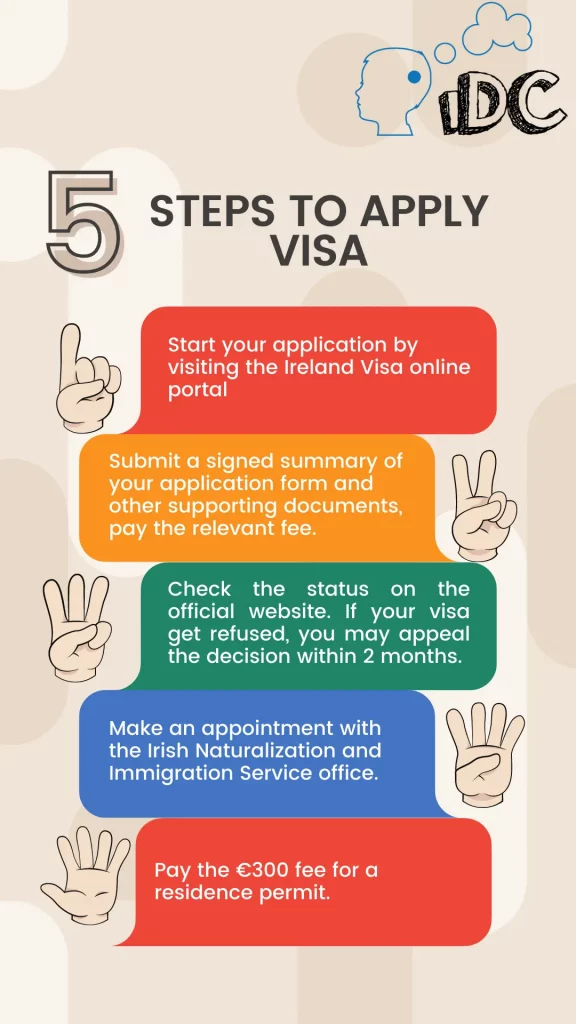 Note: Applicants should refrain from providing false or misleading information as this will result in the immediate termination of their visa application. In some cases, the candidate may be prohibited from appealing the visa decision for 5 years.
Documents required for Irish Visa
Applicants will need to bring the following documents with them to the visa center for a study visa in Ireland. These include:
Two color passport size photographs not older than 6 months (photo specifications can be found on the Irish Naturalization and Immigration Service website)
Your current passport and a complete copy of all previous passports
A signed application letter with full contact details
Proof that you are enrolled in a private course
Evidence of any gaps in your educational history
The proof showing the fees have been paid to the college
Evidence that you have the academic ability to follow your chosen course
Evidence of your English language level (often in the form of TOEFL or IELTS or a PTE test score)
Evidence that you have sufficient funds to support yourself while studying in Ireland, including applicants, must provide evidence that they have immediate access to at least €7,000. This is the approximate cost of living in Ireland for a student for one academic year. They must also demonstrate that they and/or their sponsor(s) have ready access to a minimum of €7,000 for each subsequent year of study in addition to the course fees for each of those years. If the duration of the course is less than 6 months, the applicant must have access to €500 per month of stay or €3,000, whichever is less.
Private health insurance
Previous visa refusals (if any)
An agreement that the candidate intends to return to their country after completing the course in Ireland.
Additional documentation for unaccompanied students under 18 years of age
Birth certificate
Consent of a parent/legal guardian
Certificate of residence and verification
Other family members are not allowed to accompany or join the student in the state
Note: Most colleges and universities in Ireland usually require an IELTS score of 6.5. However, the Irish Naturalization and Immigration Service requires an IELTS score of 5.
Cost of student visa for Ireland from India
In short, a student visa to Ireland will cost around INR 4,100 for a single-entry visa. However, other requirements apply to Indian applicants regarding the Irish student visa process.
Here's all the other info you need:
You can apply for a visa without paying the course fee in advance.
However, you have to pay €6,000 (around INR 5,00,000) towards the course fee.
The rest of the course fee will be transferred once you receive your final results and when you receive a confirmed offer letter.
Conclusion
Ireland has a long history and a rich culture. It is one of the English-speaking countries in Europe, with a strong academic and industrial reputation. Fast forward to modern times, it has become a nation with a world-class business reputation for excellence in research.
Now that you are armed with this information, we hope you're ready to make your next big career decision! Still confused? Do dial us up.
iDreamCareer is on a mission to reach every state and every child to ensure that talent is appropriately delivered into the industry. Talk to our study abroad experts to know yourself in and out! We have helped several brilliant but confused minds to select their most-suited career choices. Hear the success story of Tapan who got an offer from the top 4 universities and is now studying at DePauw University after getting career guidance from our study abroad experts! And not only this he has also received a scholarship of Rs. 1.3 crore.
Also Read:
FAQs
What is the processing time for an Irish student visa? 
Usually, the processing time for a student visa to Ireland is 4-8 weeks from the date of application. However, you are advised to apply for a student visa to Ireland 3 months before your date of travel to Ireland.
What is the success rate of an Irish student visa?
Ireland has a student visa rejection rate of between 1% and 4%, which means that the success rate for getting a student visa to Ireland is around 96%. Although visa rejections are rare, you can play it safe by knowing what to do and what not to do and reducing your chances of being rejected for an Irish student visa. Note: In 2019, Ireland's global visa acceptance rate was 89.6%, meaning that more than 10% of visas were rejected.
What is the validity period of an Irish student visa? 
If you have been issued a short-term ("C") visa, your stay will be a maximum of 90 days. If you have been granted a long-term ('D') visa, you must register for residence within 90 days of entry.
Is there an interview for a student visa to Ireland?
Unlike visa procedures in other popular countries, there is no mandatory interview to obtain a student visa to Ireland. If necessary, the visa officer may ask the student to attend a personal interview at an official Irish Visa Center (VFS).
Is IELTS required for a student visa to Ireland?
Yes, it is required with a minimum overall score of 5.0. You can take other accepted English proficiency tests, TOEFL or PTE.
What happens if my visa is refused?
If your visa is refused, your state university will refund the full amount of tuition paid. However, a small processing fee may be charged for your application. You can appeal within 2 months or again at any time if you have been refused a visa.

Anushree has 4+ years of experience in the career counseling industry as a Senior Content Writer. She has also worked as a Social Media Marketing Expert for a startup and Content Quality Analyst for Publishing and E-learning Industry. She has done her Master's in Commerce and PGDM in Finance & Trade and Marketing & HR, but she is currently following her passion for writing.