Study abroad but worried about the visa application procedures? Looking for a list of countries that offer free visa for Indians. Yes, you read it right! Long application forms, subtle personal interviews, long queues at visa offices; isn't the visa system a nuisance to travel abroad? Almost all countries require foreigners to have a pre-authorized visa before allowing them to enter their borders to do business or study or for tourism.
But did you know…

…that there are several countries where a visa is not required for Indians? And a few others where you can use a visa on arrival? Yes, that is correct!
As of January 2020, there are a total of 63 countries in the world where Indians have the benefit of visa-free or visa-on-arrival, or e-Visa access. According to the Henley Passport Index (a global ranking of countries based on the freedom of travel of their citizens), this ranks the Indian passport 84th in terms of freedom of travel.
Want to know more… All set?
What all is covered in this post?
To make it easier for you, we have created a quick guide to everything you need to know about countries that offer free visa for Indians.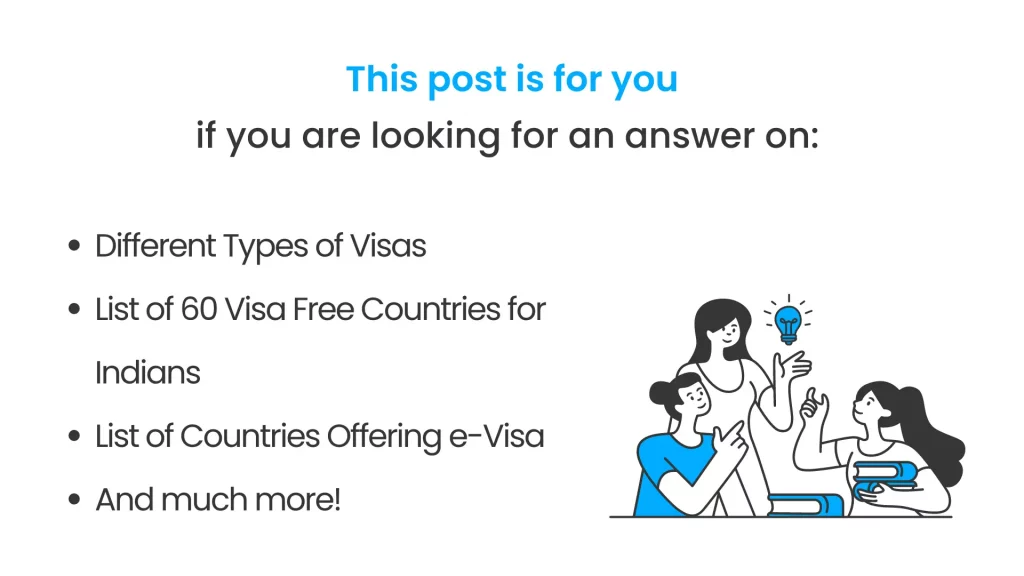 Before moving further let's first understand…
Different Types of visas
But before that what exactly are visas? These are documents issued by the government that grants permission to foreigners who want to visit the country in question. Unlike passports, which serve as proof of your country of origin, visas are markers that indicate the length of time you will be allowed to stay in a foreign country.
Now, different countries have implemented different types of regulations when it comes to their visa process. The following are the types of visas:
Visa-free travel
Visa-free travel is an advantage where you can visit a country without having to obtain a visa. This applies if both countries in question have the same agreement or if the country you are visiting has unilaterally opened its borders to foreign nationals.
Visa on Arrival
Also known as on-arrival visas, these are granted to the visitor at the port of entry. The entire visa process is initiated and completed at the port of state authorities.
E-Visas
E-Visas are essentially official documents issued online by a country's immigration officer that grant visitors permission to enter. This is an alternative to regular paper visas that are issued by the embassy of the country in question.
Entry Permits
Countries issue entry permits to their visitors instead of visas. These entry permits are documents that allow foreigners to legally enter and stay in the country for a certain period of time.
Visa requirements for Indian citizens in visa-free countries
When applying for a Visa on Arrival (VOA), Indian citizens may need a set of documents. The exact requirements vary from country to country, but usually include some or all of the following:
Hotel booking or other proof of accommodation, such as an invitation letter.
Passport-size picture.
Proof of booked return flight tickets.
Proof of sufficient funds, such as bank statements.
Valid passport.
Valid travel health insurance.
List of 60 visa-free countries for Indians
After the lifting of several COVID-related restrictions between countries for international travel, the Indian passport has regained its strength. Out of 199 passports, the Indian passport was ranked 87th, according to the recently released global passport ranking table.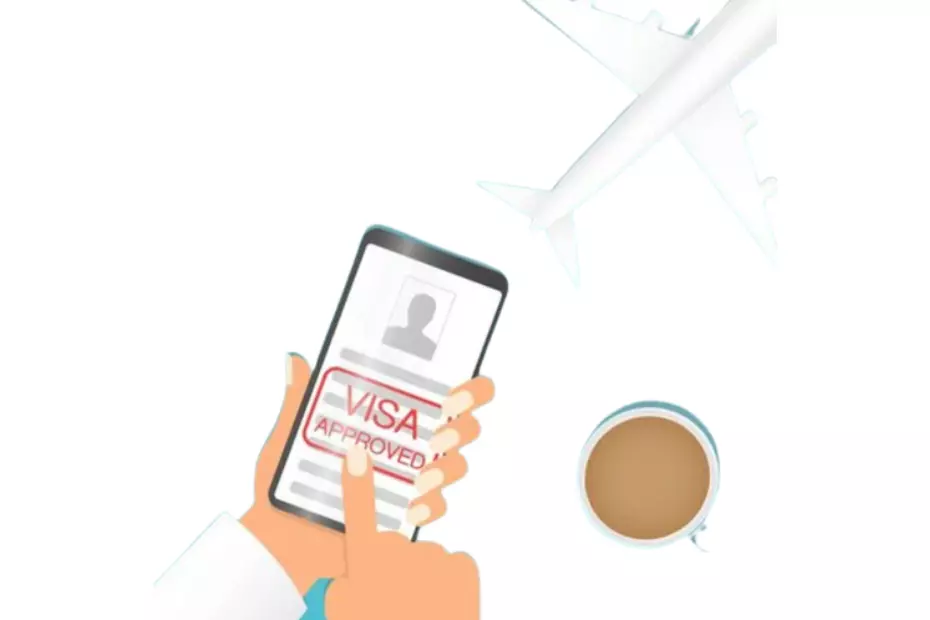 The Henley Passport Index speaks to the strength of foreign relations between countries. Henley Passport Index publishes data based on these relationships. Depending on the ease of access the country offers, the higher the ranking. This data is compiled for this index obtained from the International Air Transport Association (IATA). During the 2020 pandemic year, India had access to only 23 countries for travel, while now there are 60 countries where Indians can travel without a visa.
Here is the list:
OCEANIA:
Cook Islands
Fiji
Marshall Islands
Micronesia
Niue
Palau Islands
Samoa
Tuvalu
Vanuatu
MIDDLE EAST:
Iran
Jordan
Oman
Qatar
Visa-free countries in EUROPE for Indians:
Albania
Serbia
CARIBBEAN:
Barbados
The British Virgin Islands
Dominica
Grenada
Haiti
Jamaica
Montserrat
St. Kiits and Nevia
St. Lucia
Trinidad and Tobago
ASIA:
Bhutan
Cambodia
Indonesia
Laos
Macao
Maldives
Myanmar
Nepal
Sri Lanka
Thailand
Timor-Leste
AMERICAS:
Bolivia
El Salvador
AFRICA:
Botswana
Burundi
Cape Verde Islands
Comoro Islands
Ethiopia
Gabon
Guinea-Bissau
Madagascar
Mauritania
Mauritius
Mozambique
Rwanda
Senegal
Seychelles
Sierra Leone
Somalia
Tanzania
Togo
Tunisia
Uganda
Zimbabwe
List of countries offering e-Visa
Many countries have implemented e-visa or e-visa services to facilitate tourism in their country. More and more countries are making their visa regulations flexible to encourage domestic tourism, and one of the first steps to achieve this goal is e-visa.
The electronic visa has greatly simplified visa processing for foreign ministries around the world. Governments have come to realize that staffing embassies around the world to process visa applications from tourists is a waste of time, property, and human resources. Plus, it costs them tourist dollars.
The process begins by selecting the desired country to travel to, filling in the visa form with the required personal and travel details, uploading a photograph and scanned supporting documents, and paying for the visa. Applying for an eVisa is generally a simple 3-step process that can be completed in just ten minutes if you have the required documents ready.
However, not all countries currently offer the e-Visa service. Following is the list of countries providing e-visa services with details of eligibility, visa type, fee, duration, payment method, etc.
European Countries Offering E-VISA
Moldova
Russia
ASIAN Countries Offering E-VISA
Armenia
Bahrain
Cambodia
India
Kuwait
Malaysia
Maldives
Myanmar
Oman
Pakistan
Singapore
Sri Lanka
Tajikistan
Thailand
Vietnam
African Countries Offering E-VISA
Gabon
Kenya
Rwanda
São Tomé and Príncipe
South Sudan
Tanzania
Uganda
Zambia
Zimbabwe
Euro-Asian Countries Offering e-Visa
Azerbaijan
Georgia
Turkey
North American Countries Offering e-Visa
Antigua and Barmuda
Saint Kitts and Nevis
Australia
Uzbekistan
Brunei
Angola
South Africa
Benin
Papua New Guinea
Ukraine
Bahamas
Madagascar
Brazil
Angola
Laos
Nepal
Qatar
Chile
Colombia
United Arab Emirates (UAE)
Indonesia
Lithuania
Egypt
Canada
Djibouti
Ethiopia
Malawi
Ghana
Bermuda
Saudi Arabia
Kazakhstan
New Zealand
Montserrat
Mexico
Philippines
Bhutan
Guinea
Guinea-Bissau
Taiwan
Bangladesh
Ireland
Conclusion
There you go! You have the lists you wanted. Do you want to make a career decision now? Not settled yet? In case, you feel indecisive or confused, do dial us up.
iDreamCareer is on a mission to reach every state and every child to ensure that talent is appropriately delivered to the industry.
Talk to our study abroad experts to know yourself in and out! We have helped several brilliant but confused minds to select their most-suited career choices. We have helped many students like Anjana Prasanna who was not very confident about her capabilities. Later with the help of career guidance and moral support from our study abroad experts she got an offer from King's College London! We have also helped several brilliant but confused minds like Aayush, and Tapan to select their most-suited career choices.
Also Read:
FAQs
Which country offers free visas for Indians for jobs?
Nepal is India's northern neighbor, and they both share a 'special relationship' that allows citizens of both countries to move freely across the border. You can go to Nepal without any passport or visa and can live and work in the country. As the home of the world's highest mountain – Mount Everest, Nepal and receives a host of tourists. Nepal is a beautiful country with a variety of heights and beautiful rural landscapes.
How to apply for an eVisa from India?
To apply for an eVisa from India, you will need to find the official visa application website of the country that is issuing the visa. In many cases, there are unofficial sites that will help you apply for an additional fee. There is usually no need to apply through such websites unless you find the application process confusing and difficult to navigate. Even so, make sure the website is trustworthy and reliable. You can also approach Visa Application Centers in India like VFS and they can help you with your eVisa application.
Why do countries give e-visas?
Many countries around the world have introduced e-visa services to facilitate tourism in their country. With an e-Visa, you can easily apply online and receive a travel permit in your email.
Is visa on arrival available at each airport in the respective countries?
No, visas on arrival can only be obtained at selected airports and ports in countries that offer them.
Which country provides visitor visas easily?
Finland. Almost at the same level as Austria, Finland is on the list of countries where it is easiest to apply for a Schengen visa.

Anushree has 4+ years of experience in the career counseling industry as a Senior Content Writer. She has also worked as a Social Media Marketing Expert for a startup and Content Quality Analyst for Publishing and E-learning Industry. She has done her Master's in Commerce and PGDM in Finance & Trade and Marketing & HR, but she is currently following her passion for writing.