Looking for CBSE Class 10th Date sheet 2023? Yes, CBSE has already announced that the final exams for Class 10th will start on 15th February 2023. The Central Board of Secondary Education released the CBSE Class 10th Exam date sheet 2023 on 29th December, 2022.
Students who were worried about exams can check the official announcement issued by the Central Board of Secondary Education. Latest sources also claim that there will be no 1, or 2 exams this year and that there will be only one session for CBSE exams. You all can check the subject-specific exam dates after downloading the CBSE Class 10 Date Sheet 2023 PDF file. You all must know that the practice exams will be conducted before the CBSE 10th date sheet 2023 which is scheduled on 15 February 2023. It says that the exams will be held from 9:00 AM to 12:30 PM.
CBSE Class 10th date sheet 2023 will be released as a shared pdf file. Students can get the CBSE date sheet 2023 class 10th pdf download from the direct link in this article when it becomes available.
Let's get started…
What all is covered in this post?
To make it easier for you, we have created a quick guide to everything you need to know about the CBSE class 10th Date Sheet 2023.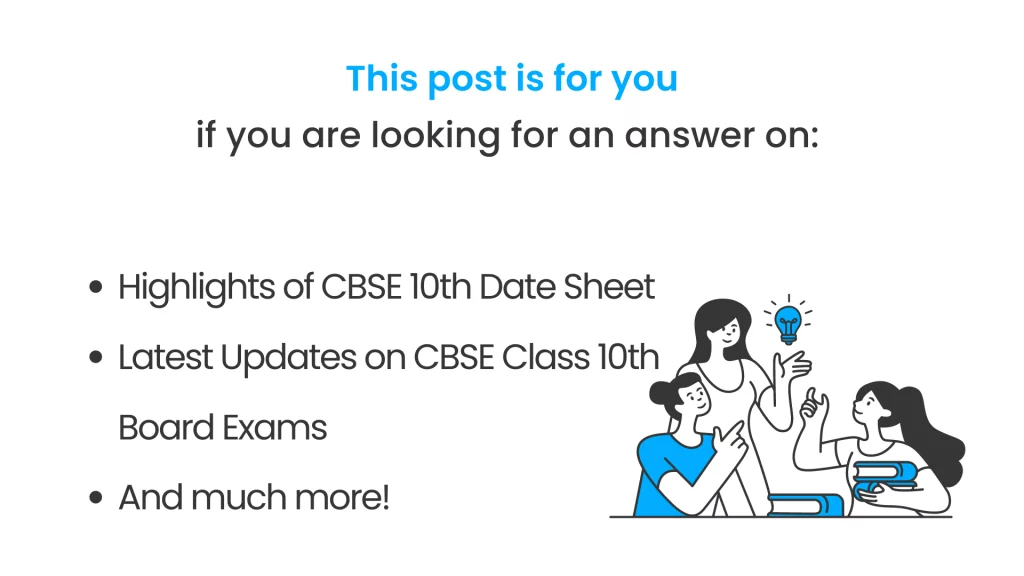 Highlights of CBSE 10th Date Sheet
| | |
| --- | --- |
| Particulars | Highlights |
| Conducting Board | CBSE- Central Board of Secondary Education |
| CBSE 10th Exam Date 2023 | 15th February 2023 |
| CBSE 10th Exam Time | 9:00 AM- 12:30 PM |
| CBSE 10th Practical Exam 2023 Date | Have begun on January 2 and will go on till February 14, 2023. |
| CBSE Class 10th Admit Card 2023 | Last week of January 2023 or February 2023 (Tentatively) |
| Major Subjects | Hindi, English, Science, Social Studies, Maths & One Supplementary Subject |
| Session | 2022-2023 |
| CBSE Official Website | www.cbse.gov.in |
Latest Updates on CBSE class 10th board exams
CBSE Date Sheet 2023 will contain subject names, CBSE 2023 exam dates, test duration, and important guidelines for candidates. This time CBSE is planning to conduct CBSE class 10 exams in one term. CBSE Board Exam 2023 will start on February 15 as announced earlier.
Following are the latest updates on the CBSE class 10th board exams 2023.
Extra time for reading questions
In addition to the answer writing time of 3 hours for most papers, CBSE board exam students get an extra 15 minutes to read the question paper and instructions. They are not allowed to attempt the paper during this time.
Discover More by accessing the Free Career Dashboard
This will help us share relevant information with you.
COVID protocols must be followed
Schools conducting practical examinations/projects/internal assessments shall ensure full compliance with all instructions of Local Bodies, Central/State Governments, and other statutory bodies related to the pandemic.
To avoid overcrowding and social distancing, schools may consider dividing a group/group of students into sub-groups of 10 students each. The first group of 10 students can attend lab work, while the second group can do pen and paper, and vice versa.
Note: To know more about the CBSE 2 board policy of 2022, check our CBSE's New Policy post. However, this policy will no longer apply this year. 
CBSE Class 10th Date Sheet 2023: How to Download PDF
The CBSE exam schedule has been released, and the exam will be held from February 15, 2023, for Class 10 across the country and abroad. Following are the steps to download the CBSE board exam 2023 class 10 date sheet:
Visit the official website of CBSE at cbse.gov.in.
Click on the CBSE Date sheet Class 10 2023 link available on the main page.
A new PDF file will open where candidates can check the exam dates.
Download the page and keep a hard copy for future reference.
Content of CBSE class 10th 2023 date sheet
Students can get the CBSE class 10 date sheet in pdf form from the official website and make a study strategy according to the exam dates. They should also download the CBSE Class 10 Date Sheet 2023 PDF and keep it safe. The following details will be mentioned in the date sheet of Class 10th CBSE:
Board name
Examination name
Subjects
CBSE Class 10 exam date 2023
Exam time
Practical exam dates
Important instructions
CBSE 2023 Class 10th Date Sheet
Here are the details of the CBSE 2023 Class 10th Date Sheet:
| | |
| --- | --- |
| Exam Dates | Subjects (10:30 am to 12:30 pm for most of the exams) |
| February 15, 2023 | Painting, Gurung, Rai, Tamang, Sherpa, Thai |
| February 16, 2023 | Retail, Security, Automotive, Introduction to Financial Markets, Beauty & Wellness, Agriculture, Food Production, Front Office Operation, Banking & Insurance, Marketing & Sales, Health Care, Apparel, MultiMedia, Physical Activity Trainer, Data Science |
| February 17, 2023 | Hindustani Music (Melodic Instruments), Hindustani Music (Percussion Instruments), Elements of Book Keeping & Accountancy, Hindustani Music (Vocal) |
| February 20, 2023 | Arabic, Russian, Persian, Tibetan, Lepcha, Persian, Nepali, Limboo, German, French, Carnatic Music (Melodic Instruments), Carnatic Music (Vocal), Carnatic Music (Percussion Instruments) |
| February 24, 2023 | Urdu Course-A, Bengali, Tamil, Telugu, Marathi, Gujarati, Manipuri, Urdu Course-B |
| February 27, 2023 | English Language and Literature |
| March 1, 2023 | Punjabi, Sindhi, Malayalam, Odia, Assamese, Kannada |
| March 2, 2023 | National Cadet Corps, Telugu-Telangana, Bodo, Tangkhul, Japanese, Bhutia, Spanish, Kashmiri, Mizo, Bahasa Melayu |
| March 4, 2023 | Science |
| March 6, 2023 | Home Science, Multi Skill Foundation Course |
| March 9, 2023 | Elements of Business |
| March 11, 2023 | Sanskrit |
| March 13, 2023 | Computer Applications, Information and Technology, Artificial Intelligence |
| March 15, 2023 | Social Science |
| March 17, 2023 | Hindi Course A, Hindi Course B |
| March 21, 2023 | Mathematics Standard, Mathematics Basic |
Bonus Tip: What to Keep in Mind?
Students appearing for the CBSE 2022 Class 10 board exam have enough time to revise the CBSE Class 10 Syllabus 2023. They should keep the following points in mind to have a good CBSE class 10th result. Know why the Class 10th result is important?
While appearing for the exam, students must carry the CBSE Admit Card 2023. They will not be allowed to enter the exam hall without the CBSE Admit Card 2023.
According to CBSE nic in class 10 date sheet 2023, all students should reach the exam center half an hour before the scheduled time.
All students should check their essentials, including pen, pencil, sharpener, scale, and eraser, the night before the exam and provide extras.
For better CBSE Class 10 preparation, students should download and practice CBSE Class 10 Previous Year Question Papers.
The Board is releasing the CBSE Class 10 Sample Papers 2023 for the students appearing for the CBSE Class 10 Exams. These papers are released before the release of the CBSE Board Exam Time Table 2023 for Class 10.
Students should download sample papers from various official sources. These papers can be helpful while preparing for CBSE 10th Exam 2023.
Solving CBSE Class 10th 2023 Sample Papers helps students to check their preparation level and speed.
Note: We have curated the above-mentioned tips for you so that you get a good result in the CBSE class 12th exam, based on the discussion with board toppers.
Epilogue
All candidates must visit the official website of the Central Board of Secondary Education cbse.gov.in to get the latest information and updates related to CBSE 10th Date Sheet 2023 and prepare accordingly for the exam.
Hope we have served you enough! Still, got questions? Why don't you connect with our industry experts? Yes, you read it right! You can get your queries resolved in just 60 seconds from our Career counselors. So, what are you waiting for? Download the app now! 
Strategic career planning is the need of the hour and must be attended to as well. It is an intricate affair and comes with its tribulations. iDreamCareer has helped millions of young minds like you from 9th class, 10th class, class 11, and class 12 discover their true mettle and is ready to help you too. 
Also Read:
FAQs
When CBSE Class 10th Exam 2023 Start?
The CBSE Class 10th 2023 exam will begin on 15th February 2023 at various centers set up across the country.
How to download CBSE Class 10 Date Sheet 2023?
All you need to do is follow the simple steps in the same order by visiting the official website cbse.gov.in and then downloading the exam date sheet in a simple and accurate format.
How many subjects to appear for the CBSE 10th Board Exam 2023?
Students have to clear 5 core subjects and one supplementary exam to clear CBSE 10th exam 2023 and move up to a higher class and choose a stream of their choice.
Discover More by accessing the Free Career Dashboard
This will help us share relevant information with you
Trending Posts


Anushree has 4+ years of experience in the career counseling industry as a Content Writer. She has also worked as a Social Media Marketing Expert for a startup and Content Quality Analyst for Publishing and E-learning Industry. She has done her Master's in Commerce and PGDM in Finance & Trade and Marketing & HR, but she is currently following her passion for writing.